Detroit Red Wings
Detroit Red Wings
Thousands, including sports royalty, pay respects to Mr. Hockey
Published
Jun. 14, 2016 7:40 p.m. ET

DETROIT (AP) -- Gordie Howe's casket was guided down a hallway, flanked by some of the biggest names in sports: Wayne Gretzky, Scotty Bowman and Al Kaline.
The pallbearers moved Mr. Hockey's brown, rose-adorned casket down a long strip of red carpet through the middle of a darkened Joe Louis Arena -- with a "9" illuminated on both sides -- and toward the opposite end of the iceless rink.
"It was one of the great honors of my life," Gretzky said. "He was everything to me."
Thousands of people, famous and those relatively anonymous, stood in line and waited to their pay respects to Howe, a Hockey Hall of Famer and one of the most revered athletes in NHL history who died Friday at the age of 88. The home of the Detroit Red Wings, Howe's team for more than two decades and four Stanley Cup championships, was scheduled to be open from 9 a.m. to 9 p.m. -- for No. 9, of course -- and the public turned out in droves. In fact, so many people showed up that the visitation lasted about an hour longer than expected.
Howe's retired No. 9 jersey was lowered to just above his casket and the Stanley Cup banners he helped the Red Wings win in the early 1950s were lowered off to each side. Video monitors below the banners showed a streaming gallery of pictures, including some from the early part of his career in the 1940s, toward the end of it when he played professional hockey with his sons, and after he hung up his skates.
"The biggest thing I take away is his humility," said Steve Yzerman, the Tampa Bay executive who spent his entire Hall of Fame career in Detroit. "And the way he took time for people and treated everyone with respect."
As people silently shuffled their feet during a 34-minute wait to meet and greet two of his sons, Mark and Murray, only the hum of the heating-and-cooling system could be heard in the opening hour of the visitation. Later in the day, the line grew longer and wrapped around the arena along Civic Center Drive on the banks of the Detroit River.
No wait would've been too long for 66-year-old Paul Snapp, one of more than 100 people waiting outside to get in, where another, longer line snaked through the storied arena.
Snapp was sporting Howe's No. 9 Detroit Vipers jersey from his one-game stint as a 69-year-old forward during the 1997-98 International Hockey League season, his sixth decade of professional hockey, and he proudly recalled how he used to deliver Howe's mail in suburban Detroit.
"My dad took me to see him play in 1958 at the old Olympia Stadium," Snapp said. "Gordie Howe has been my hero ever since that day. I wouldn't have missed this opportunity to see him one more time for anything in the world."
NHL Commissioner Gary Bettman is expected to attend Howe's funeral, which is also expected to be open to the public, on Thursday morning in Detroit.
Howe shattered records, threw elbows and fists and became an idol to Gretzky and many others while elevating the profile the NHL had in the U.S. With strength, speed and grit, he set NHL records with 801 goals and 1,850 points -- mostly with the Red Wings -- that stood until Gretzky came along.
Gretzky wore No. 99 in a tribute to Howe, a man he got to know long before Gretzky became known as The Great One.
"Not everybody gets to meet their hero or their idol," Gretzky said. "And sometimes when you meet them, it wasn't as good as you thought it would be. I got so lucky that the guy I chose happened to be so special."
Howe had bulging muscles -- unlike many players in his day -- on his 6-foot, 205-pound frame and had a great shot both with his fist and stick.
"He had so much power," said Bowman, who won an NHL-record ninth Stanley Cup as a coach with the Red Wings in 2002. "He was perfect. If you were going to make a mold of a player, you would want to make it of Gordie."
As tough as Howe was on the ice, even his fiercest rivals acknowledged his gentle demeanor away from the rink. Kaline, a baseball Hall of Famer, got to see that side of Howe in the 1950s when he played for the Detroit Tigers and marveled at how he always made time for people he met. Howe and Kaline became close friends.
Four days after Howe's death, a string of red-and-white clad fans got a chance to kneel before and touch Howe's casket. They had an opportunity to shake hands with some of his four children, who took turns meeting and greeting a flock of fans.
"It's very fitting," Kaline said.
---
---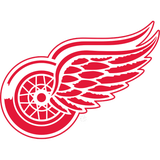 Get more from Detroit Red Wings
Follow your favorites to get information about games, news and more
---