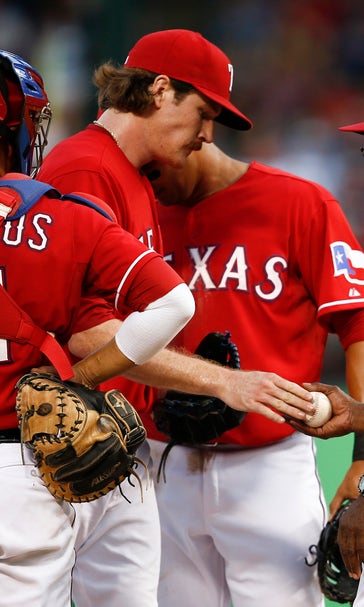 Things get away from Rangers in sixth
BY foxsports • July 12, 2014
ARLINGTON, Texas - Texas Rangers manager Ron Washington said after Saturday's 5-2 loss to Los Angeles that his club was in the teaching mode.
That's one of the reasons Washington left right-hander Miles Mikolas in the sixth inning with the Angels threatening with Texas clinging to a 2-1 lead.
Mikolas, who had thrown just 65 pitches in the first five innings, couldn't make the most of the lesson though as the Angels strung together the knockout inning to a reeling Texas club. Los Angeles scored four times off Mikolas in the frame as Texas dropped its seventh-straight game.
Back-to-back singles for the Angels opened the sixth for the Angels. Instead of getting a reliever up, Washington let him try and work himself out of trouble. He did briefly as he got Erick Aybar to fly out to right.
But things went awry quickly as Howie Kendrick, David Freese and Hank Conger followed with hits, with Freese delivering an RBI single and Conger a two-run double.
After a walk Mikolas was pulled but it was too late for Texas.
"I mean every pitcher that steps out there has intentions of going as deep as they possibly can," Washington said of leaving Mikolas in the game.. "He goes out there in the sixth inning with 67 pitches. I'm going to pull him after five innings with 67 pitches and he's still throwing the ball well? He's just got to figure it out."
Mikolas, who has just 14 professional starts under his belt, knew he had to bear down when Washington gave him a chance to get out of trouble. But he left changeups up to both and didn't execute his pitches.
"Definitely not satisfied," said Mikolas, who allowed five runs (four earned) on nine hits in his 5 2/3 innings. "My goal is to get deeper in the game and keep our team in the game longer. Defense made some great plays behind me and I've got to do a better job of holding that lead for them. He (Washington) gave me the chance to get out of that."
Despite the rough sixth Mikolas didn't have a lot of help from the Texas offense. The Rangers, who were shutout Friday, got to Jered Weaver for two runs in the second inning but that was it as the Rangers had two hits over the final seven innings.
Texas had chances to put runs on the board in the first three innings. But for a team that has now lost 21 of its last 24 games, scoring chances don't normally result in runs. That was the case Saturday for a team that's now 1 for 15 with runners in scoring position in the last two games.
"I think tonight we had seven chances to drive in a run," Washington said. "I think it was seven. And we didn't do it, besides the two we got. We just haven't mustered any offense the past two days."
---