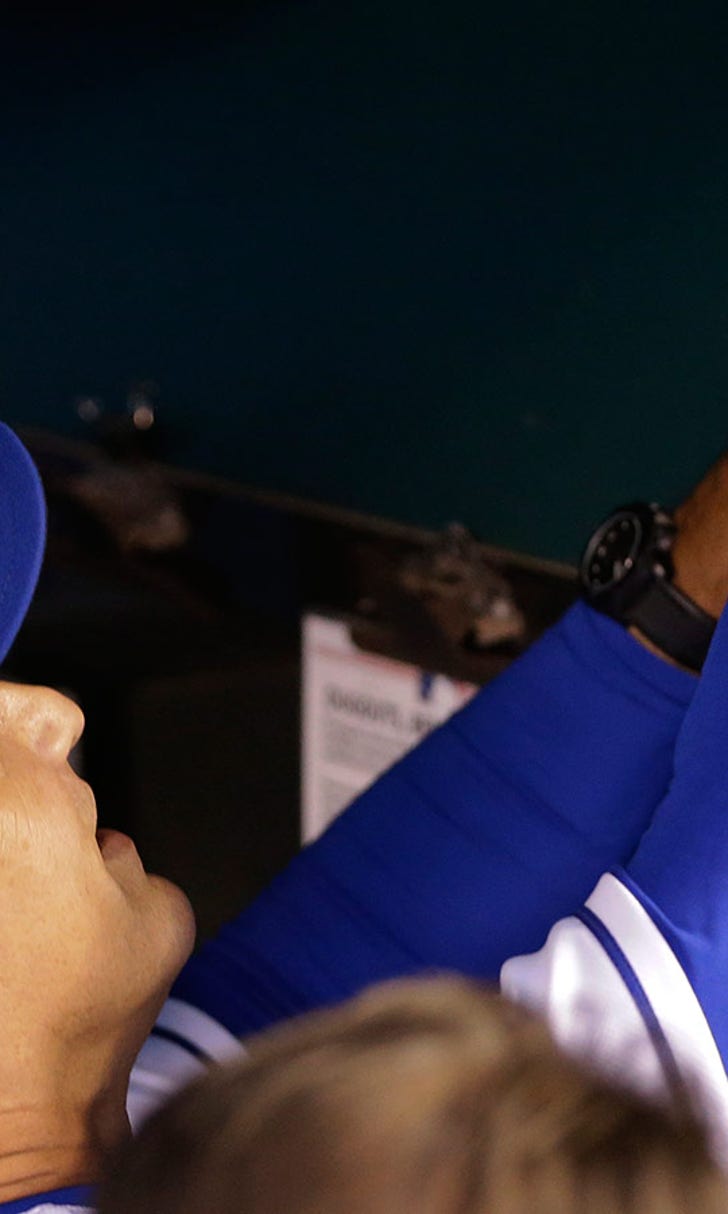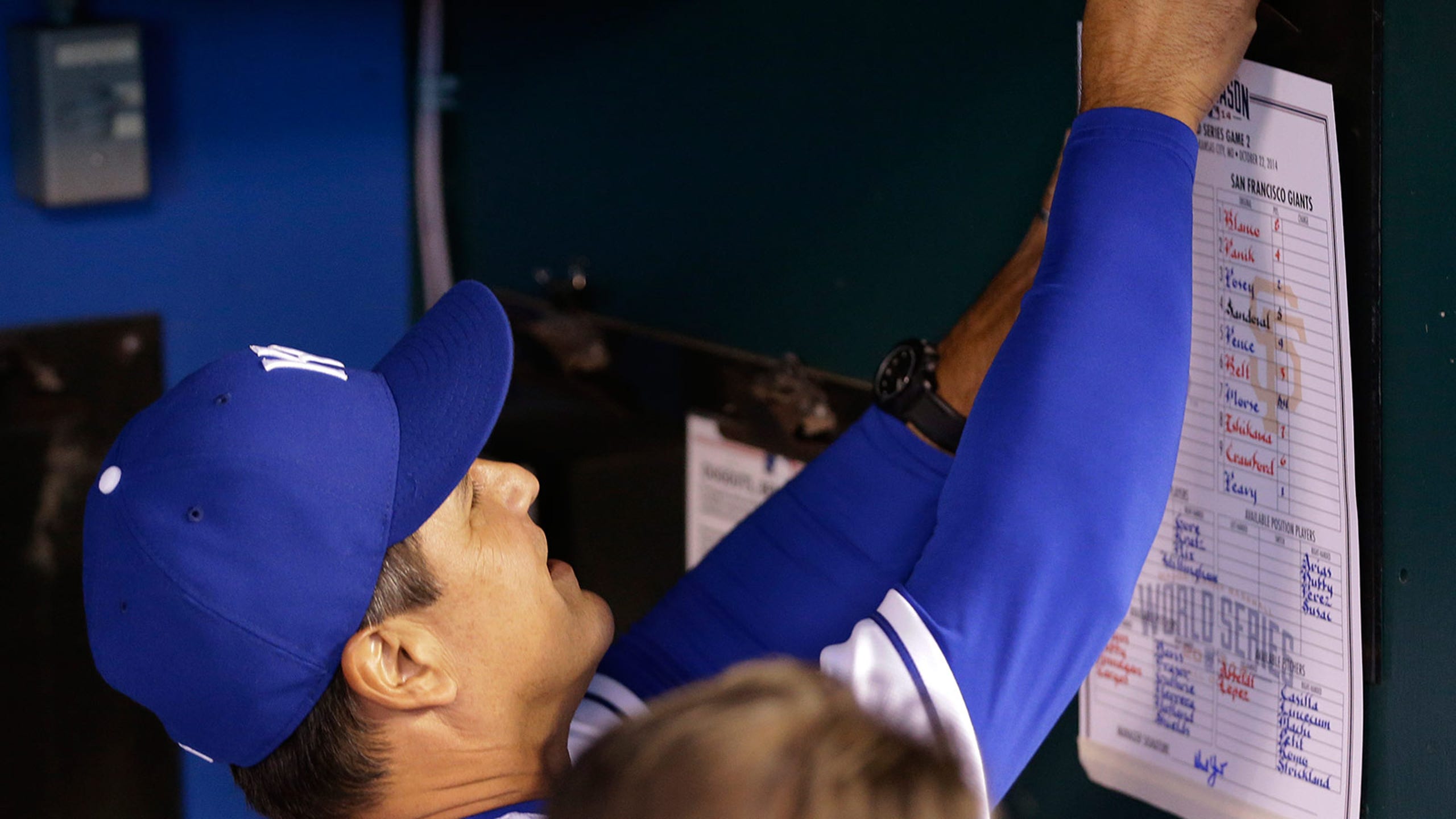 The Write Way: KC coach's lineup cards are artful
BY foxsports • October 23, 2014
KANSAS CITY, Mo. (AP) -- Take a look around the Kansas City Royals' dugout and it's pretty evident: The handwriting is on the wall in this World Series.
The fancy handwriting, that is.
In the midst of smeared pine-tar rags, spit-out sunflower seeds and plenty of dirt, there hangs a piece of pure art -- the lineup cards drawn by bench coach Don Wakamatsu.
Using a calligraphy style he has worked to develop for more than a decade, Wakamatsu takes manager Ned Yost's lineup and writes out the starters for both teams, the reserves and available relievers.
He takes up to a half-hour to fill all the slots. In three colors, too -- red for lefties, blue for righties and black for switch-hitters.
They're so intricate and so attractive that a souvenir shop on the concourse at Kauffman Stadium sells them.
"I don't see them as beautiful," Wakamatsu said, humbly, before the Royals beat San Francisco 7-2 on Wednesday night to tie the Series at 1-all. "I see all the flaws, all the mistakes."
Chances are, he's the only one who can spot the slip-ups.
Wakamatsu uses ornate, capitalized first letters, with a blend of American calligraphy and Asian font overtones. There's also some medieval and Gothic characteristics.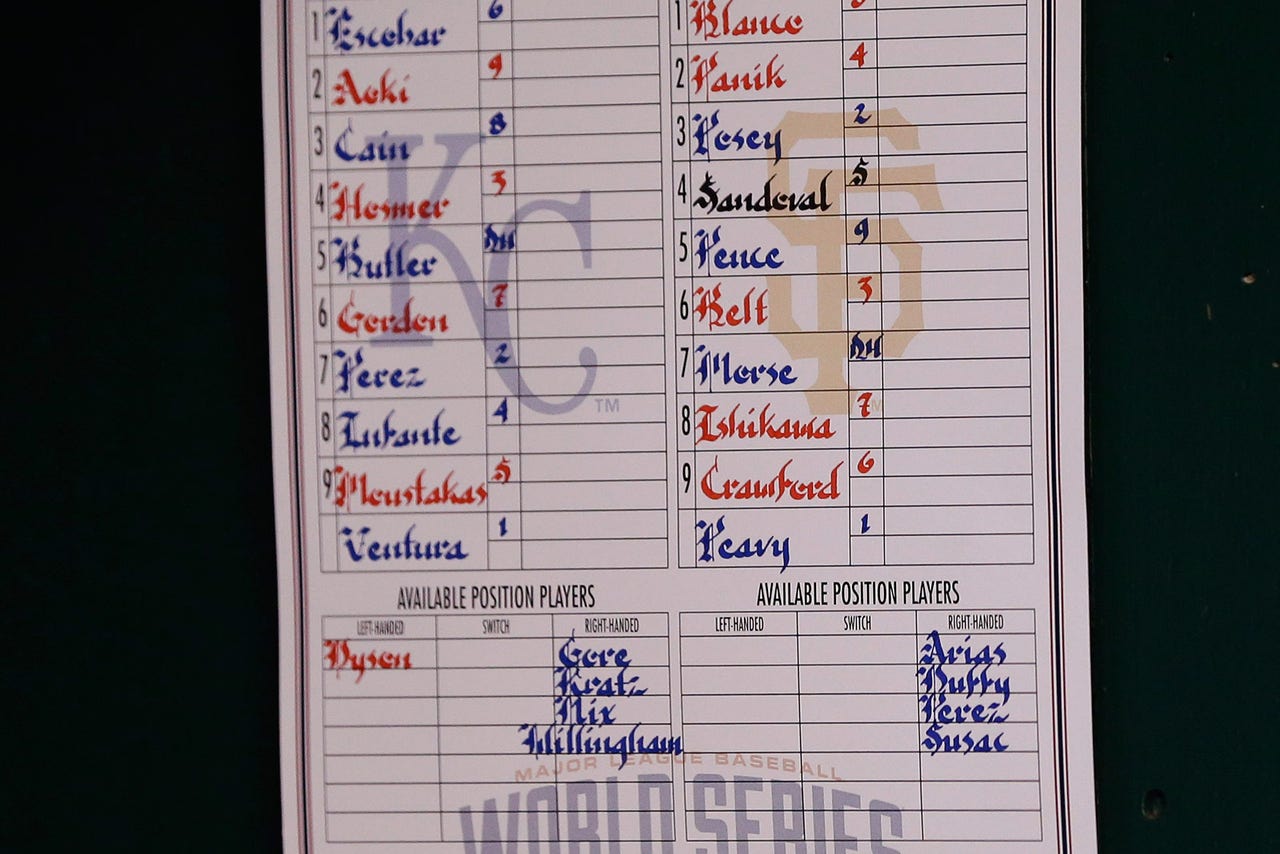 The Game 2 lineup card, as drawn by Don Wakamatsu.
"I don't think it's any one style," he said. "I don't have my own font."
Wakamatsu has no formal training, and figures his interest rubbed off from his family.
"My grandfather had tremendous handwriting. He was an artist, the way he wrote," he said. "I think I got the art gene from him."
Wakamatsu didn't try his hand at the craft until 2003, when he admired the lineup cards former Texas manager Jerry Narron filled out with a flair.
"I used to do them with a Sharpie, just like most everyone else," he said.
As Wakamatsu moved around the majors, he perfected his penmanship. He managed the Seattle Mariners for 2009 and most of 2010, then was the bench coach for the Toronto Blue Jays from 2011-12 and made manager John Farrell's lineups look even better.
Coaches often write the cards while managers attend to other matters, and Wakamatsu has been busy this season as the Royals played deep into October.
Wakamatsu said he enjoys the time and effort it takes to do the cards properly, and how getting the details right makes a difference. Sort of what it takes to be a winning player and winning team, he reckons.
"He definitely takes pride in what he does," Royals catcher Erik Kratz said. "There are other guys who do nice work, and some who just print them out. It's neat to see."
Watch the Boulevard Royals Live postgame show on FOX Sports Kansas City after every Kansas City Royals postseason game.
Once in a while, things do get messed up.
"Sometimes you'll be all done, and then the other team will make a lineup switch at the last minute. That's a nightmare," Wakamatsu said. "Or you'll be on the last name and make a mistake. Sometimes, you have to just cross it out."
"Not all the paper is the same, either. Some of the cards are too thin and the ink bleeds through," he said.
Occasionally, the other team's lineup arrives late and Wakamatsu needs to scramble. Plus, there are in-game changes -- it's not an easy trick to alter such artwork by writing on cards posted on the dugout wall.
The 51-year-old Wakamatsu has spent much of his life in dugouts.
Raised in the Bay Area, he was teammates with Barry Bonds at Arizona State. Wakamatsu made it to the majors as a backup catcher and played 18 games, all for the White Sox in 1991.
He has worked for the Angels, Diamondbacks, Yankees and several other teams in various capacities, and is in his first year with the Royals.
At each stop, he's tried to do things the write way, so to speak.
"I still have trouble with some letters. The capital Y is tough and so are the Zs," he said. "I'm working on them."
On his own.
"I've never taken a class in calligraphy, but I would love to," he said. "Consider this an open invitation to anyone who'd like to teach me."
---