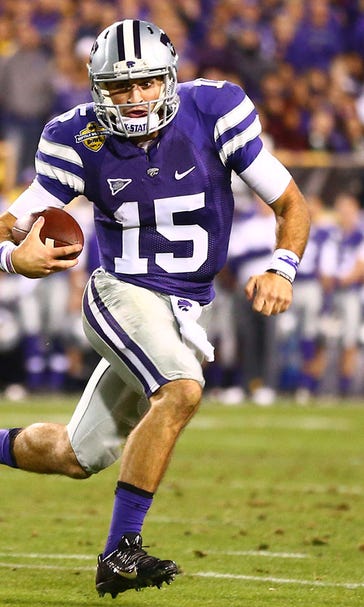 The W-L Game, K-State edition: Could we be talking double-digit victories?
BY foxsports • July 8, 2014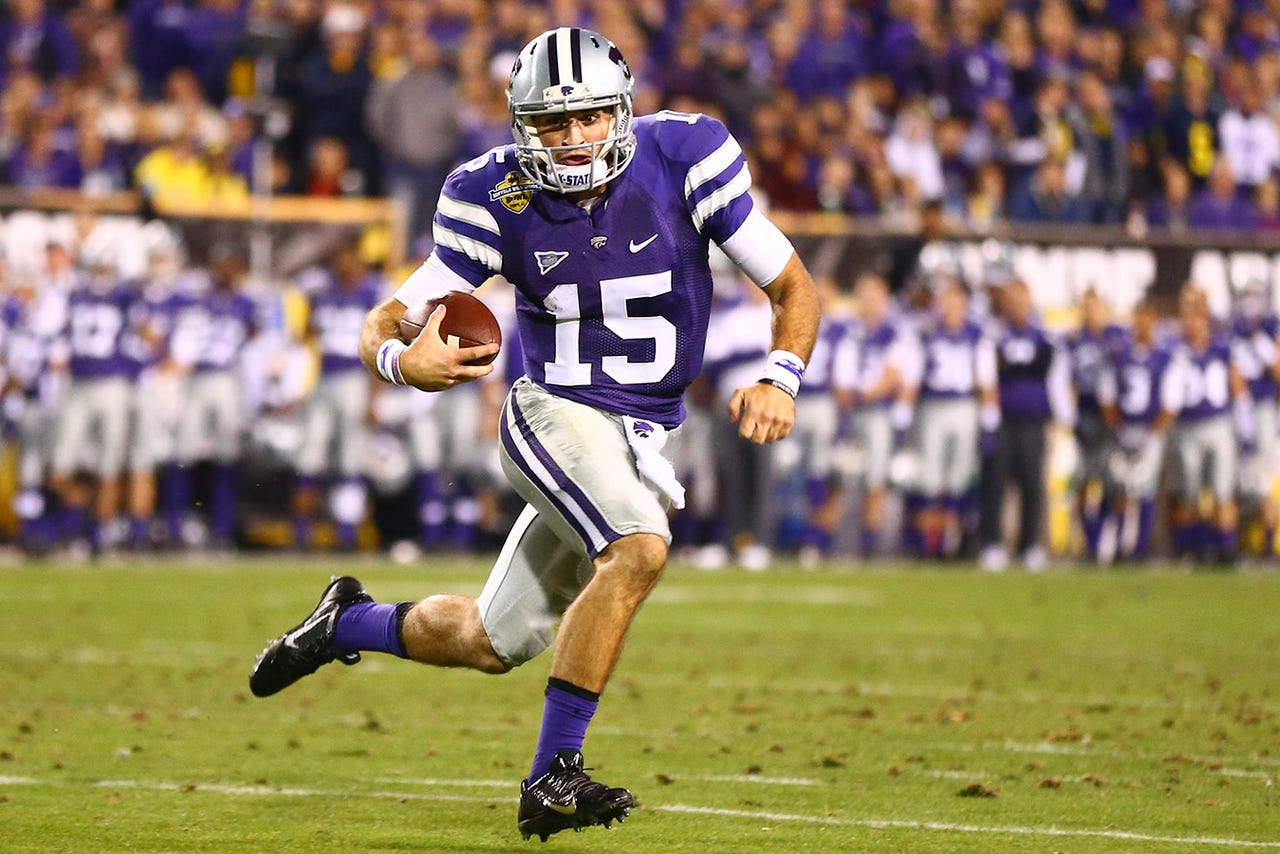 KANSAS CITY, Mo. -- In case Kansas State fans needed any more prompting to get excited about the fall, there's this number: 9.5.
As in, the average number of victories a Bill Snyder Wildcat team has recorded when the venerated coach happens to return his leading passer from the previous season.
Why hello there, Jake Waters.
Now, that's not to say there aren't concerns. Or questions. Namely: How sound will the two tackle slots be along the offensive line? Who will be the primary ball carrier behind Waters? Is there life after Ty Zimmerman in the secondary? Will all-world receiver/return ace Tyler Lockett be at full speed by late August?
But the biggest one of all might be the schedule, a slate that includes a visit from 2013 national runner-up Auburn on Sept. 18, a trip to Big 12 preseason favorite Oklahoma on Oct. 18 and a menu that calls for five league road games -- starting Sept. 6 in Ames against what's expected to be an improved Iowa State crew.
Most indicators point to this fall having all the ingredients for cooking up something special in Manhattan. But just how special will that special be?
THE DANCE CARD
Game 1: vs. Stephen F. Austin, Aug. 31
Another North Dakota State? Don't count on it. Texas Tech put up 61 points on the Lumberjacks last fall; SMU put up 52 points on 'em in 2012; and Baylor socked SFA, 48-0, in 2011 in a contest that was ended after 39 minutes because of lightning. In their last four meetings with an FBS foe, the 'Jacks have gone down by an average score of 42-5. Guesstimate: W
Game 2: at Iowa State, Sept. 6
An early league game in a place -- Jack Trice Stadium -- where the 'Cats, before 2012, had lost two straight tilts by a combined total of 39 points. K-State will be getting ready to host Auburn; the Cyclones will be getting ready to visit rival Iowa. Which team can avoid the inevitable look-ahead lapse? Guesstimate: W
Game 3: vs. Auburn, Sept. 18 (Thur.)
The Big One, Part I. Like contrasts? Gus Malzahn and the fast-break offense in one corner; Snyder and the fine art of clock management in the other. Any team with a healthy Waters and Lockett can keep up in a shootout, so this one -- in true basketball style -- could well come down to stops. And turnovers. Guesstimate: L
Game 4: vs. UTEP, Sept. 27
Snyder hasn't lost a non-conference home finale since returning to the sideline in 2009.; the Miners have never won in the Little Apple. There's a first time for everything, but this ain't it. Guesstimate: W
Game 5: vs. Texas Tech, Oct. 4
Snyder has ties older than Red Raiders coach Kliff Kingsbury -- and possibly a few windbreakers as well. Odd fact: Only two teams limited Tech to under 30 points in Lubbock last autumn. TCU was one. It lost. K-State was the other. It didn't. Guesstimate: W
Game 6: at Oklahoma, Oct. 18
Too early to be a Big 12 championship elimination game, but not too early to determine who gets pole position heading into Halloween. Bob Stoops will have the Sooners coming off the Red River Rivalry Game in Dallas. Which sounds fine and dandy, until you realize the Big Red Wagon Gang is 15-0 under Stoops all-time the week after the Texas tilt. Guesstimate: L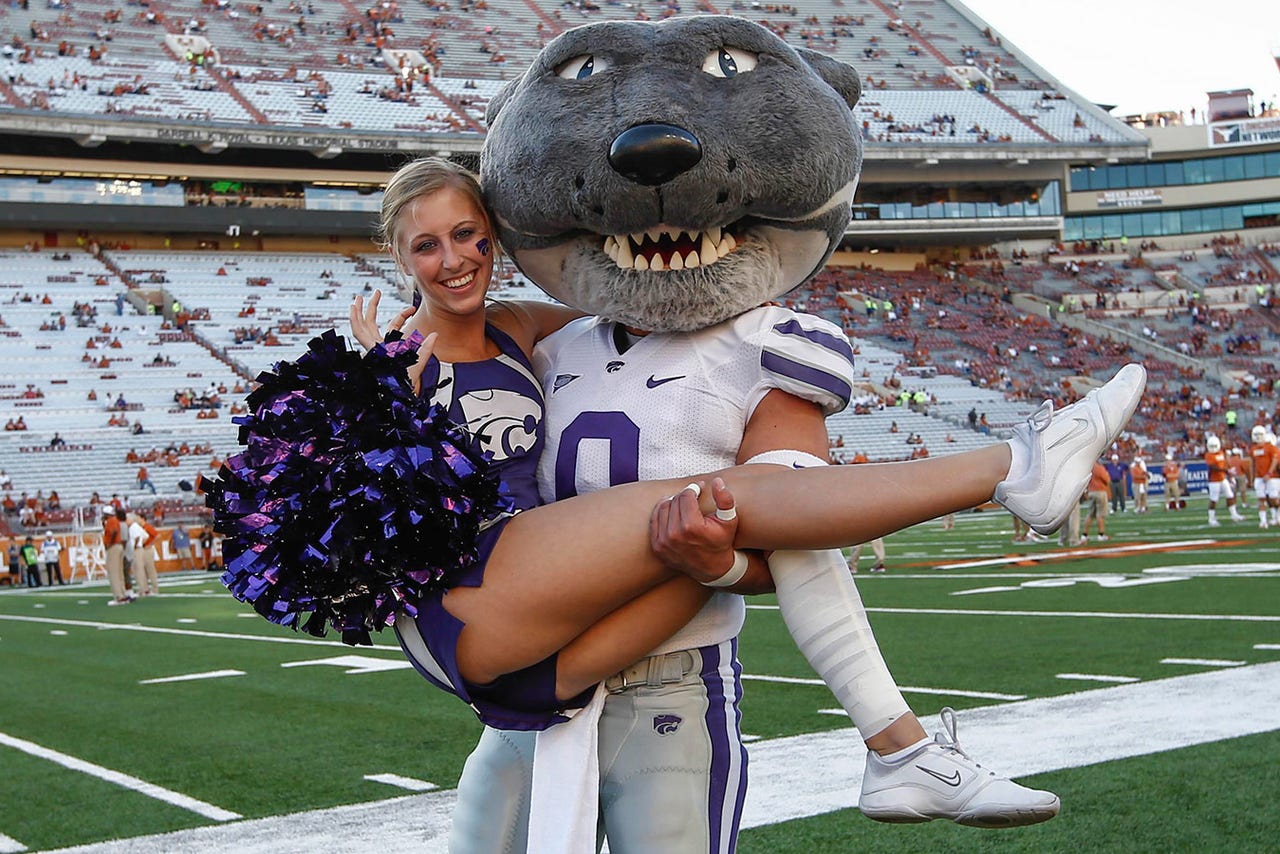 Lookin' good! CLICK HERE to check out our gallery of cheerleaders from around the Big 12.
Game 7: vs. Texas (Homecoming), Oct. 25
Things went all pear-shaped for Team EMAW in Austin last year, right from the get-go, but the Wildcats at least fought back late to make it interesting. After owning the Burnt Orange in the turnover margin in recent years, Texas flipped the script in 2013 -- K-State was minus-3 in giveaways/takeaways. If there ever was a contest where ball security could determine the outcome, folks, this one could very well be it. Guesstimate: W
Game 8: vs. Oklahoma State, Nov. 1
On paper, the 'Cats are supposed to be stepped up while the Cowboys are expected to be taking a small step back. Another case of hang-on-to-the-ball-or-go-home: The Wildcats were a whopping minus-4 in giveaway/takeaway margin in Stillwater last fall, including a Daniel Sams pick with 18 seconds left, K-State down four, that iced the contest. At least it's the Pokes' third away game in four weeks, which should help. Guesstimate: W
Game 9: at TCU, Nov. 8
With four losses by five points or fewer last fall and a key import in transfer quarterback Matt Joeckel (brother of Luke), the Horned Frogs are considered one of the sleepers in the Big 12. After missing the postseason for the first time since 2004, coach Gary Patterson jumped on the no-huddle bandwagon with new co-offensive coordinators Doug Meacham and Sonny Cumbie, the latter a former signal-caller under Mike Leach at Texas Tech. But if TCU can't get the offensive line squared away -- and it leaked quite a bit a year ago -- it might not matter who's taking the majority of snaps under center. Guesstimate: W
Game 10: at West Virginia, Nov. 20 (Thur.)
You know what's more fun than playing at Morgantown under the lights? Playing against a Dana Holgorsen defense under the lights. Guesstimate: W
Game 11: vs. Kansas, Nov. 29
Here's an idea: Score it like a Purple-White spring game, just to make it more interesting. Whatever lead K-State builds in the first two quarters, that score gets flipped at halftime. Boom. Done. Guesstimate: W
Game 12: at Baylor, Dec. 6
Ah, Waco. Where good defensive coordinators go to die. Guesstimate: L
THE FINAL VERDICT: 9-3, 7-2 Big 12
The most dangerous Snyder teams are the ones you don't see coming. This one, folks can see -- and the slate doesn't offer a lot of favors, either. If there's a silver lining, it's a 12-day gap before the Auburn test, and a 14-day break before the Oklahoma one.
And there's this number, too: +1.67. When the Jedi Master has returned his leading passer from the year before, that's the average jump in victories in the upcoming fall from one K-State season to the next. If that trend holds, the folks on Kimball Avenue will need some more room in that trophy case.
You can follow Sean Keeler on Twitter at @SeanKeeler or email him at seanmkeeler@gmail.com.
---