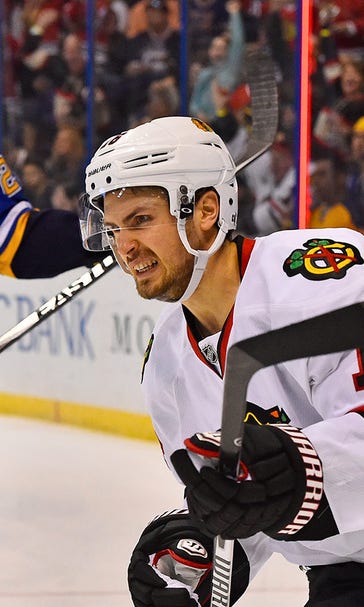 The transition game: Blues must put the kibosh on odd-man rushes
BY foxsports • February 9, 2015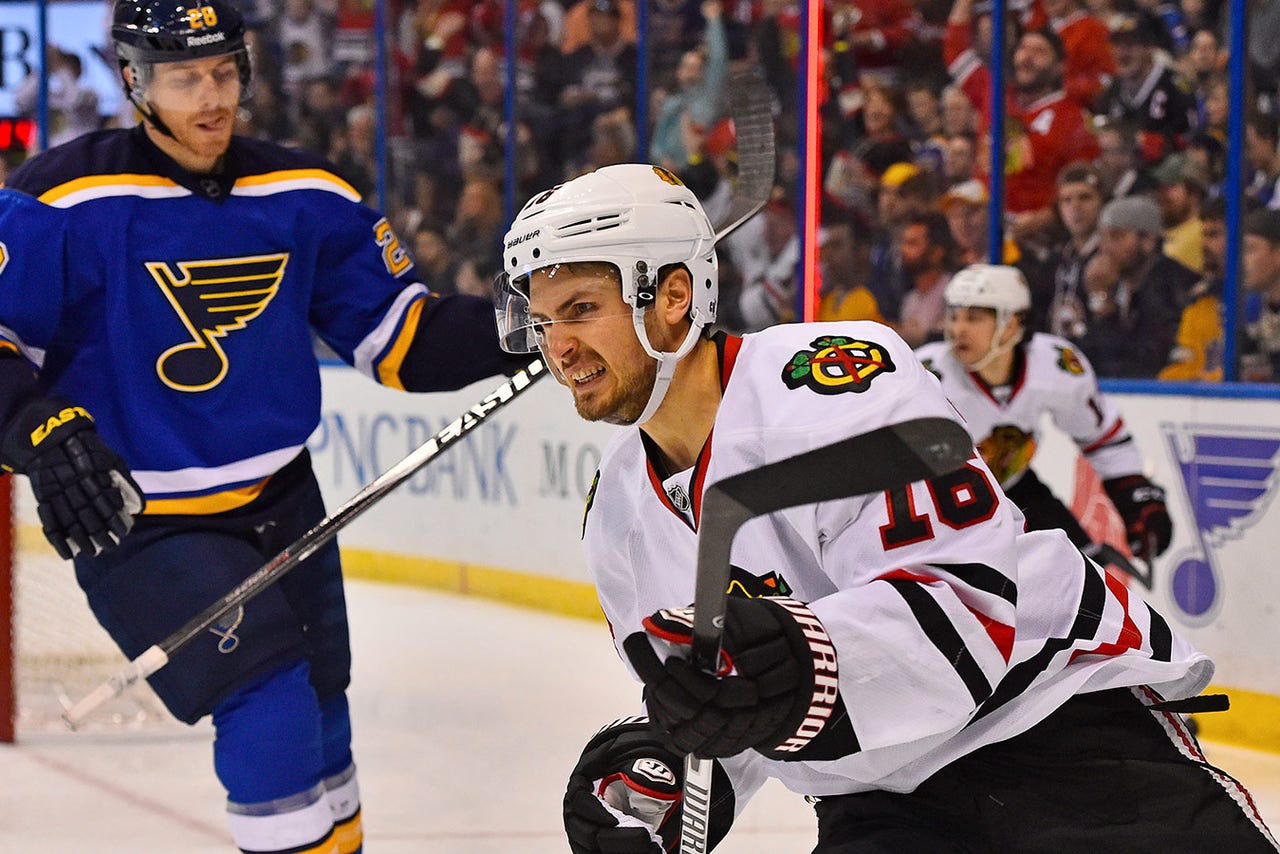 ST. LOUIS -- Lately, the moments when the Blues look ready to attack have turned out to be when they're most vulnerable.
Too many odd-man rushes for opponents have long been a complaint this season for coach Ken Hitchcock, and the loss of active defenseman Kevin Shattenkirk to injury has made matters even worse. St. Louis may be doing a better job overall of controlling the puck and staying in the offensive zone, but it's not as much of an advantage when the Blues struggle in transition defensively.
"We're trying to make lateral plays, or trying to make one more pass rather than ripping a few at the net," captain David Backes said after Sunday's 4-2 loss to Chicago. "The result is they've got good defensemen that (quickly move) the puck (up the ice) and then there's a three-on-two race started the other way."
The Blackhawks flip the switch from offense to defense as well as anyone, even at the end of a taxing seven-game road trip. They made the Blues pay early for giving up a two-on-one, even though defenseman Ian Cole forced Marcus Kruger to make a great shot for his first goal since scoring against the Blues 28 games ago.
But St. Louis didn't struggle only when it failed to beat the Blackhawks back down the ice. The Blues gave up two other goals because they couldn't fill the gaps as Chicago entered the zone, including Marian Hossa's game-winning one-timer from the high slot on a power play.
"That's the first time I've seen them use that play on their rush attack and they got us on a gap on the rush," Hitchcock said. "We had new people on the rush, people that hadn't played together. When (Jay) Bouwmeester goes out, you've got different people killing penalties."
The deciding power play itself came from a transition play, when Bouwmeester had little choice but to pick up a hooking penalty to stop a breakaway at the St. Louis blue line. The defense has made significant strides in both five-on-five play and on the penalty kill against sustained attacks, but opponents keep finding holes as soon as they enter the offensive zone.
Even last-place Buffalo got more than its share of odd-man rushes to go along with two breakaways, including one on a Blues power play during their 3-0 win last Thursday. Jake Allen erased every mistake that night, but St. Louis has given up two shorthanded goals in its last seven games, compared with two in its first 46.
Backes said part of the problem is getting "too cute," and even the captain has been guilty of making ill-advised passes across the ice rather than going toward the goal. Aggressive forwards often intercept those passes, making them just as dangerous as turnovers in the defensive zone.
Defenseman Alex Pietrangelo said the Blues often kept the Blackhawks on their heels by taking a more straightforward approach to the net. But when St. Louis plays more "east-west" it gets away from the game Hitchcock wants to play and allows Chicago or anyone else an opening to create some much-needed momentum in a hurry.
The Blues get plenty of transition opportunities of their own with quick, explosive forwards such as Vladimir Tarasenko, T.J. Oshie and Jaden Schwartz leading the charge. When both teams are flying up and down the ice, creating opportunities for open looks at the goal, it makes for an exciting brand of hockey and a great show for the fans.
Just not the type Hitchcock and the Blues want to see at both ends.
You can follow Luke Thompson on Twitter at @FS_LukeT or email him at lukegthompson87@gmail.com.
---