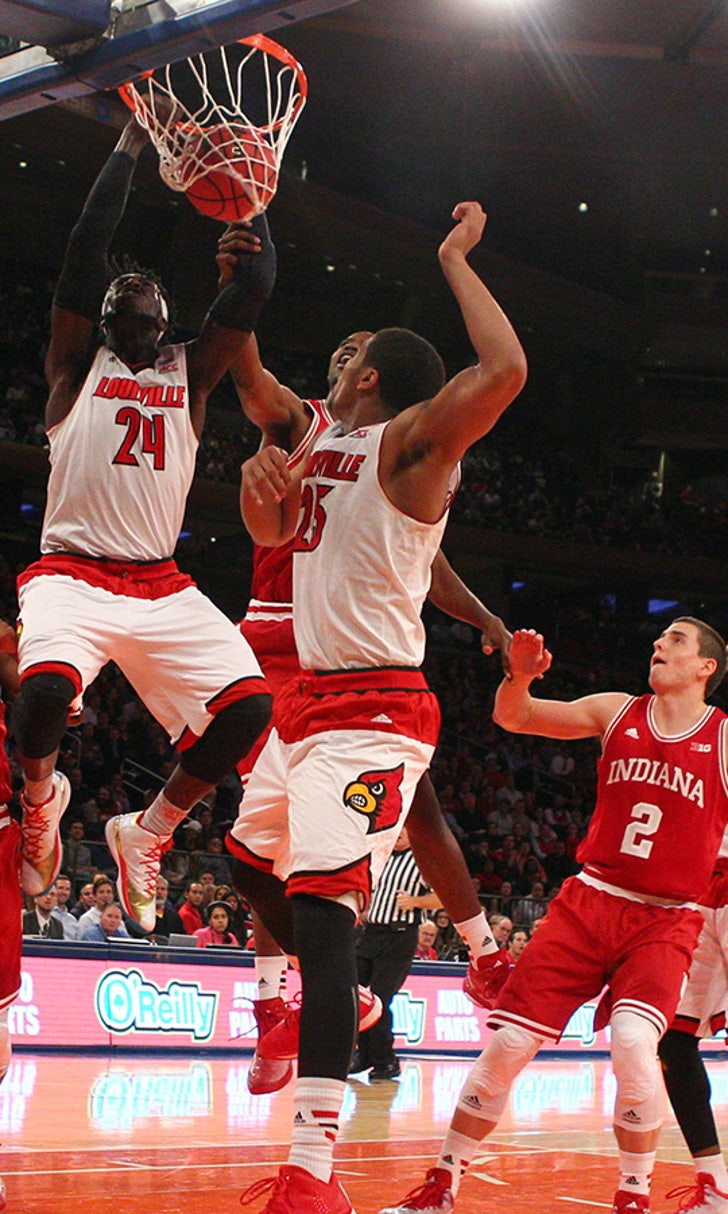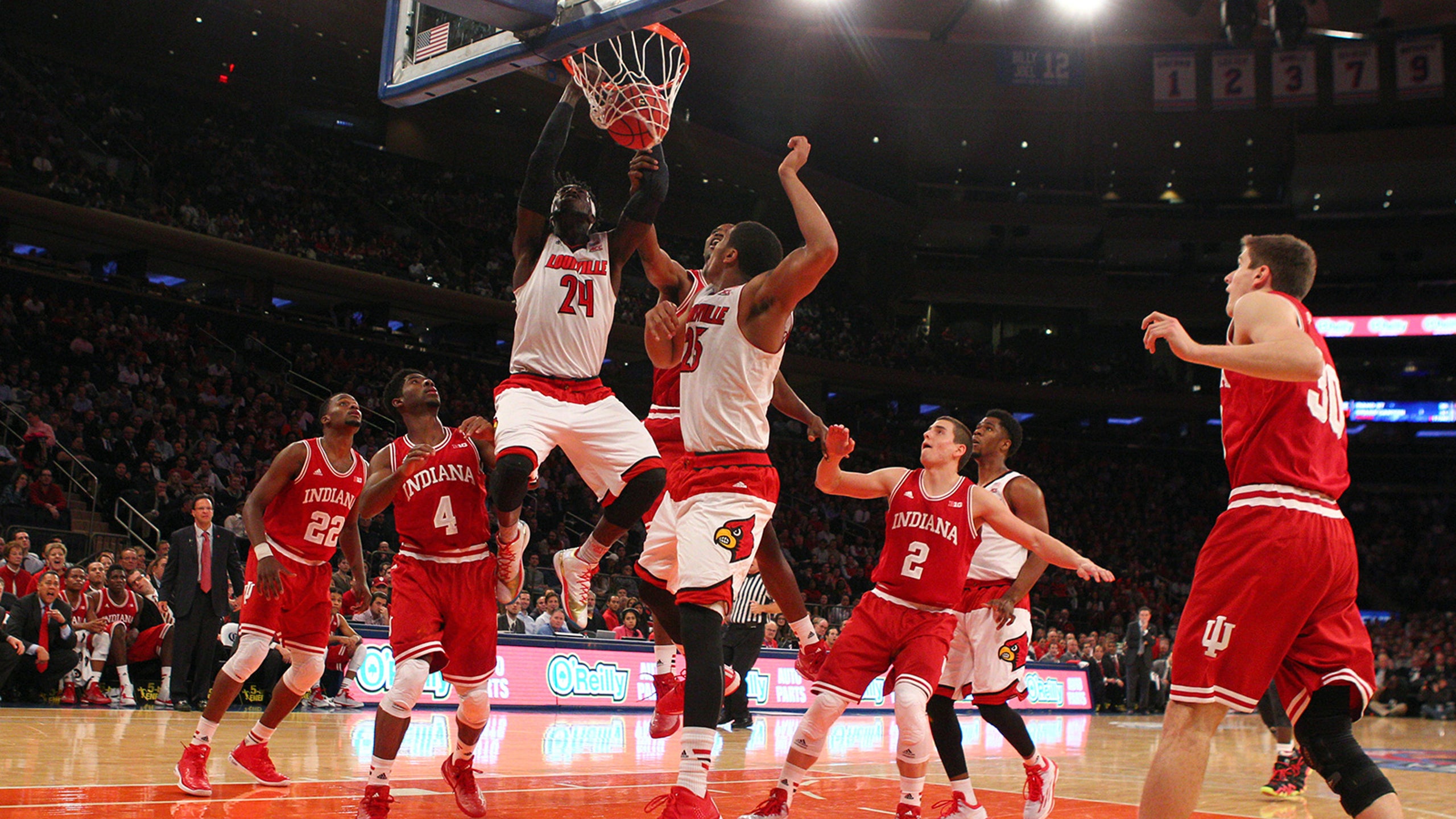 The Quarters: Top teams begin to distance themselves
BY Zach Dillard • December 10, 2014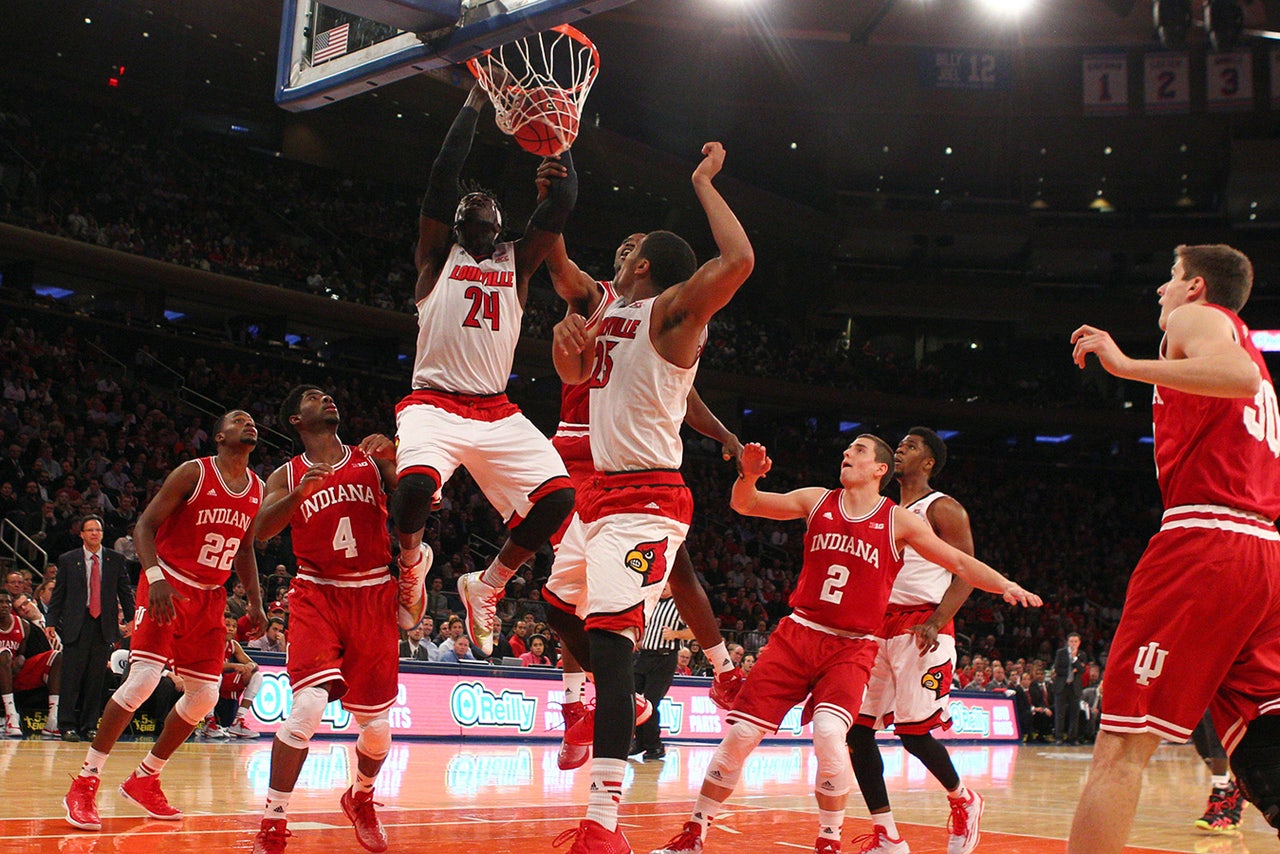 The fourth edition of The Quarters looks at the Jimmy V Classic and top teams solidifying their identities, the top "caretaker" guards, the Longhorns' impress loss, the Naismith Watch and more around the college basketball landscape:
1 There's something comforting about reliability. Watching the 20th annual Jimmy V Classic on Tuesday night, following a week of unpredictability that saw many high-profile suffer bad-to-baffling losses, No. 4 Louisville and No. 7 Villanova maintained their perfect records against Big Ten mainstays Indiana and Illinois and the gap seemed to widen. Not necessarily the gap between the specific teams or the represented conferences, but instead the gap between the 2014-15 haves and have-nots.
There are 10 remaining undefeated teams as of Wednesday morning, but with all due respect to Washington, Northern Iowa, TCU and Colorado State, there is a divide. In terms of zero-loss teams, the upper echelon -- Kentucky, Duke, Virginia, Louisville, Villanova and Arizona -- are on another level, or so it appears with approximately a quarter of the season in the books. Throw in the likes of Wisconsin, Gonzaga and Texas (teams owning one competitive loss to a great team) and the annual separation grows more and more distinct. Parity is fascinating, but establishing favorites builds up the stakes.
The two Jimmy V Classic favorites entered the event with their respective flaws.
Louisville remains a runaway locomotive on the defensive end, but that same frenetic pace had not translated onto the offensive end, resulting in lackluster results against Ohio State and Cleveland State. Jay Wright's Wildcats, the early-season pride of the Big East, do plenty of things really, really well and avoid mistakes with the best of teams, but wins against Michigan and VCU have since lost some luster. Some of those questions were answered at The Garden.
First, Louisville looks like it is going to grow into its offense. New backcourt Terry Rozier and Chris Jones put together its best overall game, combining for 50 points by attacking the basket and hitting outside shots, drawing in the defense to open up space for the likes of Wayne Blackshear (poor shooting night) and big man Montrezl Harrell. Now, Indiana's defense is fairly porous, but the Cardinals put up 1.22 points per possession all while failing to capitalize on additional open looks.
The results: 94 points in an eventual rout. Oh, and plenty of Montrezl Harrell doing what Montrezl Harrell does best:
When Indiana coach Tom Crean's halftime prediction -- the shorthand version: "We're going to get whatever we want (offensively)." -- backfired due to Louisville's defensive pressure, it was all but over. If the Rozier-Jones combo can continue to penetrate opposing defenses and make good decisions, Louisville is a national title contender.
Villanova's place in that conversation is a little more unclear, but after another slow-cooked victory in which the Wildcats picked apart a quality Illinois team it's difficult to doubt what's working. Wright's team might boast the least individual talent among the nation's top teams, but other teams are going to have to out-execute it to win -- and even that's not a full-proof plan. The Illini joined Michigan as the only teams to win the turnover battle against Villanova this season. Both walked away with a tally in the loss column.
Non-conference play will soon wrap up, and the results should provide a clearer national picture entering conference play. Yes, a few of these aforementioned elite teams will tumble (somebody has to win the Kentucky-Louisville matchup) but with events like the Jimmy V now in the rearview, we can see the separation.
2 During last week's ACC-Big Ten Challenge, an event that included a Notre Dame team handing Michigan State its third loss in an entertaining overtime undercard, the play of Fighting Irish guard Jerian Grant was a revelation. The senior, who missed the 2013-14 season for academic reasons, looked like he spent his time away from the Division I lights prepping to dismantle opposing defenses.
In his team's most challenging game to date, Notre Dame coach Mike Brey put the ball in Grant's hands. The guard was used on 34 percent of the team's possessions. (Note: Not 34 percent of available possessions, because Grant played all 45 minutes of the game.) He delivered 27 points, four rebounds and six assists on offense. He logged three steals and a block on defense. Considering the opponent, it was one of the more impressive performances of the non-conference schedule.
What was most impressive? Despite so much of the offense's production and decision-making, Grant committed just two turnovers in his 45 minutes of play. Not only was he the most explosive player in Brey's system, he was also that system's caretaker. A similar story plays out over Notre Dame's other nine games.
Grant is playing more than 80 percent of available minutes and posting a 26.1 usage rate. He is responsible for a third of his team's assists and he's turning the ball over on 10 percent of possessions. That puts him in some pretty rare company this season. In a search for guards pulling off similar "caretaker" numbers -- I looked at players logging at least 60 percent of minutes and 20 percent of possessions with 31-plus assist rates (KenPom top-100 cutoff) and 15 percent turnover rates or better just to get a basic sample of players -- it turns out that Grant isn't even the best of the bunch.
The full list of qualifiers, in descending order of assist rate through Monday's games: Mike Scott (Idaho), Ryan Harrow (Georgia State), Mike Talley (Eastern Michigan), Derrick Marks (Boise State), Jerian Grant (Notre Dame), Delon Wright (Utah), Juan'ya Green (Hofstra), Austin Chatman (Creighton) and Brandon Clark (Santa Clara).
Those are your premier caretakers of 2014 to date, or something along those lines.
Some of the names that popped up were not to surprising: Delon Wright has played excellent for a surging Utah team while Harrow and Marks are guiding mid-major darlings with quality offensive weapons. But the leader of the group is Idaho's Mike Scott, the nation's leader with a whopping 12-to-1 assist-to-turnover ratio. If Grant's numbers are drastic, Scott's were even better (against lesser competition): 78.8 percent of available minutes, 24.6 usage rate, 39.6 assist rate and a superb 3.9 turnover rate.
He's played 25-plus minutes in every game this season. He's been charged with three turnovers. Total.
3 Sitting in a long-sleeve warmup shirt with a black cast on his non-shooting hand, Texas guard Isaiah Taylor clearly wanted a shot at Kentucky's backcourt last week. His frontcourt was standing toe-to-toe with the most talented frontcourt in the country, his fellow guards Jevan Felix and Demarcus Holland were penetrating into the Big Blue forest and making the occasional play and the Longhorns entered halftime tied 26-26 with the No. 1 team at Rupp Arena.
"It was a dog-fight, and their dogs were bigger in the first half," Kentucky coach John Calipari said afterwards. "Put it that way."
Still, Taylor brings a different dimension to the Longhorns' offense and his playmaking ability was missed in the second half. Kentucky eventually pulled away, but it's tough to decide which team delivered a better message: the Wildcats, the rarely disputed top-ranked team beating a quality opponent at home, or the Longhorns, a team that matched up with Final Four favorites on the road despite missing their top backcourt presence.
With or without Taylor, there's plenty to like about Rick Barnes's team.
The Longhorns are deep, tall, physical and have the ability to wear down opponents not named Kentucky with waves of frontcourt help. Super freshman Myles Turner is going to keep getting better -- he's already a rim protector to fear, ranking 11th nationally with a 14 percent block rate -- while juniors Cameron Ridley, Prince Ibeh and Connor Lammert will continue to wear down opponents. In senior Jonathan Holmes, Barnes has a go-to wing option that can shoot from the outside (44 percent 3-point shooter) or attack the basket.
Add Taylor, a dynamic player with the ball in his hands and, as The Quarters wrote last week, Texas has a very good opportunity to dethrone Kansas in the Big 12.
This is Barnes's best team in quite some time, and many of his best teams have always built around size, but they also utilized that guard position to their advantage. Think D.J. Augustin or Cory Joseph or T.J. Ford. Big shoes for Taylor to fill, to be sure, and when he returns for Big 12 play the country will see just how well he can fill them.
Throw all of these ingredients into the mix, and there might not be a more impressive loss on record than the Kentucky-Texas result. Believe Barnes for now: Don't worry about Texas. Things are looking up in Austin.
4 The same encouragement-in-loss cannot be found for all Power 5 teams over the past week, although one in particular comes to mind. Unfortunately for the Big Ten, one of its premier teams, Michigan, has become a national punchline following back-to-back home losses against NJIT and Eastern Michigan.
In the span of five days, two of the worst losses of the John Beilein Era came crashing down in Ann Arbor. There were vines, and then there were more vines. Over that short stretch, Michigan, an annual top-25 presence in both the AP and efficiency rankings, tumbled.
There are worse three-loss teams around, but the Wolverines are certainly struggling. Their defense has been concerning, allowing opponents to effectively shoot 50.5 percent from the field (229th nationally) while the offense does not hit the glass or draw fouls with regularity. The results? Two losses to teams outside KenPom's top-100, including one to the only conference-less Division I team.
The NJIT and Eastern Michigan losses were just the ninth and 10th Michigan losses to teams outside a Power 5 conference under Beilein's watch, and already the most in one season since 2008.
Among the national powers, it's one of the more concerning situations to arise during the non-conference slate.
In case you missed that brief glimpse of Montrezl Harrell's first half against Indiana in the Jimmy V Classic, here it is again. With the rim rampage, Harrell became the all-time leader in Louisville's dunk-happy history, and while that may not truly factor into this season's Player of the Year Watch it serves as a decent lead-in to the type of force the junior forward has become for Rick Pitino. He's still one of the best defensive players in the country and he's averaging 21.3 points and 9.3 rebounds against Power 5 teams.
The Nos. 2 and 3 spots remain stagnant as Frank Kaminsky's quality effort against Marquette wasn't quite enough to get him to jump an idle Jahlil Okafor. Jerian Grant makes his first appearance on the Naismith Watch after Gonzaga point guard Kevin Pangos struggled against a strong Arizona defense. Meanwhile, Grant has been putting up big-time numbers for the 9-1 Fighting Irish: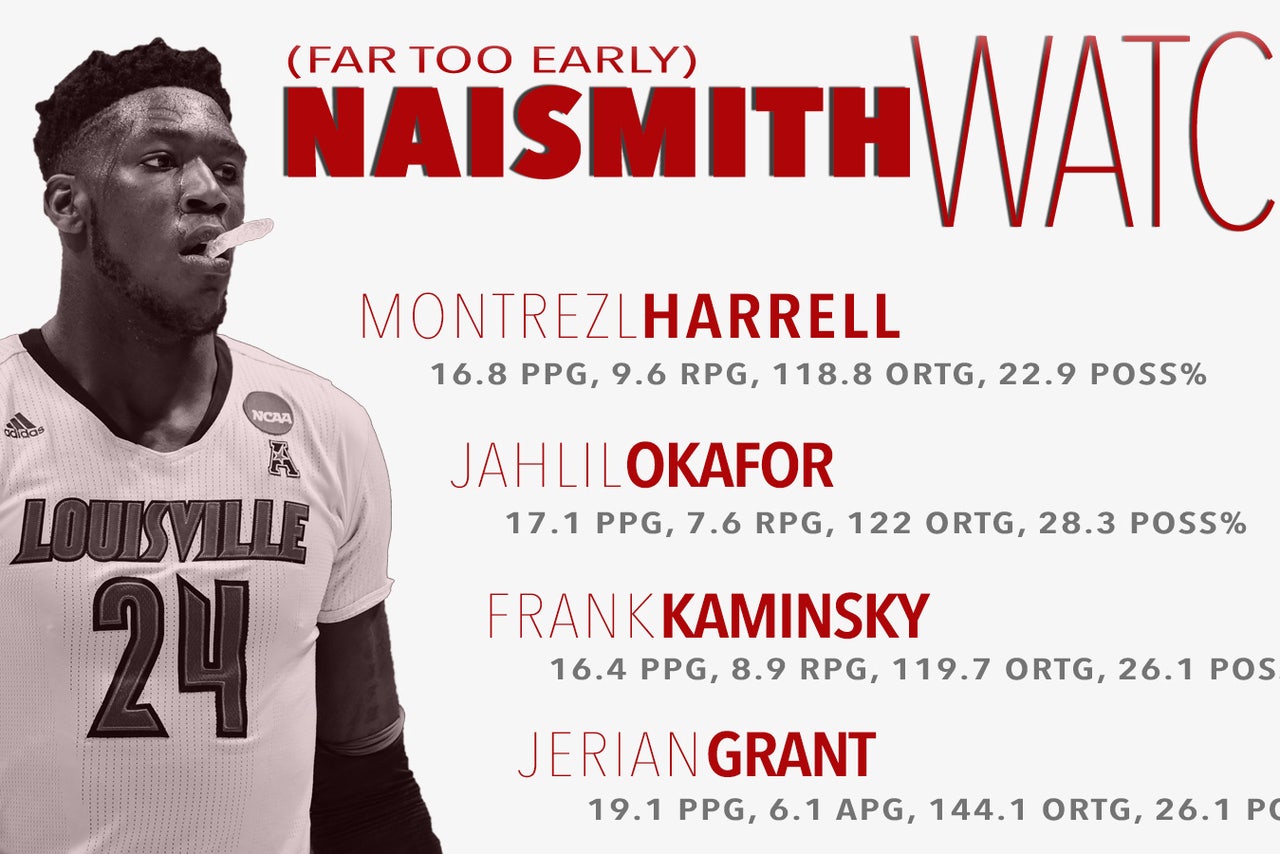 Justin Anderson, Virginia: There are only two teams showing more balance than Anderson's Cavaliers: efficiency warlock Wisconsin and the unquestioned national title favorite, Kentucky. Virginia, the defending ACC champions, entered the season in a different position -- losing top seniors Joe Harris and Akil Mitchell without the benefit of a No. 1 recruiting class -- but have looked even better in 2015.
Anderson, a junior from Rockdale, Md., is an excellent example of how the program has maintained excellence.
Following an inconsistent sophomore campaign, Anderson has molded himself into an early National Player of the Year darkhorse. He's improved across the board, averaging 18.3 points and 7.3 rebounds in the Cavs' three biggest wins (George Washington, Maryland, VCU). He ranks in the top-50 nationally in offensive rating and true shooting percentage, giving Bennett's defensive-minded program a go-to scorer and a dominant junior class that also features equality starters in point guard Malcolm Brogdon, Anthony Gill and Mike Tobey.
Georges Niang, Iowa State: The slimmed-down Cyclones' Swiss Army Knife coasted through a rather quiet night on Tuesday, filling the box score against UMKC with nine points, seven assists and seven rebounds. It was the first time since March 4 last season that Niang had fallen short of double figures scoring, but it would be a mistake to assume there's been a fall off for one of the nation's most explosive offense's Option A. Look no further than a dominant performance against the pressure-happy Arkansas Razorbacks for proof. Niang's best game of the season -- 26 points (9 of 12 shooting) and eight assists -- came at the expense of potential first-round pick Bobby Portis and his teammates, and the arsenal was on full display:
Jakob Poeltl, Utah: The Utah center is not only a primary driving force for Larry Krystkowiak's surging program -- a team that nearly out-grinded the ever-grinding San Diego State Aztecs before handing Wichita State its first regular-season loss in two years -- but he's shooting up draft boards as a result. The 7-footer is a human vacuum in the paint, jumping right into the upper echelon of Division I's top rebounders. The Austrian native is not only averaging 12 points and 9.6 rebounds through his first seven games, but he leads all players at creating extra possessions on the offensive end by a significant margin (national leaders in offensive rebounding percentage, entering Wednesday's games):
As Utah assistant Andy Hill told Yahoo! Sports' Jeff Eisenberg, this trait stood out immediately during Poeltl's recruitment: "Sometimes you watch a kid and it's a complete no brainer you want him. I would say he was one of those kids. Right away, he stood out. He was rebounding everything."
Back in 2006, George Mason started a nice trend, one that's spanned the past eight seasons with surprising regularity. Since that magical run, five non-power conference teams (Memphis, VCU, Wichita State and Butler twice) have made a Final Four appearances, missing the prestigious stage of the NCAA Tournament just three times. With that in mind, here's a look at the potential torch-bearers of that tradition, as well as some of the best stories outside the major conferences:
Brett Comer, Florida Gulf Coast: Brett Comer was never considered the architect of Dunk City, but he was, at the very least, one of its high-ranking officials. He might be considered its mayor now. After the headline-grabbing run to the 2013 Sweet Sixteen, the Eagles are back with more talent -- bolstered by transfers Marc Eddy Norelia (Tulane), Julian DeBose (Rice), Jamail Jones (Marquette) and Demetris Morant (UNLV) -- and the same operator at the control panel.
Comer is averaging 10 points and eight assists per game this season and has ranked in the top-25 in assist rate in each of the past four seasons. As for 2014, with the influx of offensive help, Comer, the former high school teammate of NBA guard Austin Rivers, is enjoying his best season. He's taken on more of a distributor role and leads the country in assist rate (55.7 percent). It helps to have a complete cast of finishers this time around. Here's who Comer's assists find most, and perhaps it's no surprise that it is a fellow four-year Eagle with which he has the best rapport:
NJIT: The Highlanders -- Repeat: The Highlanders, you should've known Michigan -- have received plenty of deserved media coverage after logging what will very likely be the upset of the season. The reasons behind this have been made excruciatingly obvious in the aftermath: conference-less, first game against a ranked team, etc. Here's one last bit of context: In the eight-plus seasons since the program has joined Division I, it has played 17 games against teams that finished that respective season ranked in KenPom's top-100. NJIT lost those games by an average of 26.2 points per game, with only one game (a one-point near-upset of Providence in 2013) finishing in single digits.
(Then again, Eastern Michigan proved there can be more than one ... OK, sorry.)
Ivy League: Speaking of Northeast schools with strong academic standards, the standard-bearing league of this description enjoyed its own trumps this past week. As if it wasn't enough for Yale to knock off defending national champion UConn on the road, a 5-6 Brown teams goes into Rhode Island and stunned Providence by scoring 33 points in the final 10 minutes. It's far-fetched to expect the Brown Bears to remain competitive throughout the season, but with Harvard, one of the nation's preeminent mid-major darlings, and Yale the Ivy League claims two KenPom top-100 teams right now.
John Simons, Central Michigan: Although he plays a limited role in the Chippewas' offense relative to his overall production, Simons is proving himself to be one of the better stretch big men in the mid-major ranks, shooting the lights out of every gym he's come across thus far. Standing 6-foot-8 with solid defensive rebounding numbers, Simons is shooting 57.1 percent from 3-point range. With that in mind, it's no surprise that he ranks third nationally in true shooting percentage (80.9) for one of the better shooting teams nationally. It'd be difficult to find a softer non-conference schedule, but making 20 of 35 3-pointers in an empty gym is difficult enough.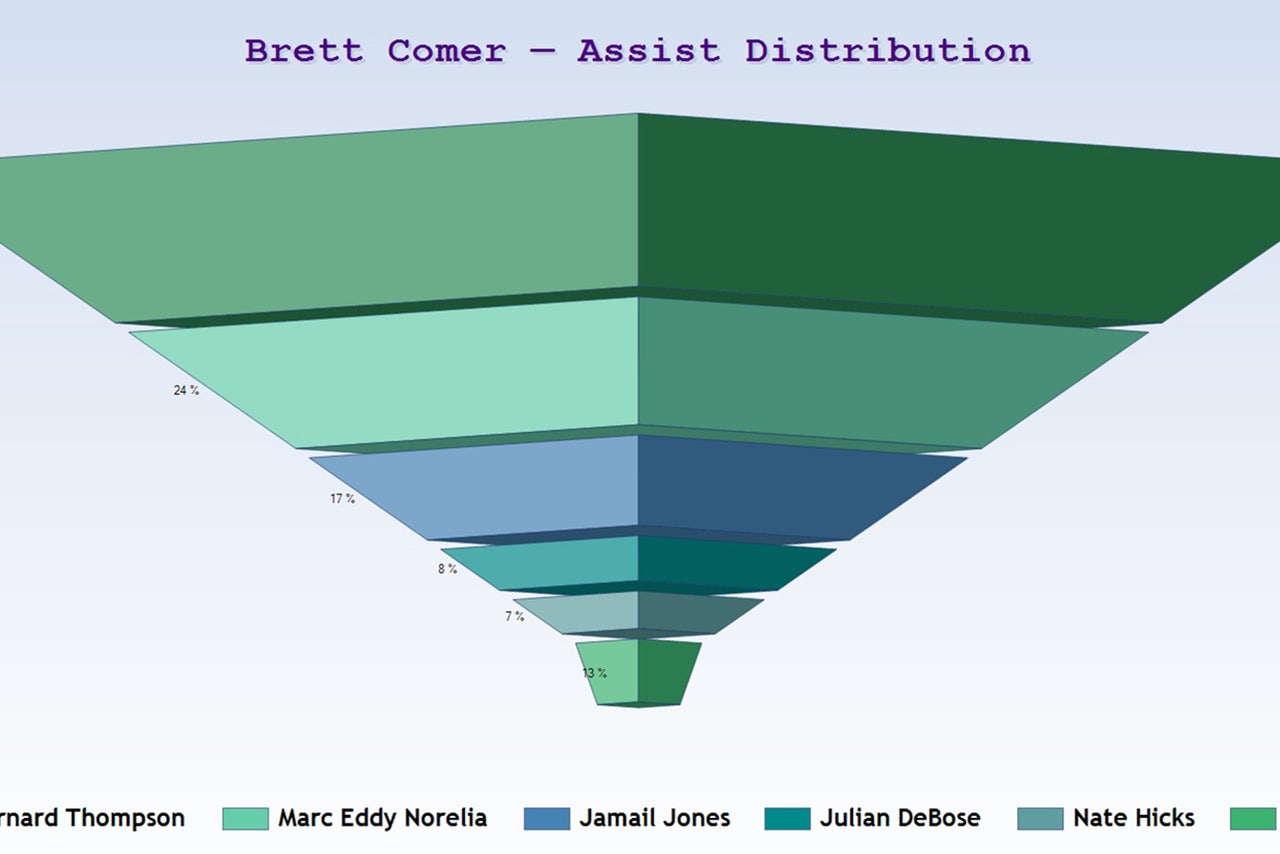 ---