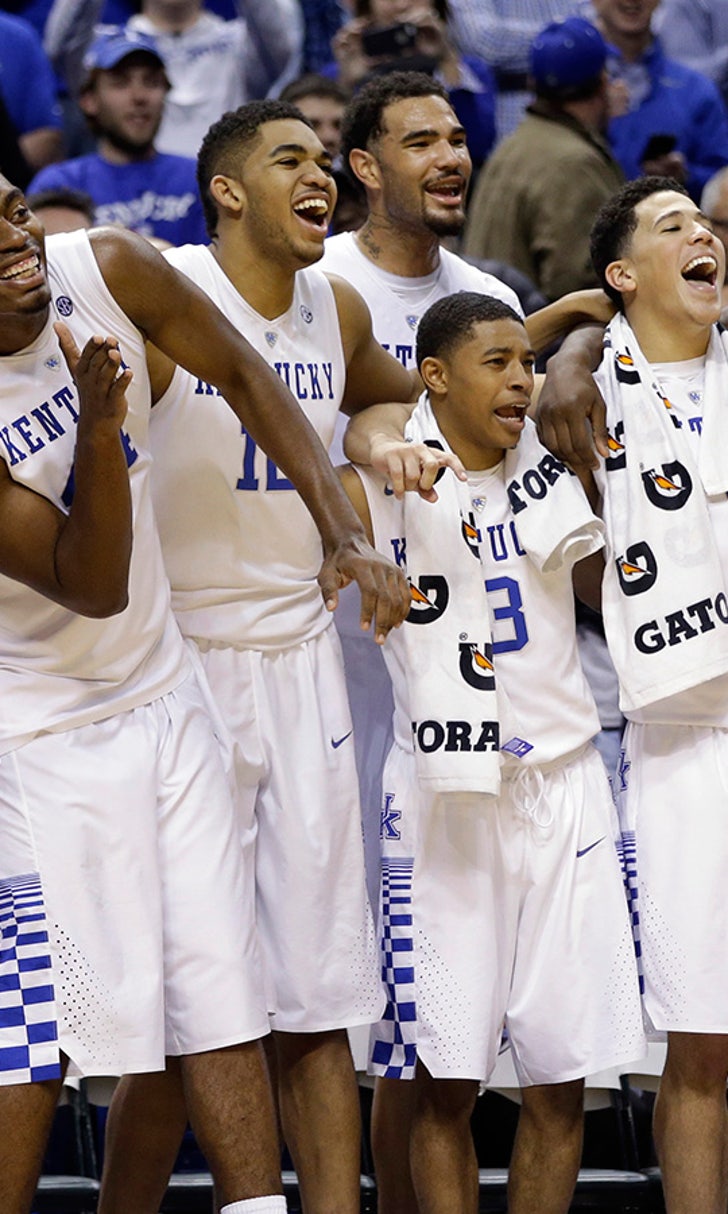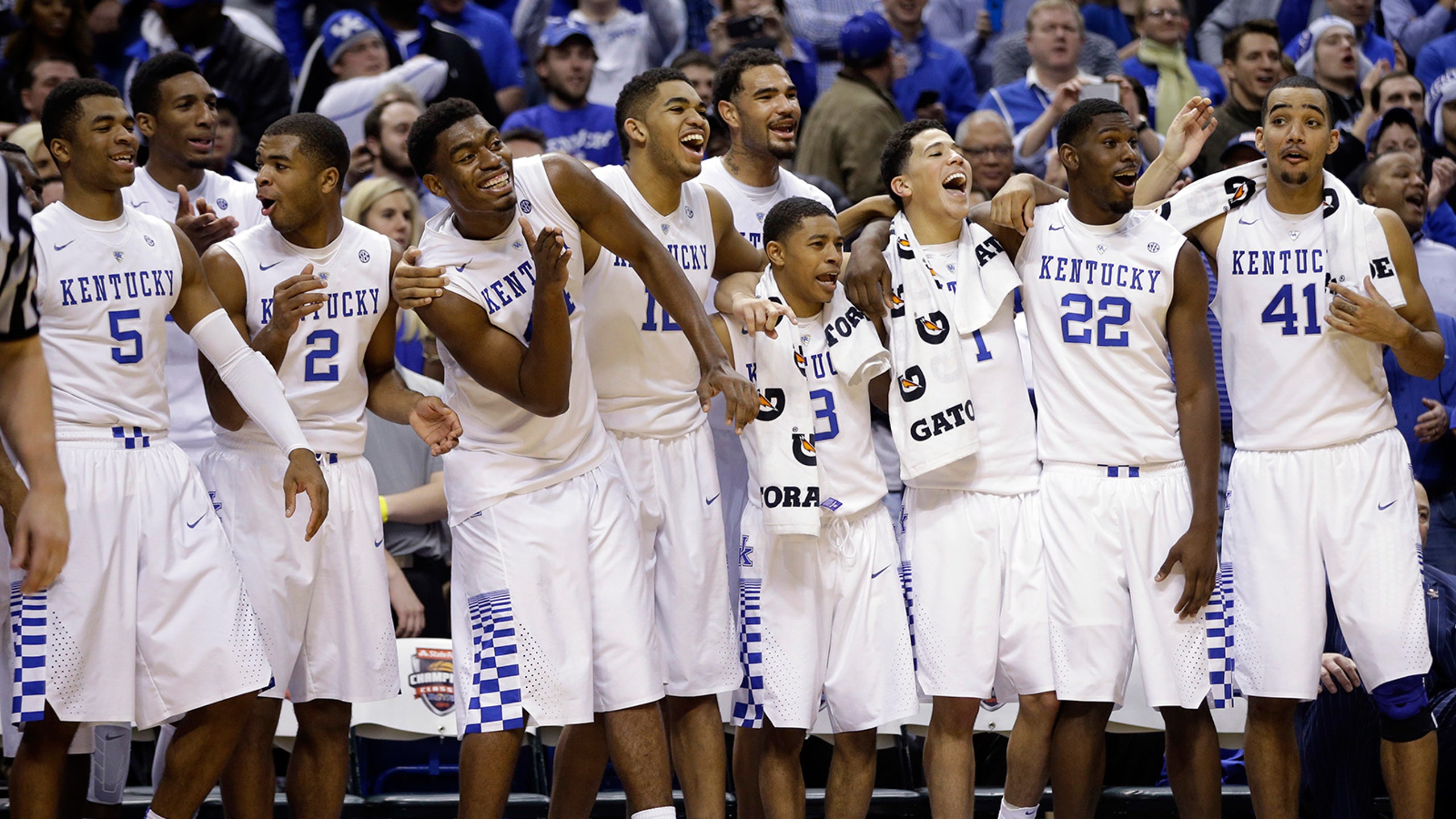 The Quarters: Kentucky stands atop college basketball's early-season pile
BY Zach Dillard • November 19, 2014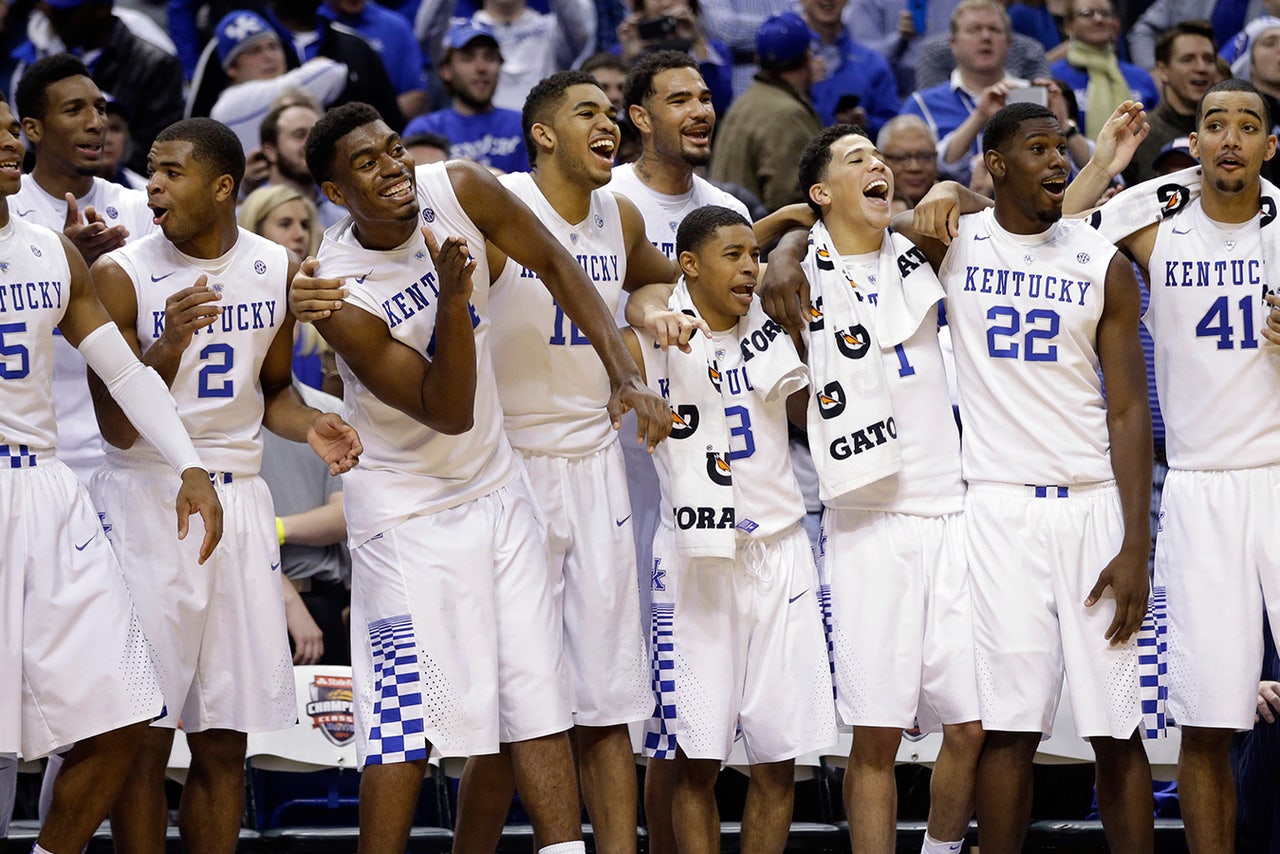 Every year, nestled comfortably in the shadow of football seasons taking on more and more urgency, the college basketball season tips off with a flurry, 351 Division I programs stepping forward on their march towards Madness. There were 158 games played on college basketball's opening day -- 6,285 minutes of reshuffling the deck, introducing new names, watching familiar faces showcase new tricks and seeing the season's foundation poured. It's good to be back.
The names near the top of the preseason polls should not surprise (Kentucky, Duke, Arizona), nor should the early-season jockeying for conference supremacy. And after a weekend of table-setting, the November games that will likely carry weight on Selection Sunday tipped off. Highlighted by the Champions Classic double-header, there were four ranked-versus ranked non-conference games on Monday and Tuesday and a number of additional surprising results. The Quarters returns to try and sort through the early narratives, and it starts with Tuesday night's annual glamor matchups:
1 The Champions Classic is now a staple in college basketball, a high-profile barometer for four of the nation's highest-profile programs. When Kentucky, Kansas, Duke and Michigan State pack into the same building, TV cameras are bound to track every move.
It's an event that makes you forget it's November and that things can change in a hurry. Just last season in this event, No. 5 Kansas discarded No. 4 Duke with a second-half barrage behind eventual top draft pick Andrew Wiggins -- the Jayhawks were heaped with praise and rose to No. 2 nationally. Both teams failed to win an NCAA Tournament game. Michigan State used its 2013-14 win over Kentucky to climb into the top overall spot in the polls, but it was the talented Wildcats who managed to denounce their regular-season troubles and reach the title game. Occasionally, like the 2012 Kentucky-Kansas matchup that served as a preview of the national championship game, a Champions Classic matchup sets the season's stage for national powers, but just as often it's a November game for two good-to-very-good teams.
All the same, it's impossible to walk away from what happened in Bankers Life Fieldhouse and not believe the top-ranked Kentucky Wildcats have a chance to be something truly special this season. John Calipari's collection of towers and All-Americans throttled Kansas, once again the No. 5 team in the country, in what mercifully ended with a 72-40 final score. It was a demolition derby, one that left the Jayhawks with their lowest offensive output in the shot clock era. The stat line everyone will remember? Kentucky registered just as many blocked shots and Kansas made field goals (11). Bill Self fittingly mentioned vodka before his postgame news conference.
Coming off a regular season in which Cal's Wildcats fell far short of preseason expectations, his most recent model looks deep, terrifying and capable of being college basketball's first truly dominant team since Anthony Davis and Michael Kidd-Gilchrist left Lexington.
"We kind of bum-rushed them a little bit. And every time they looked there were more tanks coming over the hill," Calipari said of his team's depth following the Kansas win. "It wasn't substitutes, it was reinforcements. Here they come. It kinda gets to you a little bit."
Kentucky isn't just running in fresh legs with its rotating two-platoon system, it's planting new trees around the rim. The Wildcats run out nine players standing 6-foot-6 or taller in its regular rotation. They are by far the biggest team in the country, and as statistician Ken Pomeroy has noted previously, there's a correlation between being really tall and being really good defensively -- add in the fact that the majority of this height also comes with a McDonalds All-American label and it's clear that Kentucky has a chance to be absolutely brilliant defensively (KenPom's effective height metric, essentially measuring a team's rim protection on a national scale):
Kentucky's ability on the defensive end, when zoned in like they were on Tuesday night, has the potential to erase flaws, to cover up mistakes and breakdowns. As Calipari put it, they had the helper helping the helper. The Wildcats shot 43 percent from the floor and 61.5 percent from the line and won by 32 points. They allowed 20 offensive rebounds and won by 32 points. Their game-high individual scorer finished with 11 points, and they still won by 32 over a fellow blueblood. The Jayhawks looked battered and almost listless during their second-half possessions. That tends to happen after shooting 24 percent in the first half and then watching that lowly mark freefall after halftime.
"You get long athletes that can guard, and they can cover up over space as well as anybody I've ever seen," Kansas coach Bill Self said.
Calipari's group is going to find itself in games far more competitive than this at times this season. Self's group is going to regroup and inevitably improve moving forward. The Champions Classic -- an event that included an impressive showcase for the nation's second-ranked Duke Blue Devils -- is not the final bell. But Kentucky owns the most impressive win of the young season, and Tuesday night offered a glimpse of just how fearsome this team can be.
2 Six freshmen showcased in the Champions Classic alone are drawing first-round grades for the upcoming NBA Draft: Duke's Jahlil Okafor, Tyus Jones and Justise Winslow, Kansas's Kelly Oubre and Cliff Alexander and Kentucky's Karl Anthony-Towns. The cycle is simply repeating for college basketball. One season removed from Year of the Freshman talk surrounding Jabari Parker and Andrew Wiggins, first-year stars are at the forefront once again.
Five of the top eight projected NBA Draft prospects are freshmen, according to Draft Express -- not including high-profile recruit Emmanuel Mudiay, a lottery talent who originally committed to SMU but is playing in China this season. The first four picks of the 2014 draft were freshmen. Same goes for the top-three in 2012. This is not a breakdown of the one-and-done rule, but it does serve to underline the type of instant-impact talent the sport annually boasts right now.
That was quite evident in Indianapolis with Duke's cruise control victory over Michigan State.
The Blue Devils' trio of Okafor-Winslow-Jones looks every bit the part of the No. 1 recruiting class. For starters, Okafor is a load. At 6-foot-11 and 270 pounds, he's averaging 17.7 points per game and shooting 83.3 percent (eFG) from the field. If there's a way to stop that monster, Tom Izzo certainly couldn't find one. Jones fits in nicely with a talented backcourt that includes senior point guard Quinn Cook, while Winslow is the highlight reel waiting to happen. They were labeled the cream of the crop and they are living up to it, leading the No. 1 offense nationally. Jabari Parker was outstanding a season ago, but this group, aided by five-star guard Grayson Allen, has a chance to collectively be much, much better.
They aren't alone, though. Kentucky does not rely quite as heavily on the likes of Anthony-Towns and Trey Lyles, but they are important pieces in that machine. Arizona freshman Stanley Johnson, another five-star recruit, has not been shy while working his way into Sean Miller's talented and balanced rotation. D'Angelo Russell, Keita Bates-Diop and Jae'Sean Tate (Ohio State), Chris McCullough and Kaleb Joseph (Syracuse), Myles Turner (Texas), Justin Jackson (UNC), Devin Robinson (Florida), Kameron Chatman (Michigan) ... the list goes on. Prospective title contenders are relying on freshmen, perhaps none more than Duke
Based on Tuesday night's evidence, do not feel sorry for Coach K.
3 Freshmen aren't the only new faces making waves. The constant chatter surrounding transferring in college basketball hit another high over the offseason due to an all-time high of more than 600 players switching schools.
There will be more NCAA reports, more small schools labeling the trend as "poaching," more schools on both ends capitalizing on the movement, more high-level college coaches plugging holes with proven players and more general talk as to why the numbers continue to spike. It's a convoluted issue -- one that I take a general players-first stance with, resisting the concept of sidelining transfers out for one season -- with intriguing talking points on both ends. It's not slowing down, either. Here are the raw numbers from the past four seasons, although in terms of percentages it's still a bit overblown (approximately 10-15 percent of men's college basketball players transfer, far lower than the national average for regular college students):
It's become an important part of the program-building process, though, particularly for coaches looking to plug future roster holes and newly hired coaches that arrive late in the recruiting process looking for immediate help from post-graduate seniors. As new Boston College coach Jim Christian, whose team will feature a couple transfers this season, told me last month, "That wasn't a niche that was available four or five years ago. So it's a new niche of guys -- good, bad or indifferent. However you feel about it, it's there."
There's bound to be a few of those names that factor into the NCAA Tournament picture, too.
Iowa State's high-powered offense plugs former UNLV standout Bryce Dejean-Jones into the mix. Gonzaga features two transfers in its regular rotation that should collectively make a big difference: Kyle Wiltjer (Kentucky) and Byron Wesley (USC). Oklahoma will lean on former Houston forward TaShawn Thomas, whose immediate eligibility could make the Sooners a player in the Big 12 race. Defending national champion UCONN may not have Shabazz Napier any more, but former N.C. State swingman Rodney Purvis will help matters. Miami, Illinois, LSU, Oklahoma State, Saint Mary's and Marquette, among others, are similarly transfer-bolstered.
Last season, these types of names mattered in March and on into April.
Of the 2014 Sweet Sixteen participants, ten teams featured at least one former transfer in a significant role (playing 50 percent of available minutes). The ones that didn't -- Stanford, Virginia, Michigan State, Wisconsin, Kentucky and Michigan -- were in the minority. Don't be surprised if that's the case once again this year. And speaking of transfer-reliant teams...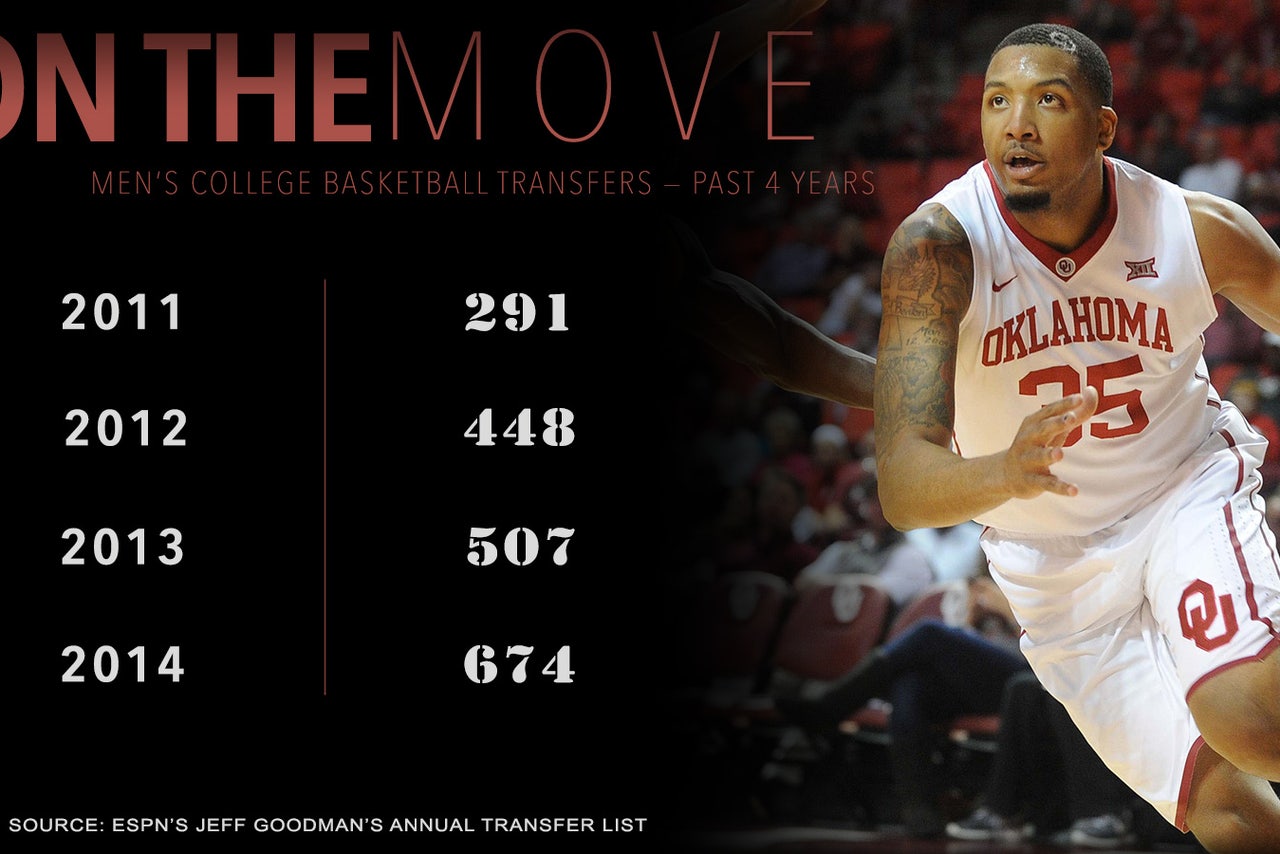 4 Back at ACC Media Days in Charlotte, Miami guard Angel Rodriguez could hardly hide his distaste for zone defense. Sitting alongside fellow transfer Sheldon McClellan as the Hurricanes' two media representatives at the event, the former Kansas State guard was adamant that the biggest different in last season's undermanned 17-16 team and the 2014-15 model will be its defensive identity.
Remember, Rodriguez originally committed out of high school to play for Frank Martin, a fiery supporter of high-pressure man-to-man defense. Rodriguez embraces that style. Miami coach Jim Larranaga is happy to oblige.
"We don't want to sit in a zone and slow the game down. I'm not used to it. (McClellan's) not used to it. And at the same time, now that we look at the team, we don't have that type of personnel. We have the personnel to run," Rodriguez said. "Obviously we can sit and play zone, anybody can do that I guess. That's not what we want to do. We want to go out and run and pressure the other team and get open 3s and open layups. It's going to be a different team this year."
Through two games -- granted, a very small sample size -- things are working out for the Hurricanes. Behind a second-half barrage of 3-pointers, Rodriguez & Co. claimed the first substantial upset of the season to date, knocking off the shorthanded No. 8 Florida Gators on Monday night. With the exception of a quick three-possession changeup, the Hurricanes went man-to-man from start to finish. It wasn't perfect (Florida effectively shot 60 percent from the field), but they played passing lanes, sprinkled in double teams on ball screens and forced turnovers on a fifth of the Gators' possessions. Here's a quick comparison from 2014's zone to this season's man principles:
Two games provides very little context, and adding to the so-so defensive effort in the upset was the fact that Florida was severely undermanned. Starting forward Dorian Finney-Smith sat the entire game with a broken left hand, while athletic big man and NBA prospect Chris Walker finished serving his two-game suspension. The Gators' starting five included one returning starter, highly touted sophomore Kasey Hill, transfers Eli Carter and Jon Horford and a former team manager who logged 36 minutes.
Florida will get better, but then again Miami is still going through its own adjustment period. Aside from Rodriguez and McClellan, the Hurricanes are working three freshmen and a third transfer (Niagra's Joe Thomas) into the regular rotation.
Rodriguez was correct: the personnel is different. So is the approach. Miami looks better for it.
It's too early for our Naismith Watch. Preseason favorites have, at most, played in three games. So here's a nod to a few of the top performers nationally, with a mention that this section will transform into our National Player of the Year Watch starting in December.
Montrezl Harrell, Louisville: Cardinals coach Rick Pitino offered up a scary bit of information last month: His preseason All-American big man was, in fact, the most improved player on his team. When one of the 10 best players in the country is also the most improved player on his own team ... watch out. In Louisville's season opener against a good Minnesota squad, he unveiled some of his new tricks.
Harrell dominated in a 30-point, seven-rebound performance, stretching the Gophers' defense by hitting three 3-pointers -- he owned two career 3s entering the game -- and attacking in his typical above-the-rim fashion. If he's consistently hitting long range shots, he's going to hit another level. The Cards will need it against an improved schedule, too. Pitino, perhaps exaggerating, said his team wouldn't win 10 games without Harrell. The two-time defending efficiency champs should eclipse that mark by the end of next month. Expect to see Harrell's name in this space early and often.
Rondae Hollis-Jefferson, Arizona: Let's not make this too complicated. The 6-foot-7 NBA prospect is averaging 14.5 points and six rebounds per game for the No. 2 team in the country. He's also been a terror defensively. Junior Brandon Ashley has been the team's best option on offense thus far, but mentioning Hollis-Jefferson comes with this:
Zak Irvin, Michigan: Reigning Big Ten Player of the Year Nik Stauskas, who is now playing in the NBA, warned against placing too many expectations on Irvin, a former four-star prospect stepping into a starting role this season for the Wolverines. Irvin seems to be embracing his new role. While Caris LeVert is the natural fit to fill Stauskas's shoes, it's Irvin who's played more minutes, taken a higher percentage of shots and been Option A through the first two games. He's posted back-to-back 20-point outings to start his sophomore campaign.
Ryan Boatright, UCONN: The defending champs have played just one game and didn't look overly impressive in it, a lackluster 66-53 over Bryant. Boatright's play was one of the few highlights. With one of the best single-game performances of the first week of games -- 24 points, eight rebounds, five assists, four steals -- he looked explosive and poised to carry on the Huskies' strong run of good-to-great guard play.
Back in 2006, George Mason rekindled a nice trend, one that's spanned the past eight seasons with regularity. Since that magical tourney run, five non-power conference teams (Memphis, VCU, Wichita State and Butler twice) have made a Final Four appearances, missing the prestigious final stage of the NCAA Tournament just three times. With that in mind, here's a look at the potential torchbearers of that tradition, as well as some of the best stories outside the major conferences:
Wichita State: The Shockers have picked up where they left off the 2013-14 regular season by logging two quality wins to start the season (New Mexico State, Memphis). It's getting to the point where it seems strange to mention them in a mid-major category, because, much like the transition Gonzaga made years ago, they seem to have playing at a different level than the rest of the Missouri Valley Conference in recent years. The same could be said of VCU and San Diego State in their respective leagues. The line is imprecise. But for Quarters purposes, teams outside of the seven "major" conferences (Big 10, Big 12, ACC, Big East, SEC, Pac-12, American) qualify for recognition here, and it's best to start at the top.
Gregg Marshall's Shockers still have the firepower. In addition to what looks to be another stifling defense, the Shockers' backcourt is once again loaded with All-American point guard Fred Van Vleet playing alongside a more aggressive Ron Baker (27 total points, 29.4 percent of available shots through two games) and an athletic Tekele Cotton. There are not 10 better backcourts anywhere in the country. Whether that qualifies Wichita State for supremacy atop the mid-major pyramid depends on preference, given such a limited sample size.
Wichita State is the undersized grinder reliant on dynamic guard play. Gonzaga, on the other hand, features length and depth in the frontcourt with excellent senior guard Kevin Pangos running the show. VCU is once again an uptempo terror while San Diego State continues to blanket opponents on the defensive end. I'd favor Gonzaga's size and overall talent out of that group -- the aforementioned additions of Wiltjer and Wesley give Mark Few myriad options -- but for now the Shockers remain the torchbearers and that won't change until a roster not featuring four top-five recruiting classes finally beats them.
R.J. Hunter, Georgia State: In its first big test of the season, one of the nation's preseason mid-major darlings got walloped. The offensive firepower of Iowa State proved too difficult for Georgia State to manage in the 81-58 loss, but the Cyclones couldn't silence Hunter, a projected first-round pick and one of the best shooters in the country. Following excellent freshman and sophomore campaigns, Hunter drew rave reviews during his time at the LeBron James camp this summer and he looks poised for a big-time scoring year.
Complemented by a loaded backcourt with former Bluegrass transfers Ryan Harrow (Kentucky) and Kevin Ware (the well-recognized Louisville transfer who is logging starter's minutes for the Panthers), Hunter is the key to Georgia State's chances of erasing its disappointing finish in the 2014 Sun Belt Tournament and reach the Big Dance. He finished with a quiet 21 points against Iowa State, but the 6-foot-6 sharpshooter looked comfortable offensively. His ability to set up and come off off-ball screens is lethal and will continue to keep opposing defenders on their toes at all times:
Andrew Rowsey, UNC-Asheville: Athletic High Point forward John Brown is the best player in the Big South Conference, sparking plenty of deserved publicity in the offseason after averaging 19.5 points and 7.7 rebounds as a junior (and doing stuff like this), but a sophomore water bug in the North Carolina mountains might be the league's best scorer. Rowsey exploded onto the scene as the conference's top freshman last season and he's picked up right where he left off. After averaging 20.3 points last season, the 5-foot-10 guard has put up 26 and 28 points against Wake Forest and East Carolina, respectively. He's the nation's top scorer among players that have logged multiple games thus far.
The Bulldogs are not expected to be very good this season, but with Rowsey taking on a larger workload (28.5 usage rate through first two games) his scoring numbers could remain among nation's best all season.
And, as Wake Forest coach Danny Manning pointed out after his team began trapping Rowsey in its season-opening win, while defenses start keying on him, he's going to need to lean on his improving skills as a passer: "We actually wanted to (trap Rowsey) the whole game, but he is clever. He creates angles and he is a good passer. He came off those ball screens and would throw the ball with one hand to a wide-open player. That is just a great play."
Domantas Sabonis, Gonzaga: Yes, that Sabonis. The 6-foot-10 freshman in Spokane is the son of former Russia and NBA great Arvydas Sabonis and he's made an early impact, scoring in double figures in each of the Bulldogs' first two wins, including 13 points and nine rebound in a big win over No. 22 SMU. Playing third fiddle behind a long and talented frontcourt of Wiltjer and Przemek Karnowski, Sabonis should provide pivotal depth for Mark Few.
Sports Illustrated's Luke Winn published an excellent piece on the recruitment of Sabonis and his famous father during the offseason, complete with this tidbit: when the patriarch of the Sabonis family played for the Blazers, a young forward named Rasheed Wallace dubbed his third son, Domantas, "Sabonis Junior Junior Junior." Well, Junior Junior Junior is all grown up:
---