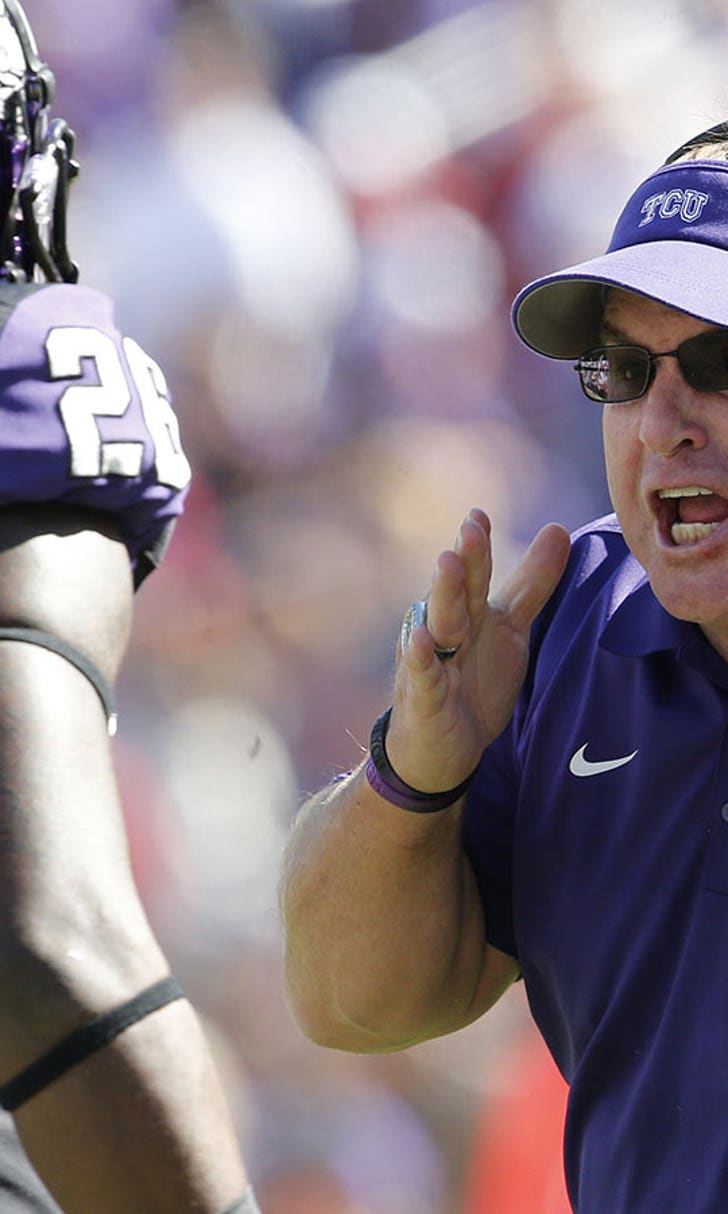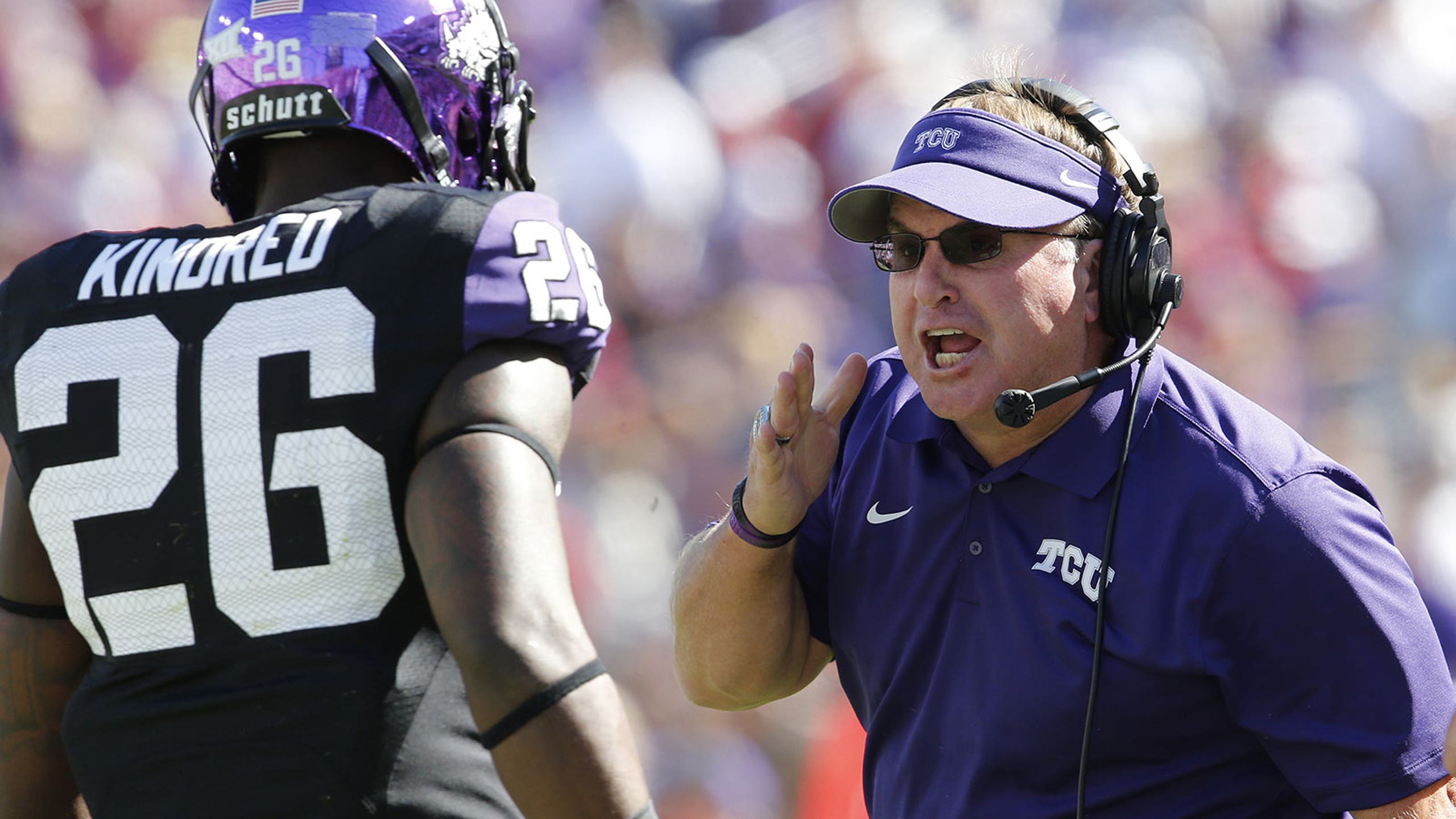 The Pregame Huddle: Week 9
BY foxsports • October 21, 2014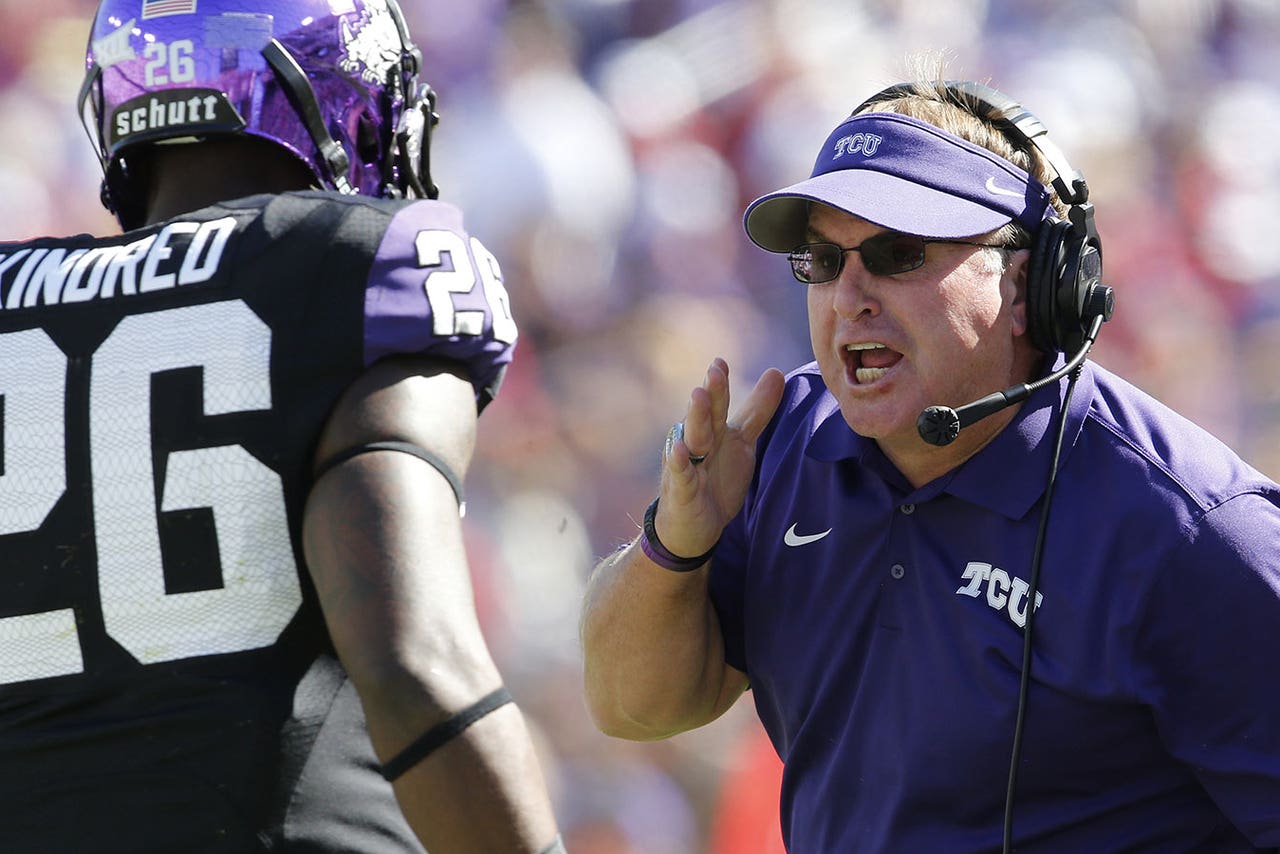 Defense wins championships? 
In 2013, TCU coach Gary Patterson found out defense can also go 4-8. The Horned Frogs were tied with Alabama for 13th nationally in defensive yards per play last season, but still suffered through their worst season ever under Patterson, who took over full-time in 2001. 
Patterson had seen plenty of his unproductive offense. At halftime of a loss to Oklahoma State last year, he said goodbye to Jarrett Anderson as his lead playcaller and handed the reins to Rusty Burns. 
It wasn't enough. The Frogs finished 88th in scoring offense and after the season, Patterson went out looking for a change. He found it in Doug Meacham and Sonny Cumbie, two faces who had spent much of their career in the Big 12 at Oklahoma State (Meacham) and Texas Tech (Cumbie). 
"If we didn't win, we'd get fired," Patterson said this week.  
Patterson committed to a wide-open, spread offense--the Big 12 offensive style du jour. Now, his team is the league's best hope to crack the playoff. 
Six games into the season, TCU is 27th in yards per play, up from 105th a year ago. The Frogs are fifth nationally in scoring offense, up from 88th in 2013. Most importantly, TCU is 5-1, surpassing last year's win total at 2014's midpoint. 
"I don't know how you could envision that you could do this," Patterson said, "but I'm very excited." 
Combined with a defense that is 16th nationally in yards per play, the Frogs are the Big 12's highest-ranked team at No. 10 and the toughest part of its schedule is in the rearview mirror. 
Only two ranked teams are left on the final six games of the schedule, and the Frogs could conceivably be favored in every game before bowl season. This week, TCU takes on Texas Tech, who is 2-0 against the Frogs in Big 12 play.
"They're running the system like it's been there for years," said Texas Tech coach Kliff Kingsbury, whose offense is a near carbon copy of the one TCU brought to Fort Worth this offseason. 
Oklahoma State saw both sides of TCU's revitalized team in last week's Frog rout. Quarterback Trevone Boykin threw for a career-high 410 yards--including scoring tosses to Josh Doctson for 84 and 77 yards--and the Frogs held Oklahoma State without a touchdown for 60 minutes. After racing to a 28-9 halftime lead, TCU held Oklahoma State's offense without a pass completion in the second half. 
"They've got really good people at all the key positions: Wideout, running back, quarterback and on the line," OSU defensive coordinator Glenn Spencer told Fox Sports Southwest this week. "They're spreading the field, clearing up (Trevone's) reads and giving him space to move when things are taken away." 
The Frogs are reaping the rewards of seven returning offensive starters, but it's hard to explain why and how in one offseason the Frogs have gone from one of the Big 12's worst offenses to one of its best. From the outside looking in, Spencer points to experience and raw talent. TCU committed to Boykin, who spent his first two seasons on the field in limbo as Casey Pachall was on the team, then off the team, then back on the team, then injured, then healthy. A lack of stability isn't good for any quarterback's development, but a overhaul in the offensive system can often stunt that development. That hasn't been the case for Boykin.
"Scheme-wise, spreading the field is perfect for him," Spencer said. 
Patterson cites a higher amount of scrimmage time with the first-team offense challenging the first-team defense. 
"After the spring, things didn't look as good," Patterson said.  
Before the season, Boykin seemed likely to hand over the quarterback job to Texas A&M transfer Matt Joeckel and move to receiver, a position where the Frogs had struggled as Big 12 members. 
Two months later, it's a laughable assertion with emerging talents like Doctson, Deante Gray and Kolby Listenbee revitalizing the position and Boykin making a case as a Heisman candidate with 17 total touchdowns and just three interceptions while averaging 312 passing yards a game compared to less than 100 in 2013. 
"Everybody's taking their part and doing it," Patterson said. "It's been a scheme that's fit us better and I think it's really helping us in recruiting. We've already exceeded expectations where we've advanced to up to this point." 
WHY OSU IS OK WITH SUB-PAR DEFENSE (FOR NOW)
Oklahoma State defensive coordinator Glenn Spencer was looking for a bridge on the way home from Oklahoma State's 42-9 loss to TCU on Saturday. 
When Oklahoma State wasn't giving up big plays (like touchdowns of 77 and 84 yards) against TCU it was surrendering 14-play, 79-yard drives that sucked morale from the sidelines with every third-down conversion. 
Oklahoma State has ranked second in the Big 12 in defensive yards per play in each of the last two seasons, including a finish in the national top 10 in 2013, Spencer's first season as the Cowboys coordinator after being promoted from linebackers coach. 
This year, the Cowboys are 75th nationally and seventh in the Big 12. This, despite already facing Iowa State and Kansas, the Big 12's worst offenses in yards per play. 
The Cowboys are 5-2 but fell out of the polls from No. 15 this week after the TCU blowout and Spencer knows what else is coming. 
"From here on out, we're probably underdogs in every game. Our young kids are getting thrown in the fire," he said. 
So why is he so optimistic about the future of the defense? He knows he wasn't the only person coaching or playing for the Cowboys defense who caught himself thinking a morbid thought or two after the team's most lopsided loss since 2008. 
"I love the kids, I love our effort. If it didn't make them nauseous in their gut, then I would be worried," he said, "but i know they're extremely disappointed." 
He feels that disappointment, too, but two-plus decades of college coaching experience have provided the luxury of perspective. He looked across the field at TCU and saw an offense loaded with juniors and seniors. 
He remembered when he had that luxury with players like Shaun Lewis and Caleb Lavey at linebacker, Calvin Barnett at defensive tackle and Daytawion Lowe at safety, not to mention cornerback Justin Gilbert, who left early to become a first-round NFL draft pick. 
Oklahoma State's defensive schemes are simplified for a younger defense. Four of the Cowboys' top six tacklers are freshmen or sophomores and Spencer is coaching only four returning starters on a team with nine total returning starters. Only one team in college football had fewer entering 2014. 
"You have to have some weapons heading into Saturday, but you've got to trim it down," Spencer said. 
The catch is trying to make adjustments in the middle of a game. 
Last season, Spencer would get his defense together on the sideline and before he was done explaining what he wanted to do, Lavey, Lewis or Lowe would have already read his mind and complete his thoughts before he could even verbalize them. 
On TCU's third drive, receiver Josh Doctson outran the OSU defense for a 77-yard touchdown. 
"A young kid got burned early and should have had a little help," Spencer said. 
So Spencer changed the coverage and baited Boykin into making a similar throw. This time, the Cowboys were ready safety Jordan Sterns waiting with help over the top of cornerback Ramon Richards. 
This time, Doctson used his speed to outrun Richards and 6-foot-4 frame to out-jump Sterns, who overplayed the ball and let Doctson loose for an 84-yard score once he landed. 
That's experience and talent winning out, and as that balance shifts back to Stillwater in years to come, the outcomes of plays like that will shift, too. 
In the meantime, Spencer doesn't have to worry about plays like that being acceptable, which means he's not worried about the future. 
"It bothers them. I know it hurts them," Spencer said. "Because of that, I know we're going to be OK."
TCU FANS RUNNING OUT OF EXCUSES
"Our team's not very good this year!" 
"The kickoff is too early!" 
"It's too hot!" 
"The opponent isn't very good!" 
TCU fans are running out of excuses. Saturday's top 15 showdown between the Frogs and Oklahoma State had a reported attendance of just over 43,000, nearly 2,000 seats short of capacity. 
What more do Frogs fans want? TCU is the Big 12's smallest school by a sizeable margin, but it's also located in Fort Worth, one of the biggest cities housing a Big 12 institution. 
Fort Worth is also home to a whole bunch of fans from other Big 12 institutions, but for fans to not fill up every single square inch of a stadium with 45,000 seats is pretty inexcusable. 
You can see a photo of the crowd here. 
The excuses are running close to nil. OSU was a top 15 team. Kickoff started at 3 p.m. (Early enough to get home to about anywhere within a drive and late enough to get some solid tailgating under your belt). It was a relatively comfortable 82 degrees. The sun was shining and TCU is in the top 15. It has a legitimate chance to win the Big 12 in just its third year of membership. 
The attendance issue dates back for decades, but TCU wanted to join college football's big leagues after being kicked out when the Southwest Conference broke up. 
It's here. The team shows it. The facility shows it. 
The fans? Well, we're still waiting. 
A TIP OF THE CAP TO BILL SNYDER
You already knew Bill Snyder is one of college football's greatest coaches, but he continues to prove he's one of its greatest citizens, too. 
Time and time again, Snyder makes you wonder if he's a real person. This week, he did it with comments about Oklahoma kicker Michael Hunnicutt, who missed a 19-yard, go-ahead kick in the final minutes and had an extra point blocked in K-State's 31-30 road win at Oklahoma. 
In K-State's 20-14 loss to Auburn, kicker Jack Cantele missed kicks of 31, 42 and 22 yards after entering the game 15-of-18 for his career. He's since been benched for Matt McCrane. 
Oklahoma dealt with the same on Saturday for Hunnicutt, who is the program's all-time leading scorer and was 32-36 on kicks dating back to the 2013 season. 
I shouldn't have been surprised. Snyder is the same guy who sends hand-written notes to opposing players with regularity, including a famous one last year addressed to FCS North Dakota State quarterback Brock Jensen after Jensen knocked off the Wildcats in an embarrassing season opener for the then-reigning Big 12 champs. 
Snyder doesn't call himself a molder of men, but only because there's no need. He lives it. 
FIXING MORGANTOWN'S OVERDONE REVELRY
Saturday night, Morgantown police broke out rubber bullets and tear gas in hopes controlling a crowd that had set fires, flipped cars and rolled dumpsters through the middle of downtown among other destructive acts. 
Political unrest? After all, it is an election year.
Social unrest? 
Nope, just a football game in October. 
"All law enforcement agencies, as well as University officials, are reviewing videotapes and social media posts. Where individuals can be identified, they will face immediate charges and arrest," the university said in a release. 
WVU president E. Gordon Gee added: "It is time this University, together with our students, embody and exhibit a code of conduct that makes Mountaineers everywhere proud. Each of us needs to accept individual responsibility for our actions and understand we each represent West Virginia University." 
It's all colossal idiocy and not something that happens on very many other college campuses. Every now and then, it happens to celebrate a championship somewhere, but a rarity and not any less thick-headed. 
Reality is this: It will happen again in Morgantown. Anybody with a bit of old gold and blue on their social media account has been quick to point out they weren't the ones engaging in this behavior. 
You want to stop it? Don't just sit there and let the world know you're not one of "those people" trashing Morgantown. Get out and take photos and video. Help those efforts from the police to penalize the minority of the fan base that's hurting the reputation of the entire school. 
Get a face, try to get a name. Organize a group to go out and get evidence of these people destroying the town you call home and make your presence and efforts known. 
Anonymity allows humans to tap into their primal sides and produce this kind of destruction. Nothing will shrink down future incidents like this than making a concerted effort to remove that anonymity. 
FUN WITH NUMBERS
TWEET OF THE WEEK 
POWER RANKINGS
This week, Zaxby's announced a partnership with the Heart of Dallas Bowl, giving college football FOUR bowl games with a fried chicken establishment serving as chief sponsor. 
The Chick-Fil-A Peach Bowl, the Buffalo Wild Wings Citrus Bowl and the Popeye's Bahamas Bowl are real things that exist. As such, it only seemed appropriate to rank our great nation's best fried chicken chains. The only rule is there have to be multiple locations in multiple states and I have to have eaten multiple meals there. 
---