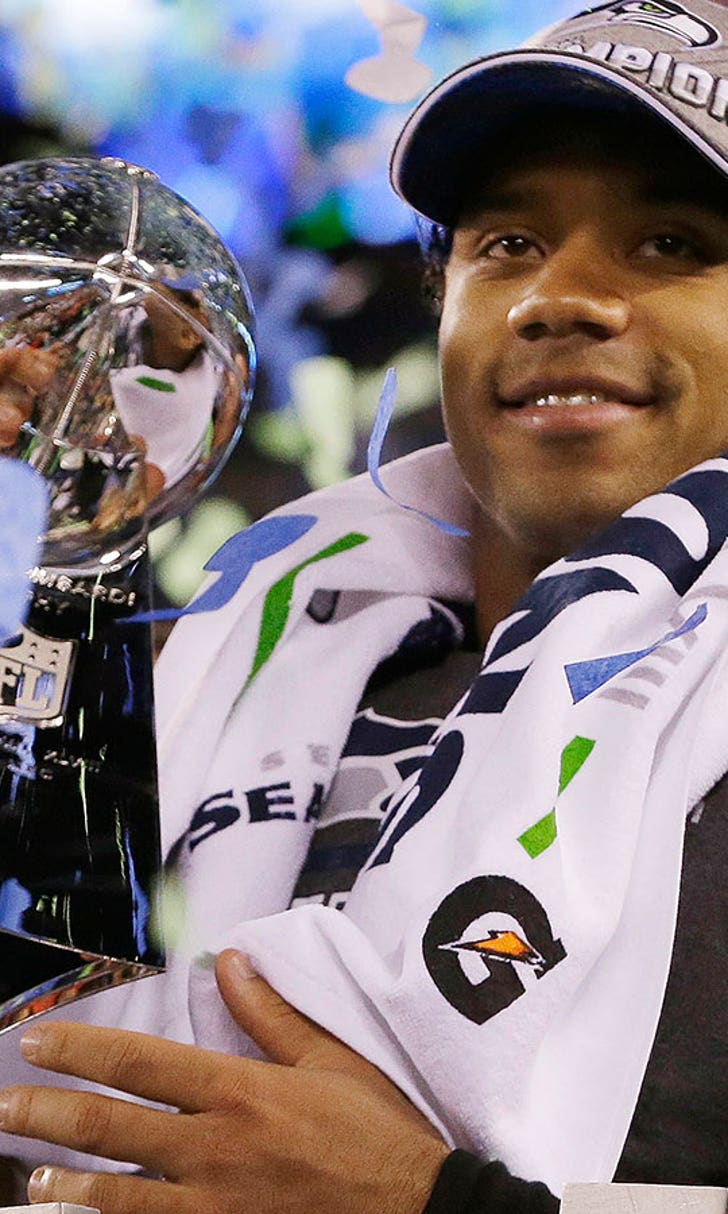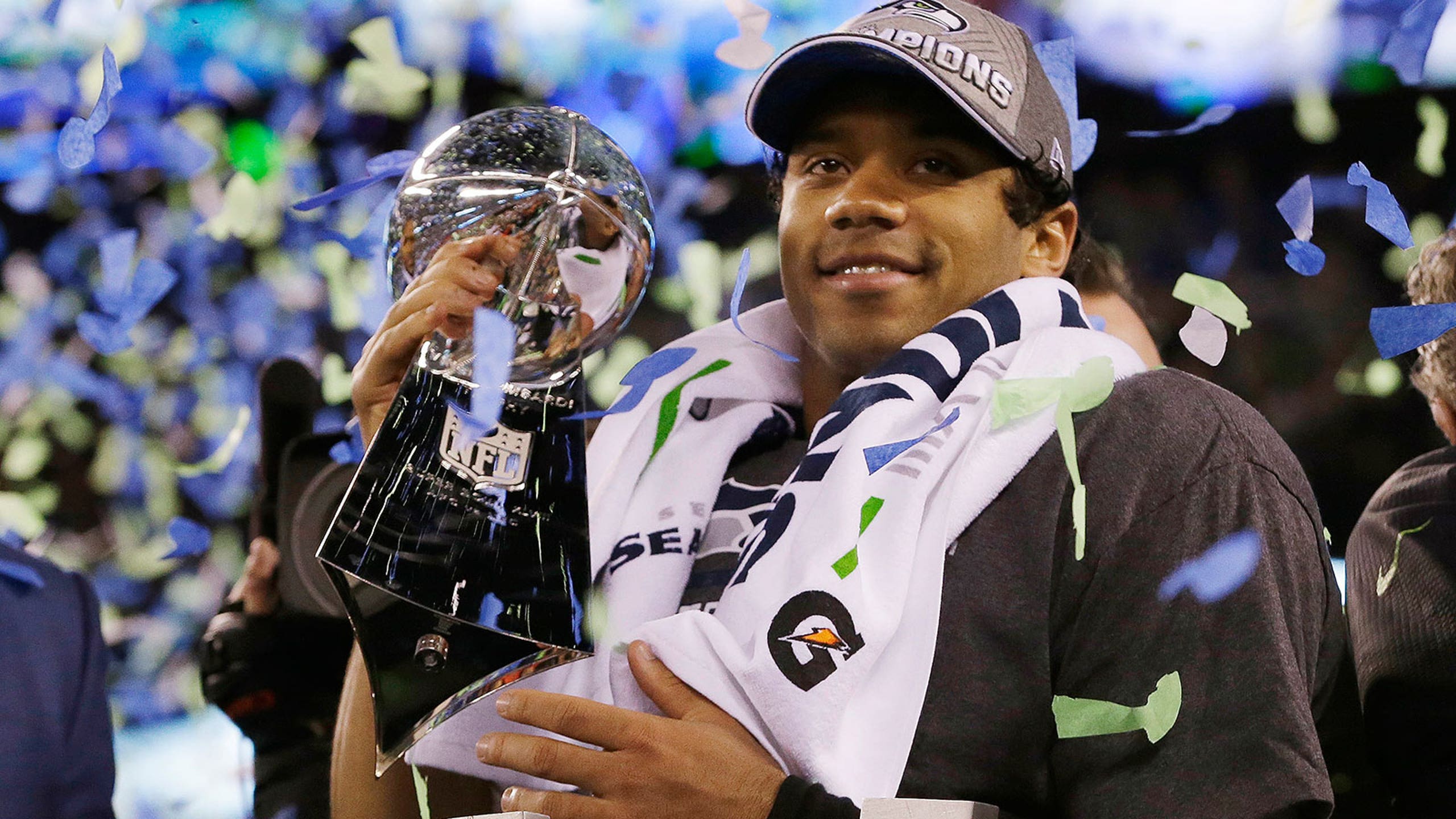 The Morning After: Super Bowl XLVIII Seahawks 43, Broncos 8
BY foxsports • February 3, 2014
As odd as it is to type that the Seattle Seahawks have won the Super Bowl and are therefore the World Champions of Football, we better start getting used to it. For they won a Super Bowl as thoroughly as any team ever has, both with regards to the perceived level of strength of their opponent and with a lead that lasted for 99.6% of the entire game. Think about that for a second; there are 3,600 ticks on the NFL game clock, and Seattle led Super Bowl 48 for 3,588 of them after taking the lead just 12 seconds in.
That was a smashing of the highest order as this Seattle team, that was made over in just a very short time into a relentless machine, proved to everyone else that it can be done. It can be done without a once-in-a-generation QB talent, and it can be done without an insane amount of cash being thrown around, and it can be done in a tough division, and it can be done with a coach who isn't believed to be one of the best in the industry until he wins it all.
Seattle's effort in Super Bowl 48 was one that will certainly have many organizations looking in the mirror, and with the same way that Russell Wilson's dad would ask him, "why not you?", and the same way that Russell Wilson would ask his locker-room, "why not us?", will be the same way that each Cleveland, Minnesota, and Jacksonville will be looking at the draft and pondering similar questions.
They just spent a month showing us that the quest to make a place in NFL history only requires what we all knew all along: that football is the ultimate team game and therefore your quality and yes, your place in football immortality is going to be judge by assembling a team that cannot be taken down by one player or a roster with a few special talents. 1-53 is what this sport rewards. And the team with the best QB matters, but not like we have been led to believe. Because since Super Bowl 42 when Tom Brady lost to the Giants, Peyton Manning and Tom Brady have gone a combined 0-4 (42, 44, 46, and 48) in their Super Bowl appearances, after starting the careers a combined 4-0.
That doesn't mean that those 2 QBs won't find their way into the front of every history book about this fantastic sport, but it does mean that we again spend too much time talking about QBs when we should be looking carefully at every spot on every roster - especially those that can be found far easier than winning the lottery and falling into a Brady.
Seattle showed us again last night that they don't have many things that make them an easy pick. A QB that dazzles you with his ability to push a team down the field like the best at his position. A top #1 receiver that makes you think that you simply cannot do anything to cover their weapons. Even a 20-sack guy who must be double-teamed on every down lest you feel his wrath. In other words, they don't win because they have Drew Brees at QB, Calvin Johnson at WR, or DeMarcus Ware as their sack master. They simply have a team with many great parts, but those parts seldom work their way to marquees, except when they demonstrate a personality trait that may not play well everywhere. Otherwise, they are a 53 man wolf pack that seems to be generally cut from the same cloth of physical, demolishing football.
In many ways, it should resemble what Baltimore did last year to win Super Bowl 47. Balance on both units, solid groups on either side of the ball, and a unified philosophy that can be felt by observers that they consider the whole to be much greater than the sum of its parts. See, that is football. In the NBA, we will talk about a team having LeBron, Kobe, or Jordan so the opponent can usually just regret not having that great fortune. But, this isn't that. This is team building at its greatest level where you can assemble something special right under the noses of the entire league and within 18 months, you could be crowned king. It shows us once again that the most important positions in the game of football might be the guys who never play - General Manager and Head Coach (Which is likely not what a Dallas loyalist wants to read this morning).
The game was a not an easy game to watch as Seattle destroyed everything the Denver offense was trying to accomplish. Given that Denver led the league in nearly every offensive category for the season and were being discussed in wide circles as maybe the greatest offense ever assembled - and a team that in its last game put on an offensive clinic against New England that should not be forgotten, what Seattle did is no small task. But, from the first snap of the game until the confetti fell, this is about as powerless and pitiful as Denver has ever looked. Check out the results of their drive chart from the NFL game book:
Safety - 3 and Out Punt - Interception - Interception - Turnover on Downs - Halftime.

Punt - Fumble - Touchdown - Turnover on Downs - Fumble - End of Game.
That is 11 drives with just 1 favorable outcome, which is the kind of form we have not seen since the Buffalo Bills were in the Super Bowl against a young, dominant roster in Dallas 21 years ago. That was also 11 drives in which 6 had 1 or fewer first downs and to consider that performance on that stage from an offense that demonstrated almost no weaknesses shows why I should stop trying to predict Super Bowls. I knew Seattle was a great defense, but this was Denver. Denver! With Manning and an offensive line that doesn't give up pressure and a QB who makes pre snap reads that will make you cry and a receiver group that has unstoppable pieces at 4 different spots. Denver!
The Seahawks enjoyed a home crowd advantage so far from home where the TV cannot hear Manning's voice over the roar. They generated Manning pressure that resulted in feet that looked uncomfortable, throws that looked awkward, and even the arm getting banged as he tried to throw by Cliff Avril on a crucial moment that turned the game further on its ear.
They accomplished their defensive goals the old fashioned way, by getting pressure. Manning doesn't get hurt by pressure because he gets rid of the ball so fast? Well, push the defenders up and take the chance that the Broncos won't get behind you and beat you deep. Put pressure in the receivers faces, cheat them off their pick plays, and suddenly Manning has to re-cock his gun under pressure and is actually getting uncomfortable under pressure. Clearly, many teams would love to make this happen, but Seattle - perhaps because they aren't paying a QB or a pass rusher $20m a season, they have deep groups of pass rushers who can generate relentless pressure as Avril throws Orlando Franklin back into his QB.
Clearly, these Seahawks will want to get paid, too, and when you start compensating Russell Wilson, Richard Sherman, Earl Thomas, Kam Chancellor, and others what their peers make elsewhere, they will feel the crush of the cap like everyone else does. But, for now, they enjoy so many players on their rookie deals and can therefore grab veteran free agents Michael Bennett and Cliff Avril last offseason on tiny deals despite not having real needs at either spot. They also can make a play for Percy Harvin and then not use him most of the year due to injury. But, throw a couple jet sweeps his way and cap it off with a kickoff return kill shot to start the 2nd half, and there is another speedy playmaker on a team that doesn't seem short of speedy playmakers.
Speaking of Wilson and Harvin, the Seahawks offense will always get 2nd billing to that absurdly awesome defense in Seattle, but what a job they did on 3rd Downs. They set up 3rd Down situations by running the ball and eating field position and time of possession with their ground and pound which allows for play-action at the moments where too many defenders cheat up to deal with Marshawn Lynch. That works wonderfully well for much of the game, but on 3rd Down, the leverage is shifted to Wilson and his ability to convert 3rd Downs with his arm and his legs, and again in this Super Bowl, like the NFC Championship Game against San Francisco, he is very dangerous in these spots and his skill set almost seems tailor-made for 3rd Down chaos. With Harvin at his disposal, you wonder how much more dangerous their offense would have been all season, but know this: you won't find another QB like Wilson who throws so seldom, but when he does his yards per attempt are so high (8.1 YPA). Since 2000, the list of QBs who has over 8 yards per attempt for their career? Well, Aaron Rodgers and Russell Wilson. And since Rodgers completes about 23 passes per game, you can see that Wilson is his own guy. Not even at 16 completions a game, but those 15.9 are not 3-yard dump offs. Those are big throws that have big effects.
Talking about the game itself is almost missing the point of this game. It was never close and the weather played no part in the contest. The noise was a factor, which might have been the biggest surprise of the Super Bowl, and that crazy snap on the 1st play set the tone for a Broncos team that seemed to pick up where the team left off back in the Orange jersey days of Super Bowl nightmares gone by. Errant passes and fumbles after big plays and horrendous moments during a special teams return and lots of shellshocked looks from Peyton Manning himself. How does this affect his legacy? Great question, because this isn't a case where his defense let him down. Manning and the offense caused almost all of the Seattle good fortune in the 1st half and you could even make the case that the score was kind to Denver who looked like they knew their fate was sealed when Malcolm Smith returned his interception for a Touchdown after Avril got Manning's arm. Manning will be fine and his legacy is secure, but he sure didn't end this like John Elway did when he walked off the stage with the last word in his career. This seemed to encourage a dog pile if this is the last we see of Peyton in the Super Bowl.
It was not a good game by any measure, but it was an amazing playoff run by the NFC's #1 seed who only now will get its credit and just rewards. Evidently, it was the first 43-8 score in football history, and it was only the 4th time in the history of the Super Bowl where a team won the score of every single quarter of the game (1983 Raiders, 1989 49ers, and 2000 Ravens) also accomplished the feat.
Now, with 213 days until the next NFL game that counts, we ponder what we have seen and realize that the Seahawks are now the teachers for how to win in the modern NFL. Draft and acquire from every avenue. Resist the high ticket items and build a solid team that can withstand injury, play a given style, but be able to adjust to beat you in a number of ways. In many respects, it is what this game is all about.
And to the 31 other teams that will not be attending parades this week? Your season starts today.
Get that film and get going, because Seattle has a nice head start on the rest of you.
---