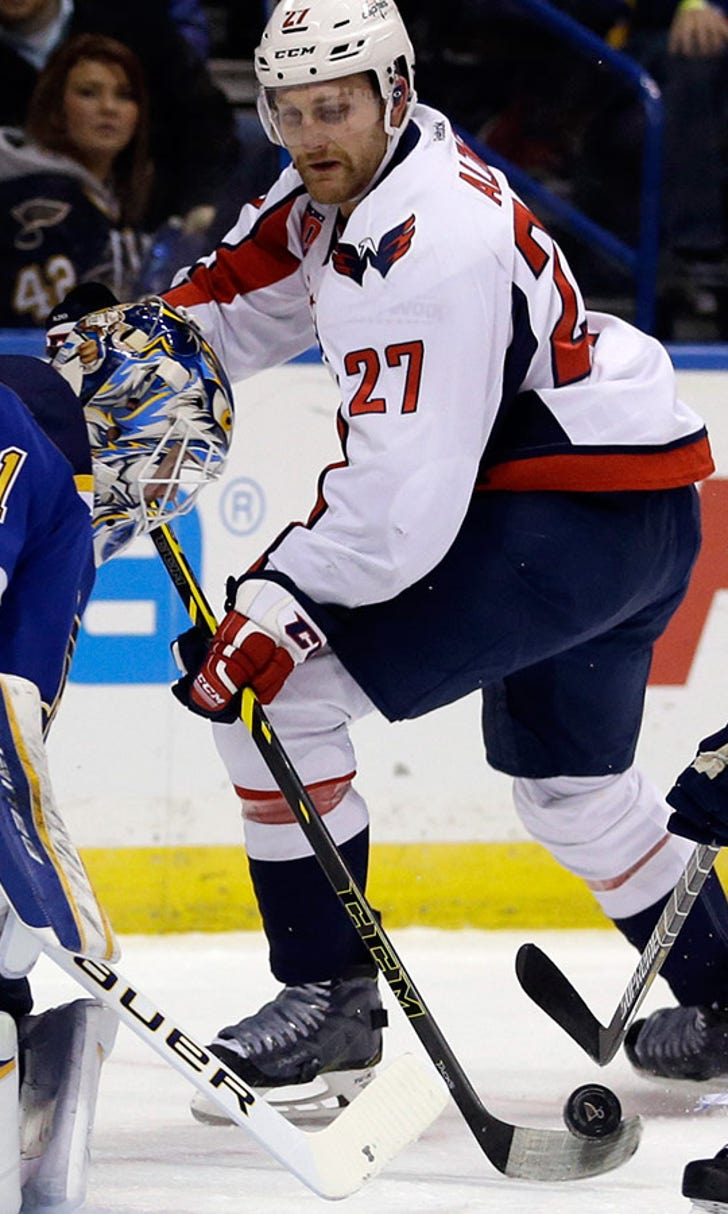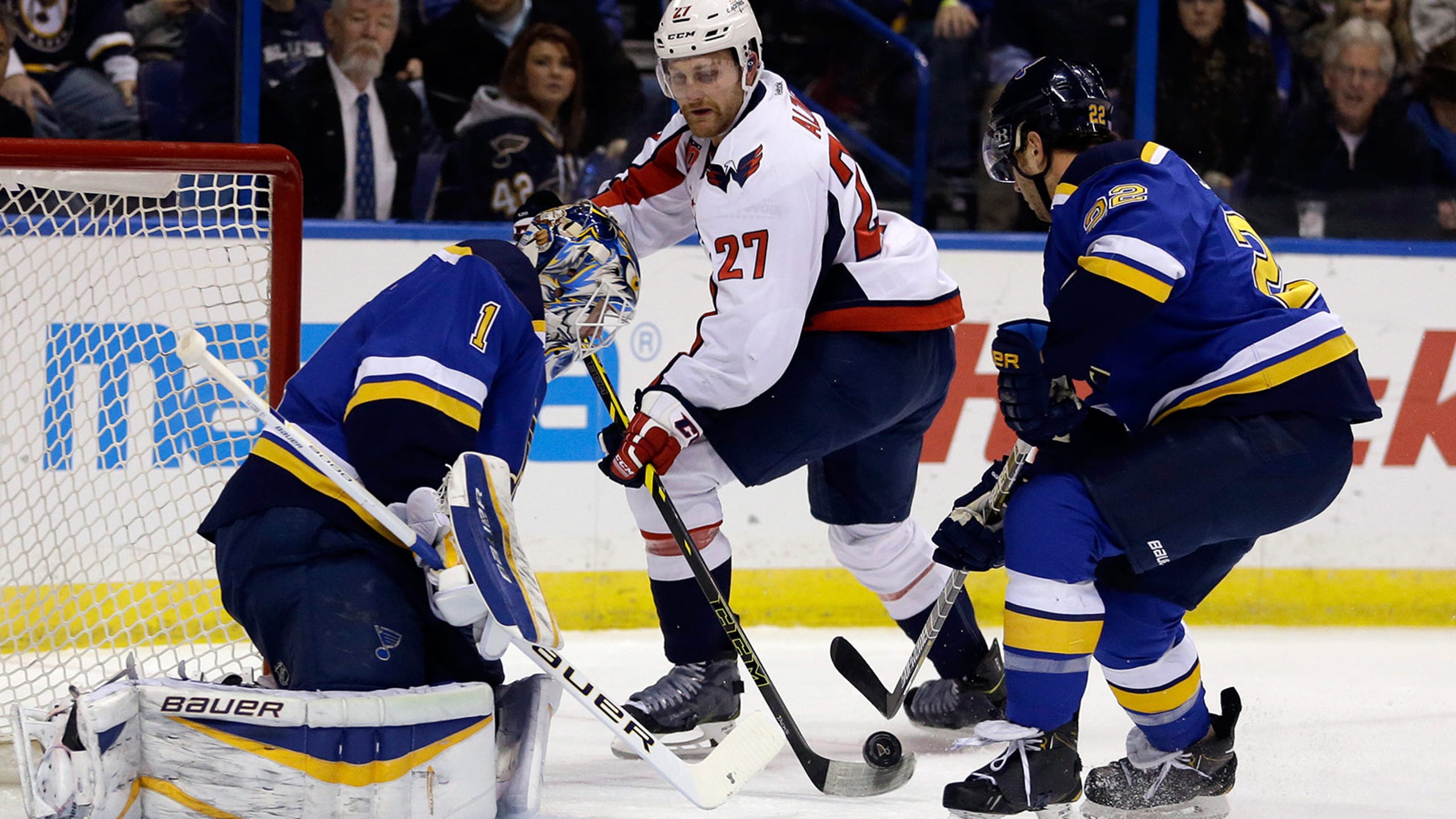 The guys on defense deserve credit for Blues' recent success, too
BY foxsports • November 16, 2014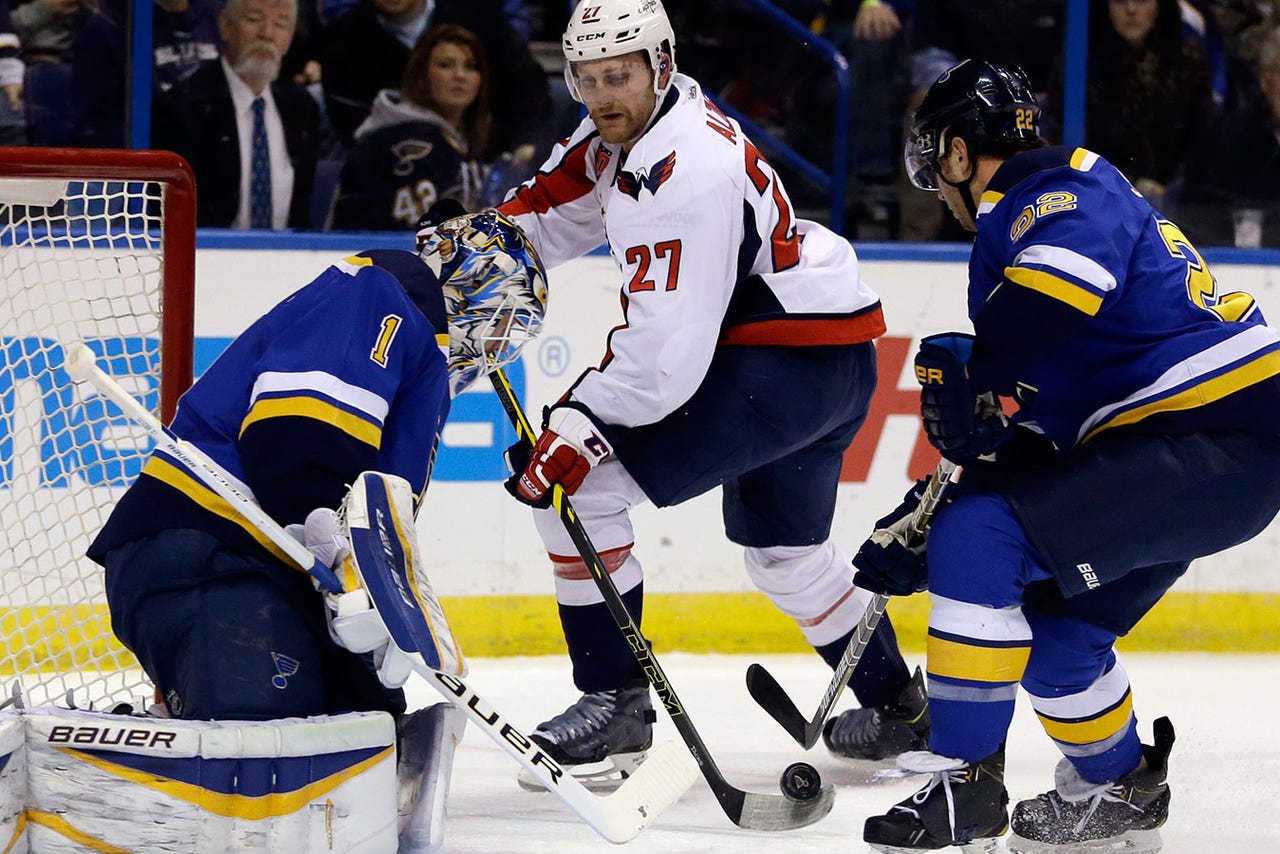 ST. LOUIS -- The Blues' electric forwards might be dominating the headlines and highlight shows, but an increasingly strong group of defensemen deserves just as much credit for the team's recent hot streak.
Even more depth at the position than previously thought led to a surprise trade of veteran Jordan Leopold on Saturday morning, and St. Louis' top six defensemen validated that confidence a few hours later with a dominant 4-1 win over Washington. The Capitals came into the game ranked 11th in the NHL with 30.8 shots on goal per game before the Blues held them to 24, tied for their third-lowest total in 17 games.
"I thought there was a decent push in the second for them," said associate coach Brad Shaw, who spoke in place of St. Louis coach Ken Hitchcock and noted that Washington looked tired early on in its second game in two days. "I thought our five-man defensive sort of mindset was really well-intentioned tonight."
NHL shots leader Alex Ovechkin finished with just three as the Blues stifled the Capitals' potent transition attack. A rare soft goal against goaltender Brian Elliott would be the only blemish as he got in front of Joel Ward's shot but couldn't stop it from trickling into the net.
Overcoming that didn't prove to be a problem as St. Louis won its 10th game in its past 11 to remain one point ahead of Nashville in the Central Division. The Blues have allowed an NHL-best 19 goals at even strength, and for the first time all season they avoided playing shorthanded to keep Washington's potent power play off the ice.
The Blues have allowed fewer goals in the final period than any other, an even more impressive statistic considering they've typically been protecting a lead. But the added desperation of opponents has rarely been enough to crack a defense largely responsible for St. Louis' 8-0 record when leading after two periods.
Odd-man rushes were a constant source of concern for Hitchcock early in the season, but Shaw says much cleaner play from their own goal through the neutral zone has been the key to virtually eliminating those issues in recent weeks. Defensemen are no longer pushing forward too far, something Kevin Shattenkirk says came from taking an emphasis on aggressive play a little too far.
"We were able to just figure out the right reads and make the right play and now that's starting to come into play," Shattenkirk says. "We're pinching at the right time and pulling back when we need to as well."
Watch the Blues Live pregame and postgame shows before and after every St. Louis Blues game on FOX Sports Midwest.
He's still been able to make significant contributions to the attack with a team-high 15 assists, which leads all NHL defensemen. David Backes echoed the sentiments of his coach throughout the season by noting Shattenkirk's improved conditioning has allowed him to play more all over the ice, and the 25-year-old may be playing the best hockey of his career.
An early-season decision to go back to the top pair of Alex Pietrangelo and Jay Bouwmeester has certainly paid off, but it's tough to find a weak link anywhere on the defense. Shaw says Ian Cole still has plenty of potential to get better, and his improvements were part of the reason for Armstrong's decision to trade Leopold.
"I guess the best way to describe it is the valleys aren't nearly as low as they maybe have been in the past, which means you become a steady contributor," Armstrong says. "We know what we're going to get."
He's become a key part of a formidable duo with 33-year-old veteran Barrett Jackman, who both Shaw and Shattenkirk say might be playing some of the best hockey of his career. Meanwhile, the lone newcomer in the group, Carl Gunnarsson, has already made big strides alongside Shattenkirk since missing the first seven games with a hip injury he suffered last spring.
Even the lower levels of the organization hold plenty of talent, starting with Chris Butler, a veteran set to join the Blues on Monday. Petteri Lindbohm, a 2012 draft pick, proved to be a pleasant surprise in training camp, and Armstrong says Brent Regner has also been playing well for American Hockey League affiliate Chicago.
Depth at every position seems to be the calling card for the Blues this season, and the defense isn't about to be left behind.
You can follow Luke Thompson on Twitter at @FS_LukeT or email him at lukegthompson87@gmail.com.
---