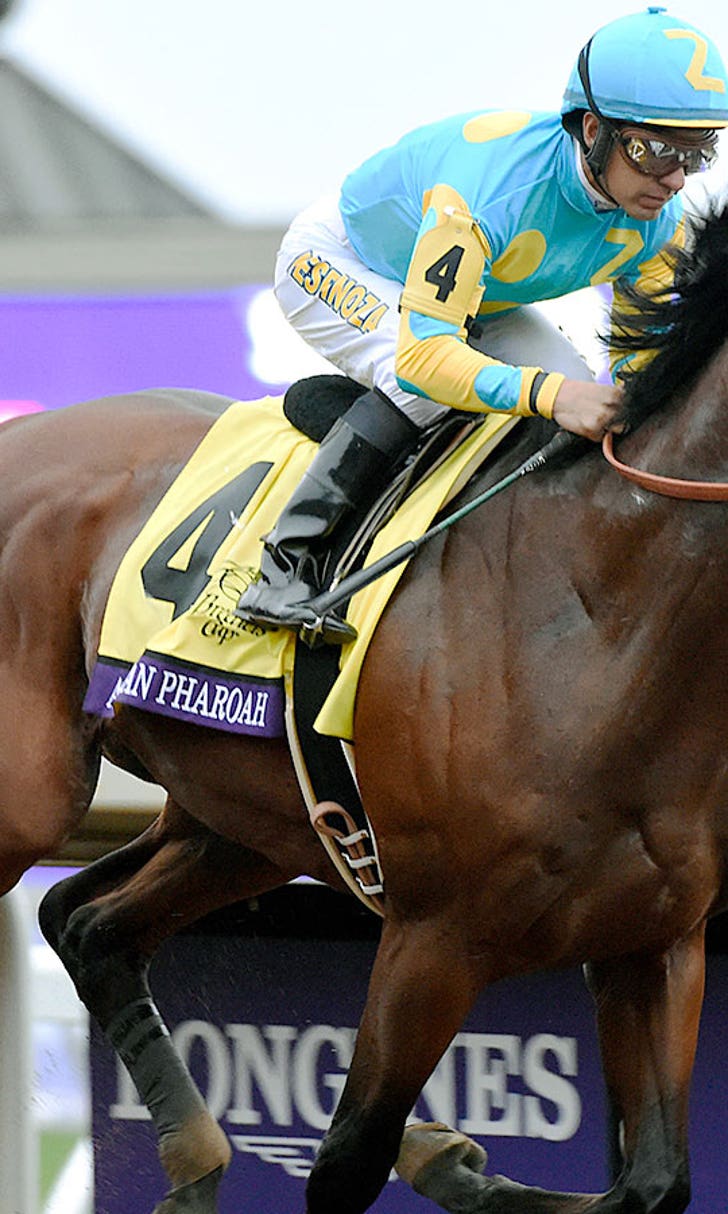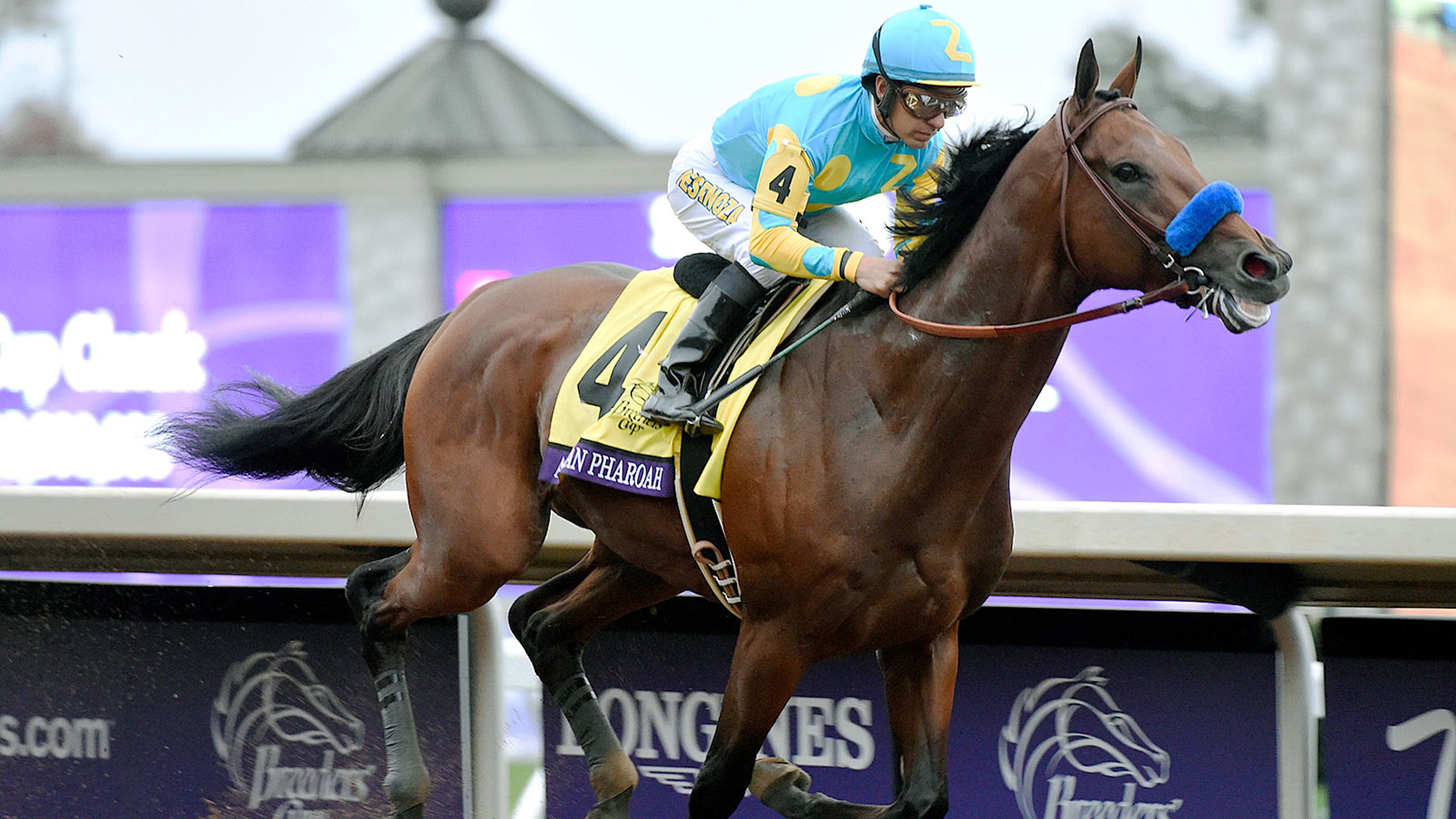 The case for American Pharoah for Sportsman of the Year
BY foxsports • November 14, 2015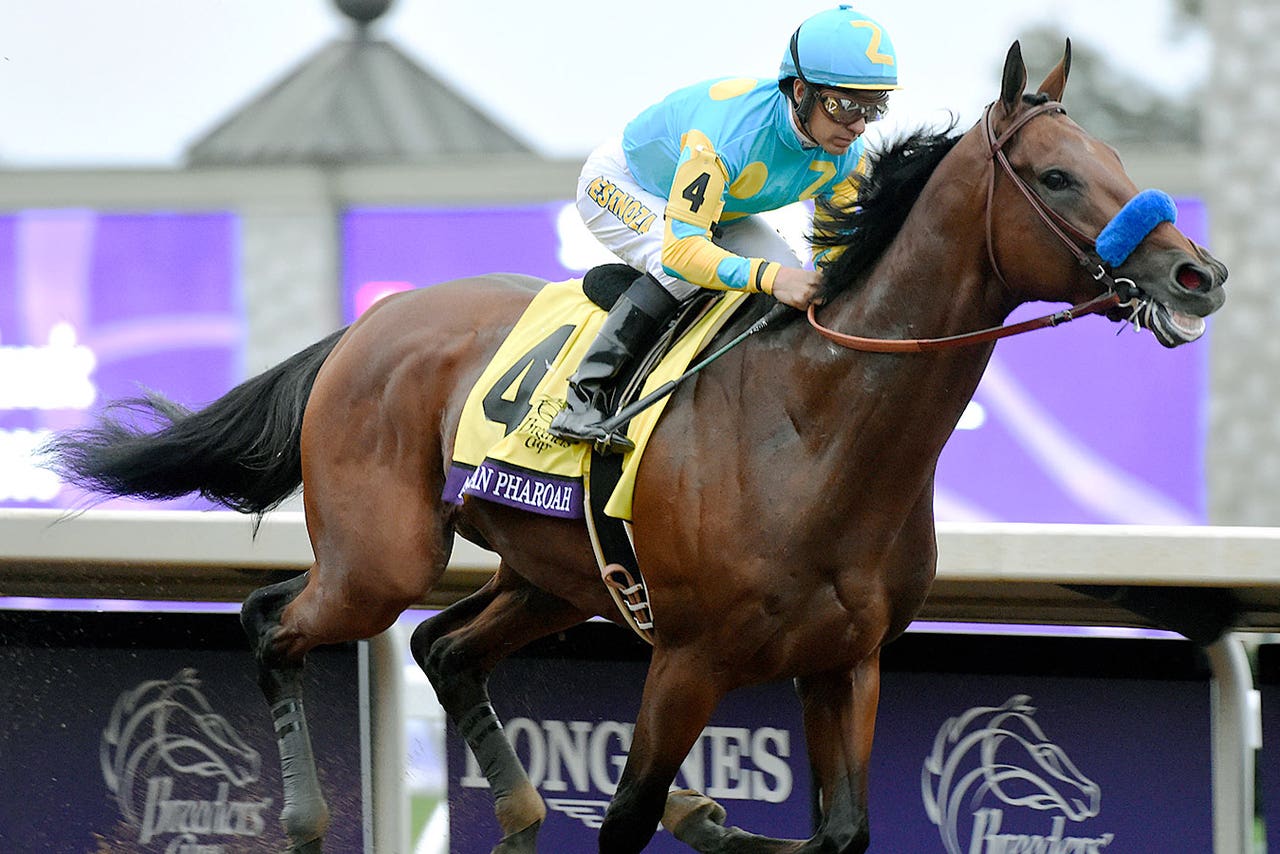 This week, Sports Illustrated announced the candidates for 2015 Sportsman of the Year. The list is eclectic, to say the least. There's a female UFC champion, an 18-year old gymnast and a Midwestern Major League Baseball team. Most unusual of all, based upon the history of the award, is the inclusion of a horse: American Pharoah.
The Sportsman of the Year award began in 1954 and has only gone to anyone in the sport of horse racing once. That was in 1977 when jockey Steve Cauthen received the honor. He didn't win for piloting that year's Triple Crown winner, Seattle Slew, whose rider was Jean Cruguet. Cauthen won for being the Eclipse Award winner as both outstanding apprentice jockey and outstanding jockey and for being the first jockey to earn $6-million in a year. He turned 17 on May 1, 1977. It was the year Cauthen earned the nickname "The Kid" and rose to national prominence as a remarkable, natural talent.
The Sportsman of the Year award was just a start for Cauthen, who continued his amazing run in 1978 as the jockey of Affirmed, who would be the last horse to win the Triple Crown for 37 years. Needless to say, the award has never gone to a horse, or any other non-homo sapien.
American Pharoah's competition is tough. A strong case could be made for any of the candidates, each of whom accomplished great things in their respective sport, either on the field or off. From Usain Bolt's dominance on the track in Beijing to Serena Williams' absolutely incredible year, finishing at No. 1 for the fifth time in the 33-year-old's stellar career, each candidate did something that stood out, that put them in a class all their own. So why would you pass on any of these deserving humans to bestow the honor on a horse?
For me, the decision to give Sportsman of the Year to American Pharoah all comes down to one simple fact: American Pharoah did the seemingly impossible.
To truly appreciate the importance of what American Pharoah accomplished this year might require some perspective that only a horse racing fan can understand. Sure, the Kansas City Royals won the World Series. Some team wins the World Series every year; it's actually impossible for a team not to win it. Somebody broke a record, somebody went undefeated, somebody won something at a very young age ... all notable, laudable accomplishments, but nothing that we haven't seen before.
What American Pharoah did transcends notable. His accomplishment is more than just an impressive stat. This horse, in the eyes of horse racing fans, performed a miracle. When he crossed the finish line first at Belmont Park and won the first Triple Crown in 37 years, he might as well have walked on water.
Many fans of this sport had given up on ever seeing a horse pull off another Triple Crown sweep. Thirteen other horses between 1978 and 2014 came to Belmont poised and ready for a chance at history. Thirteen horses failed to complete the sweep. People were even starting to talk about changing the rules to make it easier. "These horses today, they can't handle the pressure; they can't run this far this fast this often anymore."
But then American Pharoah showed up and blew the doors off of one field after another. He beat strong fields in almost every race he ran in 2015, including his three Triple Crown wins. And save one loss at Saratoga, the "Graveyard of Favorites," he would have finished undefeated after winning what essentially is the World Championship — the Breeders' Cup Classic — against older horses.
That last race can't be overstated. For American Pharoah to win the Breeders' Cup Classic against accomplished older horses, that's like the NCAA champions beating the NBA champs. It's the mark of a truly great racehorse. He gave fans everything they wanted to see: he made history, he fought back from adversity, he fell short of expectations and then he triumphed when everything was riding on the line. It was a storybook season.
American Pharoah lifted the spirits of the fans of the sport and raised the bar for his fellow competitors in a way that no other Sportsman of the Year candidate can claim. Some of us have waited our entire lives to see a horse like American Pharoah. Chances are, we may never see another like him again.
Just listen to all these gushing, gaudy platitudes. Who talks like this?! Just look what this horse has done to me! This is what American Pharoah has done to all of us, the fans of this once-massively popular, but still riveting sport. He's turned us into true believers. He's made us realize that these animals we watch and cheer on and love, they aren't just beasts of burden. They are, each of them, individual athletes imbued with their own talents, personalities, and competitive spirits. These horses are sportsmen, in any sense of that term you can make, and none so much as American Pharoah, our champion, mighty and proud.
---