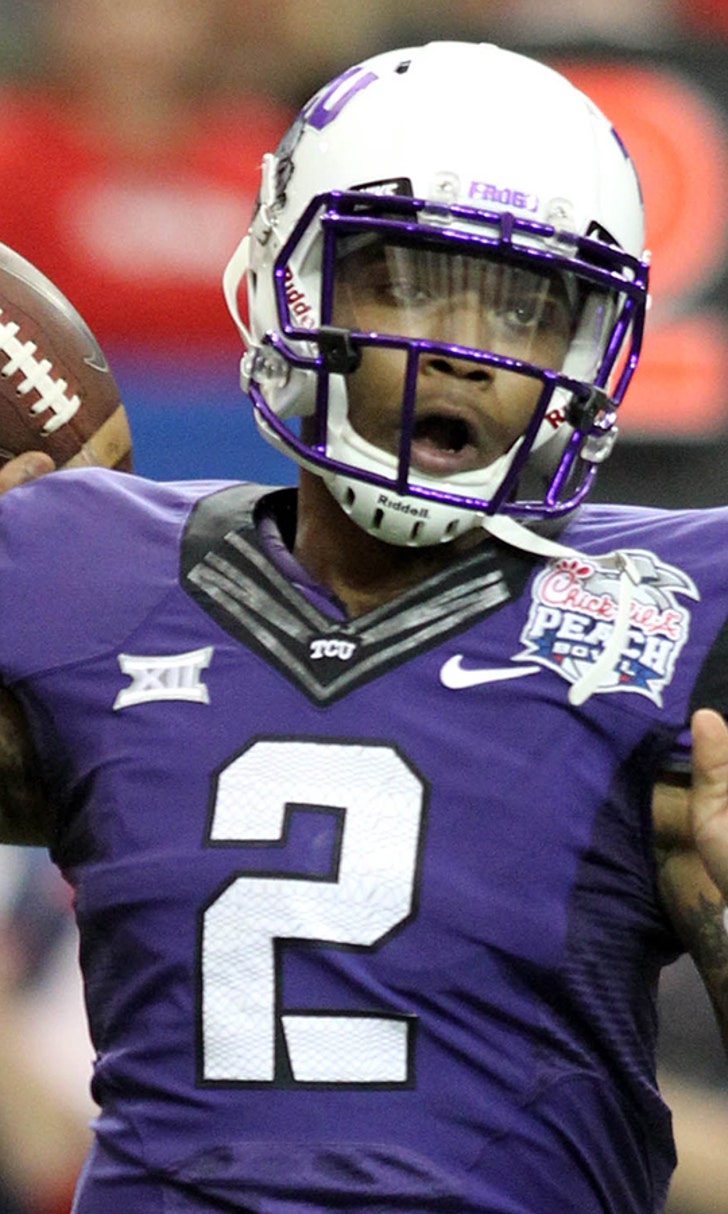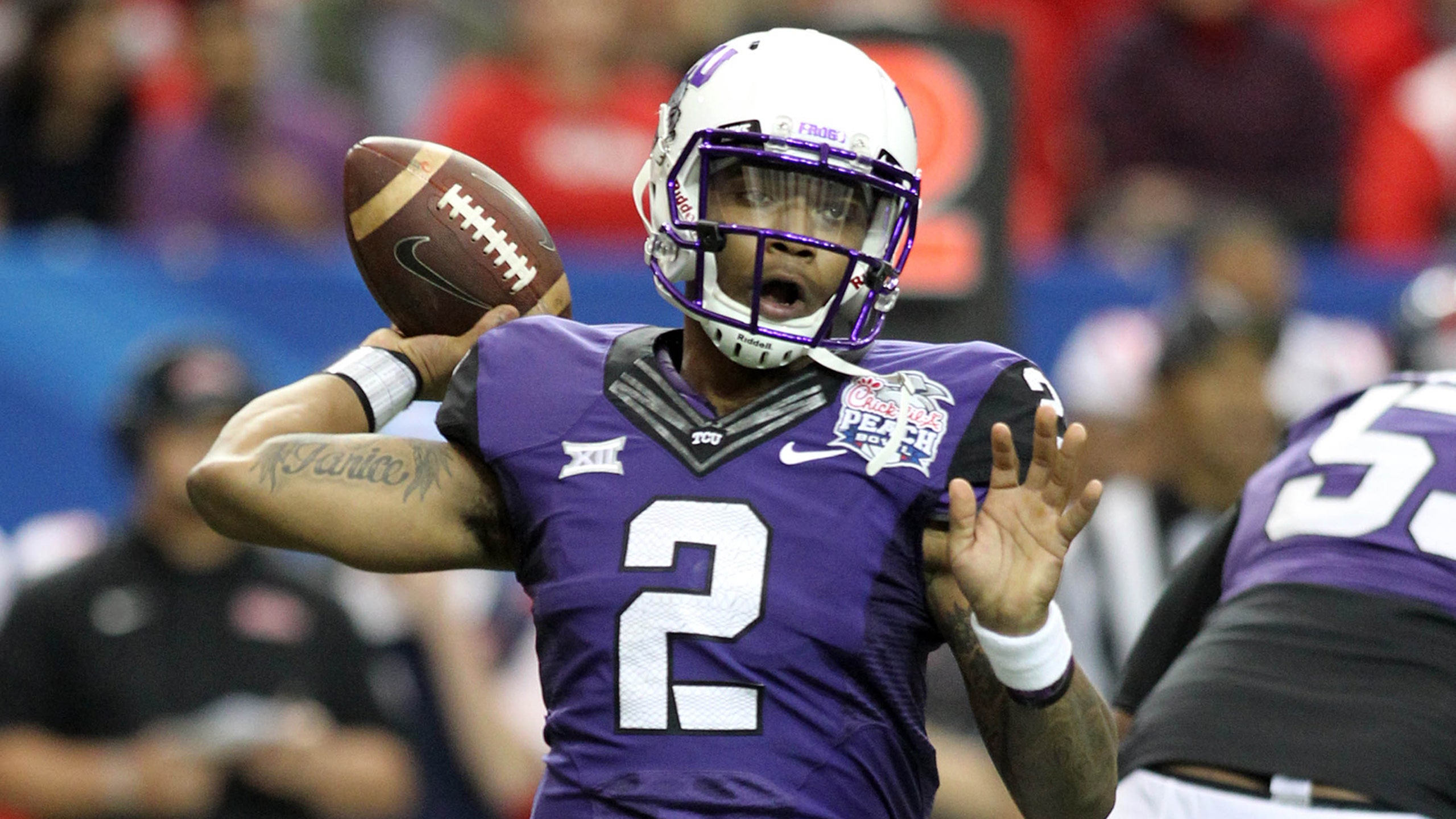 The Big 12's 10 most important games of 2015
BY foxsports • June 15, 2015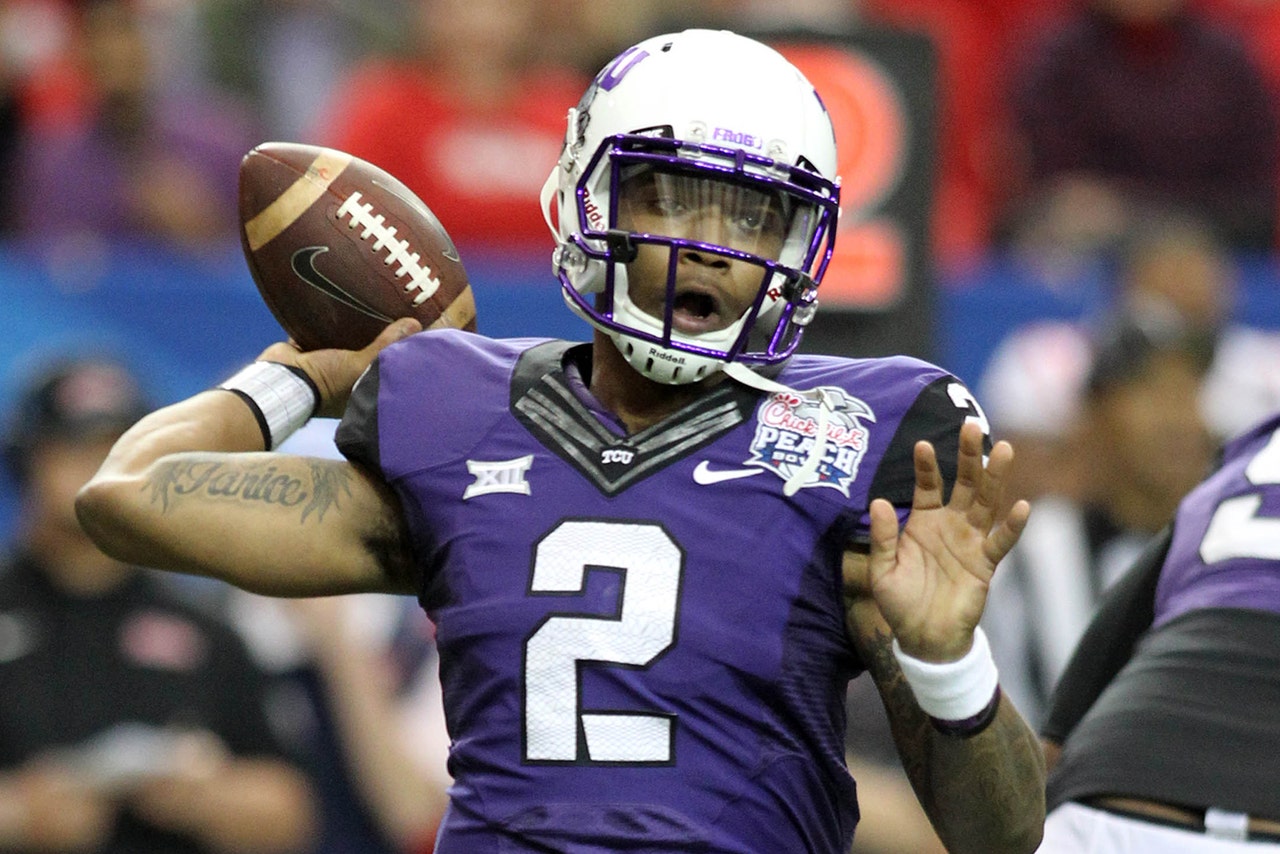 When you think of the 2014 season, you think of the games we spent the most time talking about. There's the 61-58 Baylor-TCU classic that ended with a kick at the gun. There's West Virginia and Oklahoma State's valiant efforts against playoff participants Alabama and Florida State. And, of course, there was the lone game that separated TCU's resume from Baylor's: Its early season win over Minnesota. 
What are the games we'll be talking about in 2015? Here are 10 that should tell the Big 12's season-long story this fall. 
Note: Rankings in order of occurrence, not in importance. 
1. TCU at Minnesota, Sept. 3: Baylor and Oklahoma State both have embarrassing non-conference slates, so among the Big 12's chief playoff contenders, this is likely to be the best win outside of conference. The Frogs will probably enter the season as the nation's No. 2 team and have a big stage to open the season. Everybody's hungry for college football in September and TCU will provide it in Minneapolis on a Thursday night, two days before college football's official kickoff. This is the only real impression TCU can make on anyone until a road test at Texas Tech on Sept. 26. The reality of the situation--fair or not--is anything short of a solid double-digit win will have folks wondering if TCU is destined to repeat last year's success. 
2. Texas at Notre Dame, Sept. 5: Notre Dame could end up being the only top 20 opponent the Big 12 faces in non-conference play. It'll get some focus on the league's overall resume, but the Longhorns' season-opening trip to South Bend will also tell us a lot about what Year 2 under Charlie Strong will look like. Does Jerrod Heard get a surprising start and show promise of what could be a turning point for Strong in Austin? Or does he get a start and flounder? Does Tyrone Swoopes win the job but show more of the same struggles last year? Or does he show off substantial progress? Texas has holes in its roster, but it also has personnel capable of filling them. Texas' story in 2015 will once again be QB-centric, and Week 1 might give us some insight into whether or not Shawn Watson is making progress in developing a passer that might eventually bring a Big 12 title back to the 40 Acres. Nobody will expect Texas to win, but a close loss could be an encouraging sign.
3. Oklahoma at Tennessee, Sept. 12: Oklahoma's Week 2 trek to Knoxville is one of two trips into SEC territory for Big 12 teams. Texas Tech will also travel to Arkansas in September. Bob Stoops has been relatively shy about sharing any thoughts on the SEC this offseason, but they're still liable to surface again ahead of the Sooners' biggest non-conference game against an improving Tennessee team. With big questions at quarterback, expect the Sooners to rely on Samaje Perine, Alex Ross and Joe Mixon, who by season's end, might be the best set of backs in college football. 
4. Texas at TCU, Oct. 3: Texas' schedule was front-loaded last year and it'll face the same in 2015. Even with Baylor, TCU, K-State and Oklahoma State's emergence of late, the Big 12's reputation nationwide often revolves around Oklahoma and Texas' win-loss record. This game will tell us plenty about the Longhorns, who could be on their way to a second consecutive 2-4 start under Charlie Strong with a loss in this game. Or, they might just be 4-1 or 3-2 heading into a mammoth Red River game for the trajectory of Strong's program. The Longhorns won't face a tougher test until traveling to Baylor to close the season. Suddenly, Texas is forced to measure how far it is from a Big 12 title by a trip to Fort Worth. Imagine that sentence even six years ago. 
5. Texas vs. Oklahoma, Oct. 10:  A year ago, TCU-Baylor and Texas A&M-Ole Miss overshadowed Red River, relegating it to the third most important game inside state lines on that Saturday last October. Still, Red River at the Cotton Bowl is consistently the best regular-season atmosphere in the Big 12 and one of the best traditions in all of college football. No list of the league's most telling and important games will ever exclude this game. If Texas loses this game and falls to 2-4, expect plenty of talk about whether or not the clock is ticking on Charlie Strong to get Texas moving in the right direction. If Texas wins it to go 4-2, expect talk about a Longhorns title run in 2016. The back half of UT's schedule sets it up for a nice late-season run. 
6. TCU at Oklahoma State, Nov. 7: This is the Cowboys' first appearance on this list, but it won't be the last. OSU has the most interesting schedule in the Big 12. Mike Gundy's team could, within reason, enter November at 8-0. At worst, it'll be 6-2. OSU's reward: Hosting TCU, Baylor and Oklahoma over the final month of the season. If the Cowboys don't win the Big 12 this year, they'll at the very least have a great chance to muck it up with quality late-season football. Boone Pickens Stadium in Stillwater will be the place to be in November. 
7. Baylor at Oklahoma State, Nov. 21: As I was saying: If Oklahoma State can manage to go 2-1 in that stretch of three games, they'll have a great shot to win the league. Last year's streak of five consecutive losses by at least 21 points was a distant memory after closing the season with wins over Oklahoma and Washington. OSU is no longer one of the Big 12's youngest teams, and remember this note: Oklahoma State has never lost to Baylor in Stillwater in Big 12 play. Not only has Art Briles never won in Stillwater, he's never come within four touchdowns of the Cowboys. Here are the scores of the last eight games between BU and OSU in Stillwater: 49-17 (Baylor won the Big 12 title that year), 59-24, 55-28, 34-6, 66-24, 49-21, 63-28, 50-22. Good luck with that trip, Bears. 
8. Baylor at TCU, Nov. 27: The undercurrent of the Texas-Oklahoma rivalry is a respect from both fan bases. They have an ability to acknowledge the other's success as a program. That respect is completely absent in The Revivalry, a hatred that boiled at all-time high temperatures last fall when the two programs were competing--we assumed at the time, anyway--for a spot in the playoff. The lack of respect makes this a particularly spicy rivalry that's destined for another year in the limelight with both teams boasting top five rankings in the preseason. It's hard to see both teams making it to this game without a loss, but at least one of these two teams should have playoff aspirations in Fort Worth. After last year's classic and the endless "61-58" reminders, no game this season will have more emotion on the field. 
9. Oklahoma at Oklahoma State, Nov. 28: The Cowboys' unlikely late comeback last year--aided by a legendary punt return from since-dismissed Tyreek Hill--will add plenty of heat to this game. TCU and Baylor may be the league favorites, but don't be surprised if Bedlam has a lot of relevance in the Big 12 title race this year. 
10. Texas at Baylor, Dec. 5: This game could be fascinating. The Big 12 will only have two games on championship Saturday, and neither of them include TCU. We could have a Texas team playing for a bowl game or a Baylor team making its final argument in the playoff debate. Better yet, we might have both. Baylor won its first Big 12 title against the Longhorns to close out Floyd Casey Stadium two years ago. Texas' first trip to McLane could be just as memorable and logged among the program's all-time best--or worst--days. 
---