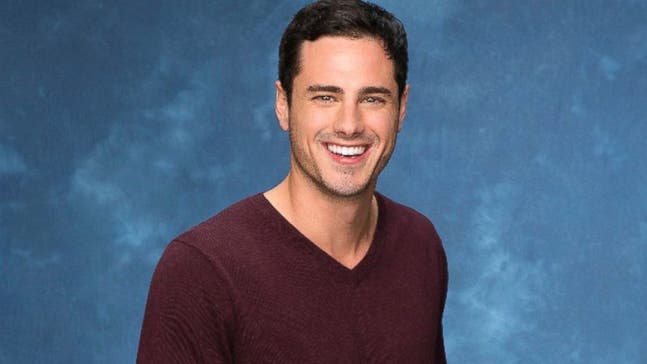 The Bachelor Recap: The Final Rose
Updated
Mar. 4, 2020 2:28 p.m. EST

Who decided this should be a three hour live show? They should be shot, but not before being forced to watch a three hour montage of Ben's hometown pastor reading the good book. On a positive note, in only three hours the president of the Wussification of America is off my tv FOR-EV-ER. Consistency is, like, key, so let's, like, discuss, like, my disdain for Lauren and Ben and this snoozefest, like, one last time.  
HOUR ONE
Ben looks like total shit. He hasn't shaved, hasn't slept, he's moody, in love with two women, and is horribly lost, terrified, and indecisive. All the qualities I've ever wanted in a husband! Ben greets his parents. His mother says that it's disturbing he's in love with two different women. Lauren is up first, and per usual, she can't stop saying like every ninth word with her horrible fake smirk. She calls his parents Amy and Dave. NO, they are Mr. and Mrs. Higgins. Display some manners for me one time, Portlandia. Mrs. Higgins tells Lauren that "Ben can get really worked up." No, Amy, your son is a crybaby. He is a grown man who cries about everything and tells US Weekly he still adores Winnie the Pooh.
JoJo nails her time with the parents, because duh. The most humorous part of this hour was Ben saying he doesn't know what getting through a hard time with Lauren would be like. Let me tell you, it's when you two are so passive you can't decide what you want for dinner, so you both end up starving to death.
HOUR TWO
Meanwhile, Ben's putting on an impressive clinic on how to have the exact same conversations with two different girls. I knew I was right about Lauren B. winning this thing when JoJo and Ben have a conversation on a bathroom floor. But it's at the Sandals resort, so it's, like, a classy bathroom floor? To sum up the dates, they all say "I love you" to each other entirely too many times. Remember ladies, Ben thinks you've made this whole experience worthwhile, no matter what happens.  
Let's check in and see which book of the Bible Ben's pastor is on. Already to Proverbs? Let me know when you get to the one about finding your wife on national TV. I think it's towards the end...31 maybe?   
Now we're to the part of the season where the girls forget the entire concept of the show and discuss how worried they are about the other girl. HOW THE HELL DOES THIS HAPPEN EVERY YEAR? Did you know that both girls are ready to get engaged, love Ben, and know this is the real deal? Just repeat those phrases on loop, but add in more tears with each cycle.
Here it comes, the semi-annual Neil Lane walk of shame! I'm not sure I've ever seen Neil get so annoyed with a Bachelor. Ben apparently doesn't know which girl he's going to choose. In what comes as zero surprise, he picks the tackiest, gaudiest, most horrific ring available. It's so bad, the final girl would be completely justified in saying no.
I realize my hatred for Ben this season hasn't really been fair since boring and awkward don't necessarily make you a horrible person. Except that what he just did to JoJo justifies it. She walks up, thinking she's about to get engaged, and he just lets her keep talking on and on and on. It was so bad even Darren Rovell was tweeting at him to stop her diatribe. Rovell! JoJo handled it well though. 
Before Ben proposes to Lauren, he calls her dad to ask for permission. First of all, this is an in-person and private discussion. Second of all, YOU NEVER CALL YOUR FATHER-IN-LAW "MAN." I had to rewind it twice to see if he really said that. Their proposal was so blah and boring. It reached insufferable levels when Lauren tells Ben "you're my person." Quoting Grey's Anatomy during your engagement is for Teen Moms.
HOUR THREE
There are no accurate words that would describe my level of pissed when this third hour started, but then it turned out to be the most redeeming hour. We move through the obligatory questions like, "What's it like to watch that again?" and then several instances of, "It makes my stomach hurt," says Ben the adult. Then the show gets to what really matters, finding out what JoJo's going to do to him.
You know in The Sandlot when Wendy Peffercorn is walking down the street and Squintz says, "She knows exactly what she's doing." That's JoJo coming out in that dress and seeming basically uninterested in Ben. I was a little shocked she was playing it so cool, and Ben looks uncomfortable. He won't stop saying he'll always care about her. No doubt Lauren is backstage wanting to cut him.
There's a method to the madness because....JOJO'S THE NEW BACHELORETTE. Holy shit. ABC actually listened to us. Word is they ditched Caila three days ago...BRUTAL. After it's announced, I'm not sure Ben said more than ten words the rest of the show. He looked like his tummy hurt. Lauren took too much Adderall when they finally let her come out and wouldn't shut the hell up. Then Lauren and Ben decide not to get married tonight...weird, right? How pissed is Ben's pastor, who has definitely finished reading the Bible in its entirety by now?
It wouldn't be like Ben if he didn't make this show insufferable one last time, so he surprises Lauren and brings out their families to propose again. NO. Stop. You've killed this, and we don't care about you anymore. Everyone has gone to bed. Lauren's dad tells his daughter, "Congrats, you banged your way to a free wedding and ugly ring. WE'RE SO PROUD OF YOU HUNNY!" Okay fine, maybe those weren't his exact words, but they should've been.
Did I enjoy this season? Nope. But I'm willing to overlook Ben dragging me on this tedious journey of love, because I am that excited about JoJo. Jordan Rodgers, Aaron's little brother, is my early favorite. Outkick sends JoJo our congrats on dodging the Ben bullet, and we expect big things. Until the new season starts May 23rd, it's back to #sports. You can follow along for all the scoop on Twitter @MattieLouOKTC.
---