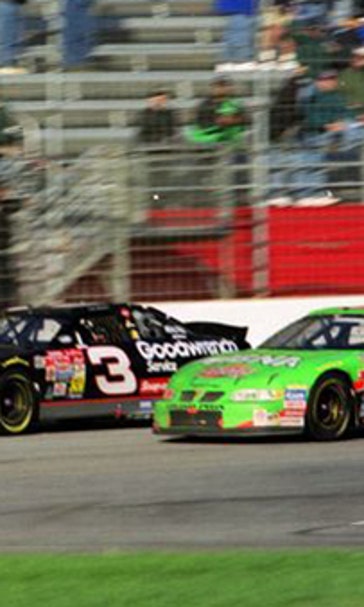 The 5 (Okay ... The 4): Best Races At Atlanta Motor Speedway
BY Tom Jensen • August 28, 2013
Atlanta Motor Speedway, a wicked-fast 1.54-mile oval track located about 20 miles southeast of Atlanta, is known for great racing. The pavement is old, there are multiple grooves and it's a track where how a driver manages tire wear and his racing line play a key outcome in the race.
It's also a place where plenty of NASCAR history has been made.
While there have been many memorable races at AMS, four standout as being head and shoulders above the rest.
4. 2005, CARL EDWARDS WINS FIRST CUP RACE - They say that to be the man, you have to beat the man, and that's exactly what Carl Edwards did in the spring of 2005 to win his first NASCAR Sprint Cup race. In the Golden Corral 500, Edwards made a late-race pass of Jimmie Johnson and beat him to the start-finish line by a mere 0.028 seconds, making it the 15th-closest finish in NASCAR history.
"My whole career changed in an instant by beating Jimmie Johnson back to the finish line and winning my first race in the Sprint Cup Series," said Edwards. "...I remember right after I passed the start-finish line, the thing I remember the most is it took a second to sink in because I was racing so hard with [Johnson]. I thought, 'Man, the race is over. There's nobody in front of me. I just won the race. That means I won!'"
3. 2000, EARNHARDT BEATS LABONTE - The late, great Dale Earnhardt was nothing if not a hard charger. The seven-time NASCAR Sprint Cup champion began the 2000 Cracker Barrel Old Country Store 500 way back in 35th place. But he steadily moved up, reaching 17th at Lap 60, seventh by Lap 80 and taking his first lead on Lap 135. The final lap came down to a shootout between The Intimidator and six-time Atlanta winner Bobby Labonte. Earnhardt went high in Turn 4 to edge Labonte by just 0.010 seconds, at the time, the fifth-closest finish in NASCAR history.
"The 2000 win was vintage Dale, racing hard with Bobby Labonte to the checkered flag and never giving an inch," said Earnhardt's team owner, Richard Childress. "Dale loved racing at Atlanta Motor Speedway. He won in 1980 and in 2000, and seven other times in between. The No. 3 team went to the race track with the belief that that the trophy and the prize money was ours and the success we had at Atlanta gave us a little more swagger when we walked through the gates."
2. 2001, HARVICK'S EMOTIONAL VICTORY - Kevin Harvick's first NASCAR Sprint Cup victory came in just his third career start in 2001, and at a time when the sports and its fans desperately needed a healing moment. Dale Earnhardt has been killed at Daytona few weeks earlier, and Harvick was quickly moved up from Richard Childress Racing's NASCAR Nationwide Series team to the Sprint Cup squad. At Atlanta, Harvick put on a thrilling show to beat Jeff Gordon to the checkered flag by a mere 0.006 seconds.
It was a hugely emotional moment. "All I can say is this one's for Dale," Harvick said after the race. "I don't know how you could script it any different. I think somebody was watching over us ... The spotter was telling me the 24's (Gordon) coming. And he had a good car - probably the best car - (but) somebody was making me go a lot better than I was."
1. 1992, THE GREATEST RACE - The 1992 Hooters 500 wasn't just a memorable race in Atlanta history; it was arguably the greatest race in the entire history of NASCAR, which is saying something. But this season-ending race had it all: It was Richard Petty's last race as a driver and Jeff Gordon's first start in the NASCAR Sprint Cup Series. Five drivers came into the Hooters 500 with a chance to win the Cup championship - and this was more than a decade before the Chase for the Sprint Cup.
Points leader Davey Allison was taken out in a crash with Ernie Irvan, which set up a showdown for the title between Alan Kulwicki, the Wisconsin engineer turned team owner/driver, and Georgia's favorite son, Bill Elliott. Ultimately, Elliott won the race, with Kulwicki finishing second. But because Kulwicki led one more lap than Elliott, he picked up the 5 bonus points for leading the most laps, which was enough to give Kulwicki the championship. Had Elliott led one more lap, he would have had the title. "I never even thought about it until after the race," Elliott said. "I won the race and lost the championship."
---