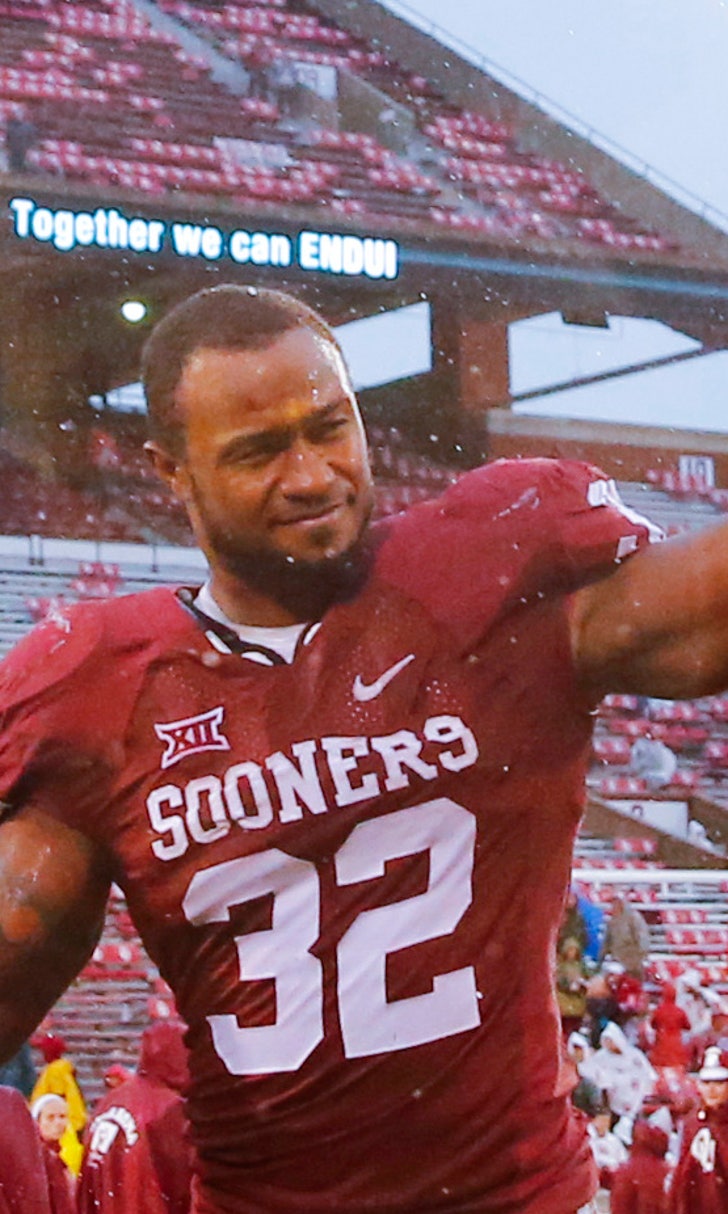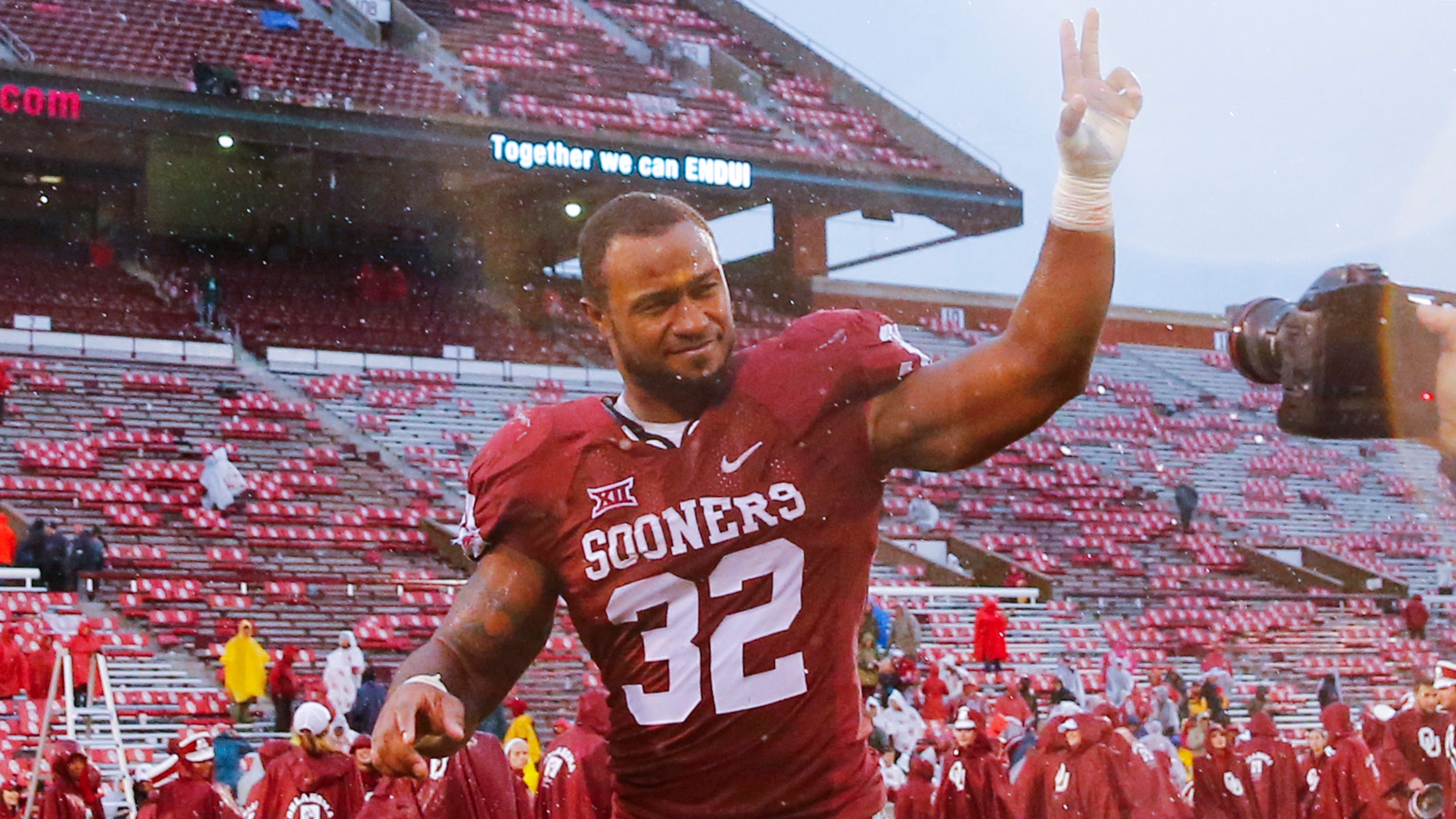 The 2014 Ubbies: Best of the Big 12 season
BY foxsports • December 11, 2014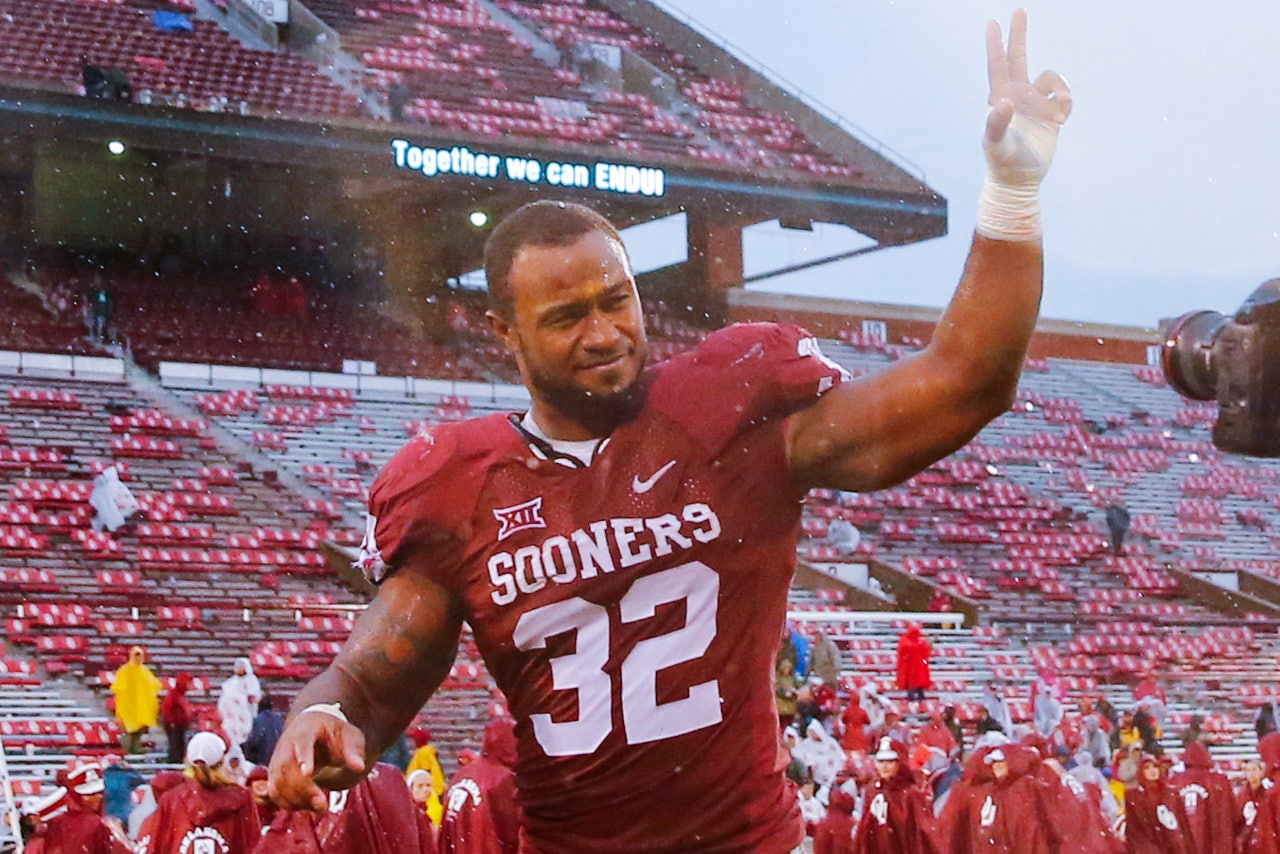 With the regular season complete, it's time to look back on the best players, moments and things that will stick out to me as the calendar's page turns from 2014 to 2015. 
Without further ado, here are the 2014 Ubbies. Your trophies are in the mail, gentlemen. 
Best offensive player: Trevone Boykin, QB, TCU. Every time Boykin's name came up in my conversations with people around the league, there was a sense of awe. I took a closer look at Boykin's road for a story earlier this year, and it's crazy that Boykin threw one touchdown and seven interceptions in Big 12 play as a quarterback last season. This year, he came from nowhere after co-OC Sonny Cumbie helped develop him as the cornerstone of a new spread offense in one offseason. Boykin led the conference in passing yards (3,714), passing touchdowns (30) and completed better than 60 percent of his passes with just seven interceptions. He also ran for 642 yards and eight touchdowns to help lead TCU to a share of the Big 12 title. CBS' Dennis Dodd noted this week that only three quarterbacks have averaged 295 passing yards and 50 rushing yards a game since 2009: Robert Griffin III, Johnny Manziel and Boykin. 
Best defensive player: Malcom Brown, DT, Texas. No defender was a bigger headache for offensive coaches around the league this season. Texas' loaded defensive line prevents offenses from keying in on one player, but Brown faced plenty of double teams this year and still made 12.5 tackles for loss, 6.5 sacks and 62 tackles. He also forced two fumbles and has an NFL decision to make in the coming weeks. He made himself a whole lot of money this year, and I'm betting the Texas Bowl is the last time we see him in a burnt orange uniform. 
Somehow, the league's media and coaches didn't agree. The Defensive Player of the Year race is somewhat debatable, but not naming Brown the Big 12's best defensive lineman is indefensible. If you don't think Brown is the most dominant and disruptive defensive presence in the league, you're spending too much time looking at numbers and not enough looking at what's going on at the line of scrimmage. 
Maybe Brown would get a little more notice if he played for a brand-name program. 
TCU's Paul Dawson is a great player who made a whole lot of big plays this year, was all over the field to make a league-high 128 tackles and helped TCU field one of the league's best defenses. Oklahoma State's Emmanuel Ogbah was immensely productive, finishing in the league's top three in sacks and tackles for loss. 
Neither has been as dominant as Brown this year. When I talk to coaches and assistants around the league, I like to ask who gives them the most trouble. Last year, it was Jace Amaro by a wide margin. This year, Tyler Lockett's name came up most often on offense, along with Kevin White. On defense, though? 
Nobody got the same kind of buzz and shakes of the head as Malcom Brown. 
Best coach: Gary Patterson, TCU. Winning a best coach award is sometimes a backhanded compliment. "Hey, we don't think your players are very good! That's pretty crazy that you guys actually won a whole bunch of games!" That's not what 2014 was about for Patterson. TCU, though it went 4-8 last year, was a better team than many people realized and lost four games by a total of just 11 points. It was competitive in all but one game. Patterson gets this award for going away from a traditional one-back offense and transitioning to the spread that's become the offense du jour in the Big 12 over the last decade and trusting veteran Big 12 assistants Doug Meacham and Sonny Cumbie to run it. The Frogs jumped up from 105th nationally in offensive yards per play last year to ninth this year, and improved from 88th to second in scoring offense. Patterson's bold decision that looked borderline rash at the time paid off with a Big 12 title. 
Honorable mention: Art Briles, Baylor. 
Best freshman: Samaje Perine, RB, Oklahoma. Perine has nothing close to a peer for this award. The true freshman led the Big 12 with 1,579 yards, 353 more than any back in the conference. He averaged 6.58 yards a carry (the most of any player with at least 120 carries) and led the league with 21 touchdowns. Perine's 5-foot-11, 243-pound frame is more mature than any 19-year-old I've ever seen and he'll continue to run over defenders throughout his time in Norman. I feel bad for defensive players around the league who have to keep trying to tackle this guy. 
Best newcomer: Tyreek Hill, RB/WR/KR/PR, Oklahoma State. Hill did a lot this year, but he quite literally changed the outcome of OSU's road wins against Kansas and Oklahoma with returns longer than 90 yards on special teams. The Pokes are not in a bowl game without him. That's the biggest accomplishment of his first season as a juco transfer in Stillwater, but the league's most electrifying player ran for 534 yards, caught 31 balls for 281 yards and scored three touchdowns on special teams. OSU wasn't always outstanding at finding ways to use him, and he could use more touches, but the future's still bright for Hill on what should be an improved OSU squad in 2015. 
Honorable mention: Shaq Riddick, DE, West Virginia.
Best game: Baylor 61, TCU 58. Have you guys heard about this game at all? I'm sure you forgot it, but it was a pretty good one. It had the feel of a classic in mid-October after Baylor rallied from a 14-0 deficit early and a 58-37 deficit in the final 11 minutes to win on a last-second field goal, but nobody could have known how infamous the game would grow by season's end. 
Honorable mention: Texas 48, Iowa State 45
Best individual performance: Samaje Perine, RB, Oklahoma vs. Kansas. The Sooners' freshman knew how to write his name in the record book with style. He busted a couple tackles and rumbled for 42 yards to reach 427 yards for the day against Kansas and break the FBS single-game record for rushing yards. Thousands upon thousands of college football games have been played throughout history and nobody ever ran for more yards than Perine did on Nov. 22. 
Best play: Nigel King, WR, Kansas. King's focus turned a possible interception into a tip drill 78-yard touchdown to help the Jayhawks nearly knock off TCU. TCU safety Chris Hackett tipped the ball into the air, but King managed to haul it in with one hand and stay in bounds for the long score. 
Honorable mention: Boykin's flip into the end zone vs. Kansas State. 
Best quote: Art Briles, Baylor. After surviving a desperate Texas Tech team in the season's penultimate game, Briles waxed poetic on playing teams with nothing to lose. 
"I'll fight a man with three children and a nice house any day over a man that's living out of a car," he said. 
I'm not a homeowner or a father yet, but just to be safe, I plan on never mentioning my future children or mortgage in Briles' presence. 
Second-best quote: Jamie Pollard, AD, Iowa State. Another year, another Iowa State-centric rant in this space. Pollard was fed up with that controversial call against Texas in 2013, a call the Big 12 admitted was an error against Kansas State earlier this year and after a third controversial call against Oklahoma State, Pollard took to the microphone and earned himself a $25,000 fine, the biggest in Big 12 history. That's what happens when you allege a league-wide officiating conspiracy against your school.
Most memorable press conference: Bryce Petty, QB, Baylor. What is it about Art Briles recruiting loquacious passers? Petty's postgame presser after beating Kansas might be the most famous in Baylor history, especially considering a week later, he proved he truly was "ready for OU," helping the Bears rout the Sooners by 34 points in Norman.  
Juiciest controversy: Texas Tech vs. former DC Matt Wallerstedt. In mid-November, interim defensive coordinator Mike Smith alleged--in a press conference, mind you--that the man he replaced was feeding the team's signals to opponents. Wallerstedt quickly denied the allegations via a statement through a lawyer. That's called saber-rattling, and predictably, we haven't heard a word about the issue since. 
Best miscue: Texas vs. the UCLA coin toss. Poor Tank Jackson. He was trying to do his best, but the officials' explanations of the coin toss just didn't hit home and Jackson gave UCLA the ball at the start of both halves.
"I said, 'What happened?' He said, 'I don't know, Coach. I was just so hyped up," coach Charlie Strong said. 
This is bulletproof and remains the single greatest excuse I've ever heard for any mistake. 
Worst play: Patrick Mahomes, QB, Texas Tech. I love Mahomes' game, and he improved a ton as the season went on, but I've never seen a quarterback fumble and throw an interception on the same play. 
Best celebration: Steve Edmond, LB, Texas. Getting too hyped seemed to be a theme in Austin this season. When the Longhorns weren't botching coin tosses, they were punching teammates in the face. This really was a good season for Charlie Strong to build on. I promise.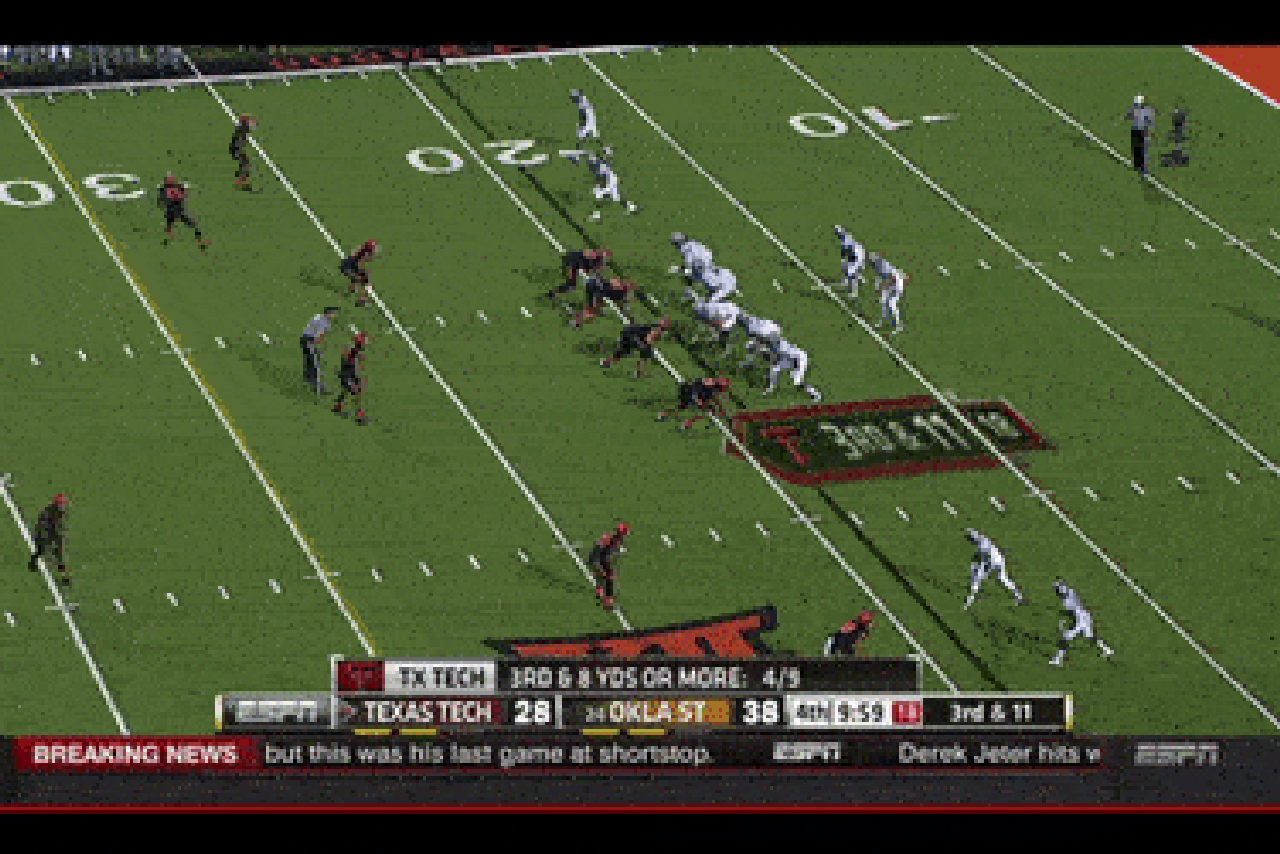 Most memorable moment: TCU and Baylor get snubbed. Ultimately, Sunday's CFP announcement will be the defining image of the 2014 season for the Big 12. It sealed the Big 12's fifth consecutive season without a chance to play for the national title and in one short moment, made months of TCU vs. Baylor debate seem pretty irrelevant. Make sure to tell Wisconsin thanks for inexplicably going down 59-0 to Ohio State and its third-string quarterback. 
Worst moment: David Ash. The tears in Ash's eyes on senior night at Texas on Thanksgiving were hard to watch. Ash has done everything you could ask of a player and battled through rib injuries and foot injuries but this year, another head injury ended his career too early. Ash played all of Texas' season opener, but called the coaching staff hours after the win over North Texas complaining of a headache. He missed 10 games with a head injuries last year, but Texas believes the first real hit he took this year gave him another. He chose to retire on his own, but Longhorns coach Charlie Strong said he wasn't going to let Ash back on the field after the injury. 
Weirdest moment: J.W. Walsh, QB, Oklahoma State. Hey, if you're missing a game with a foot injury, you gotta watch the next game on the roof. OSU's narrow sidelines birthed a team policy prohibiting players with leg injuries to watch the game on the sideline. Just when you thought you've seen it all in college football...
Best catch: James Castleman, DL, Oklahoma State. There were a lot of candidates for this award, but I'm giving it to the Cowboys' lineman who snagged a bullet with one hand while being engaged with a blocker. Plenty of catches make you say "Wow," but Castleman's still legitimately has me wondering how in the world he pulled this off. How could he tell for sure it was being thrown? How did he get his hand right where it needed to be? How did he retain possession? It's going to take restraint for me to not write a 6,000-word oral history of this catch in the offseason.  
Best hit: Julian Wilson, CB, Oklahoma. Poor Tulsa. Julian, what did this guy ever do to you? 
Honorable mention: Texas S Jason Hall on Oklahoma RB Samaje Perine. 
Best win: TCU 41, K-State 20. Baylor routed Oklahoma earlier in the day, but TCU one-upped the Bears by rolling over Kansas State, who finished the season in the top 15. The Frogs got their best win of the year and led by four touchdowns before settling for a three-touchdown win. 
Biggest surprise: Trevone Boykin, QB, TCU. I'll admit it: I was slow to get on the Boykin bandwagon because I was waiting for Matt Joeckel to get a shot in conference play and take over the job. It never happened. Instead, Boykin grew into the Big 12's best offensive player in a brand-new offense. He did away with his happy feet, was more accurate and made good decisions all-year long while not forgetting his mobility allowed him to extend plays and move the chains for the Frogs. 
Biggest disappointment: Oklahoma. The Sooners began the season as the Big 12 favorite and a playoff contender. After four games, Oklahoma looked like it had built off last year's Sugar Bowl win and had a case as the nation's best team. TCU handed the Sooners their first loss, then the Sooners got outplayed by Texas and managed to win the game a week later. The following week, K-State knocked off the OU in Norman and three weeks later, Baylor embarrassed the Sooners and ended any hope of a Big 12 title. Oklahoma State handed OU a final indignity last week and dropped Oklahoma to 8-4, guaranteeing Oklahoma would fall short of a double-digit win season for the first time since an injury-riddled 2009 season. The Sooners have a tendency to have one jaw-dropping loss a season, but it got out of hand this time around. 
Best photo: Art Briles/ Bob Bowlsby. Briles accosted Bob Bowlsby during Baylor's trophy presentation for not publicly recognizing the Bears, who earned the Big 12's automatic qualifying bid for access bowls, as the league champion. The Big 12's tiebreaker bylaws actually don't apply to the playoff committee, but Briles was incensed. An intrepid photographer caught an amazing photo on the field after Baylor clinched the title. 
---