That time Rory McIlroy almost enrolled at East Tennessee State
BY Aaron Torres • June 17, 2015
Fred Warren has been associated with college golf for over 40 years, first as a player who began his career at UCLA at just 16 years old, then as an assistant at one of the top programs in the nation, and most recently as the head coach at East Tennessee State University for the past 29 years.
The Hall of Famer has seen it all during those four decades in the sport, yet even after all these years, all the matches won and lost, and players who have come and gone, one weekend sticks out about as vividly as any other: the 1996 NCAA Championships.
There, Warren's Buccaneers had four rounds to remember. They finished fourth nationally that weekend, in what remains the best finish in school history.
Yet despite his team's strong showing, some of Warren's most vivid memories from that weekend were not of his own players, but instead, of the opposition's. For three of four rounds, East Tennessee State was paired with Stanford, which at the time featured the most decorated player in the history of amateur golf, a guy you've probably heard of: Tiger Woods. At that point, Tiger already had two U.S. amateur titles under his belt, and would pick up a third just a few months later.
Watching Woods up close, Warren was simply mesmerized. It wasn't just the scores that he posted, but also, the way he carried himself. Woods walked with confidence and struck the ball with no fear. He attacked the course like basically no young player Warren had ever seen.
That's also why when many questioned Woods' decision to turn pro a few months later, Warren scoffed at Tiger's critics. He had seen Woods up close and in person, and Warren had no doubt how good he could be.
"At that point he hadn't had much success in professional tournaments as an amateur," Warren said during a recent interview with FOX Sports. "And people were saying 'Ah, I don't think he'll make it as a pro.' And I just remember saying, 'You haven't seen this guy. He's wound different. His body is different. He's just different.'"
Since seeing Woods that spring, Warren has had that same visceral reaction, the same belief that a guy was just different only a few other times in his career. He noticed it watching Sergio Garcia at the Junior Orange Bowl in Miami in the late 1990s. He saw it in Brandt Snedeker during his freshman season at Vanderbilt.
Oh, and he saw it one more time, while recruiting the greatest golfer ever to sign at East Tennessee State. The player — a future tour winner and major champion — turned out to be so good that his signed Letter of Intent was later framed and still hangs in the East Tennessee golf offices to this day, even though he never played a round for the school.
So who is this mystery recruit? The guy who still has Fred Warren gushing, more than a decade after he stopped recruiting him?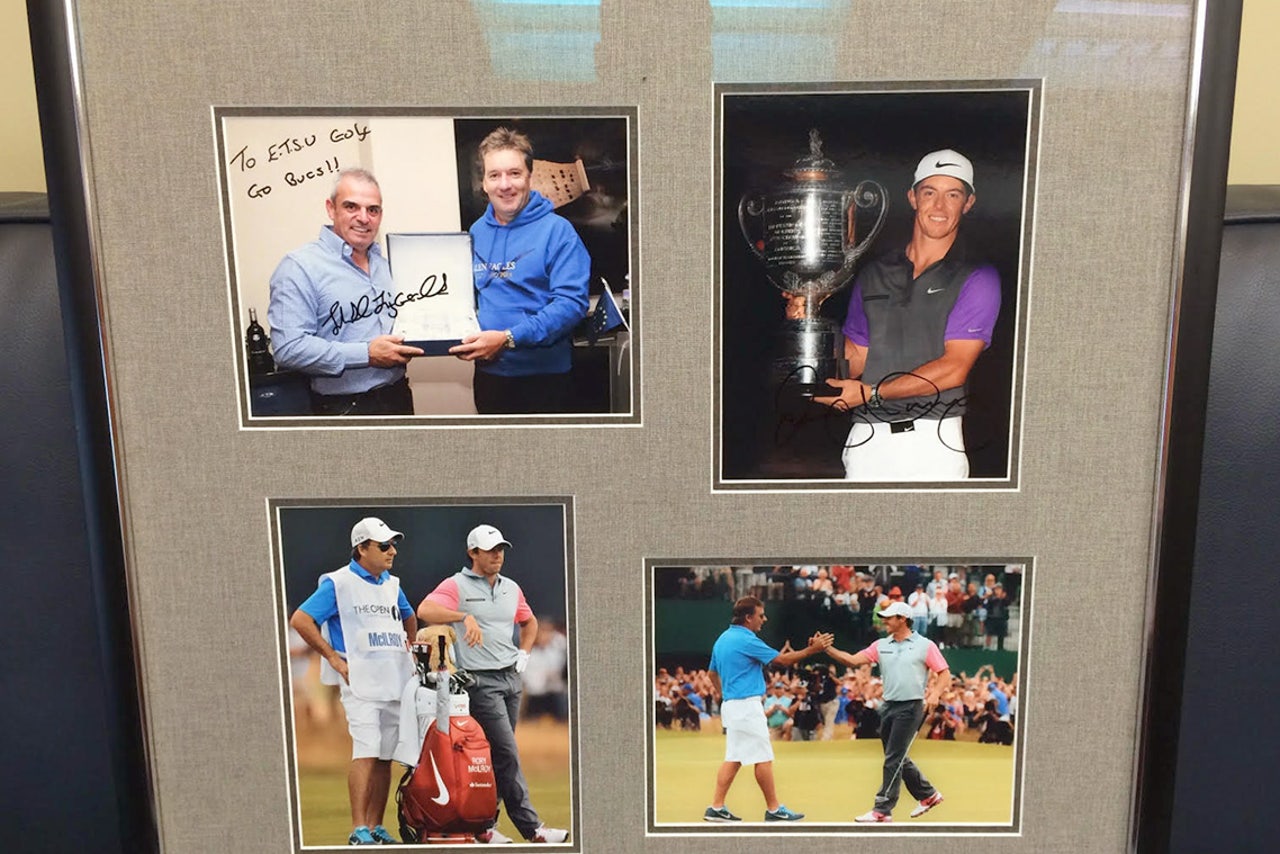 Rory McIlroy sent this autographed photo collage to East Tennessee State after winning the 2011 U.S. Open.
Well, it's none other than Rory McIlroy.
That's right, long before McIlroy was the No. 1-ranked player in the world, a four-time major champion, and odds-on favorite to win this week's U.S. Open, he was instead a 15-year-old super-recruit, who nearly enrolled at East Tennessee State in the fall of 2005.
It may be the greatest recruiting story never told, a chapter of Rory McIlroy's life that virtually no one — not even his biggest fans — knows much about.
But while it's a story that virtually no one knows, it's one that Fred Warren will never forget.
On paper, the story of Rory McIlroy playing college golf at a small school in Tennessee seems incomprehensible, almost impossible to imagine. Yet with a little context, it actually makes perfect sense.
The story actually begins years ago, and begins with roots that are plenty familiar to anyone who follows college sports closely. It begins with a familiar note to college sports fans: a coach looking for a recruiting edge.
East Tennessee State revived its golf program after a three-year hiatus in 1986, and as the school's first head coach, Warren was in desperate need of some players. Having come to the school from Oklahoma State — one of the top programs in the country — Warren knew where to find those players, but also knew that it probably wasn't realistic to get many of them to come to East Tennessee State.
That's why at some point in the early days, Warren's recruiting strategy began to shift. Rather than focusing on golfers from the United States — players who likely would choose the larger schools over East Tennessee State if given the choice — he decided to look abroad. Ireland, which was emerging as a golf power by the mid-1990s, seemed like a logical place to start.
"The five states where college golfers come from are California, Texas, Florida, Georgia and South Carolina," Warren said. "As a mid-major, generally speaking, you're not going to get the best player out of those states. But I'd had some success (recruiting internationally) and it occurred to me, 'If I can get one of the best players out of Ireland every year —€" that's a good golfing country — that would kind of be like getting the best player out of South Carolina or Georgia.'"
The first Irish player to sign with the Buccaneers was a guy by the name of John Paul Fitzgerald, who ironically has gone on to fame as the caddie of, well, Rory McIlroy. However, it wasn't until Warren signed his second Irish player that a passageway into the country truly opened up.
That player's name was Keith Nolan, and he really was a coach's dream. On the course, Nolan was one of the best golfers ETSU has ever had, a three-time All-American who was part of that 1996 team which finished third in the country, ahead of Woods and Stanford.
More importantly, he was just as dynamic off the course; the kind of guy everyone gravitated towards. That quickly became a benefit to East Tennessee State, when Nolan mentioned that a few of his buddies from Ireland wanted to come over to the United States to play college golf. In no time, Nolan's expansive Rolodex, filled with all the top up-and-coming golfers in Ireland, essentially became ETSU's.
"(Nolan) was a great guy, great personality," Warren said. "He liked it here. And he'd just come in my office and say, 'I have a friend back home who wants to come and play.'... One phone call and you're sitting there listening to the kid, like 'I want to play with Keith.'"
From there, the Irish pipeline had officially been tapped. Nolan's commitment led to a player named Rhys Davies coming aboard, which led to two more players joining East Tennessee State's roster. Their names were Cian McNamara and Gareth Shaw, and they tipped off Warren to a good friend of theirs, who was an emerging superstar in Ireland.
His name was Rory McIlroy.
"My guys told me, 'Coach, this guy is going to be a player,'" Warren remembers the pair saying.
Warren needed to see the kid with his own two eyes and got the chance a short time later. He went over to Ireland to watch McNamara play in a tournament, and figured he'd pop in for a hole or two to check out this McIlroy kid.
His plans changed quickly, however.
"I'll use a term that sticks to my mind: Watching Rory was like eating potato chips, you can't eat just one," Warren said. "You think, 'I'm going to watch the guy for a hole and check him out.' You start watching Rory, it's not just that he has talent, it's the way he walks, the way he carries himself. The next thing you know the whole round is over because you watched him for 18 holes."
Like Woods a decade before, McIlroy was just ... different, and Warren had to have him. As luck would have it, the recruitment was easier than anyone could've imagined.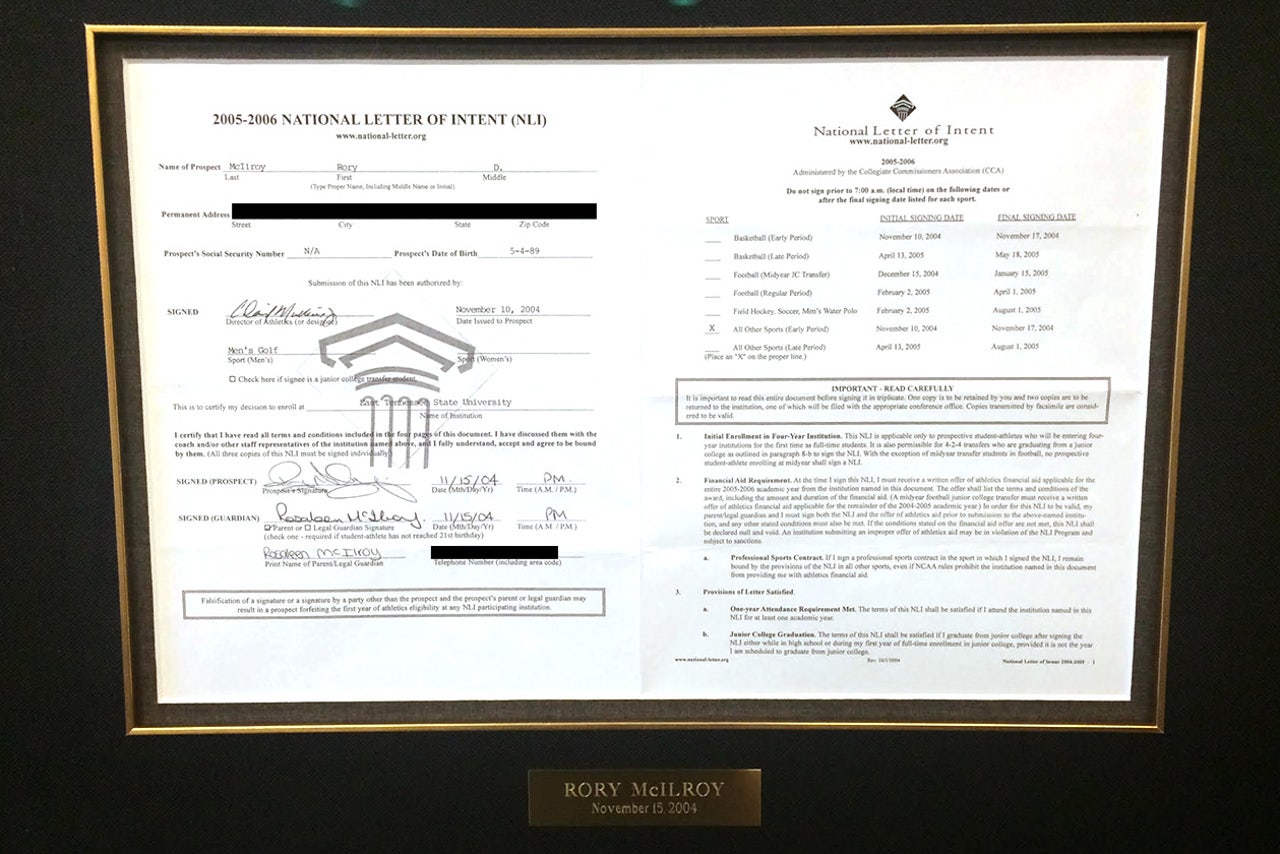 Fred Warren hung on to Rory McIlroy's Letter of Intent to attend East Tennessee State, figuring McIlroy would someday be famous.
It's important to remember that at the time, East Tennessee was still essentially the only school recruiting Ireland, but to that point they'd had success with so many Irish players, that it became the de-facto go-to school for any player from the country who was interested in playing college golf. While young American kids hoped to one day play golf for Texas or Oklahoma State (the same way a young basketball player might hope to go to Kentucky or Duke), to Irish kids, East Tennessee State was Oklahoma State or Texas.
Even better for Warren, Irish parents were on board too. In the tight-knit community of Irish golf, parents talked, and East Tennessee State had a growing reputation with them as well. If an Irish mother or father had to send their son 5,000 miles away, they knew he'd be in good hands at ETSU. 
Add it up, and the recruitment of Rory McIlroy turned out not to be much of a "recruitment" at all.
"I'm standing in the parking lot talking to Gerry, Rory's father, and I know (Rory's) getting ready to graduate," Warren said. "He came up to me and I said, 'Is Rory interested in playing college golf?' and he said, 'Yeah, he'd like to play at ETSU.'"
After a few minutes discussing scholarship money (not surprisingly, Warren was willing to give Rory a full scholarship) and a few other particulars, the two shook hands. It was essentially a done deal.
"It was one of the easiest recruiting jobs I've ever had," Warren said with a laugh.
McIlroy, maybe the top amateur player in the world at the time, was going to become an East Tennessee State Buccaneer. The coach was excited to have a player of his caliber, and McIlroy was excited for the chance to come to the United States and play with his friends.
But as they say, when something seems too good to be true, it usually is.
Almost immediately after McIlroy committed to East Tennessee State, Warren began to worry whether or not he'd ever make it to campus. At the time, however, the fear wasn't about turning pro. It was about being lured by other colleges. While no other school was actively recruiting Ireland at the time, just about every school in the United States was willing to make an exception for Rory.
"Over time, Rory started getting better and major schools would call," Warren said. "I'd talk to Rosie, Rory's mother, and she'd say, 'The coach from Oklahoma State called last night.' The fear grips you."
Fear or not, as it turned out, Warren had nothing to worry about. Rory was committed to the idea of East Tennessee State, of coming to America and playing college golf with his buddies.
"So I asked her, 'What'd you say?' and she said, 'Rory, the coach from Oklahoma State is on the phone,' and he said, 'Tell him I don't need to talk to him, I'm going to ETSU.'"
Eventually Warren got McIlroy over to the United States for an official visit, and when he did, McIlroy put pen to paper. Although McIlroy had never considered playing golf at any other college, he made his commitment to East Tennessee State official in November 2004, by signing a National Letter of Intent. The school sent out a press release a few days later, officially welcoming him as part of the recruiting class for the 2005-2006 school year.
With the signed Letter of Intent in hand, Warren's fear of another college poaching Rory was officially put to rest; just like in any other sport, the Letter of Intent was binding. If he was going to play college golf, it could only be at East Tennessee State.
The problem, however, was that as time went on, it became apparent that McIlroy might not play college golf at all. After signing his Letter of Intent in November, McIlroy's profile skyrocketed in the coming months, following several big wins in Europe. It prompted some to believe that he'd skip college golf all together and eventually just turn pro.
After Warren heard the rumors from one of his own player's fathers, he decided to reach out to McIlroy himself. Still, his prized recruit insisted he was coming.
"I called Rory and he said, 'Yeah, I'm coming,'" Warren said. "He's such a nice guy, and I don't think he'd made a decision."
From there Warren's own players — some of McIlroy's best friends — assured him that Rory wasn't lying, that he really wanted to come to ETSU, and for a brief moment Warren was at ease. Warren also had added assurance from McIlroy's parents; again Rory was just 15 at the time, and was planning to graduate from high school years ahead of his peers. Because it'd still be a few years before he could turn pro, college golf was a logical option. The last thing they wanted was to see their son sitting around the house all day with nothing to do besides play golf.
But by March of 2005, the rumors had picked up again, and this time felt more serious. Rory continued to win (including two of the biggest amateur tournaments in Ireland), and eventually Warren had no choice but to call him again.
With just a few months left before McIlroy was set to enroll at East Tennessee State, Warren needed a definitive answer. If there was any chance — even a small one — that McIlroy wasn't coming, he had to know.
"I said, 'Rory, first off, we want you, I've always got a spot for you,'" Warren said. "'But if I keep a full scholarship, hold it, and in August when school is about to start you tell me you're not coming, I'm in a bind. Right now I can find somebody. They're not as good as you, but I can get somebody.'"
In his gut, McIlroy knew the truth. But the combination of youth, sincerity and an admiration for Warren didn't let him admit it.
Instead, Rory offered Warren his own ultimatum.
"He said, 'Coach, I'll tell you what,'" Warren remembers McIlroy saying. "'I'm still coming; I'm still planning on coming. But why don't you give my scholarship to someone else and I'll pay my own way.'"
And it was at that moment Warren knew the truth: McIlroy, the greatest recruit he would ever sign, never would end up playing college golf at East Tennessee State. As Warren promised, he moved on, giving the scholarship to a young British player named Jordan Findlay.
As for McIlroy, well he never did make it to East Tennessee State, but it didn't slow him down. McIlroy turned pro in 2007 and by 2009 had won his first tournament on tour. In 2011 he won the U.S. Open.
By that time, Warren and East Tennessee State had long since moved on.
However, after the U.S. Open win, Warren got a bright idea: He wanted to honor the best East Tennessee State Buccaneer there never was.
As history tells it, McIlroy never made it to East Tennessee State and never played a single round for the school's golf program. But even to this day, even a decade after his last real contact with the school, McIlroy's presence is still felt daily around the school's golf program.
In the team's practice facility sits a framed Letter of Intent, adorned with the signature of McIlroy, now the No. 1 ranked player in the world and four-time major champion. The idea to frame the signed Letter of Intent was mentioned off-hand to Warren after that U.S. Open win in 2011. He liked it so much, he decided to spring into action.
And thankfully Warren knew exactly where the signed Letter of Intent was. After Rory decided not to come to school, he made sure his then-compliance director kept close tabs on it.
"I told her, 'You're going to want to save that paperwork, that guy is going to become famous,'" Warren said. "When he won the U.S. Open for the first time, I walked into her office and said, 'Did you save that Letter of Intent?' and she said, 'Yeah, you seemed so confident.'"
The Letter of Intent isn't the only reminder that Warren has of McIlroy. Even though he never got to coach Rory, emails and phone calls still flood in, any time the 25-year-old does anything big on the course.
That included an especially poignant email from North Carolina golf coach Andrew Sapp when Rory moved to No. 1 in the world.
"He said to me, 'Congratulations on Rory,'" Warren said. "I said, 'Well, he didn't play here, so I guess I kind of missed on that.'"
Sapp followed up anyway. And when he did, he added perspective that Warren had never really taken the time to consider.
"He said, 'Coach, even though he didn't play for you, you signed the No. 1 player in the world. There's only a few coaches who can say they signed a No. 1-ranked player.' And I said, 'Well, you know, that's true.'"
Then there is Rory himself.
On the rare occasion that McIlroy is asked about college golf, he is always quick to mention ETSU; when a bewildered reporter is unsure if he's serious or not, Rory always reiterates that he wasn't just thinking about going there, that he did in fact sign a Letter of Intent. If he did play college golf, it would have been at East Tennessee State.
And whenever Warren does run into Rory, it's like two old friends bumping into each other at a bar. Most recently, Warren was at the Irish Open last year eating lunch with some of his former players when Rory spotted him out of the corner of his eye and came right over.
"He comes over and says, 'Hey coach, how are you doing? How's so and so?'" Warren said. "And he's won majors at this point. He's just a great young man."
Oh, and there is one other way that McIlroy's presence is still felt, and it might not be how you think.
Jordan Findlay, the player who got McIlroy's spot when he decided not to play college golf, did end up at East Tennessee State and had a solid four-year career at the school. In 2008, he helped the Buccaneers finish in the Top 25 nationally.
More importantly though, during his time at ETSU, Jordan began dating a young lady named Tara. The two are now husband and wife and have started a life together overseas.
It's a relationship which blossomed on a college campus, meaning that their love story isn't all that different from a million others around the world.
Well, it is different with one big exception: They only know each other because of Rory McIlroy.
"Tara tells people that the reason she met Jordan was because Rory decided not to play college golf," Warren said.
He paused, reflecting on that final wrinkle of what is undoubtedly the wildest story he's seen in more than 40 years of college golf.   
"I had never really thought of that, but I guess it's true."
Aaron Torres is a contributor to FOXSports.com. Follow him on Twitter @Aaron_Torres, Facebook or e-mail at ATorres00@gmail.com.
---