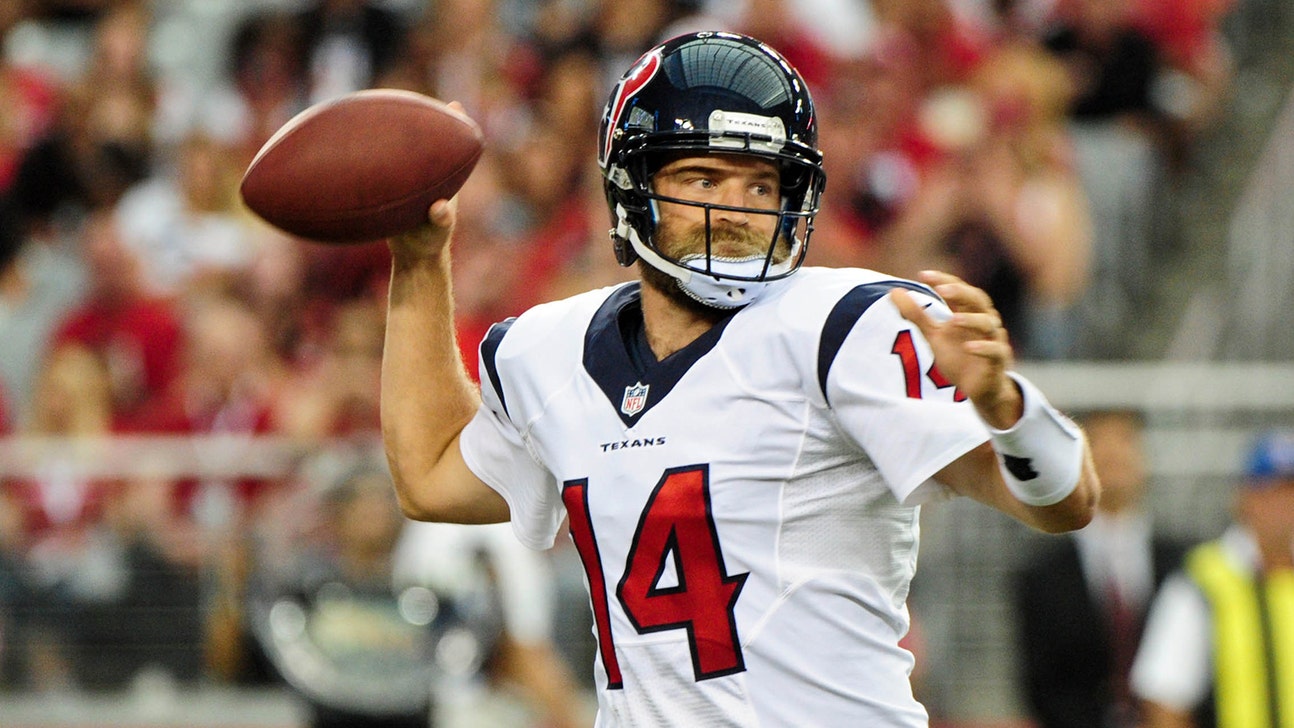 Texans struggle in preseason loss to Cardinals
Published
Aug. 10, 2014 12:05 a.m. ET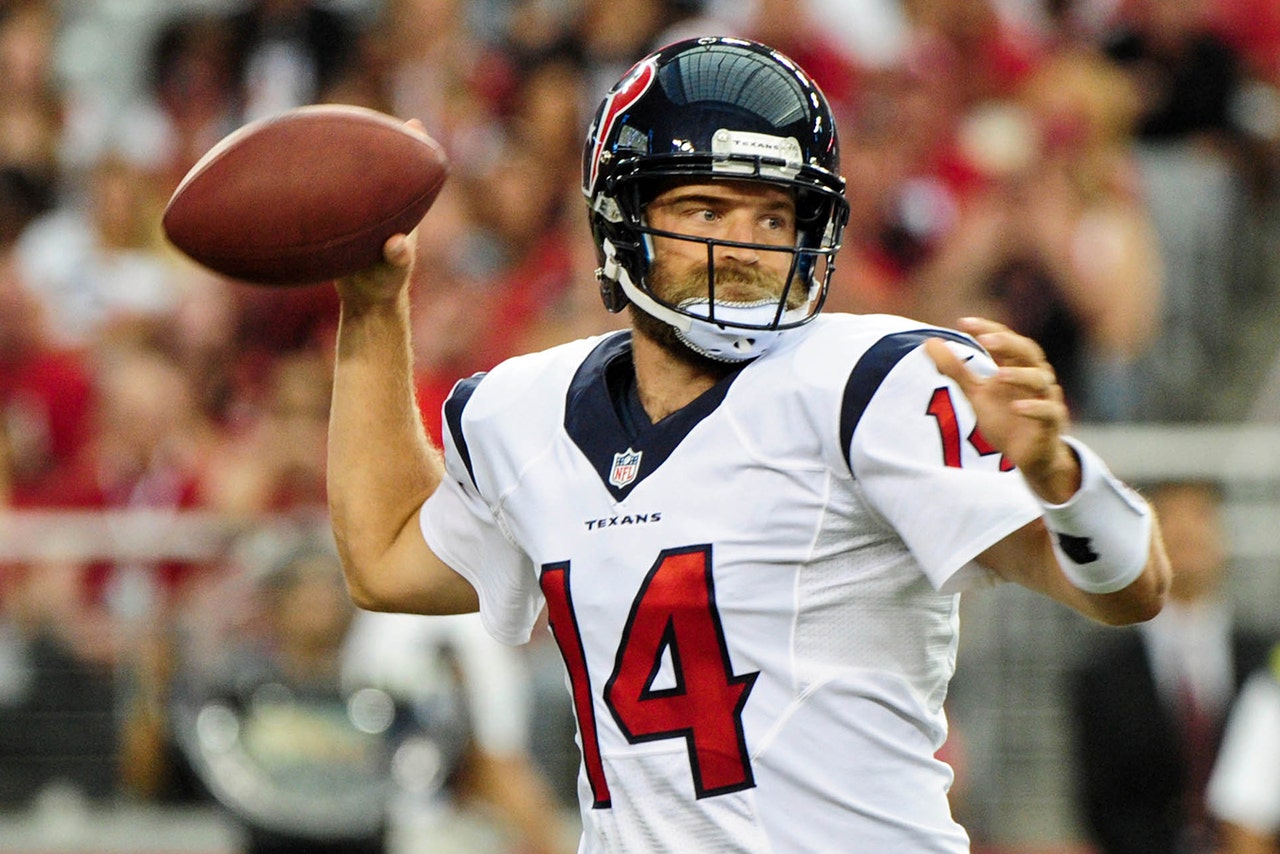 GLENDALE, Ariz. (AP) -- A perfect start for Carson Palmer and, even if it's just preseason, an impressive opener for the Arizona Cardinals.
And just the opposite for the Houston Texans and new coach Bill O'Brien.
Palmer was 5 for 5 for 84 yards and a touchdown in his lone series and the Cardinals went on to rout the Texans 32-0 on Saturday night.
"Really, really great to just see us come out and execute," Palmer said. "Nothing spectacular, nothing special, just everybody on the same page."
Arizona's first-team defense had a three-and-out and an interception in its two series.
Ryan Fitzpatrick had a rough first game as Houston's quarterback. Playing the entire first half, he completed 6 of 14 passes for 55 yards with two interceptions as the Cardinals took a 20-0 lead at the break.
"I think it is important to keep in mind that it's the first time we've been out there as a team," Fitzpatrick said, "but it's also a nice little wake-up call for me and for everybody. The NFL is a humbling game."
Arizona rookie Logan Thomas played the entire second half. After experiencing accuracy issues throughout training camp, Thomas completed 11 of 12 passes for 113 yards and a touchdown.
It was "by far" the best Thomas has looked, coach Bruce Arians said.
"He had a nice, calm demeanor," Arians said. "He threw some balls in there that made me hold my breath, but the guys caught them. He was very, very good."
Houston was without wide receiver Andre Johnson, running back Arian Foster and cornerback Johnathan Joseph -- all nursing minor injuries.
The Texans, coming off a 2-14 season, got inside the Cardinals' 30-yard line once, and that ended with an interception.
"Tonight was not a good night of football," O'Brien said. "It all starts with me. I've got to do a better job of coaching this team. ... It's the first preseason game and there's nowhere but up from where we are right now."
Arizona rookie John Brown, a third-round draft pick from little Pittsburg State (Kansas), caught five passes for 87 yards, all in the first half.
Brown said it was a relief going against a defense other than the strong Cardinals' team he goes against in practice.
"The game was kind of easy," he said, "because going against the best every day, it makes it more relaxing out on the field."
Palmer, entering his 12th NFL season and second with Arizona, had passes of 25 yards to Brown and 35 yards to Rob Housler, then capped his drive with a 7-yard scoring pass to Larry Fitzgerald.
Rookie Chandler Catanzaro, trying to take the kicking job from Jay Feely, had field goals of 32, 28 and 25 yards. Arians said he liked Catanzaro's kickoffs and his demeanor.
With 1:28 to play, Houston rookie quarterback Tom Savage was tackled by JoJo Dickson for a safety.
The Cardinals had a 407-172 advantage in total yards.
Palmer's backup, Drew Stanton, who hasn't thrown a regular-season pass since 2010, completed 11 of 17 for 152 yards and 5-yard TD pass to Jaron Brown.
Case Keenum, 0-8 as a starter for Houston last season, played the third quarter, going 3 of 5 for 23 yards.
After Arizona took the opening kickoff, J.J. Watt beat guard Jonathan Cooper and sacked Palmer for a 7-yard loss at the Cardinals 15. But on third-and-16, Palmer found the speedy rookie John Brown on a 25-yard play. Moments later, he threw to Housler, who ran down the sideline on a 35-yard play yards to the 38.
Later in the first quarter, Fitzpatrick's pass was tipped by linebacker Kevin Minter. It bounced through the arms of linebacker Larry Foote before cornerback Antonio Cromartie, in his first season with Arizona, picked it off.
NOTES: Arizona was without wide receiver Michael Floyd (groin) and wide receiver-kick returner Ted Ginn Jr. (knee). Arians said Floyd will be out 6-10 days, Ginn about three days. ... First overall draft pick Jadeveon Clowney had some problems but did beat basketball player-turned-tight end Darren Fells to stop Stepfan Taylor for a 5-yard loss. ... Arizona's Dave Zastudil pinned Houston on its 3-yard line with a 54-yard punt midway through the second quarter. He led the NFL in punts inside the 20 the past two years. ... Feely is to kick next week when Arizona plays at Minnesota. ... Starting linemen Cooper and Larsen played the entire first half for the Cardinals.
---