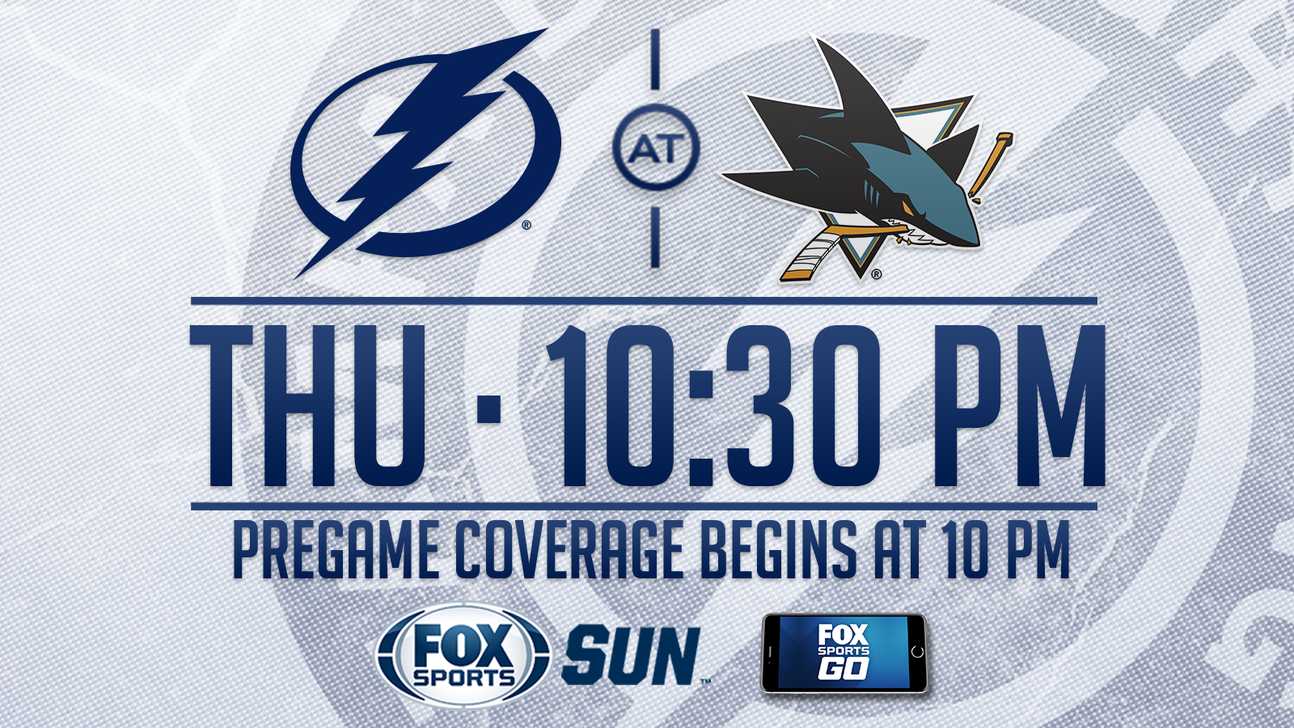 Tampa Bay Lightning at San Jose Sharks game preview
Published
Jan. 20, 2017 8:14 p.m. ET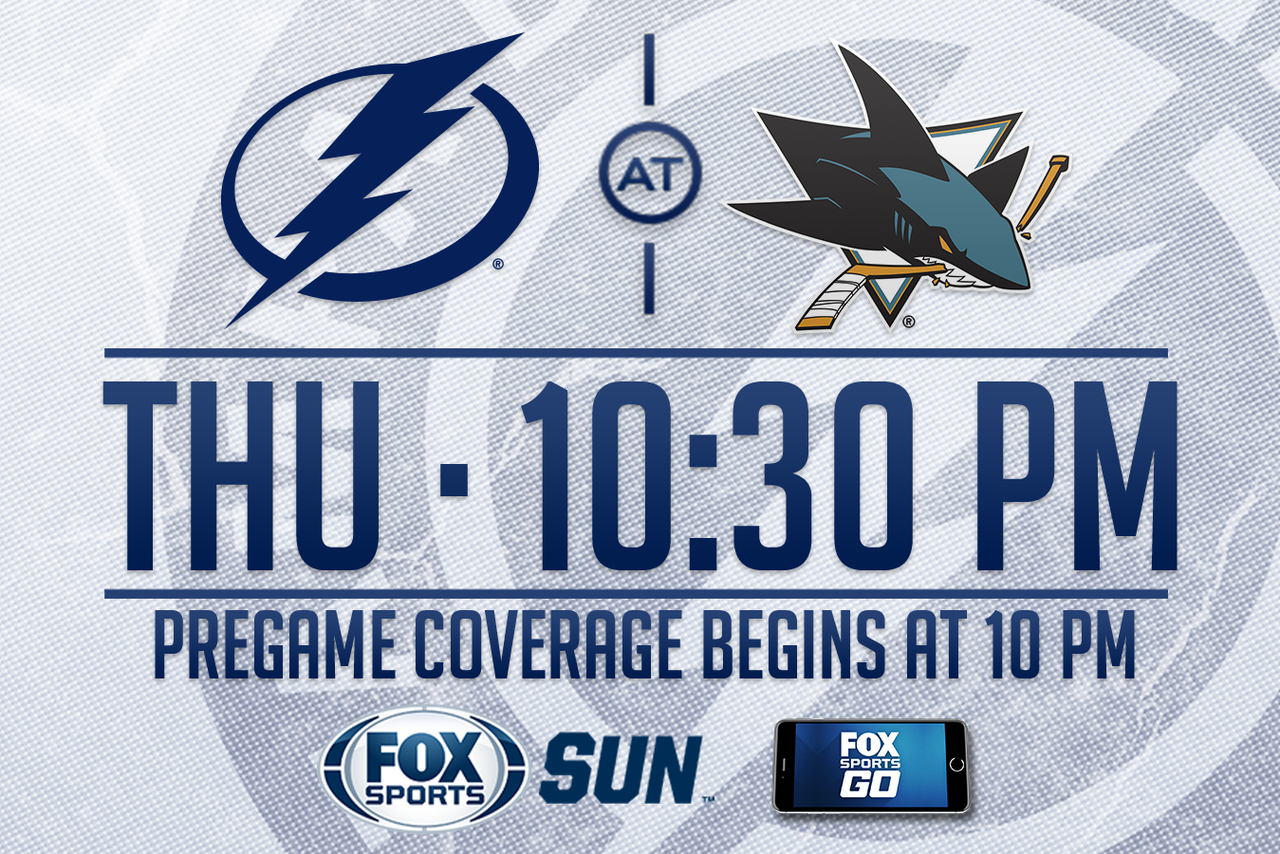 TV: FOX Sports Sun
TIME: Coverage beigns at 10 p.m. ET
CAN'T GET TO A TV? WATCH LIVE ON FOX SPORTS GO

The Tampa Bay Lightning have been wracked by injuries, losing nearly 140 man-games this season. However, they still believe a playoff berth is in reach and that defense will be what gets them there.

Tampa Bay wraps up the California portion of its six-game road trip Thursday night when it closes out the season series with the San Jose Sharks, who are looking for their third win in four games at SAP Center.



The Lightning dropped a 3-1 decision at home to the Sharks on Nov. 12. Earning a split vs. San Jose may not be easy.

Tampa Bay (21-20-5) is without Ryan Callahan -- a four-time 20-goal scorer -- for at least three more weeks due to a lower-body injury after he missed 29 games during two previous injured-reserve stints with hip and lower-body injuries. Steven Stamkos, the face of the franchise, won't be back until at least mid-March as he continues to recover from a knee injury.

The loss of defenseman Victor Hedman for any length of time may hurt the most. Hedman sat out the past two games with an illness, and his status Thursday was unknown. He leads all defensemen with 31 assists and is second with 38 points, trailing only the Sharks' Brent Burns (46 points).

"When you're playing great team defense and everybody's committed, it's OK to lose one guy. Naturally, we don't want this to linger any farther than tonight," Lightning coach Jon Cooper said of Hedman on Tuesday after a 2-1 overtime loss to the Anaheim Ducks and one night after beating the Los Angeles Kings by the same score. "We can't sit here and say 'poor me' because some superstars are out. ... But when you're playing (defense) as a team, good things can happen."

While Cooper is hanging his hat on the team's defense, the Lightning are in the bottom third of the league in goals allowed per game (2.89) and are 2-8-3 away from home since Nov. 21.

One positive recently was the play of goalie Ben Bishop, who has allowed just five goals while winning two of three games after missing nine with a lower-body injury.

"We got three out of four points on a back-to-back, and that's not very easy," said Bishop, who's won each of his last two starts at SAP Center. "We've got to watch the video, see what we did right and get ready for San Jose."

Valtteri Filppula scored the Lightning's lone goal against Anaheim, giving him five points (goal, four assists) in a season-high five-game streak.

San Jose (27-16-2) returns home after holding off the Kings for a 3-2 win Wednesday.

"It was a good feeling in this room when we came in here," Sharks captain Joe Pavelski said. "We put a complete effort out there."

Pavelski's goal gave San Jose a 3-1 lead midway through the second period. Burns also scored his team-best 19th goal, and Joe Thornton picked up two assists to move up the all-time scoring list.

With 1,370 points, Thornton overtook Johnny Bucyk for 24th place. He needs four points to tie Mike Modano for 23rd.

While he may not immediately reach the next milestone, Thornton could take a step closer to it. The top overall pick by the Boston Bruins in the 1997 draft has points in 12 of the Sharks' past 14 meetings with the Lightning, posting four goals with 13 assists.

Another longtime veteran who has consistently produced in recent years versus Tampa Bay is Patrick Marleau, taken one spot after Thornton by San Jose nearly 20 years ago. Marleau has points in 10 of his past 12 games against the Lightning, totaling six goals and 11 assists.

Logan Couture is expected to be back in San Jose's lineup after missing the Wednesday win due to an illness. Couture, who has 14 goals and 13 assists, has scored once in his past four games vs. the Lightning. He had four goals and five assists over his first four matchups with them.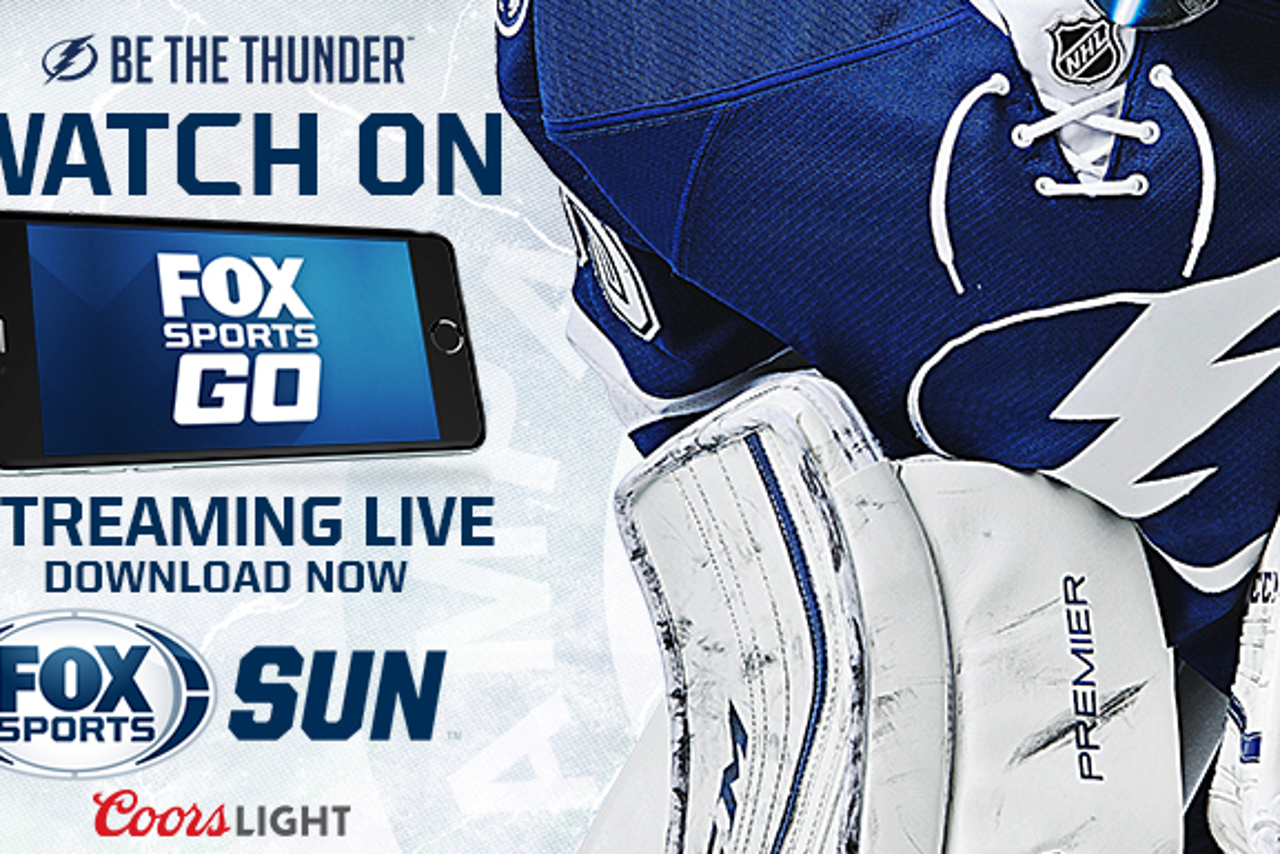 ---