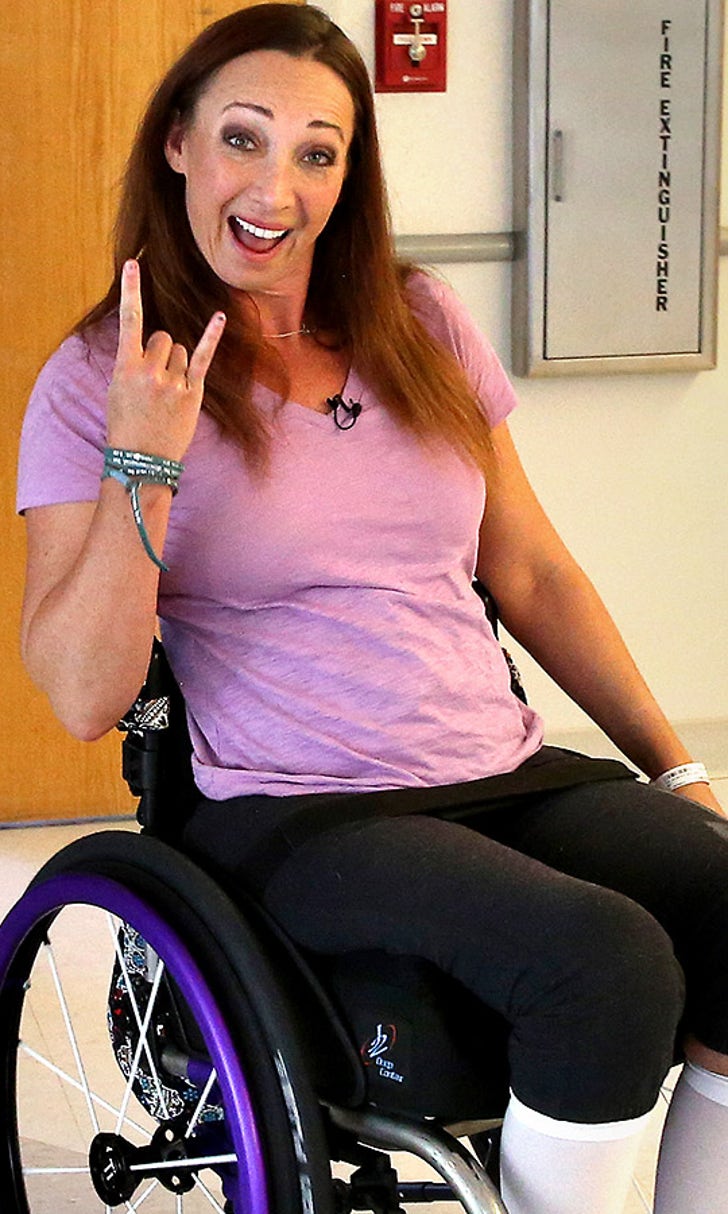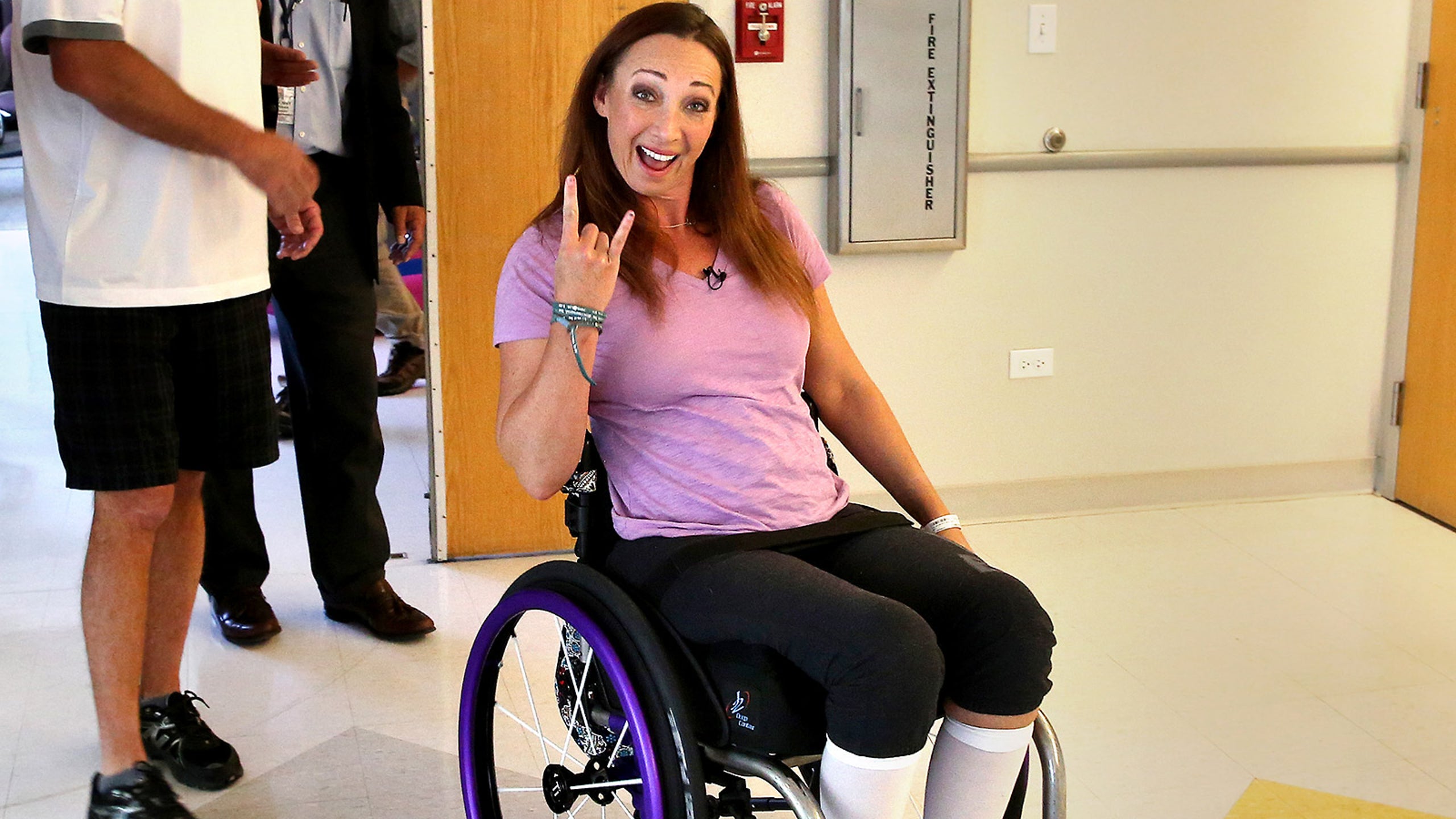 Swimmer Amy Van Dyken-Rouen leaves Colorado hospital '1,000 times better'
BY foxsports • August 13, 2014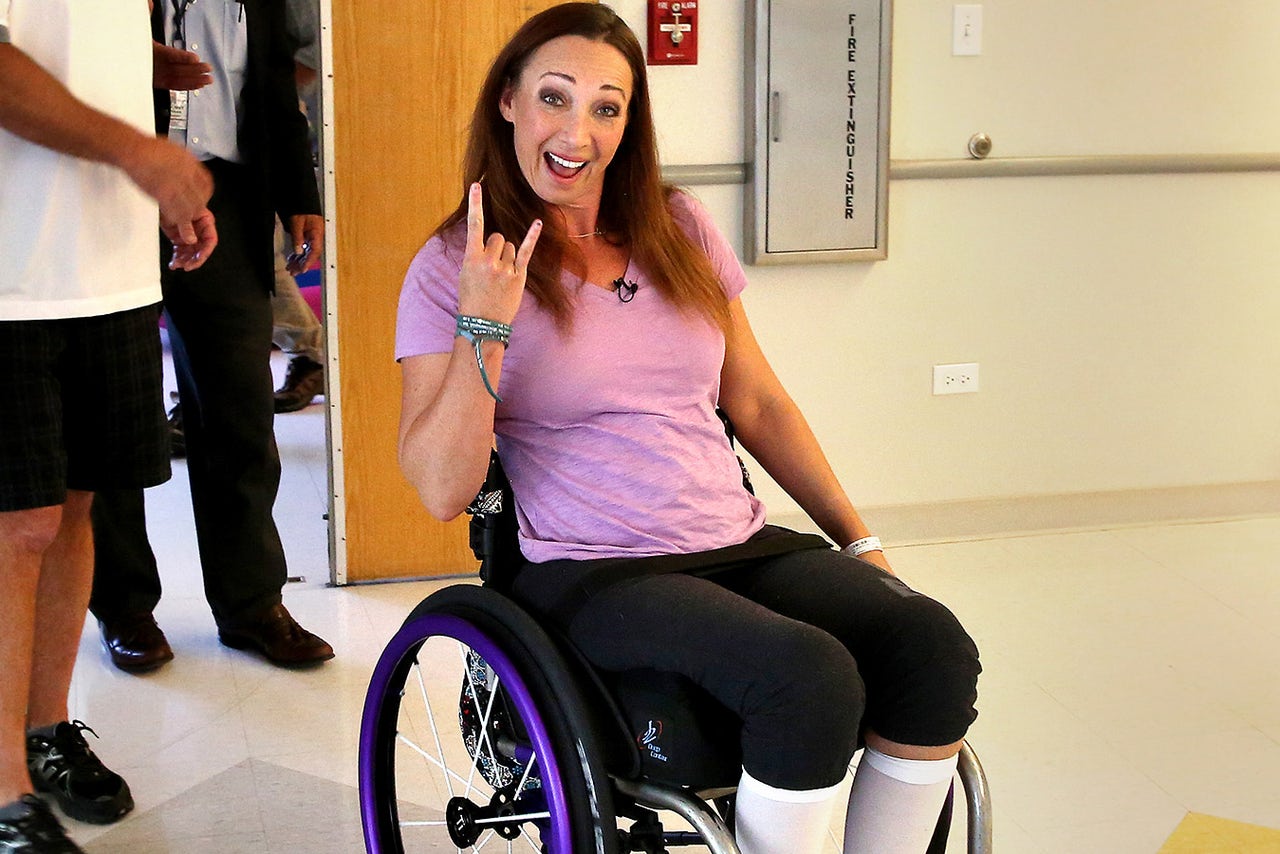 ENGLEWOOD, Colo. — Olympic swimmer Amy Van Dyken-Rouen rolled through the hospital doors in her sleek-looking purple wheelchair, her familiar smile on her face and her bubbly personality ready to be unleashed.
Just two months ago, she was guided through those same doors on a stretcher after being brought in by an ambulance, not knowing what to expect or how much progress she would make after a spinal cord injury.
The self-described "wheelie queen" has come a long way since then, feeling "1,000 times better" after her rehabilitation time at Craig Hospital.
"I feel so much more empowered," Van Dyken-Rouen said Thursday as she left the hospital.
While at the facility, the six-time Olympic gold medalist learned how to drive with hand controls, dress herself and pick up things off the floor. She also went boating, climbed into a kayak and visited the zoo.
All part of the recovery for Van Dyken-Rouen, who was left paralyzed below the waist in an all-terrain vehicle crash on June 6 in Arizona. She's ready to return home to Arizona, but will remain in Colorado until September.
Her immediate plans include visits with friends, some sailing and more rehab.
Oh, and a word of caution for anyone who's thinking about knocking on her door — don't.
"I'm going to relax," she said. "I'm going to go somewhere where I don't hear, 'How are your vitals? How's your pain? Are you sleeping?'
"I'm going to go somewhere where if someone knocks on my door, I'm going to scream."
The toughest thing about her therapy actually should've been the easiest: the swimming pool. Being in the pool for therapy sessions brought back many memories for Van Dyken-Rouen.
"I went in there as a spinal cord-injured individual. Supposed to be doing therapy," Van Dyken-Rouen said. "But I'm not doing therapy. I'm swimming laps. They looked at me like, 'This is not what we're doing.'
"It was the pool. I'm there to do my work. I'm there to win another gold medal. But there's other things I need to take care of first — I just had a traumatic injury."
Throughout her ordeal, Van Dyken-Rouen has remained upbeat, even letting the world peek into her experiences via social media. She posted all the time, too, things like:
• "What a day.. Went swimming, then rode the hand bike for a while. I've done a duathalon today. Is that a Paralympic sport? Lol (hash)Imkidding."
• "Did a 'high kneel' with a Swiss ball. So hard, but I'm so proud of myself! (hash)bigStep."
• "Who has two thumbs and gets to learn how to drive today?! Yup.. THIS GIRL! I feel like I'm 15 again. (hash)cantWait (hash)zoomzoom."
• "Swimmin'. Felt good to be 'normal' for a while. (hash)fish (hash)swimChick."
"There have been a lot of tears shed, for sure. This is not easy," Van Dyken-Rouen said. "I don't want to portray the fact that because I had a smile on my face that it really is easy. It's really not. It's life changing."
She said the most difficult part about Thursday was saying farewell to the staff and her fellow patients. She's now one of 30,000 graduates of Craig Hospital.
"I've had some amazing people here," Van Dyken-Rouen said. "They've really taught me a lot about the world."
Once she returns to Arizona, her first stop is to get her driver's license.
"I have been driving on the streets of Denver — safely," she said. "So, you're all OK. I'm going to feel like a free bird."
Her husband, former Denver Broncos punter Tom Rouen, has been constantly by her side and said she's "never let down through this whole thing."
"It's been amazing to watch her," Tom Rouen said. "I'm excited for everything she's going to do in the future."
For now, that's raising awareness of spinal cord injuries.
And wheelies. Lots and lots of wheelies in her wheelchair.
"I can wheelie everywhere," Van Dyken-Rouen said. "It's my favorite thing to do."
---