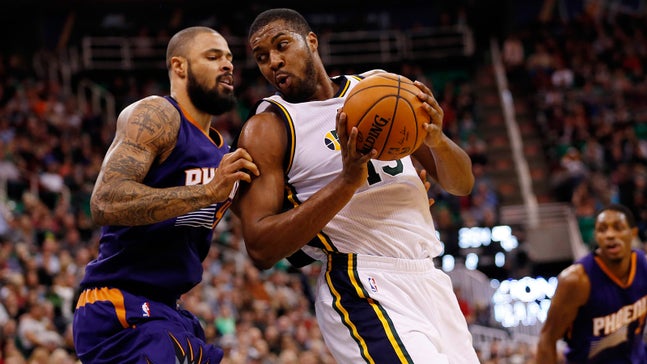 Suns head to Utah, try to slow Jazz's playoff push
Published
Mar. 17, 2016 11:04 a.m. ET

Victories have been hard to come by in Salt Lake City for the Phoenix Suns in recent years, but then again, they've been few and far between about everywhere during a trying 2015-16 season.
The Suns will try to flip the script Thursday night as they take on the Jazz for the third time this season.
The game can be seen on FOX Sports Arizona, starting at 5:30 p.m.
The Suns (18-49) have lost their last three games and six of their past seven on the Jazz's home court, but they arrive with a head of steam after rallying for a 107-104 victory over Minnesota on Monday night in Phoenix.
After allowing opponents to put up 114.2 points per game and shoot 42.9 percent from 3-point range in their previous 14 games, the Suns held the Timberwolves to 4 of 16 shooting from beyond the arc.
"Once you start shutting teams down, it leads to easy offense," guard Devin Booker said.
P.J. Tucker had a career-high 23 points and 12 rebounds, Mirza Teletovic had 21 and hit the winning 3-pointer with 1.2 seconds left as Phoenix won for just the sixth time in its last 39 games. The club now has an opportunity to claim only its second set of back-to-back victories since Dec. 9.
Booker has been a bright spot, averaging 25.1 points over his last seven games. The rookie guard led the Suns with 18 in the most recent meeting with the Jazz.
Brandon Knight hopes to recover after scoring eight points on 3-of-18 shooting Monday.
The Jazz (32-35), who have won three in a row their bid to nail down a playoff berth in the Western Conference for the first time since 2012, will be without leading scorer Gordon Hayward, who is out with plantar fasciitis.
They averaged just 96.8 points on 43.9 percent shooting during a 3-10 slump before scoring 111 per game with a 51.7 field-goal percentage in back-to-back victories.
Rodney Hood stepped up in Hayward's absence to score 28 points  in Monday's 94-85 win over Cleveland.
"Rodney did what Rodney does," coach Quin Snyder said. "I'm sure he was aware of (missing Hayward's offense), but I don't think he hunted shots. I just thought he was really aggressive."
Hood had 25 points in Utah's 98-89 road win over the Suns on Feb. 6, and Derrick Favors scored 18 in a 110-89 win over the Suns in Salt Lake City on Dec. 21.
---
---