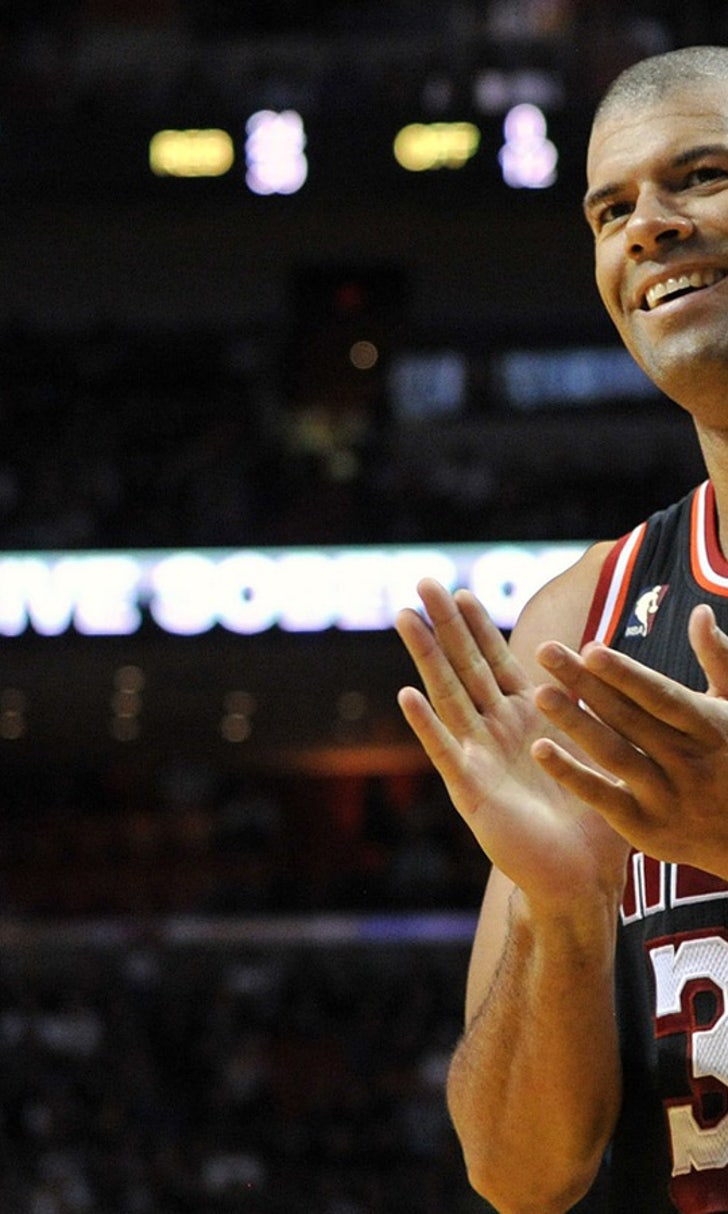 Sun Sports to debut 'Inside the Heat: Shane Battier' on March 1
BY foxsports • February 28, 2014
On Saturday, March 1, at 10:30 p.m., FOX's Sun Sports, the regional television home of the Miami HEAT, will debut a new episode of ''Inside the HEAT'' upon conclusion of the HEAT vs. Orlando Magic game. Titled ''Shane Battier,'' this special edition episode will take viewers inside the home of the 13-year NBA veteran as the versatile HEAT forward reflects on basketball, life and giving back.
From back-to-back championships, to a memorable 27-game win streak, the Duke University graduate is always striving to be the best player on the court. Off the court, fans will hear about his love of broadcasting, his unique relationship halfway across the world in China, his desire to keep in touch with fans and his willingness to do anything for a good cause. We explore his "œBattier Take Charge Foundation,"€ which provides college scholarships to deserving youth, and all that goes into raising money via a golf event and karaoke event.
Finally, viewers will get an inside glimpse of "South Beach Battioke," a fun-filled evening where the entire Miami HEAT team came together to sing for a good cause. To learn more about Battier's foundation, visit www.takechargefoundation.org.
"Inside the HEAT" is presented all-season long by Palmetto57 Nissan and Palmetto57 Volkswagen. See all of this and more on "Inside the HEAT: Shane Battier," and be sure to follow @SunSportsHEAT on twitter and visit FOXSportsFlorida.com for channel listings and exclusive Miami HEAT coverage.
Re-air schedule:
Mon, March 3, 2014 -- 10:30 p.m.
Tue, March 4, 2014 -- 11:00 p.m.
Thurs, March 6, 2014 -- 9:00 a.m.
Thurs, March 6, 2014 -- 11:00 p.m.
ABOUT FOX SPORTS FLORIDA / FOX'€™S SUN SPORTS
FOX Sports Florida; FOX's Sun Sports are the regional television homes of the Orlando Magic, Tampa Bay Rays, Miami Heat, Miami Marlins, Tampa Bay Lightning, Florida Panthers, Florida State University and the University of Florida. The regional sports networks are available in more than 6.5 million cable and satellite homes across the state. FOX Sports Florida and Sun Sports are committed to making a positive impact in the communities we serve by engaging our audiences and providing award winning TV and web coverage of Florida's hometown sports teams. For more information, channel listings and how you can get involved with FOX Sports Florida / Sun Sports, visit www.foxsportsflorida.com.
---