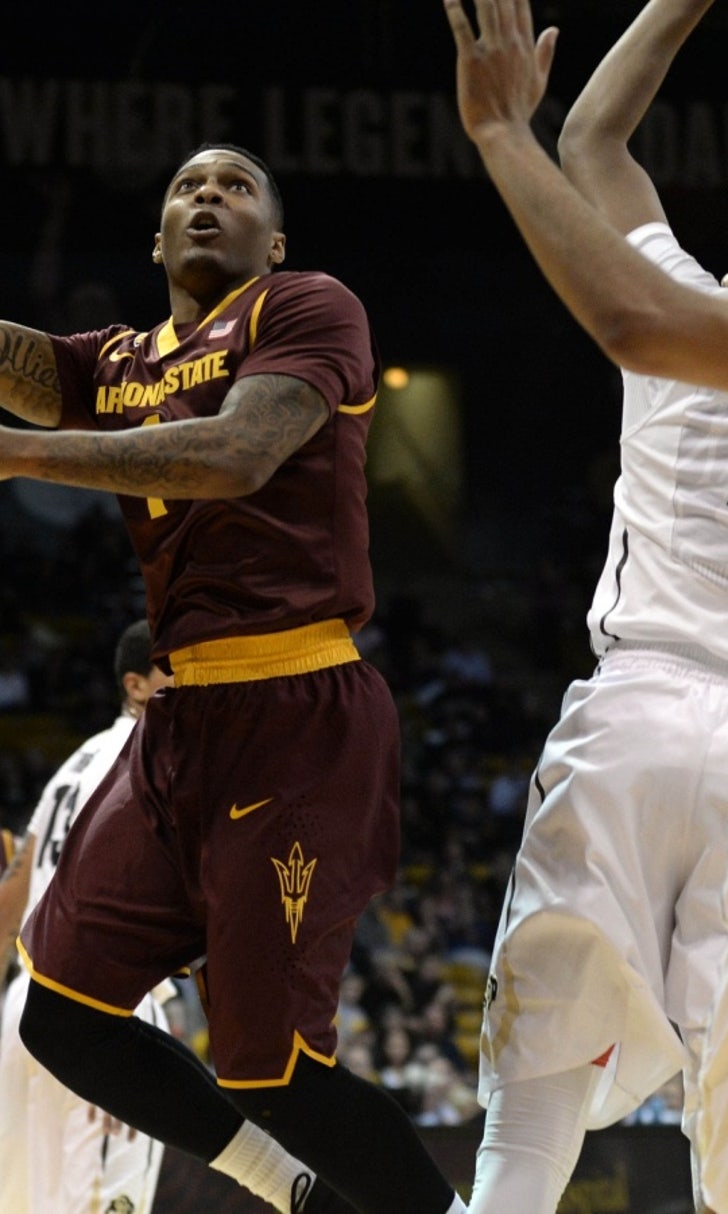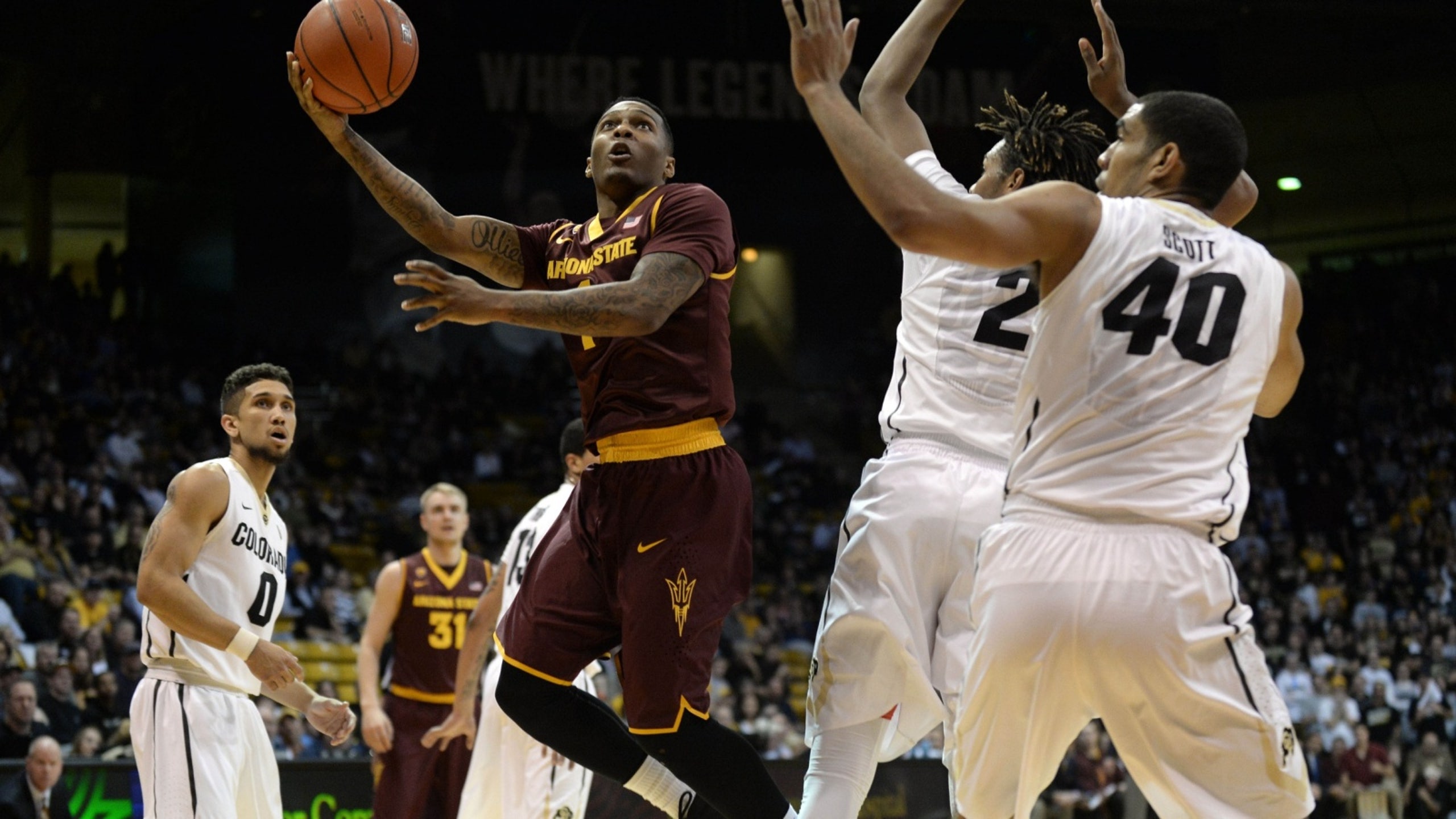 Sun Devils stumble in Colorado
BY foxsports • February 20, 2014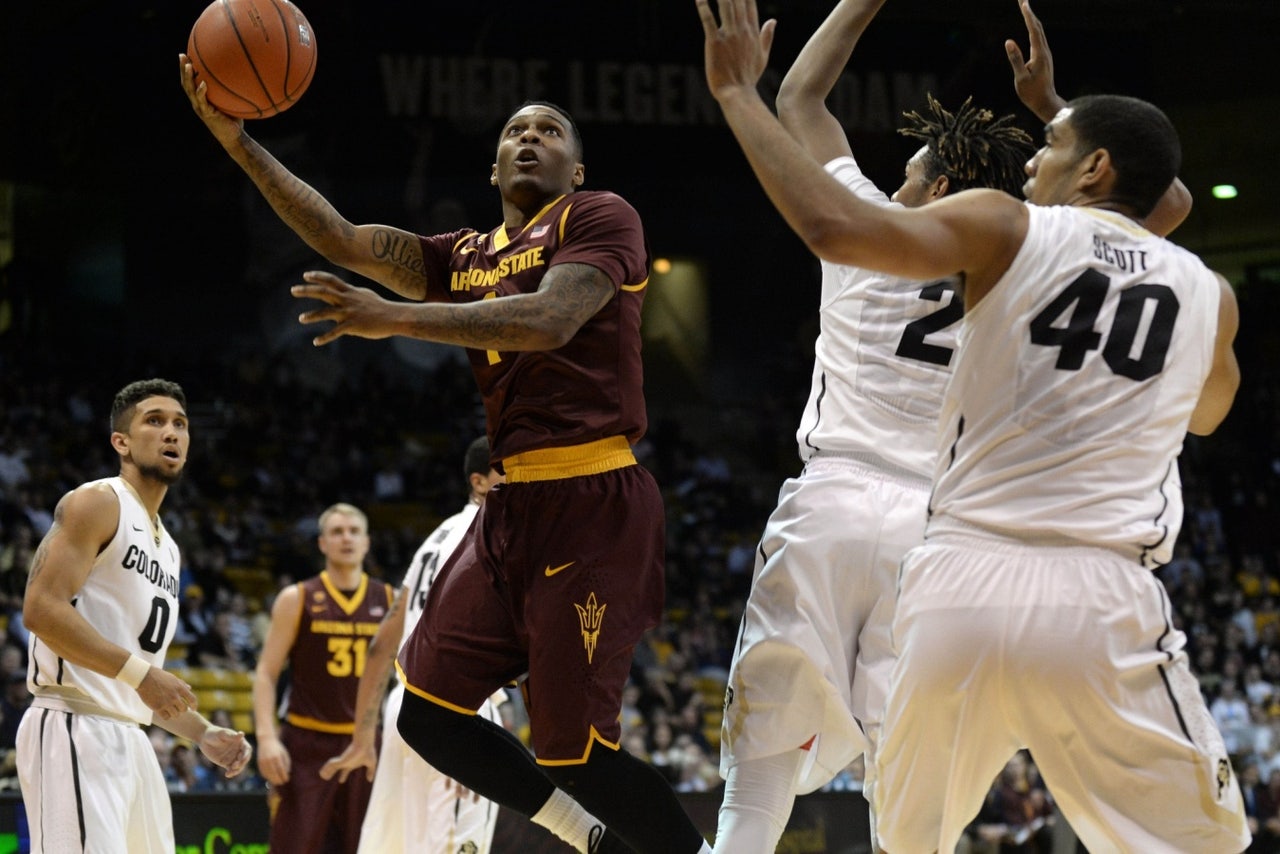 BOULDER, Colo. -- The Colorado Buffaloes had already pulled the ripcord on their free fall after star point guard Spencer Dinwiddie's season-ending knee injury more than a month ago. What they got Wednesday night was the signature win to go with it.
The Buffaloes thumped Arizona State 61-52 behind Askia Booker's leadership, Josh Scott's double-double and a dominant defense led by Scott and Xavier Johnson that produced a 21-rebound advantage while thwarting Jermaine Marshall and Jordan Bachynski.
Colorado (20-7, 9-5 Pac-12) improved to 6-5 since losing Dinwiddie to a torn ACL in a game at Washington on Jan. 12, and the Buffs' second straight 20-win season improved their NCAA tournament profile.
Buffalos coach Tad Boyle has shied away from talk about RPI and the NCAA tournament, but he acknowledged that beating the Sun Devils, who had just upset Arizona, sure will be hard to overlook when the selection committee fills out the bracket next month.
"And guess what? I've said this: we've got good players, even without Spencer," Boyle said.
Colorado reached the 20-win mark for the fourth straight season under Boyle, something that had been done just four times in the 109 years before his arrival and something that looked like a longshot after Dinwiddie, their leading scorer, got hurt.
"I won't let myself think about what might have been with Spencer, but there's a lot of basketball to be played and we can win a lot of games down the stretch with this team," Boyle said. "And they know it. I think our fans are starting to understand that. And that's what building a program is all about. You've got to be bigger than one player or one person -- even though we know how special Spencer is to us."
Taking on the role of the clutch player in Dinwiddie's absence has been Booker, especially in the second half, when he scored 16 points and iced the game by swishing all six of his free throws in the final minute.
"I thought `Ski was great in the second half," Boyle said. "He really didn't play his best in the first half. But he's a battler, he's a competitor, so yeah, I think `Ski's taking on that role: He wants the ball in his hands. He wants to make the decisions."
Scott added 13 points and 13 rebounds for Colorado and helped hold Bachynski to a quiet night with just 4 points, less than a third of his average, and one block. Johnson stymied Marshall, who averages 16.2 points but managed just 7. Even Jahii Carson, who scored 18 points, missed 10 of 15 shots from the floor as he was constantly bothered by Xavier Talton's swarming defense.
Arizona State (19-7, 8-5) was coming off its biggest home win in school history, a 69-66 double-overtime thriller against then-No. 2 Arizona on Friday night, but the Sun Devils were thwarted in just about every way by the Buffaloes.
The Buffs' domination was most evident on the glass, where they held a 48-27 advantage.
"That shouldn't happen on Mars," said Arizona State forward Shaquielle McKissic. "I really don't know the explanation other than toughness, energy and effort."
Areas in which he Buffaloes also came out on top.
"I guess we were living our little fairy tale," McKissic said, "and now we're back down to Earth."
Carson sank a pair of free throws with 1:26 left to pull Arizona State to 53-50.
Johnson scored at the other end to make it a five-point game with a minute remaining, and the Buffs sealed this one at the foul line with Booker going 6 for 6 from the stripe over the final 39 seconds.
The Buffaloes took a 27-26 halftime lead after a scrappy first 20 minutes, then dominated the second half save for a stretch in which Jonathan Gilling hit three straight 3-pointers to keep the Sun Devils close.
Arizona State beat Colorado 72-51 in Tempe, Ariz., on Jan. 25.
"I don't want to give any excuses of why we didn't play well down there, but we had just lost Spencer and we were trying to find our mojo and you know, we were just discombobulated," Booker said. "But now I think we're back on our feet and I think we gave them a great game here and now they can respect us."
---