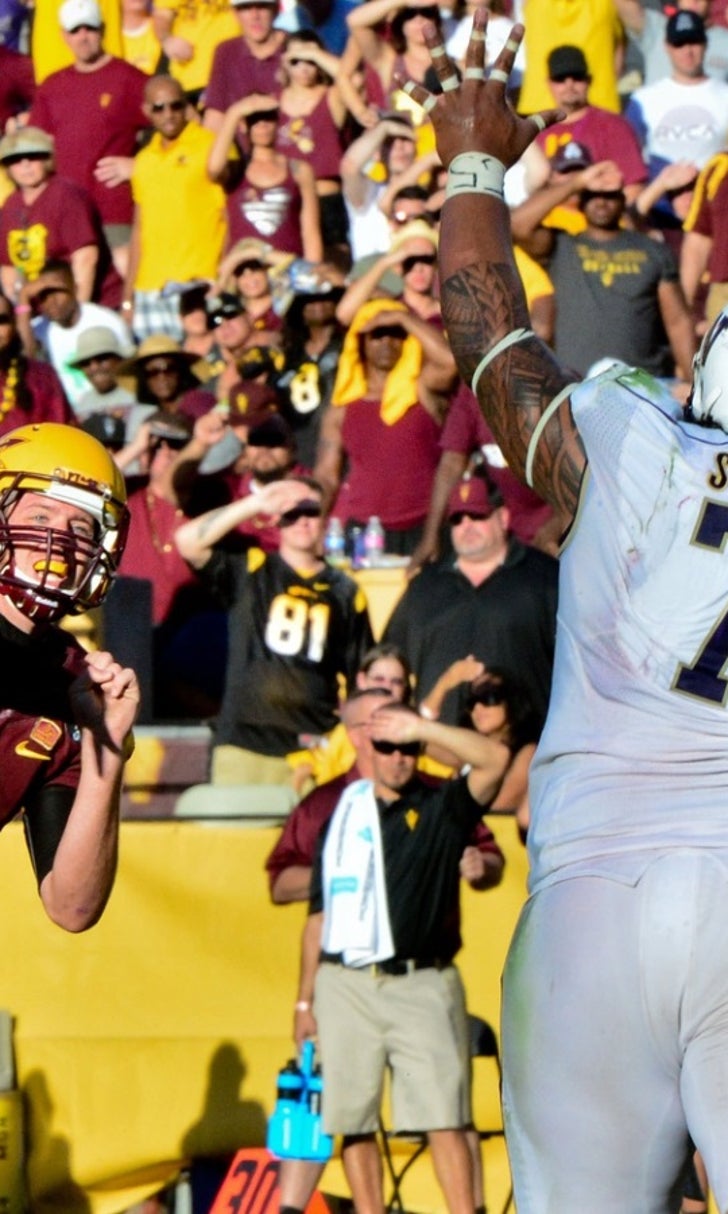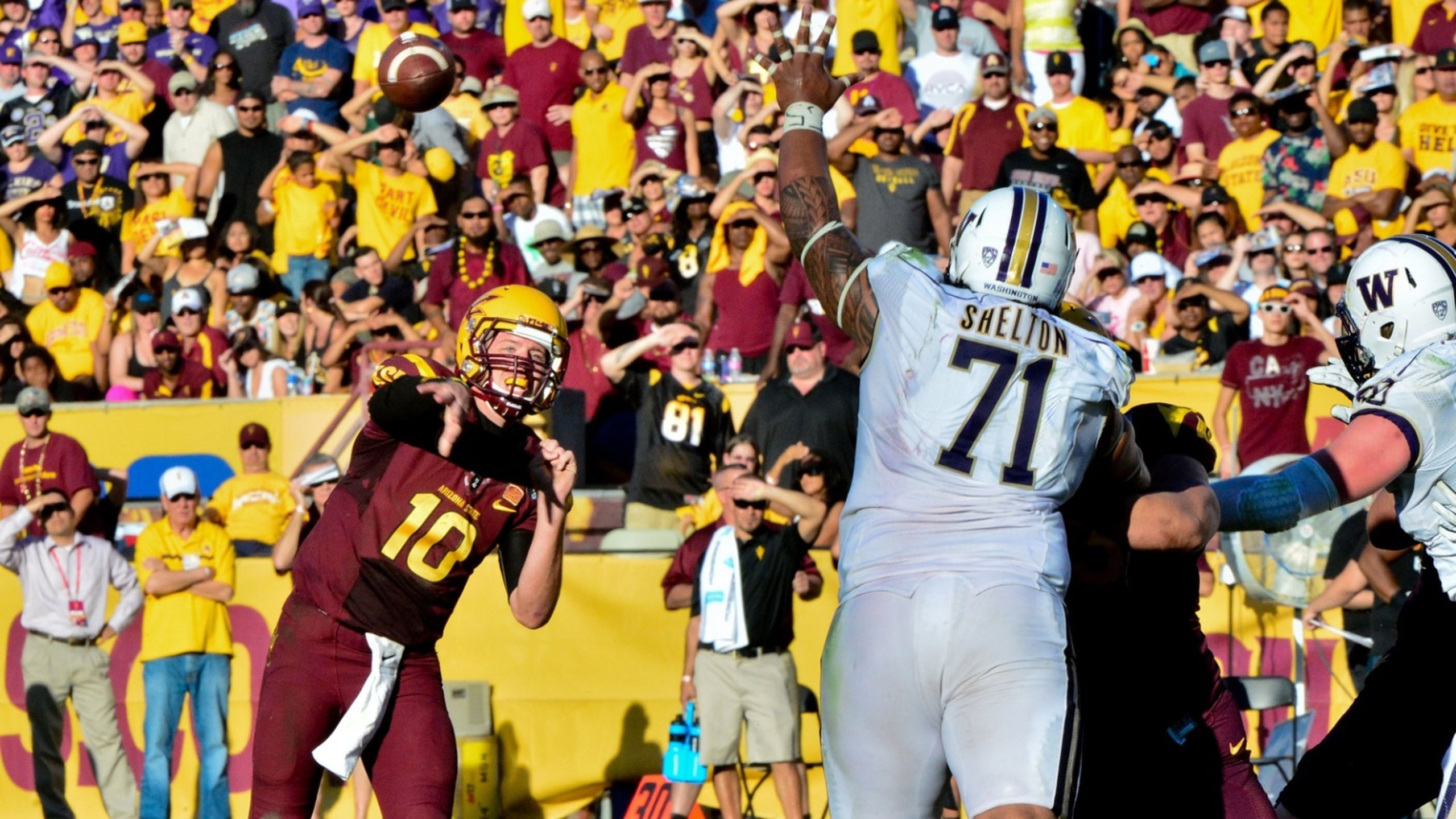 Sun Devils look to keep momentum at Washington
BY foxsports • October 24, 2014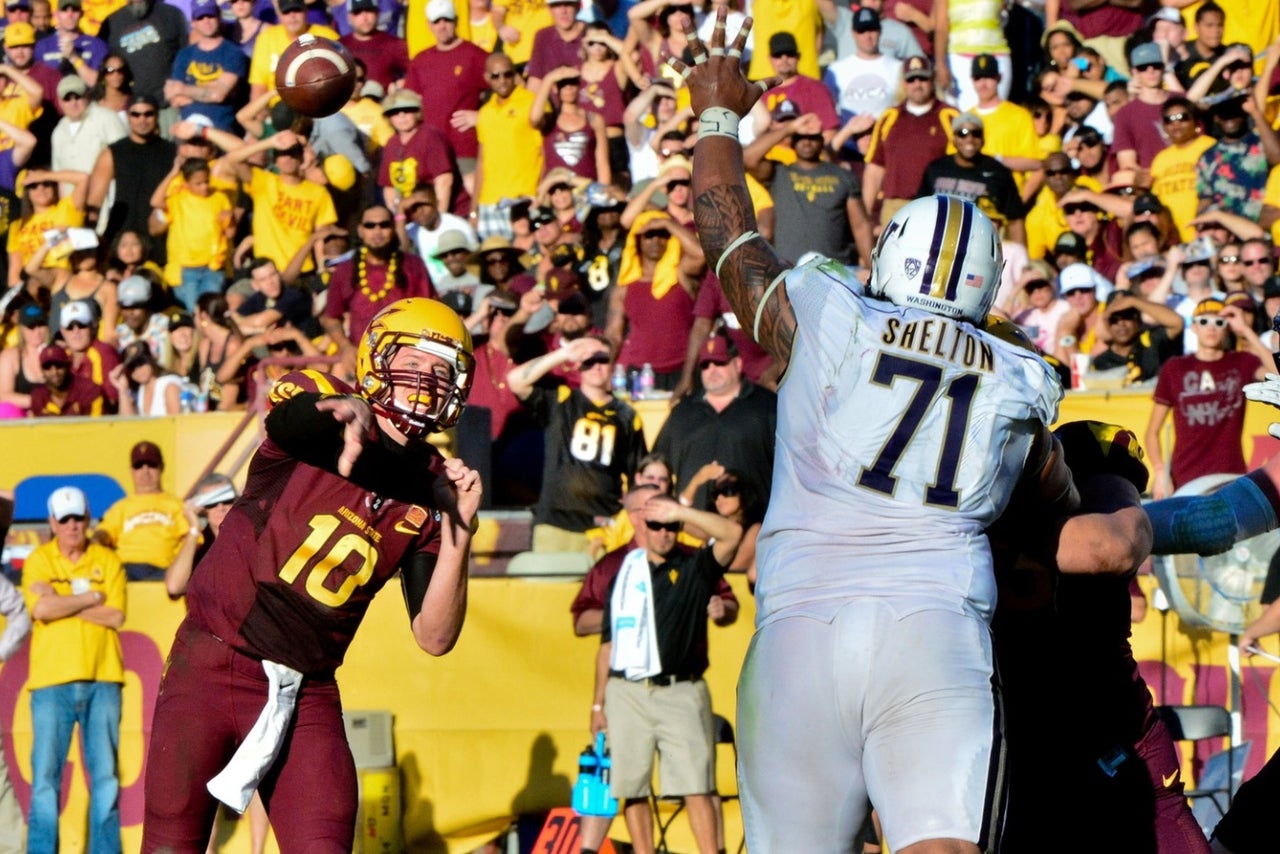 TEMPE, Ariz. -- Todd Graham often shares his belief it's much harder to maintain success than it is to achieve it. Win one game, sure, but can you win the next?
After a surprisingly dominant win over Stanford last week, Graham's No. 14 Arizona State team looks to take its momentum on the road as the Sun Devils travel to Seattle to face Washington on Saturday. Graham's staff was challenged to keep the team focused this week.
"It's just like coming off the big win against USC," Graham said. "People were like, 'Oh, you're going to have a letdown.' You just can't be a championship team and do that, and I'll tell you something: That is hard. It is hard to get guys up.
"Our main message has been focus and control the things you can control."
Indeed, the Sun Devils were able to ride the momentum of their Hail Mary win at the Coliseum to a win over Stanford two weeks later in a game that featured ASU's best defensive and special teams performance of the season. The team's confidence should be even higher this week.
And a win Saturday keeps ASU (5-1, 3-1) in the driver's seat of the Pac-12 South and makes the Sun Devils bowl eligible for a third straight season, though their goals are much greater.
A loss in Seattle would negate all ASU accomplished with the previous two wins. The unpredictable nature of the Pac-12 makes it hard to know for sure, but a loss could be the difference between winning or losing the South.
"Every week is basically an elimination week for us," senior safety Damarious Randall said.
For ASU, sustaining success this week could come down to how it carries over its efforts against Stanford in each phase. On defense, ASU looked like a different team than it had through the first five games and held the Cardinal to 76 rushing yards and 10 points. The mistakes, big and small, were gone. Plays were made in the backfield.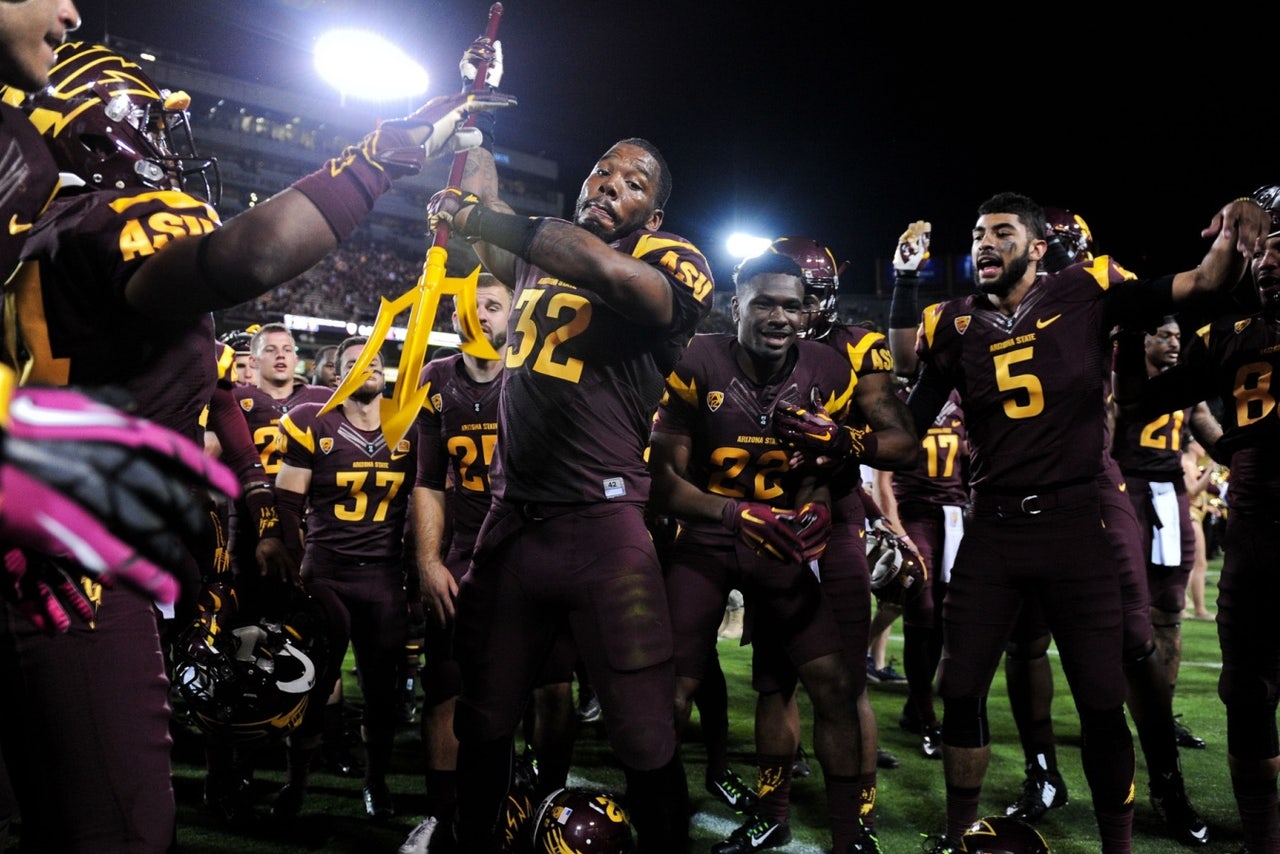 No. 14 ASU at WASHINGTON
When: 7:45 p.m. Saturday
Where: Husky Stadium, Seattle
TV: ESPN (Mark Jones, Rod Gilmore)
Radio: Arizona Sports 98.7 FM (Tim Healey, Jeff Van Raaphorst)
KEY PLAYERS
Taylor Kelly, QB, ASU -- Assuming he starts, it will be paramount Kelly finds a rhythm early. Six weeks away could have an effect on his timing and zone read effectiveness.
D.J. Foster, RB, ASU -- Foster was more effective on the ground against Stanford than the previous two weeks, rushing for 59 yards. But he's averaging 34 rushing yards per game over the last three. Kelly's return could help him get it going again.
Hau'oli Kikaha, LB, Washington -- As mentioned, he's the nation's sacks leader and likely will have whoever's dropping back for ASU on the run.
Shaq Thompson, LB, Washington -- The junior is Washington's third-leading tackler (53) and scored four defensive touchdowns this season.
WHAT'S AT STAKE
ASU is approaching each week as an elimination game. At this point, a win or loss could be the difference between winning or losing the South. But given the volatility of the conference it's still early to know the stakes of a single game.
INJURY REPORT
ASU -- Out: DL Corey Smith (hip), DL Marcus Washington (knee). Questionable: LB Laiu Moeakiola (arm), QB Taylor Kelly (foot), WR Cameron Smith (unknown).
Washington -- OUT: RB Jessie Callier (Achilles). Questionable: QB Cyler Miles (concussion), RB Dwayne Washington (chest).
OUTLOOK
It's hard to predict just how this game will go because of the quarterback uncertainty. And if Kelly starts for ASU, how sharp will he be? Still, ASU should be able to win with the same game plan it used to beat Stanford.
PREDICTION
ASU 28, Washington 17
Part of the difference was a greater veteran presence in the starting lineup and a more physical defensive front that featured 360-pound Mo Latu at defensive tackle, 6-foot-5 junior Demetrius Cherry at defensive end and hard-hitting linebacker Antonio Longino moved to will linebacker.
The defensive changes will stick, as practices showed this week, but will the results?
"It's just staying hungry," Randall said. "I think each week guys are building up more and more confidence in each other, let alone building up confidence in themselves. The defense is playing as a unit."
The only thing missing from ASU's defensive effort last week: turnovers. Takeaways have been a staple of Graham's defenses, but the Sun Devils have just eight on defense this season, including just two interceptions.
"When you try to put a focus on getting turnovers, that's when big plays happen for the offense," Randall said. "We've just got to do what we're supposed to do. Turnovers will start happening."
Considering Washington's offense ranks last in the Pac-12, ninth in scoring and last in passing, the ASU defense appears set up for success this week. The greater challenge for ASU may come on the other side.
Washington's defense under first-year coach Chris Peterson has been solid. It ranks fifth in the conference in total defense and third in scoring defense but has struggled against the pass -- it ranks 11th in passing defense. The Huskies (5-2, 1-2) also lead the conference with 15 takeaways, 10 of them via forced fumble.
"The thing we always preach about: Own the football," ASU quarterback Taylor Kelly said. "They're going to rake at it, they're going to try to jump routes. They're just really aggressive."
Kelly is expected to start Saturday for the first time since injuring his right foot Sept. 13, but it hasn't been said definitely yet that he will. Mike Bercovici could still make a fourth straight start, but even if he doesn't Graham said he expects both quarterbacks to play.
Whoever's starting or playing will have to be mindful of two powerhouses looming in Washington's defensive front. Linebacker Hau'oli Kikaha and defensive lineman Danny Shelton have combined for 20 sacks this season.
"They're extremely talented and I know they have a lot of senior leadership on that front seven," Bercovici said. "I think it's going to be a big challenge for our offensive linemen, but we're excited."
WHAT TO WATCH
Who's under center? Taylor Kelly appears the likely starter at quarterback for ASU, but the possibility remains he hasn't progressed enough in his recovery from a foot injury. In that case, junior Mike Bercovici would make his fourth start. Either way, Graham said he expects both to play. On the other side, it's unclear if Cyler Miles will start for Washington as he deals with concussion-like symptoms. If Miles can't go, redshirt freshman Troy Williams appears the likely starter.
Stick to the plan. ASU employed a new plan on defense against Stanford, getting bigger up front and using a more traditional 4-3 scheme. It also blitzed off the edges more often. It stands to reason ASU will stick to the same defensive plan. Can it be as effective this week? Perhaps more effective?
Battle in the trenches. ASU's offensive line has been very good this season, leading the Pac-12 with just 11 sacks allowed. Washington presents its toughest test yet. The Huskies rank second in the conference in sacks (27) and has two of the conference's top four leaders in tackles for loss. Senior linebacker Hau'oli Kikaha leads the nation in sacks (12-1/2) and tackles for loss (15-1/2). Senior defensive lineman Danny Shelton ranks sixth in both categories (7-1/2 sacks, 12 TFLs).
WHAT TO KNOW
-- ASU has a slight edge over Washington in the all-time series between the schools, leading 16-15, but has dominated it in recent history with eight straight wins. That ties for the third-longest active winning streak among all Pac-12 opponents. ASU hasn't lost in Seattle since 1997.
-- ASU has the chance to collect its fourth road win of the season with two more road games still to play. ASU hasn't won four road games in a season since 1997 and has done so nine times in school history. It has never won five road games in a season.
-- Weather forecasts call for a high chance of rain during the game. It could impact both teams, and Washington coach Chris Petersen said it has to be an advantage for the Huskies. Graham said ASU isn't concerned about potential inclement weather. "It won't affect us at all," Graham said. "I hope it does rain. It'll be nice and cool."
Follow Tyler Lockman on Twitter
---