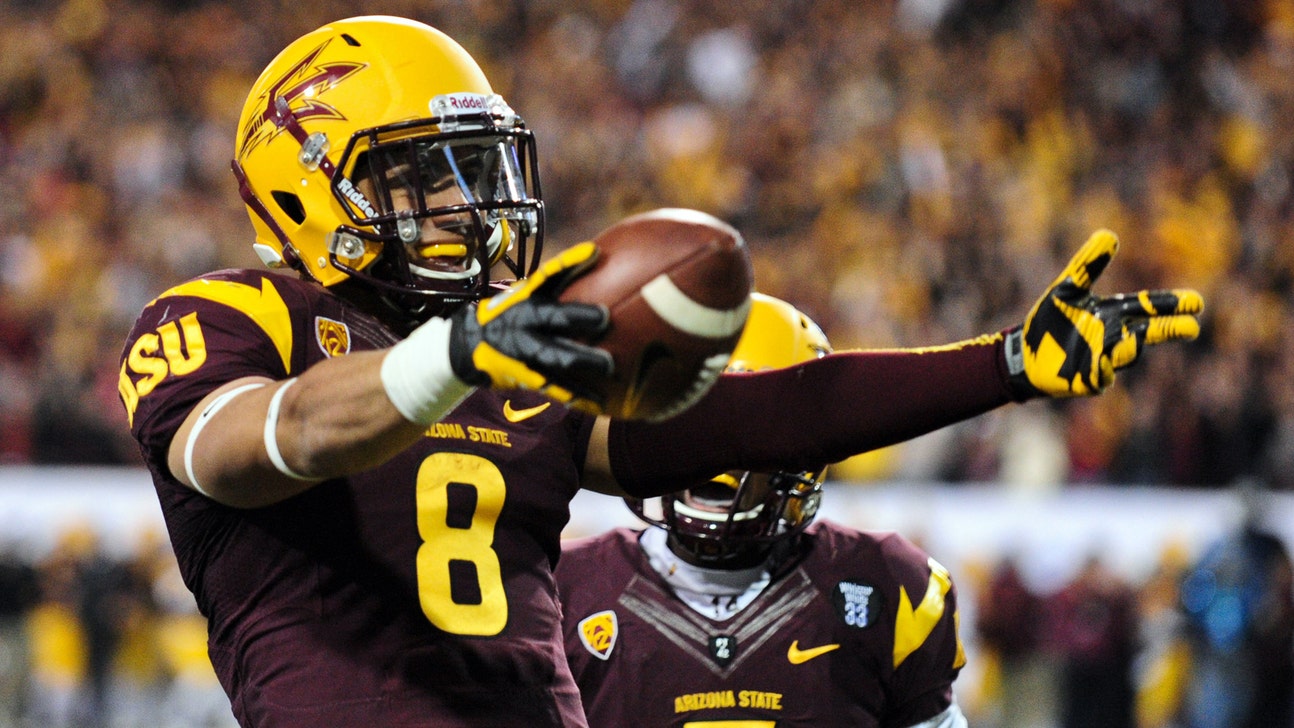 Sun Devils' Foster still sidelined by undisclosed injury
Published
Aug. 8, 2014 6:20 p.m. ET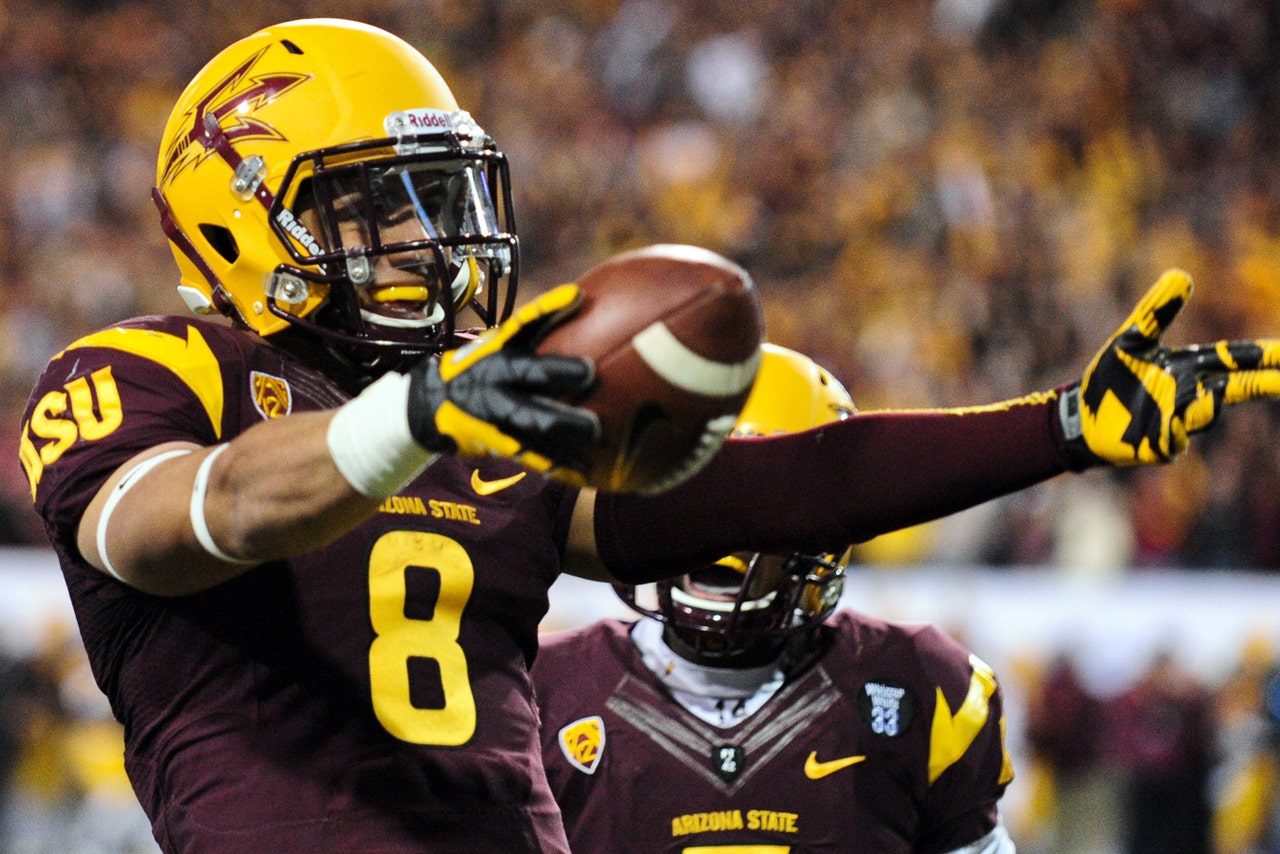 TEMPE, Ariz. -- For the third straight day Friday, Arizona State running back D.J. Foster dressed but did not participate in practice due to an undisclosed injury.
Foster, who steps into a leading back role this season, has not practiced since Tuesday, the same day he skipped participating in a post-practice interview with the Pac-12 Network for its TV special on ASU because he did not feel well.
Coach Todd Graham says Foster is being held out as a precaution, and on Thursday said Foster could be back practicing in a few days. Though he wasn't practicing Friday, Foster was actively coaching teammates during running back drills.
SMALLWOOD MAKING IMPRESSION
Graham has praised a few players pretty consistently since ASU started practicing in full pads this week. Drawing some of the highest praise: freshman defensive tackle Tashon Smallwood.
Smallwood, listed at 6-feet-1 and 292 pounds, started running with the first team at the "Tiger" position -- where Will Sutton played the last two seasons -- on Wednesday and appears in position to win a starting job.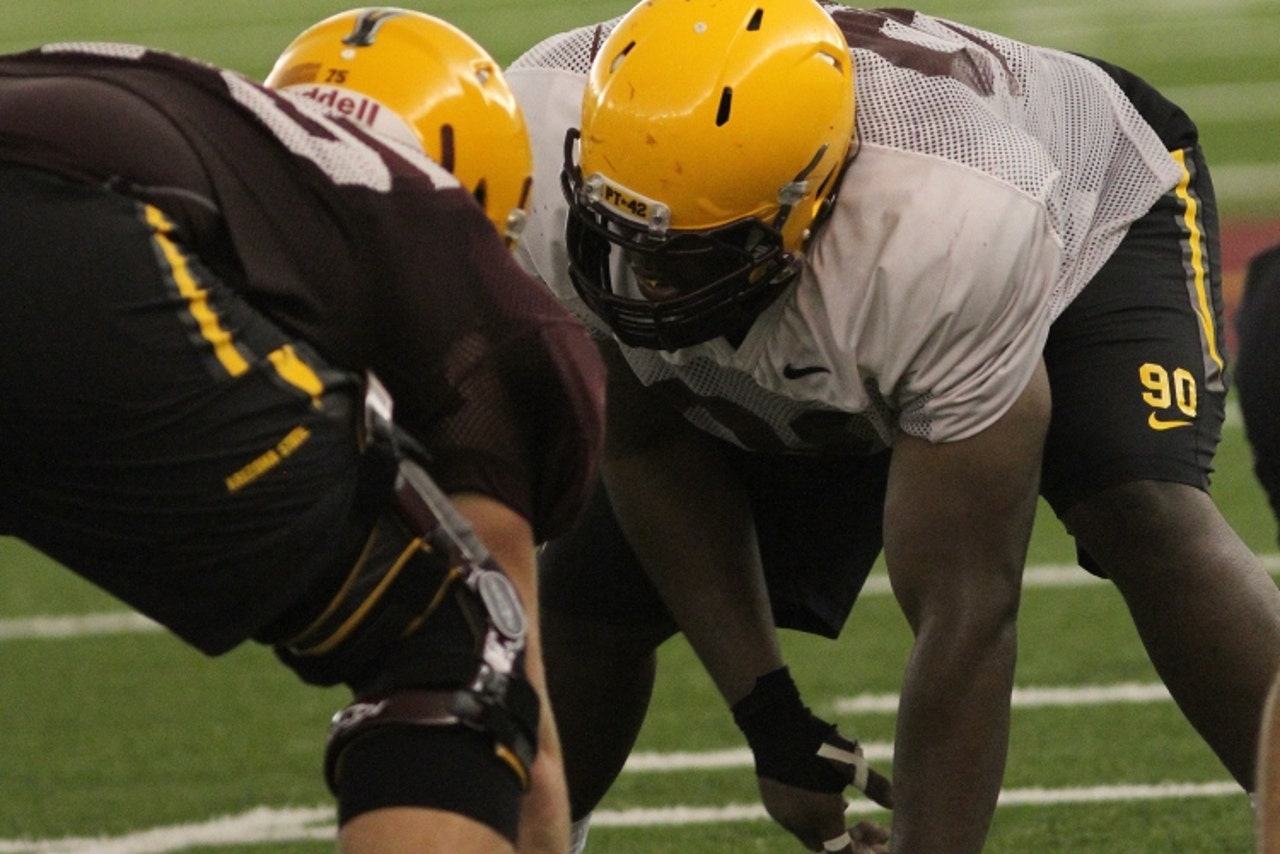 Freshman Tashon Smallwood quickly is gaining attention at ASU practices.
"Smallwood really just fits that three-technique position," Graham said. "He was looking around kind of bright-eyed, kind of wild-eyed, 'What the heck's all this?' kind of, and then all of a sudden now I see he's walking with a little bit of a swagger. He sees how he's making plays; he's making (tackles for loss); he's making sacks."
With junior college tackle Dalvon Stuckey failing to qualify academically, Smallwood and others are getting opportunities on the defensive line. So far, Graham says Smallwood is ahead. Smallwood says he's transitioning well to this level but admits he has plenty of work to do.
"I feel myself getting better each and every day," Smallwood said. "The players I'm going against -- the starting offense, the starting offensive line, the scout team -- they're all making me better."
Smallwood said veterans have been stepping up and leading young players like himself, particularly when it comes to meeting expectations of the program. Smallwood may encounter some lofty expectations playing Sutton's old position and wearing Sutton's old number, but Smallwood says he doesn't let that get to him.
"I wear his number, but I honestly never think about it," Smallwood said. "I understand I've got big shoes to fill. He was a great defensive lineman here. They gave me this number hoping that I can play up to his level and compete just like him and perform on the defense like he did."
Sutton was a back-to-back Pac-12 Defensive Player of the Year, so that would be quite a development. Right now, the Sun Devils are just looking for a solid playmaker to hold down a spot on the line, and Graham likes what Smallwood has shown.
"He's very, very explosive," Graham said. "(Left guard) Christian Westerman doesn't give very many compliments, and I always talk to him about 'Hey, how's this kid? How's this kid responding?' He said 'Coach, that guy (Smallwood) is faster off the ball than anybody I've ever been around.'"
That ought to boost expectations a bit. But Smallwood, who has been regularly watching film of Sutton, already has high expectations for himself.
"Freshman All-American," Smallwood said. "That's my goal. That's something I expect of myself. Nothing less."
ON DECK
Following Friday's morning practice, Graham cancelled a planned evening session after ASU had what he called its best practice yet. The Sun Devils practice again Saturday morning at Sun Devil Stadium in a session closed to the public and the media.
The team will also go through its media day Saturday afternoon, starting with Graham's annual address. After an off day Sunday, ASU practices twice Monday and again Tuesday before departing for Camp Tontozona, where it will practice three times and host its 'Maroon and Gold Practice," which will feature intra-squad play, in front of fans Saturday.
QUICK HITS
-- Freshman receiver Tyler Whiley worked at cornerback during skill portions of Friday's practice. Graham said afterward Whiley, a defensive back and receiver in high school, "really looked good" at the spot, but it's undecided how much time he could spend there.
-- Graham on young players feeling fatigued: "They think they're sore. I told them to talk to (quarterback) Taylor Kelly after about 11 or 12 weeks and you'll see what sore is."
-- Wearing green non-contact jerseys for Friday's practice: freshman tight end Brendan Landman, sophomore receiver Cameron Smith, freshman offensive lineman Sam Jones, freshman running back Demario Richard.
-- Pac-12 game officials will meet with ASU players Saturday. Graham stresses this as a big day because it gives players a chance to ask questions and learn how officials will call a game, which Graham believes helps players reduce penalties.
Follow Tyler Lockman on Twitter
---