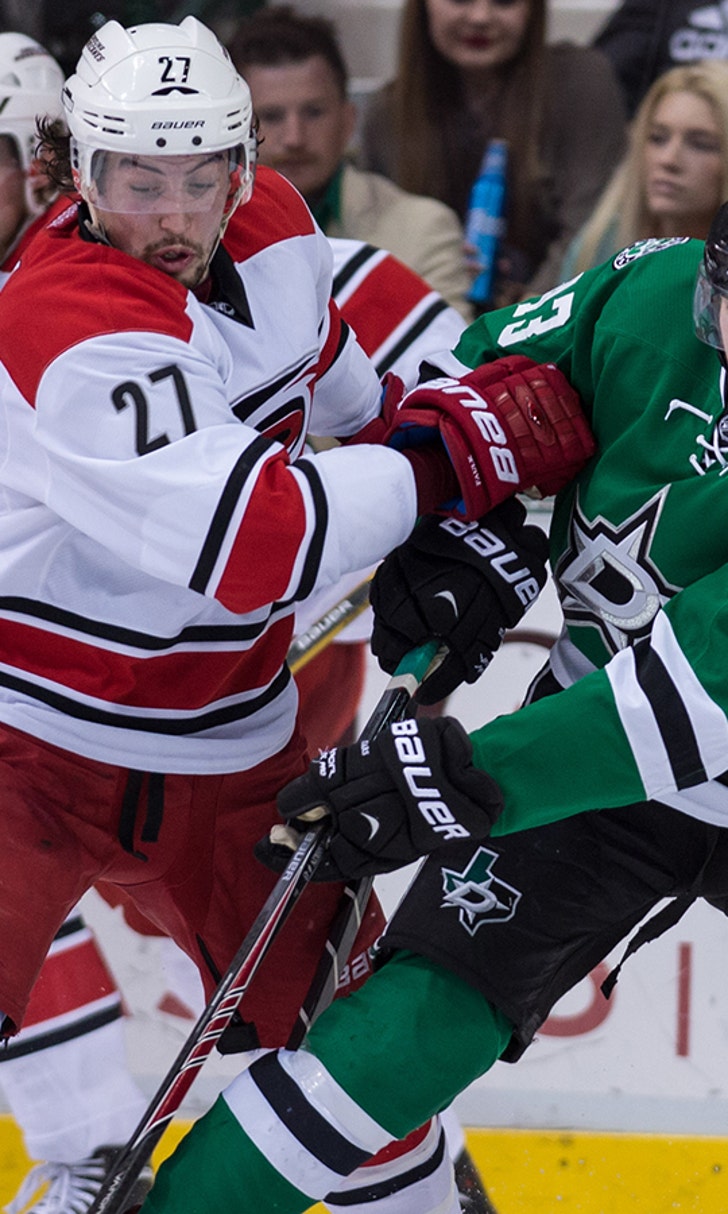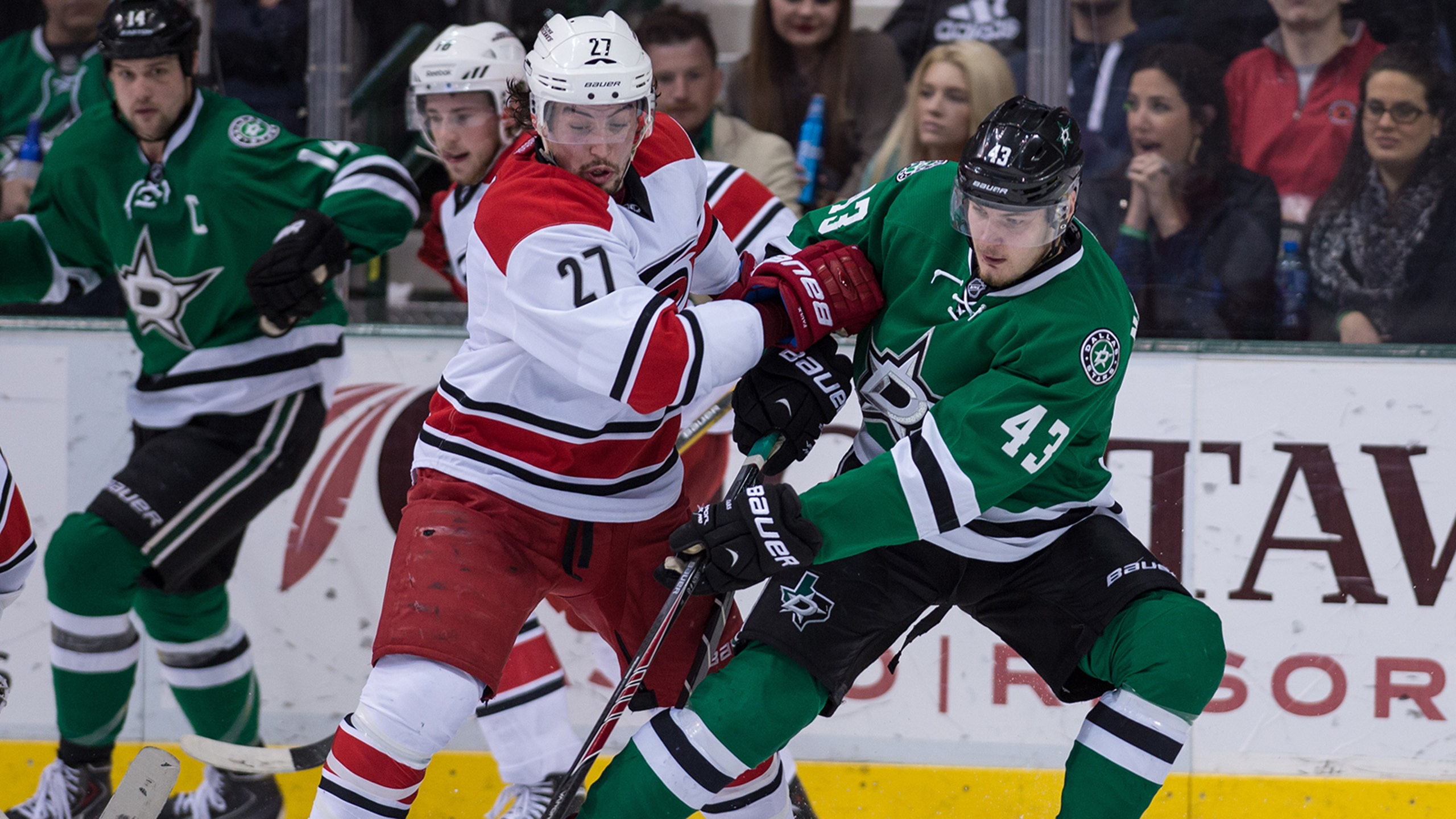 Strong start propels Stars over Canes, 4-1
BY foxsports • February 28, 2014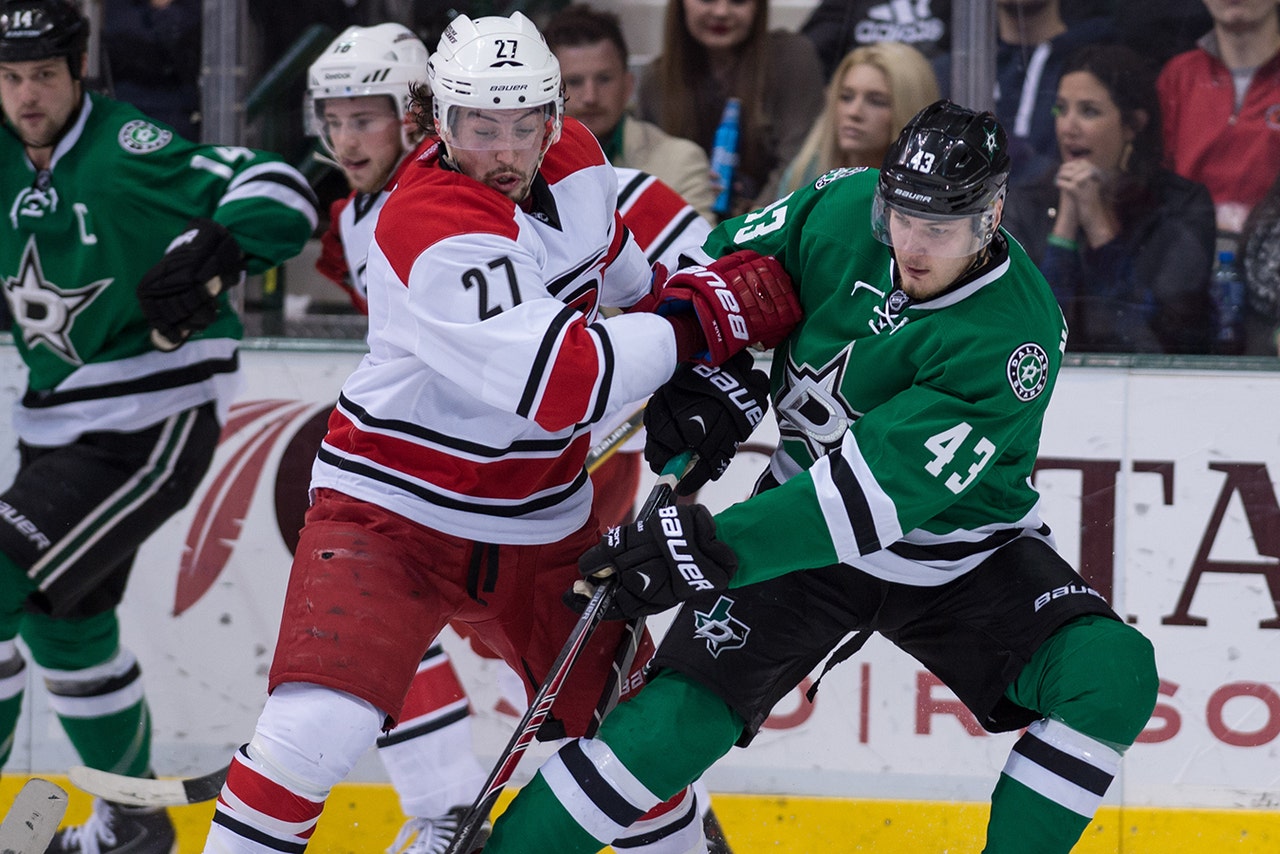 DALLAS - In a way, it was almost kind of funny to hear Dallas Stars head coach Lindy Ruff say after morning skate on Thursday that he was concerned about his team showing rust in their first game after the NHL's 19-day break for the 2014 Sochi Olympics.
But any concerns Ruff had were quickly allayed as the Stars hit the ice on Thursday at American Airlines Center against the Carolina Hurricanes energized, netting a pair of goals to lead 2-0 just over six minutes in.
Dallas then added a third, their second shorthanded tally of the game, this one from captain Jamie Benn, who delivered a three-point performance (goal, two assists) mere days after he was a member of Canada's gold medal-winning team in Sochi, to lead 3-0 after 40 minutes of play.
Carolina did manage to pull one back early in the third when Eric Staal scored on a nearly impossible angle to make it 3-1, but a late empty-netter from Cody Eakin made it a 4-1 final and showed Dallas' run of 6-1-2 in their final nine games before the Olympic break was no fluke.
"The penalty kill was pretty important tonight," Ruff said. "To get a couple short-handed was nice to see."
Tyler Seguin, who is expected to have a strong stretch run according to several members of the leering press, including Stars TV color man Daryl "Razor" Reaugh, made good on that advance hype with his 25th goal of the season 3:18 into the game when he one-timed a pass from Valeri Nichushkin past Carolina goaltender Anton Khudobin on the short side to make it 1-0.
Stars second-year defenseman Brenden Dillon then found the score sheet at 6:13 of the opening period when he blistered a wrister from the high slot over Khudobin's glove to make it 2-0 for Dallas' first shorty of the night and Dillon's second of the season.
The Stars were down a man after Eakin was called for delay of game at 4:57 for accidentally firing a puck over the boards.
Benn then added a goal of his own, the Stars' second shorty of the night with 1:25 left in the middle frame. The Dallas captain's unassisted tally was definitely one for the highlight reels as he gained possession deep in his own end, rushed up the middle of the ice before splitting two Carolina defensemen and then slipping the puck under Khudobin for his 23rd of the season.
Dallas' win puts them back into the final wild-card spot in the Western Conference, exactly where the Stars want to be with 23 games remaining in the regular season.
"It's the situation we want to be in," Benn said. "We don't want to be looking at the scoreboards after games and hoping teams lose or hoping teams win. It's up to us in here to put ourselves in a good situation."
The Stars return to the ice Saturday afternoon against the Tampa Bay Lightning. Puck drop is set for 2:00 PM.
---