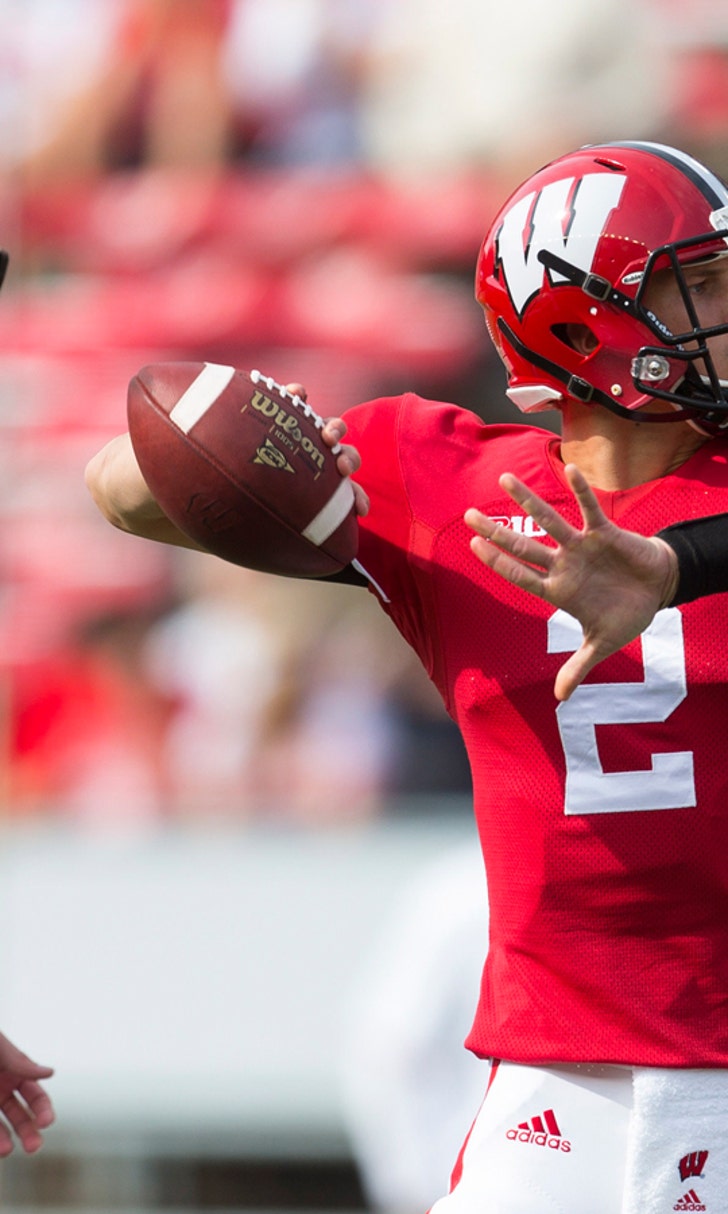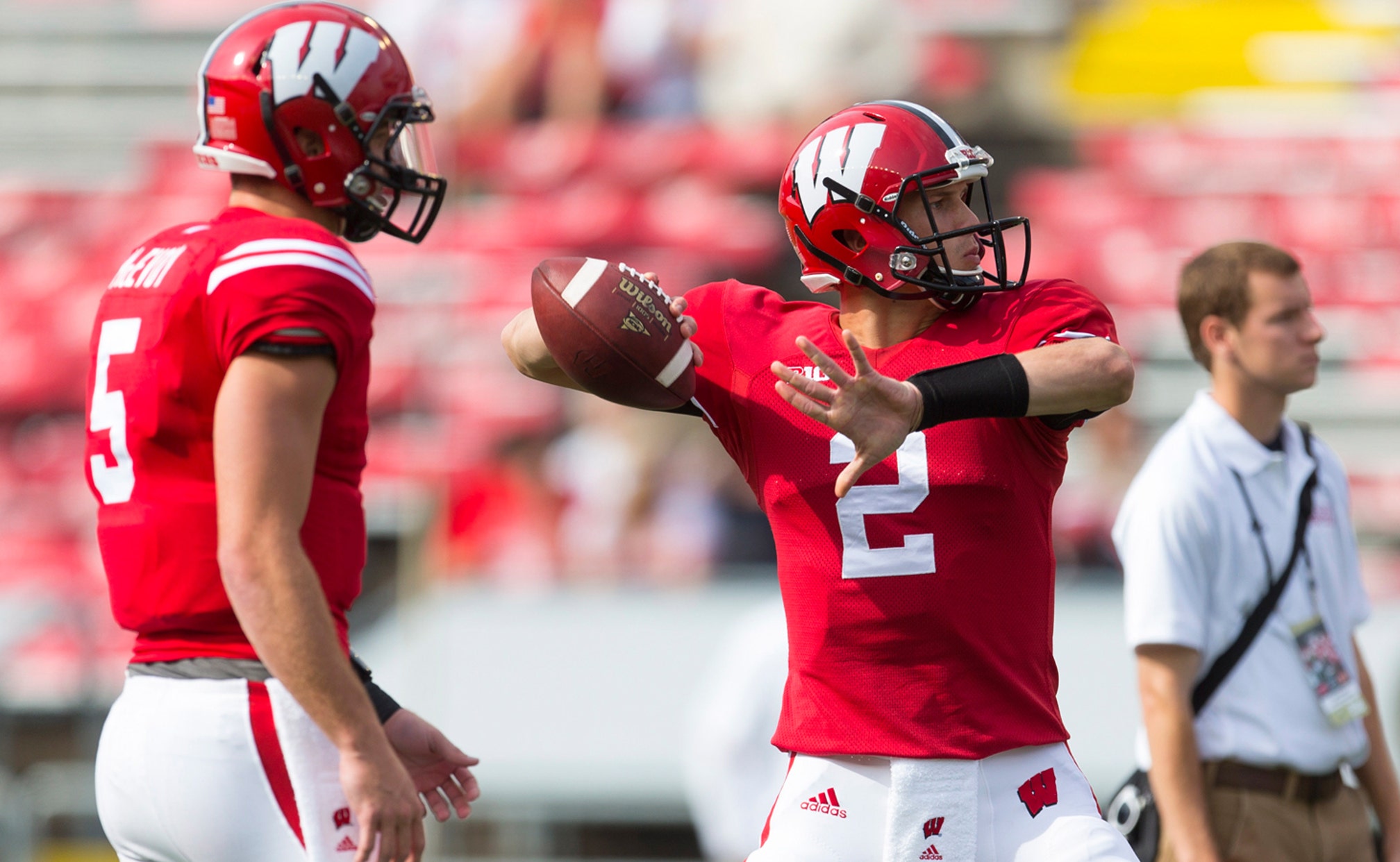 Stave, McEvoy to get snaps at QB as Badgers' passing struggles continue
BY foxsports • October 6, 2014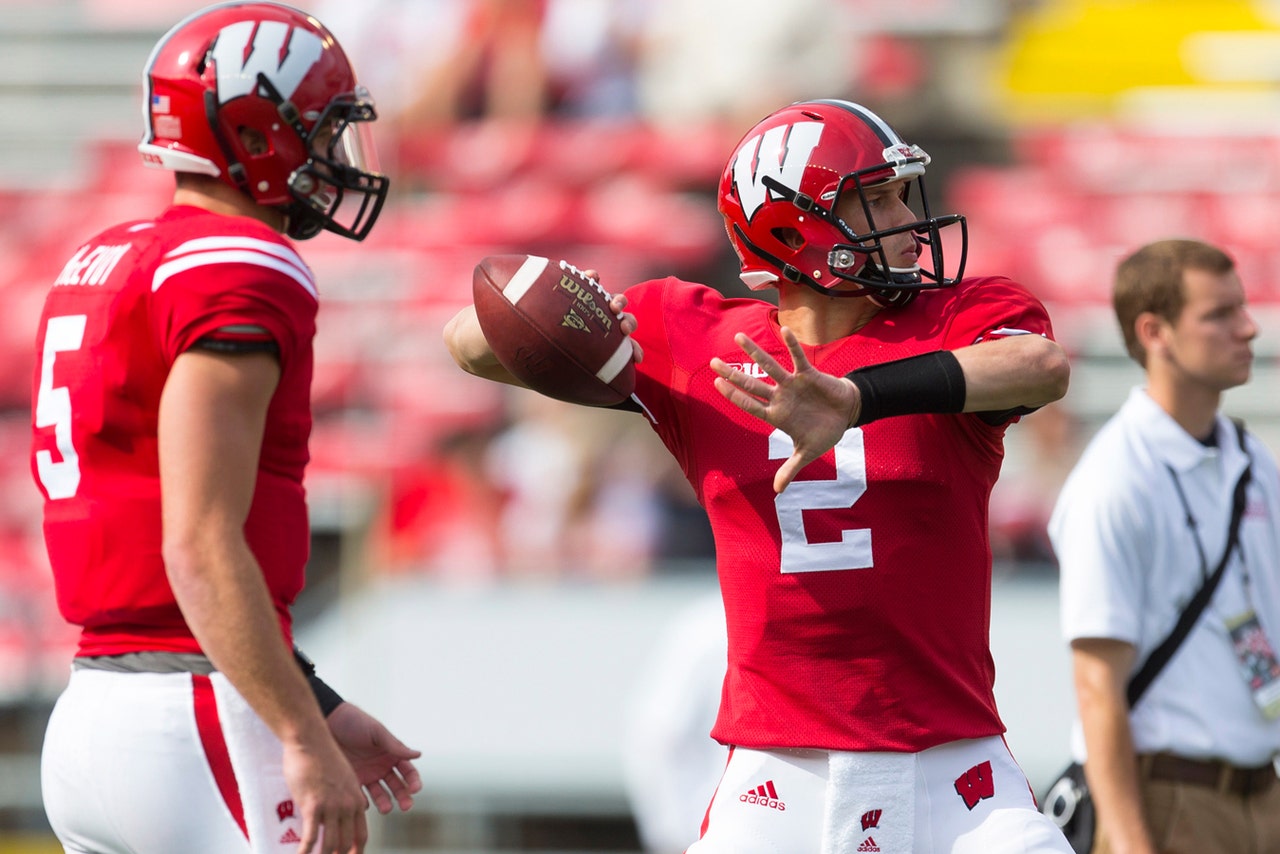 MADISON, Wis. -- Let the quarterback questions continue.
Two days after Wisconsin suffered a surprising 20-14 loss at Northwestern, which prompted Badgers coaches to make a quarterback change before halftime, a clear-cut starter has yet to be announced.
In fact, Badgers coach Gary Andersen said Monday that both Tanner McEvoy and Joel Stave would be used this week when Wisconsin (3-2, 0-1 Big Ten) plays host to Illinois (3-3, 0-2). The manner in which they'll play, however, remains a mystery.
"We're going to play them both," Andersen said. "They could possibly both be on the field at the same time. I'm hoping that happens because I think that opens up a little can of worms for people to wonder what's going to happen, so we'll see if that can take place for a couple plays.
"We'll also play them in different situations. I'm a firm believer right now that our offense with where we are as an offense as a whole -- not at the quarterback position -- we're best served to be able to play both those quarterbacks to help our offense move down the field."
In many respects, Wisconsin finds itself back where it started when fall camp began on Aug. 4 -- locked in a quarterback competition without a real frontrunner. Wisconsin's depth chart even lists Tanner McEvoy "OR" Joel Stave as the first-team quarterback. But the team's coaches have had their hand forced because of McEvoy's inability to consistently complete any passes of substance.
This season, McEvoy has completed 55 of 96 passes (57.3 percent) for 629 yards with five touchdowns and five interceptions. He has not completed a pass of longer than 37 yards in any game. And he has been especially poor in the team's four games against FBS competition: 32 of 68 (47.0 percent) for 346 yards with two touchdowns and four interceptions.
McEvoy put together one of his least effective games against Northwestern, when he completed only 4 of 10 passes for 24 yards with no touchdowns and an interception. He was finally pulled near the end of the second quarter in favor of Stave.
The statistics will show Stave did not perform much better. He finished 8 of 19 for 114 yards with one touchdown and three interceptions. But he demonstrated enough with his arm to lead many people to believe he'll start this Saturday's game against Illinois. He threw a 19-yard touchdown pass to receiver Kenzel Doe that brought Wisconsin to within 20-14 in the fourth quarter, and he gave receivers a chance to catch two deep passes that fell incomplete.
"Joel can get that ball down the field like we hope he can," Andersen said. "He showed two very nice balls that were thrown in the last game, and his ability to take the top off the coverage and his ability to be involved in the throw game, I believe, will be a huge positive. And he can run our offense that we've had down the line. I think we're in a good spot."
Stave, of course, endured a well-chronicled confidence bout after he lost out on the starting job to McEvoy during fall camp. In late August and early September, he could not complete even basic short throws in practice because of a mental block that had developed. But he gradually improved and spent the week of the Northwestern game splitting second-team offense reps with quarterback Bart Houston.
If Stave is indeed the starter, he would bring a tremendous amount of game experience. He is 13-6 in 19 career starts over the past two seasons. And a year ago, he threw 22 touchdown passes, which is the second-best single-season total in program history behind only Russell Wilson's 33 in 2011.
McEvoy was chosen as the starter this fall because of his ability to make plays with his legs, though he never showed enough accuracy with his passes. He set the single-game rushing record for a Wisconsin quarterback with 158 yards on the ground against Bowling Green on Sept. 20. But coaches did not tailor the offense enough in his direction, which contributed to his struggles.
Andersen said he did not regret naming McEvoy as the team's starter to begin the season.
"No," he said. "The key thing for that is there's so much that goes into that in my own opinion and where we were and what took place and the whole scenario that was there. No, I do not. There's a lot more to it than just the public's eye or I guess the people that weren't in the middle of the two-a-day camp with the coaches."
Andersen did acknowledge that, once McEvoy was named the starter, the coaching staff should have committed more to running an option-style offense that better suited him, citing McEvoy's "ability to throw on the run, his ability to get outside the pocket and move around." During the Northwestern game, McEvoy carried the ball just once for eight yards.
Andersen hinted at the fact McEvoy could show up in packages at wide receiver if he picks up the position fast enough. After McEvoy fell behind in the quarterback race during the 2013 fall camp, coaches tried him briefly at wide receiver before he found a home for the season at safety.
"It's a possibility," Andersen said. "Let me put it that way."
To begin his weekly news conference, Andersen attempted to reiterate that Wisconsin lost as a team -- not because of any single player. He noted three of the Badgers' four interceptions were not entirely the quarterback's fault. Two were contested passes in the air, and a third occurred because the quarterback was hit as he threw.
"Everybody needs to understand that this is an offense," Andersen said. "It's not an individual game. And sometimes I think kids get put into a spot that it's all them, it's all their problem. The pick goes into one stat box."
While Andersen attempted to remain relatively calm about the passing game struggles, running back Melvin Gordon was less so. Gordon rushed for a career-high 259 yards against Northwestern and leads the nation in yards per game at 174.2.
Gordon began to voice his frustration Monday with the play of Wisconsin's offense before ultimately stopping himself.
"In the passing game, we've just got to get some of our playmakers that's on the sideline off the sideline and get those guys with some confidence because I feel we have guys with ability," Gordon said. "They're just not getting opportunities they should be getting."
When asked if he was referring to anyone specific, Gordon replied: "I don't know. I just feel like (tight end Troy) Fumagalli. We have some playmakers, you know? I don't know. It's the coaches that do the player things. So I don't want them to get at me."
Alex Erickson (25 catches) is the only wide receiver on the team that has caught more than five passes, though Doe showed significant improvement with four catches against Northwestern. Fumagalli, meanwhile, has four catches this season for 57 yards.
Gordon noted he had plenty of confidence in Stave should he be named the starter.
"I've seen him," Gordon said. "To not be taking any reps and go out there, he made a couple mistakes, but I feel like he throws some good balls. I think once he gets the reps in practice and gets his confidence back up, he can definitely help us make some plays."
Now, the choice of Wisconsin's starting quarterback will be left to the coaches. And they're hoping either Stave or McEvoy helps make their decision a little easier.
"Quite frankly, if one of them turns around and runs away with it and is more productive, then that's the direction you go as the offense goes," Andersen said. "There needs to be more opportunities to function on the skill sets of the players on the offensive side."
Follow Jesse Temple on Twitter
---