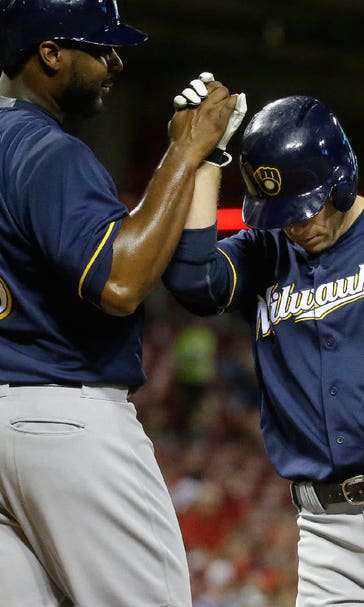 StaTuesday: History of Brewers' 3 HR games and 7 RBI games
May 10, 2016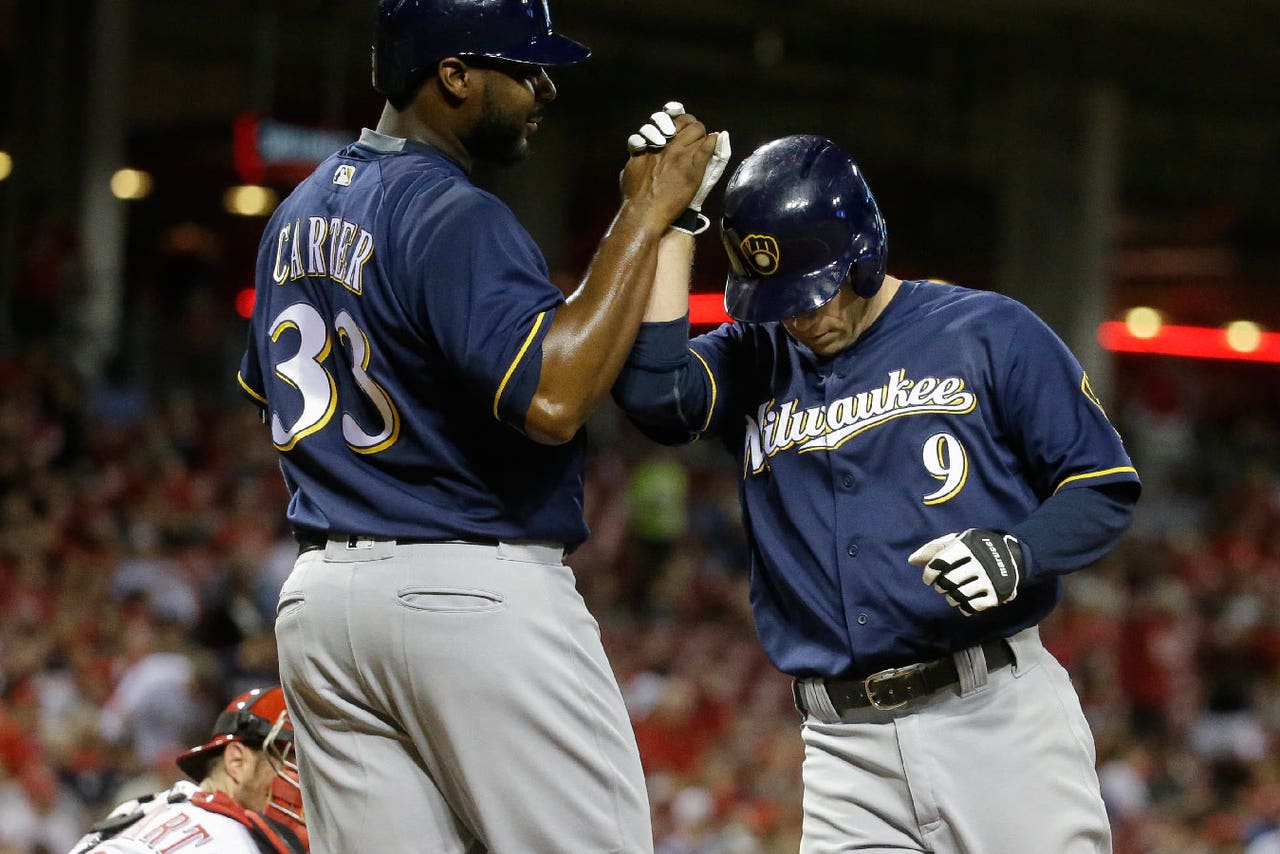 Aaron Hill made his mark in the Milwaukee Brewers record book Saturday when he clubbed three home runs and drove in seven runs against the Cincinnati Reds. Both accomplishments tied a single-game high in franchise history.
Believe it or not, the seven RBI was a rarer feat than the three homers.
Hill was just the eighth player to have seven RBI in a game in Brewers history. It was the ninth such occasion overall, as Jonathan Lucroy has done it twice -- including once in a loss. Since 1913, a team has lost just 34 times when it has a player with 7+ RBI. It has happened only once since Lucroy -- Texas' J.P. Arencibia had seven RBI in 12-11 loss to Yankees on July 29, 2014.
No Brewers player has ever knocked in more than seven runs in a game.
BREWERS WITH 7 RBI IN ONE GAME
Kubiak was the most unlikely player to be in the above group. He had just 41 RBI in 1970 -- and that was his career high, with 27 being his next highest.
A Brewers player has hit three homers in a game 20 times, although Hill was just the 14th Milwaukee player to do it. Ben Oglivie did it three times while Ryan Braun, Jeromy Burnitz and Richie Sexson each did it twice.
Hill's effort came in the highest-scoring game for a Brewers team when a player hit three homers in a game while the seven runs by the opponent was the second-most allowed. The most was nine, which also happened to be the only time Milwaukee lost a game in which a player had three HRs.
BREWERS WITH 3 HR IN ONE GAME
* -- Game 1 of a doubleheader
Of note from the above:
-- Paul Molitor has just one of 11 three-homer games hit at Kauffman Stadium (known as Royals Stadium when he did it). That was also the only game in which the Brewers lost when a player hit three homers.
-- Ryan Braun was the first player to hit three home runs at San Diego's PetCo Park. Only one other player has done it: San Francisco's Pablo Sandoval on Sept. 4, 2013.
-- Richie Sexson and Jeromy Burnitz remain the only teammates to hit three home runs in the same game. Those two drove in eight of the nine Milwaukee runs that game. The player who knocked in the other was Geoff Jenkins, who earlier in that 2001 season hit three homers in a game.
-- Hill wasn't the first Brewer second baseman to hit three homers in a game (although he also played third base in that game, all his homers came when he was at second). Dale Sveum was the first. Sveum also batted lowest in the batting order -- ninth. Only Tyler Houston (seventh) batted lower than Hill, who hit sixth that day against Cincinnati.
Hill's three homers gave him all of just four on the season. Every previous Brewers player to hit three in a game had at least 13 homers that season. Luckily, it's still only May.
Follow Dave Heller on Twitter
---
---