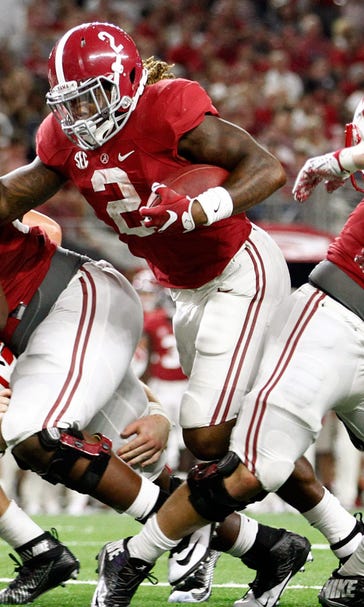 Starting 11: The SEC West Ain't Dead
BY foxsports • September 7, 2015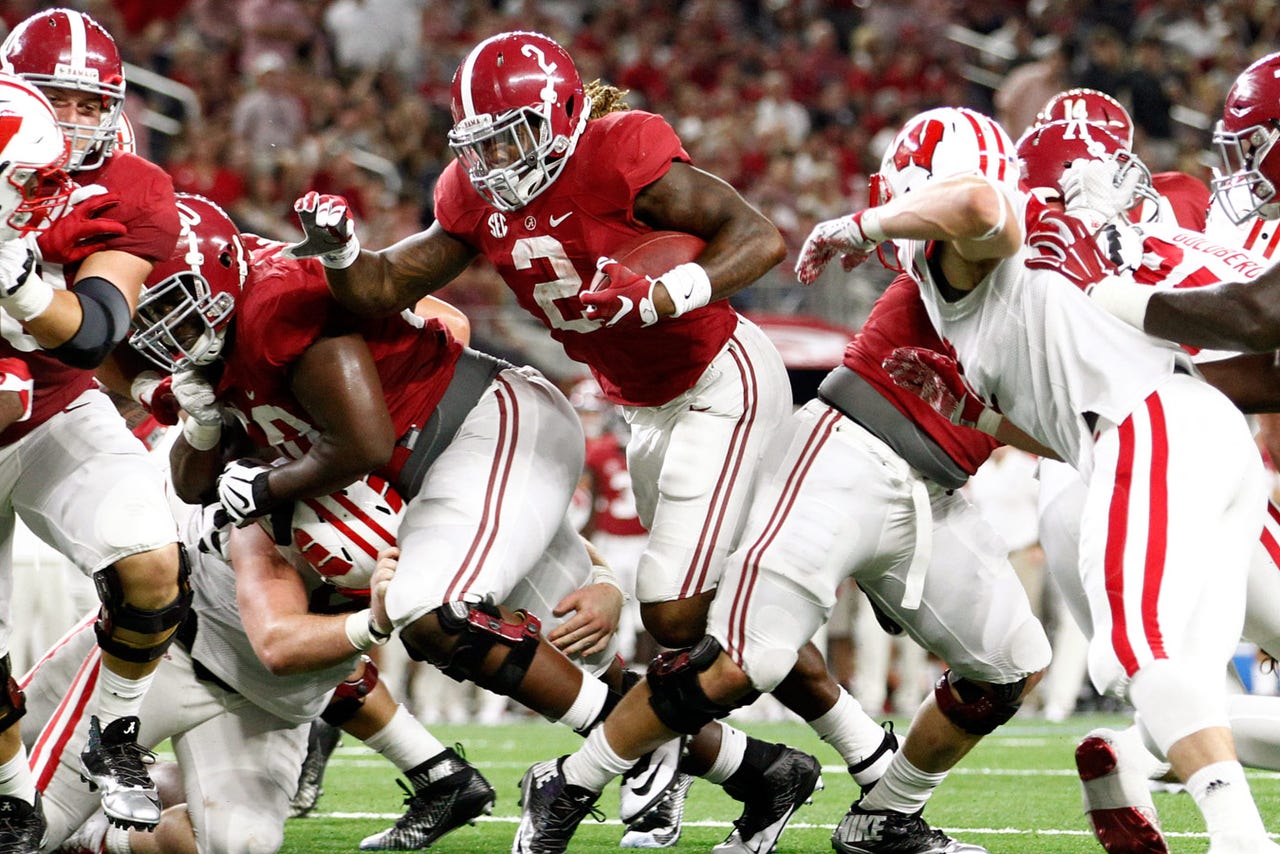 It was lazy and it was dumb, but it was all too predictable. When the SEC West went 2-5 in last year's bowl season, it became popular to pronounce the division overrated. That's despite the fact that you could change three plays and the SEC West would have gone 5-2 instead of 2-5. (Only the Mississippi schools really got whipped in the bowl season). Lost amid the SEC West derision was the fact that the SEC East, a division thoroughly dominated by the SEC West, went 5-0 in the bowls. If you used the bowl season to judge division strength, the SEC East was much better than any other division in all of college football. 
Plainly that was lunacy. 
In fact, the SEC went 7-5 in bowl season, tying its own record for the most bowl wins by any conference in history. Change three plays and the league would have gone 10-2. Turns out, the line between being great on a historic scale and merely being the best in the history of college football is a tiny one. 
Yet based on the bowl season it became a foregone conclusion that the SEC West stunk and had been overrated all year. Those with axes to grind and a conspiracy-laden mind used the SEC West's bowl performance to demonstrate that the SEC was fading, that its dominance had always been a media mirage, that everyone else was catching up. 
Then came Saturday's games.
Gulp. 
And everyone was forced to concede a fact that hasn't changed in nearly a decade -- the SEC is the best conference in college football and there isn't a close second.
Here we go with the first Starting 11 -- which you'll find every Monday all season long -- of the 2015 year.  
1. The SEC West's Alabama, Texas A&M and Auburn dominated top teams from the Big Ten, the Pac 12, and the ACC.
SEC teams went 12-1 in the opening week's games. The lone loss was Vanderbilt. (LSU's game was canceled). Included in those 12 wins were four victories against big five conference opponents, all on neutral fields. Every other conference combined had one win against big five conference opponents in road or neutral site games. (TCU won at Minnesota). If you count home wins over big five conference opponents, the Pac 12 had two: Utah beat Michigan and UCLA beat Virginia. So the SEC had more road, neutral or home wins over big five conference opponents than the other four major conferences did combined.     
The Big Ten went 3-6 against FBS opponents, 7-6 if you count FCS wins. So nearly half the conference lost in the opening weekend. (Ohio State plays at Virginia Tech tonight). 
The Pac 12, erstwhile challenger to the SEC's best conference in college football throne, was even worse considering expectations entering the season, going just 7-5.
The ACC went 10-3, losing both games against the SEC head-to-head and failing to notch a single win against a big five opponent.
The Big 12 went 8-2 and desperately needs Oklahoma to beat Tennessee this coming weekend to hold out hope that the conference is deeper than just Baylor and TCU at the top.
Put simply, the SEC dominated the rest of college football in the opening week of games.  
2. Texas A&M didn't even play well offensively and won by 21 against Arizona State. 
The defense shredded Arizona State's high-powered offensive attack, racking up nine sacks and disrupting everything on the field. If A&M doesn't turn the ball over three times -- one of which, a Kyle Allen fumble inside the Aggie ten, led to an easy touchdown -- A&M wins this game by thirty or more with ease. 
Last year I pronounced Texas A&M a dynasty in the making after their win over South Carolina. I think I was a year ahead of schedule. Anyone who watched this game had to leave amazed at the talent that A&M can now bring to bear on both sides of the ball. Christian Kirk and Myles Garrett may be the top freak tandem in the SEC on the offensive and defensive sides of the ball.
The gap between A&M's program and the Longhorn program -- is Texas even an FBS team on offense right now -- has never been larger in the modern era. I think if Texas and Texas A&M played this year, A&M would win by forty.    
3. If Bama gives Derrick Henry the ball 25 times, I'm not sure anyone in the country can beat them. 
Of course, the question is, will Lane Kiffin give Derrick Henry the ball that many times? It's almost like Bama has promised Henry they'll limit his touches to preserve him for the NFL. Because have you ever seen a more dominant running back get the ball less?
As for the much discussed quarterback position, Jacob Coker was fine. The Tide's schedule is brutal, but Bama should be undefeated when it rolls into Athens on October 3rd. 
By the way, I finished Monte Burke's biography of Nick Saban and really enjoyed it. There are tons of great anecdotes, but I'll share this one right now. As Nick Saban and Mal Moore flew back to Tuscaloosa to announce his hire, Saban asked Moore: "Do you think you've hired the best coach in the country?"
"Why, Nick, of course I do," Mal Moore said.
"Well, you didn't. I'm nothing without my players. But you did just hire one helluva recruiter."
4. Auburn's Jeremy Johnson was awful, and the Tigers still won with relative ease.
If I'd told you that Jeremy Johnson was going to go 11-21 for 137 yards and throw three interceptions and that Auburn would still be up 31-10 on Louisville with ten minutes left in the game, would you have ever believed me?
In both 2010 and 2013, Gus Malzahn's offenses got better and better as the season moved along, eventually cresting in dominant performances in the SEC title game. I feel like Auburn will be the same again this year. So if you're going to beat the Tigers, you better get them early.
That's why at LSU on September 19th could be a real danger for Gus Malzahn's teams. LSU, coming off either a win or a loss on the road at Mississippi State, will be set up perfect in that one.  
5. UCLA's Josh Rosen is the real deal.
Rosen was 28-35 for 351 yards and three touchdowns against a decent ACC opponent. I've been trying to think of a pro style quarterback who played as a true freshman and was this impressive in his debut. And I can't think of a single one. (Remember that Johnny Manziel and Jameis Winston were redshirt freshmen). The best pro style quarterback true freshman I can remember in recent history was USC's Matt Barkley. And he was nowhere near as good out of the gate as Rosen.
Most of you probably didn't see Rosen play, but he was spectacular. Virtually every throw he made was on the money against solid defense. And while UCLA might be trying to tamp down expectations, how about letting Rosen go deep on his first career pass? Which, predictably, was a 55 yard strike that was dropped by his wide receiver.
Do yourself a favor and watch this guy play.
With Stanford and Arizona State both stumbling out of the gate, the UCLA schedule suddenly looks pretty manageable. At least compared to cross-town rival USC.    
6. Tennessee's secondary play was simply awful.
As good as the Tennessee offense was -- it produced 59 points even with two touchdowns called back for penalties and two missed field goals -- the secondary may have been worse, giving up 424 passing yards to Bowling Green.
Were the Vols playing vanilla to get ready for Oklahoma? UT fans better hope so. Because Oklahoma's Baker Mayfield passed for 388 yards against Akron. If Tennessee can't get pressure on him, they may have to score 45 to win.
Toss in that you will have four of the best running backs in college football playing in this game and I honestly have no idea what to expect here.   
7. The Kansas State band made the Kansas Jayhawk suck a dick.
Surprisingly, it was the best play made by a Jayhawk on a football field Saturday.  
8. Every national champ since 1995 -- except Oklahoma in 2000 -- has had at least two top ten recruiting classes in the four years before it won a title. 
I should have rerun this column at the start of the year, but I'd encourage you guys to check it out now that week one has passed.
If that holds true this year then your national champion will be one of 11 teams:
4 top ten classes: Alabama, Ohio State, Florida State, and Auburn
3 top ten classes: USC, Florida, and LSU
2 top ten classes: Georgia, Tennessee, Michigan and Texas A&M
Not surprisingly, ten of these teams should be among your top twenty teams in the country when the polls are released tomorrow. 
9. With its road loss to Northwestern Stanford is now 8-7 in its last 15 games.
Is it fair to ask whether David Shaw's good fortune was tied to Jim Harbaugh's players? After a robust open to his coaching career, Shaw suddenly looks very average.
Anyone who watched that game against Northwestern didn't see a good, or particularly well coached, offensive football team.  
10. Arkansas's Brandon Allen passed for over 300 yards.
I feel like this slid under the radar, but what a game he had. If Arkansas suddenly has a downfield passing threat, look out.
Toss in Chad Kelly's debut at Ole Miss and I'm not sure how much better the SEC West could have looked in week one.  
11. Here are Outkick's SEC power ratings.
As always, these are based on actual games that we've seen played, not on expectations for how good a team will be before the season starts. In general, I weighted the performances based on the quality of the opponent. That is, if you played an FCS opponent I knocked you down a few notches and if you played and beat a big five conference FBS opponent you were bumped up.
And, as always, if you don't like where your team is ranked this week, they're probably ranked there because I'm biased and hate your team.  
1. Texas A&M
2. Alabama
3. Auburn
4. Georgia
5. South Carolina
6. Arkansas
7. Tennessee
8. Mississippi State
9. Ole Miss
10. Florida
11. Mizzou
12. Kentucky
13. Vanderbilt 
LSU didn't actually play a game so they aren't ranked this week. 
Hope y'all have a great Labor Day. 
---