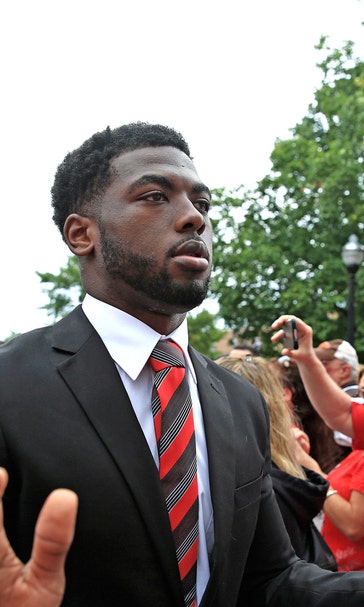 Starting 11: Good Luck, Committee
November 1, 2015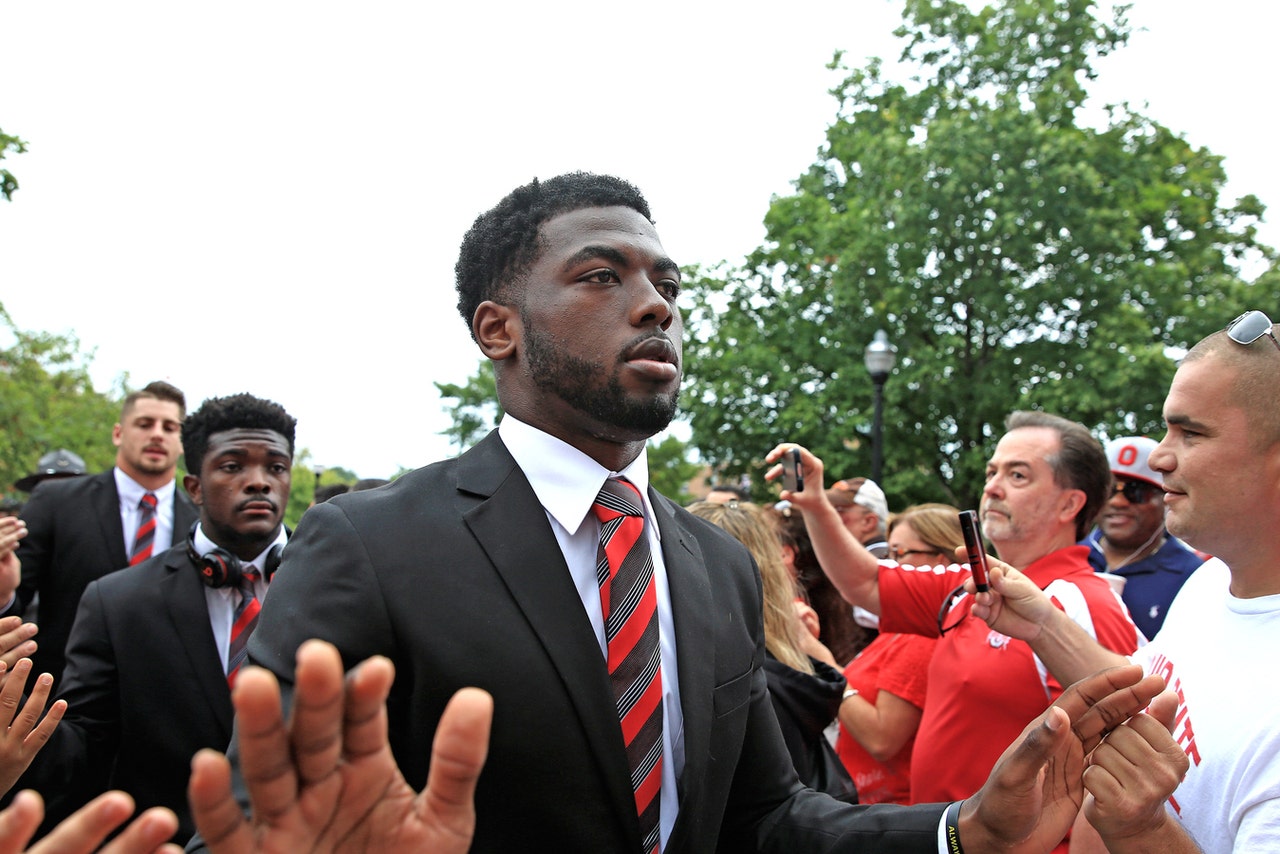 I knew it was going to be a wild day in college football, when I woke up, checked Twitter and saw that I have hundreds of mentions from while I was sleeping. 
The last time this happened was when Demarcus Cousins shouted out my prediction that he'd be arrested within five years. My first thought was, "What did I do this time?"
But, amazingly, J.T. Barrett went and got arrested for OWI -- THE SAME THING AS A DUI IDIOT OHIO STATE FANS -- just over a day after I ripped Urban Meyer for pretending to be a disciplinarian on Bill O'Reilly's Show. Stealing crab legs from your starting quarterback? Unacceptable? DUI? Let's figure out how to avoid applying our athletics policy. 
Seriously, it's like J.T. Barrett's an Outkick reader and wanted to give us a shout out.
Urban gonna Urban, y'all.  
If you haven't seen my essay, here you go. 
Thankfully, no one was hurt. So we can point out the underrated funny aspect of this story -- J.T. Barrett called Cardale Jones to come pick him up at the police station. Really, he did. If this was "Ballers," Cardale Jones would have called to tip off Columbus police that Barrett was out driving drunk to get his starting job back. 
On to the Starting 11. 
1. There are still 11 undefeated FBS teams as we enter the month of November. 
That's a huge number of undefeated teams for this late in the season. 
Now on the positive side of the equation, there are, at most, six teams that could finish the season without a loss. 
The Big 12 champ, Big Ten champ, ACC champ, SEC champ, in this case it would have to be LSU, since the Bayou Bengals are the only undefeated team left in the SEC, Toledo and either Memphis or Houston in the AAC. 
So the committee could end up with an incredibly easy decision featuring undefeated champs from every big five conference but the Pac 12, in which case we don't even need a committee. 
But what if, as seems more likely, there's chaos in November? 
2. A worst case scenario of 13 one loss big five teams remains in play.
We could have Utah, TCU, Baylor, Oklahoma State, Alabama, LSU, Florida State, Clemson, North Carolina, Ohio State, Iowa, Michigan State and Notre Dame all finish with one loss. 
Who do you pick then as your four playoff teams? What if you have two loss champs who pull off upsets in the conference title games? What if Memphis or Houston finish as the only undefeated team in the country? Do they get consideration for the playoff too?
This would be total chaos. 
3. The Pac 12 narrowly avoided playoff elimination last night, when Washington State hooked a field goal wide right.
Sure, Utah could go 12-1, but that seems unlikely given the Utes November schedule. So the Pac 12 desperately needed Stanford to win last night to preserve a potential playoff spot for the conference.
As is, the Cardinal survived and should be 10-1 when Notre Dame comes to town on the final week of the regular season.   
I still feel like 12-1 Stanford would find its way into the playoff. 
4. Poor Duke. 
Yes, the Blue Devils got screwed at the end of their game against Miami, but this just points to a larger issue -- what the fuck is up with college football instant replay?
Whether it's targeting ejections that are upheld despite the fact that there is no targeting -- witness what happened in the Tennessee game last night or the worst targeting call of the year from the Michigan State-Michigan game -- or floating and amorphous standards for overturning and upholding rulings on the field, it's time for every conference to centralize replay and only have the best replay officials make decisions. That is, one group in an official office reviewing everything. 
As is, there is no consistency when it comes to replay and, frankly, you have replay officials of varying talents.
I'm fortunate because on just about every Saturday I get to watch games with Mike Pereira. In real time he expertly analyzes every single controversial call and says what the accurate ruling should be. Seriously, he's flawless at this. Why wouldn't, for instance, the Pac 12 try and hire a guy like him and make him the default reviewer of every play?
Every conference should pick their best replay crew and have them decide everything. As is there is way too much variation between a conference's best replay crew and their worst.  
5. If you're an SEC hater, you want Ole Miss to win the SEC title. 
That's the best case scenario you can build for how the SEC misses the playoff. How could you take 11-1 Alabama or 10-1 LSU over an 11-2 Ole Miss team that wins the national title and beats Alabama and LSU head-to-head?
Yet would an 11-2 Ole Miss team get into the playoff over a, for example, 12-1 Stanford or a one-loss Big 12 champ? I don't think so.  
The Rebels have just three SEC games remaining -- Arkansas, LSU, and then at Mississippi State. 
Win them all and the resulting SEC title game and it's hard to see how you can leap another SEC team over them. Yet is Ole Miss a guaranteed playoff team? I don't think so. 
6. What has happened to Georgia?
And, on a larger level, what's Mark Richt's future with the Bulldogs? I don't see any way that Georgia forces out Richt this offseason, but the Bulldogs could finish 7-5 pretty easily -- losing at Auburn and at Georgia Tech. Might Richt decide to retire then as opposed to entering 2016 on a scorching hot seat? Hell, could Richt even decide to leap to another job, Miami perhaps? I've always thought Richt would retire before he'd leave Georgia, but now I'm not so sure. 
Richt is 55 years old and last season his Bulldogs went 10-3 and finished ranked in the top ten. But it has now been a decade since Richt won an SEC title. (Although he was agonizingly close to an SEC and national title in 2012). After finishing each of his fist eight seasons ranked in the top 25, Richt's teams have finished the season ranked in the top 25 just 3 of the past seven seasons.  
Richt has been good at Georgia, but his tenure is beginning to look eerily similar to two other coaches who were forced out after their 15th or 16th seasons, Phil Fulmer and Mack Brown. Both Fulmer and Brown won a higher percentage of their games and won national titles, but their resumes are pretty comparable. Richt's 141-51 right now. Fulmer finished his UT career 152-52 and Brown finished his Texas career 158-48. 
Georgia's a hell of a job and if Richt left, boy, look out. There are already going to be a ton of coaching changes this offseason, but this one could lead to some interesting coaching dominoes. 
7. Notre Dame won over Temple, but how about Brian Kelly erupting on the sideline?
If Greg Hardy did this, ESPN pearl clutchers would lose their minds. 
But isn't this much worse than Hardy? Hardy's just a player losing his mind in the heat of a game and he's a professional athlete; Kelly makes millions of dollars a year to keep his cool and he's in charge of scholarship athletes at one of the nation's top academic institutions. 
If Notre Dame had lost this would be a huge story. As is, people will just shrug. But given how much attention was paid to Jim McElwain's outburts, why isn't this Kelly eruption a much bigger story?
8. Tennessee will win out this year and be a top ten team next year. 
Kentucky football fans are cute. They're all fired up about Mark Stoops and this is the second straight year that Butch Jones has hung fifty on them. Honestly, the past two UT-UK games have looked just like the 1990's when Tennessee was rolling and Kentucky sucked. The talent differential on the field is seismic. 
This may well be the beginning of a dominant end of season run for Jones's Vols that sets the table for incredibly high expectations in 206, when the Vols should enter the season ranked in the top ten. 
Interestingly, just about every football analytics table has the Vols as a top ten team this year. (USC is typically top five in these same analytics tables, making the Volunteers and the Trojans the two teams with the most differential between poll ranking and Vegas expectations in the country. There are probably five or six teams in the country that would be favored over USC on a neutral site, somewhere around ten teams that would be favored over the Vols on a neutral site.)
9. If Oklahoma runs the table, the Sooners will most likely be in the playoff even with a bad loss to Texas.
Again, brilliant move by Bob Stoops intentionally losing to Texas to ensure Charlie Strong remains Longhorn coach for a couple of extra years. 
By the way, great performance by Charlie Strong's boys at Iowa State. A 24 point loss to the Cyclones? Longhorns have turned the corner for sure.   
But what if Oklahoma loses multiple additional games and you have a three-way tie between Oklahoma State, Baylor, and TCU, where each team loses one game in conference to each of the other teams? Then the champion of the Big 12 will come down to scoring differential. 
Here's the relevant language from the Big 12 tiebreak procedures, which were changed in 2015 after the conference that claims it has one true champion ended up with two.
The craziest tiebreak outcome of all would come if, miraculously, all three teams had the same point differential. Then a drawing would occur in the Big 12 office. Given that would probably be a draw for a spot in the playoff, look out. 
Props to the Big 12 regardless because every major game in the conference is set to occur this year in November. 
10. What in the world was Minnesota doing at the end of the game against Michigan?
The only reason this game isn't receiving a ton of attention is because of how the Miami game ended. 
Two weeks ago Michigan lost a game in improbable fashion, this weekend they won a game they had no business winning. 
11. SEC Power Rankings
1. LSU
2. Florida
3. Alabama
4. Ole Miss
5. Tennessee
6. Texas A&M
7. Mississippi State
8. Arkansas
9. Georgia
10. Auburn
11. Kentucky
12. South Carolina
13. Vandy
14. Missouri
---