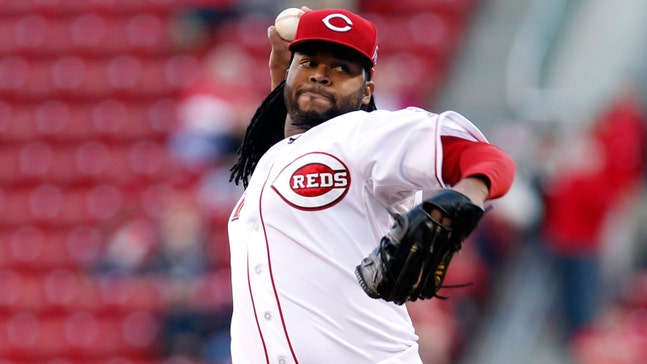 Start now, sit as All-Star?
Updated
Mar. 4, 2020 2:17 p.m. ET

Tuesday, fans in Washington will be treated to an All-Star pitching matchup: Reds ace Johnny Cueto vs. Nationals ace Max Scherzer.
The encounter could impact how the actual All-Star Game unfolds.
By pitching on Tuesday, Cueto and Scherzer are lined up to start again on regular rest Sunday — the final day of the first half. (Scherzer's schedule could be influenced by an open date for the Nationals this week.)
Major League Baseball no longer automatically replaces pitchers on All-Star rosters if they start on the final Sunday of the first half. But it can hurt those pitchers' chances to start the July 14 Midsummer Classic, with only one full day to rest. (All-Star managers often like their starters to throw two innings.)
If Cueto and Scherzer stay on schedule and pitch Sunday, MLB rules allow them to decide among several options: agree to be removed from the roster but still attend the festivities; pitch a maximum of one inning; or pitch under a predetermined pitch count, not to exceed one inning.
Scherzer and the Dodgers' Zack Greinke are among the top candidates to start for the National League. Greinke is perfectly lined up for that assignment; he is scheduled to pitch Thursday and would therefore start the All-Star Game on regular rest.
Cueto is intriguing for a different reason: He pitches for the Reds, who are hosting the All-Star Game at Great American Ballpark. He has a history of elbow issues and is a prime trade candidate ahead of the July 31 non-waiver deadline. Will he push to appear in the game after pitching only two days before? Or will the Reds advise against that — even though the hometown crowd undoubtedly will want to see him — because they're primarily concerned about protecting a precious trade asset?
We're about to find out. 
---
---