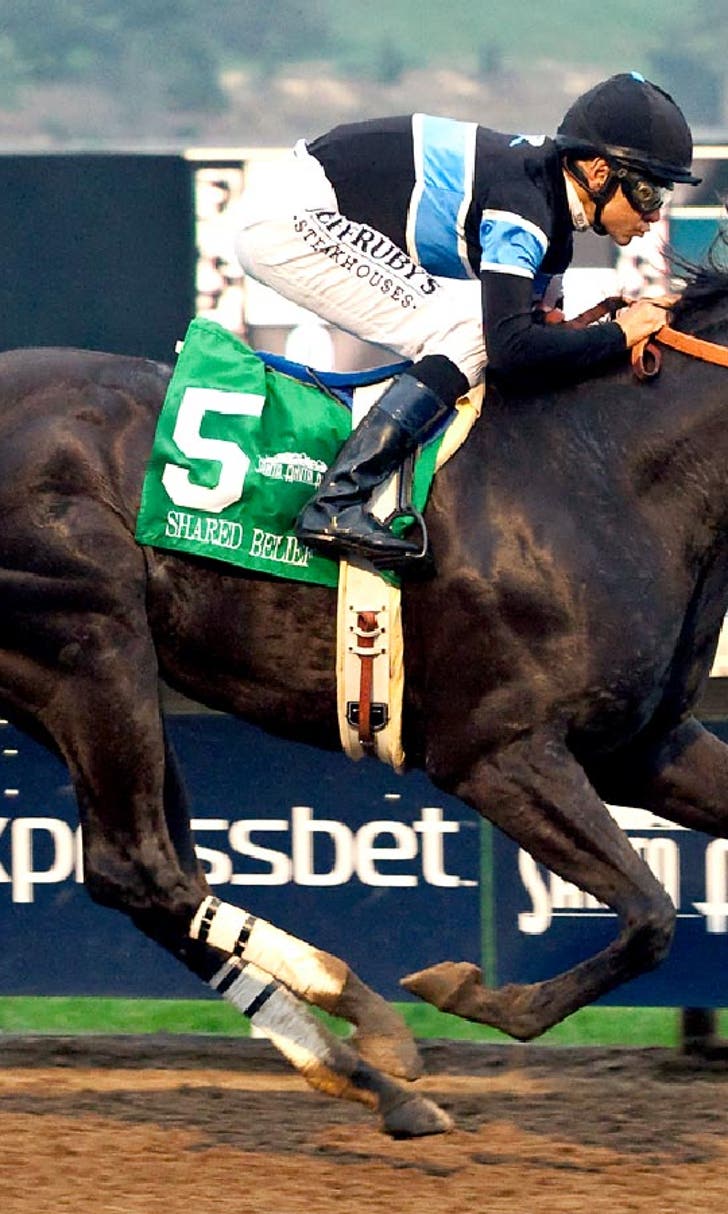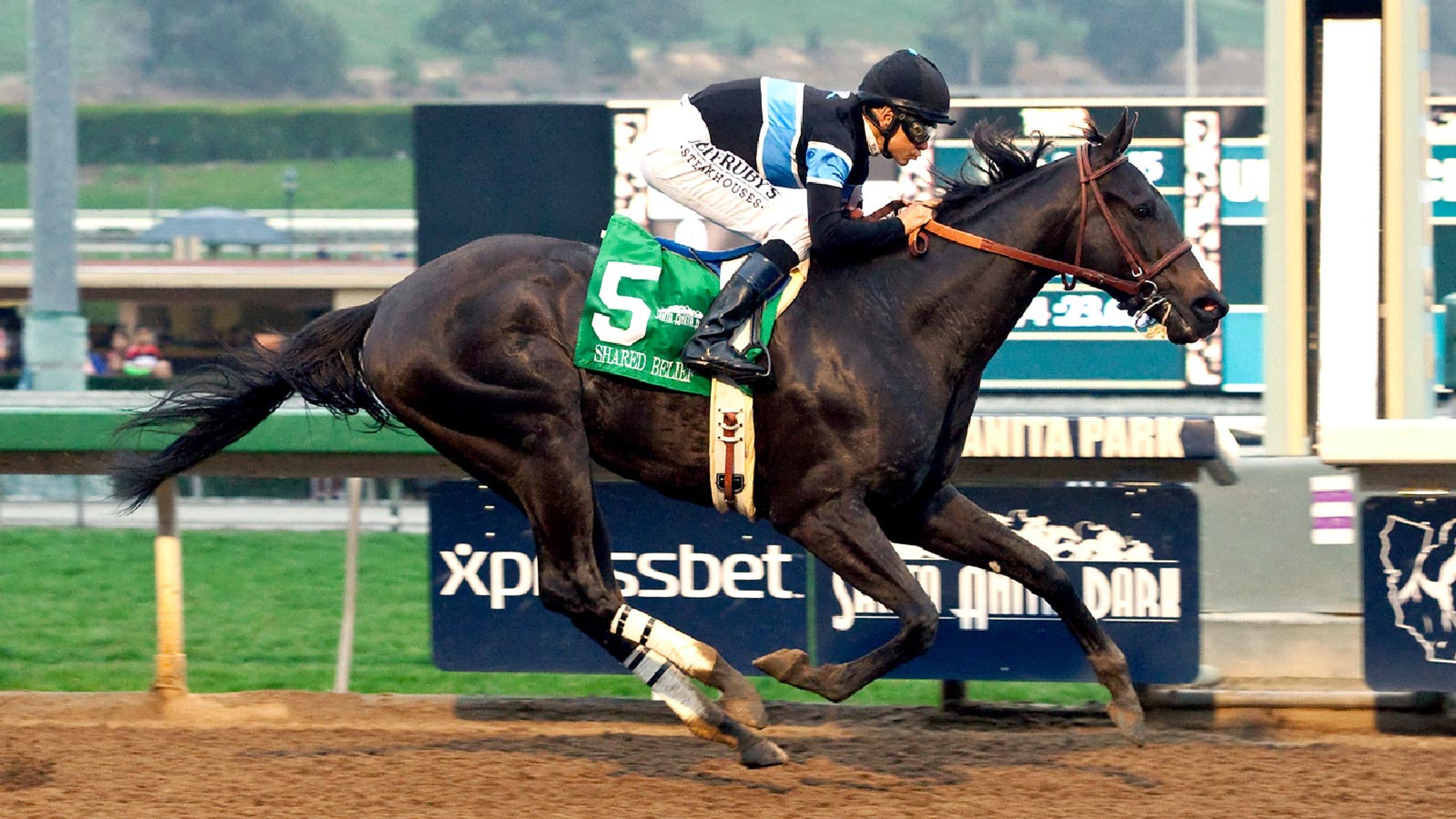 Stars shined on racing's super Saturday of stakes
BY foxsports • February 10, 2015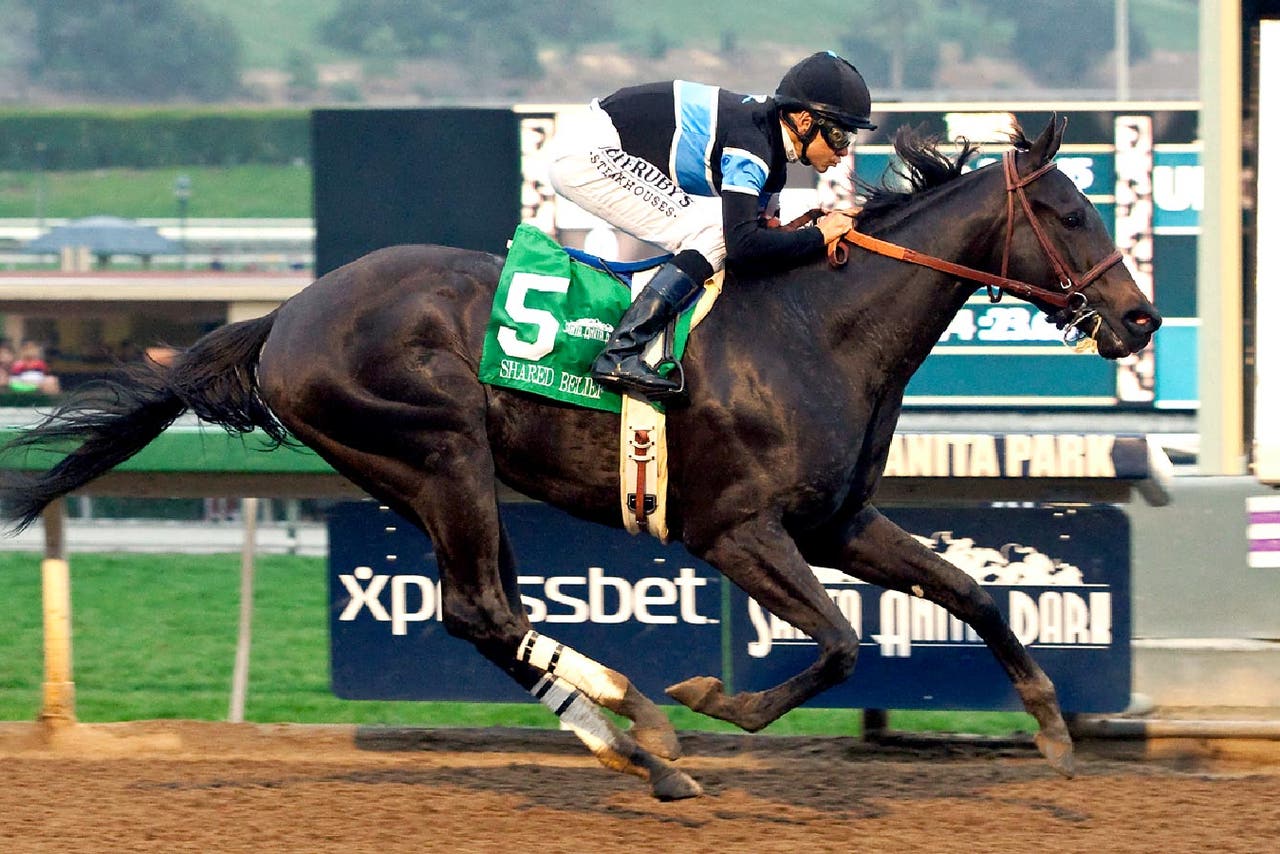 For the first Saturday in February, racing put on an amazing show this past weekend.
As good as the first Saturday in May?
Not really.
But considering the time of year, it was a great treat and a reflection of the electricity great horses can generate when they race against each other instead of overmatched rivals.
Remember, much of the country is covered in snow, and sports fans are about a week into the process of their NFL withdrawal syndrome.
Yet on Saturday, racing produced a day carved straight of one of those sunny, blissful days when Saratoga and Del Mar are open and thriving.
And best of all, the year's just starting. There's much more to come.
It was a day that featured compelling stakes action from Santa Anita and Gulfstream, and even Aqueduct, where, as a reminder that it is indeed February, the day started with some snow flurries.
The blockbuster, of course, was the highly anticipated duel between Horse of the Year California Chrome and Shared Belief, the pre-Breeders' Cup favorite for that title, in the $590,000 San Antonio at Santa Anita.
Much like the Super Bowl a week before, it was billed as a great matchup, and like SB XLXI, it lived up those lofty expectations, without a head-scratching call at the end.
Or interference from the stewards.
There were nine horses in the San Antonio, but the focus centered on Shared Belief and California Chrome, even though one of those other foes, Hoppertunity, was good enough to win the Grade 1 Clark Handicap a few months back.
The wagering public sided with Shared Belief, narrowly. The 4-year-old gelding was sent off as an even-money favorite, with California Chrome the second choice at 7-5. Hoppertunity was next at 5.70-to-1 and no one else was less than 19.10-to-1.
The wagering, as well as on-track attendance, spoke volumes about the appeal of the showdown as $3,300,676 was wagered solely on the San Antonio and the card's on-track and all-sources handles soared by roughly 33 percent. Attendance at "The Great Race Place" jumped by more than 50 percent to 21,522 from the previous year's figure of 10,043.
What everyone saw and wagered on didn't disappoint.
On the final turn, the duel that never materialized in the Breeders' Cup Classic due to the bumper car antics at the start finally happened.
California Chrome forged to the front, but was immediately challenged from the inside by Hoppertunity and the outside by Shared Belief. Both horses reached the Kentucky Derby/Preakness winner's flank, but Hoppertunity's bid only lasted for several strides before he began to lose some ground.
That left the race to the two champions.
At the top of the stretch, California Chrome's class showed as he inched away from Shared Belief. But in the final furlong, the heart and talent in Shared Belief bubbled to the surface. The gelding collared California Chrome at the sixteenth pole and drew off to a dazzling 1½-length victory.
"I can't even describe that performance," said Hall of Fame jockey Mike Smith, who rode Shared Belief.  "He ranks right up there with the top five horses I have ever been on, with room to grow. It really was so impressive. There's no telling what this horse can do or the potential that he can reach. I think he still has room to grow."
California Chrome was safely second, some 6½ lengths clear of third-place finisher Hoppertunity in a gap that was a crystal clear reflection of the current pecking order among 2015's best horses.
So now the rivalry between the two stands at 1-1, as California Chrome (third) finished ahead of Shared Belief (fourth) in the Breeders' Cup Classic, and the anticipation for Round Three remains as strong as ever.
"It's going to be a great rivalry. It's great for racing and hopefully they'll get a chance to meet a few more times," Smith said.
Both horses are certainly charismatic and great ambassadors for the sport. Shared Belief's graceful strides have carried him to nine wins in 10 career starts, with the lone loss having an asterisk of sorts due to his troubled trip in the Breeders' Cup Classic. Having smack-talking sports radio/television host Jim Rome and his wife, Janet, as part of the gelding's ownership team only adds to his magnetism. Though beaten, do not expect the loss to tarnish any of the love California Chrome's "Chromies" have for their rags-to-riches hero.
Their next meeting --- or meetings --"- figures to be the major storyline of the year, unless a 3-year-old happens to record a three-race win streak, the likes of which the sport has not seen since 1978.
When the rematch happens is the question mark. Shared Belief is expected to return to Santa Anita on March 7 for the $1-million Santa Anita Handicap. California Chrome, meanwhile, is heading halfway across global to run in the Dubai World Cup on March 28, which is understandable. Running for $10 million without Shared Belief in the field makes some sense.
If those plans remain intact, we probably will not see Round 3 until the summer, but it surely will be worth the wait.
Besides, the results of Saturday's Donn Handicap indicate the older division might not be a two-horse show. Constitution and Lea also put on a dramatic race with Constitution holding off Lea by three-quarters of a length to capture the mile and an eighth test.
Both horses fell off the radar in the latter part of 2014, but the Donn showed just how good each one of them can be on their best day. Constitution won last year's Florida Derby, but then was sidelined by a cannon bone fracture. Now he might head to Dubai and challenge California Chrome.  Lea upset Will Take Charge in last year's Donn but did not race for the next 11 months due to a nasty virus.
If those two can stay on track, with the added possibility of stars like Breeders' Cup Classic winner Bayern, Palace Malice, Tonalist and Wicked Strong also joining the mix down the road, the older division could enjoy an epic season.
The 3-year-old division could also be quite interesting after what happened in Santa Anita's Robert B. Lewis Stakes and Aqueduct's Withers.
Dortmund was the favorite among individual entries in last year's first Kentucky Derby future wagering pool --€" and that was before he raced in a stakes.
That stakes debut, the Grade 1 Los Alamitos Futurity, all about fortitude as he dug down and beat a game Firing Line by a head.
The two met again in the Robert B. Lewis and Dortmund's 3-year-old debut for trainer Bob Baffert only added to his growing reputation. After racing together on the final turn, Firing Line and jockey Gary Stevens edged ahead entering the stretch as Dortmund and Martin Garcia briefly dropped back, looking like dozens of other pretenders who were billed as future superstars at two but fell into oblivion at three.
Yet just when some may have started to rip up their future wager tickets on him, Dortmund's tenacity took over.
"At the three eighths pole, I saw Dortmund wasn't responding and I was smiling," Stevens said. "I said 'We'll see what he does' and we were opening up and he was idling. I thought we buried the one we had to beat and then I saw the shadow coming back at me."
Dortmund, the 3-5 favorite, not only came back, he rallied to beat Firing Line by a head.
"Turning for home when that horse (Firing Line) came up on him, for an instant I felt like Bill Belichick of the Patriots. I thought, 'Oh, man, that's too bad.' It looked like that horse was going to go by him, but then he's such a fighter, he just kicked in," Baffert said. "You really don't know about these horses until you put them in that scenario, and that's twice now that he just fought and came on to win like that. That was him."
Dortmund was not the individual favorite in last weekend's second round of Kentucky Derby wagering – that honor went to Breeders' Cup Juvenile winner Texas Red at $9.10-to-1. He was third at $10.70-to-1 but if the Robert B. Lewis is any indication, this big, nearly 17-hand colt could develop into something special.
Even Firing Line, who was 35-1 in the Round 2 wagering, looks like a runner with some bright days ahead of him.
Aqueduct's Grade 3 Withers was not as kind to its favorite. El Kabeir, after two straight graded stakes, finished a surprising second at 1-2 odds with no apparent excuse. After battling for the lead through moderate fractions, he and third-place finisher Classy Class came up empty, as Far From Over flew past them in the final sixteenth to win by 1¾ lengths.
Far From Over is a $550,000 yearling trained by Todd Pletcher, so he certainly has the right credentials for the Triple Crown. Yet his only other start was a maiden win by a nose on Aqueduct's main track on Dec. 12, and before the race he probably was not among Pletcher's starting five for the Derby.
It will be interesting to see what the ridgling develops into, just as it should be fun to watch his enthusiastic owner, Steven Marshall of Black Rock Thoroughbreds, in bigger and more important races. While watching the races with other horsemen and media in Aqueduct's film theater, Marshall ran up in front of the viewing screen when Far From Over launched his stretch bid and loudly rooted his horse home. He even proudly saluted his victorious runner with a phrase that would be censored in most outlets, saying "That's my (bleep)."
Later in the winner's circle, Marshall, who could have passed for a fan in the grandstand with a black coat and baseball cap, seemed emotionally drained when he was asked what the win meant to him and replied, "This is my life."
Yes, it is, for a lot of people, and we now know there just might be a great and thrilling ride ahead of us in 2015 to make all those lives even more satisfying. We can thank a Super Saturday in February for giving us a grand preview of it.
---