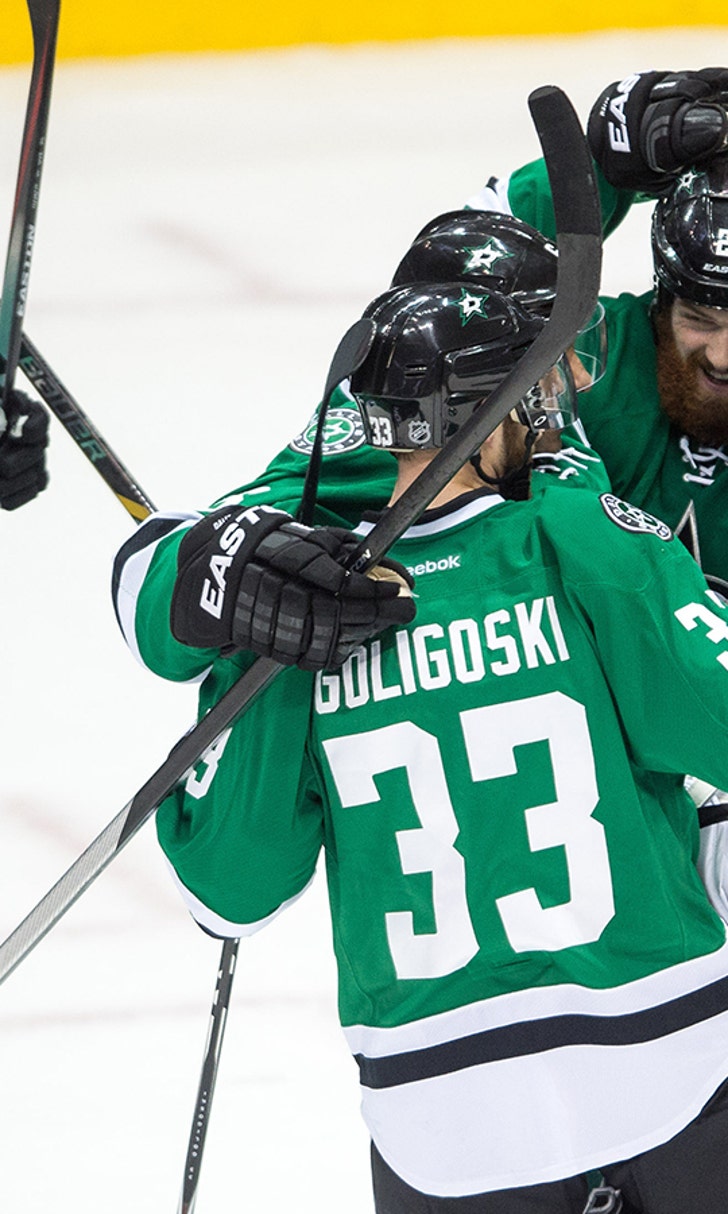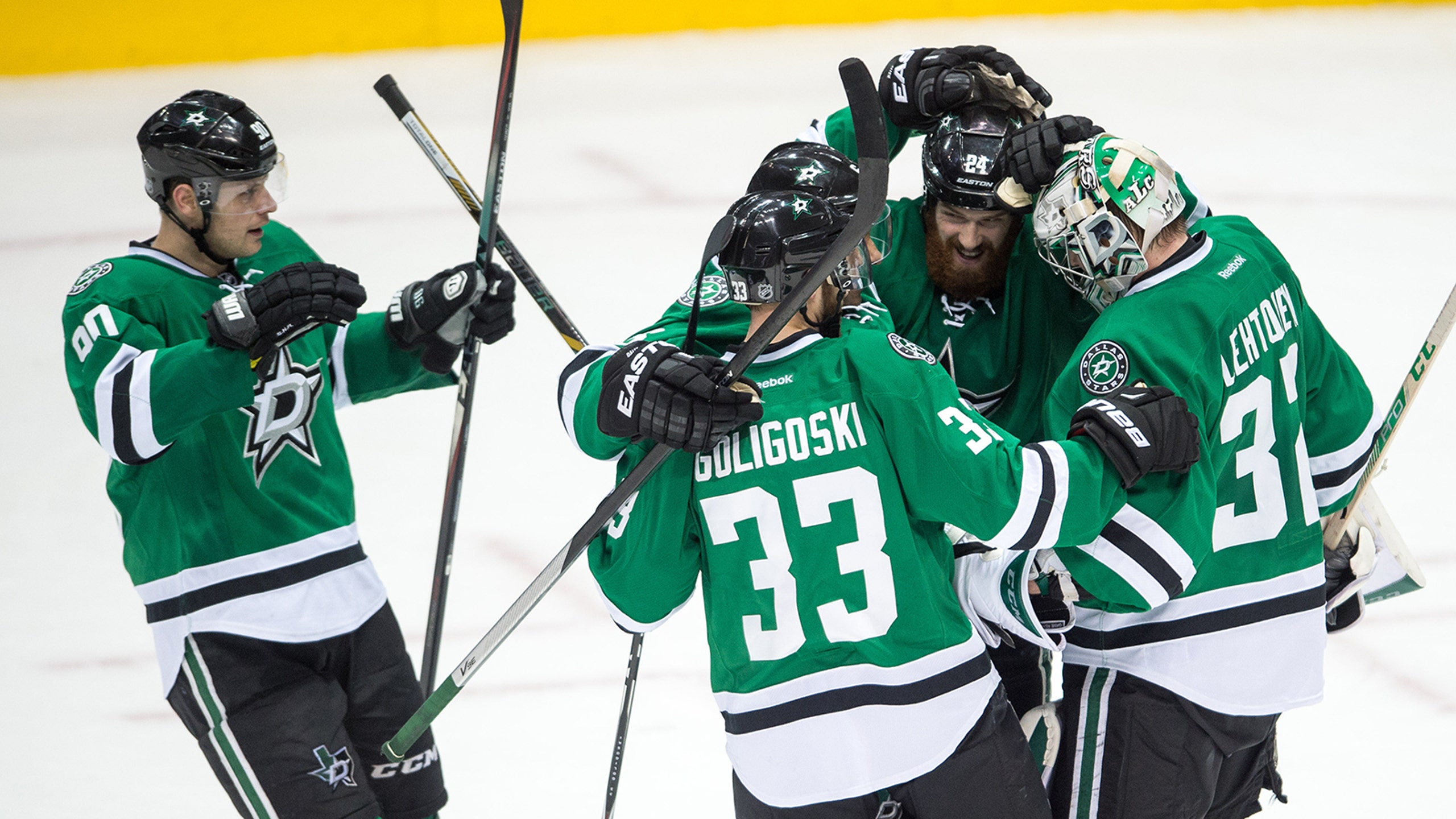 Stars hit road for annual dads' trip
BY foxsports • January 8, 2015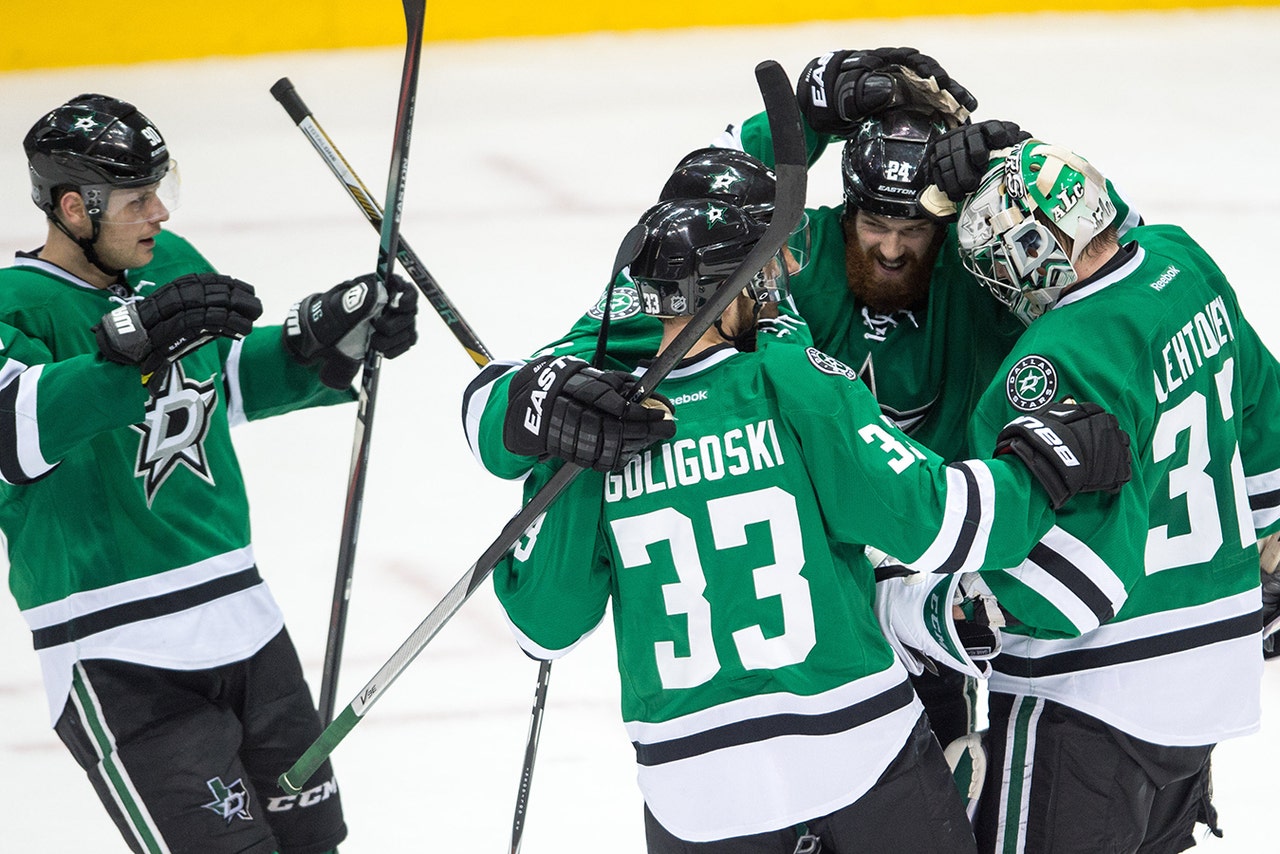 FRISCO, Texas -- Ever since Lindy Ruff became head coach of the Dallas Stars prior to last season, the club has had one road trip per season where the players' fathers are invited to join the traveling party.
It's a practice that has been going on in the National Hockey League for a number of years and it just so happens that the Stars headed out on this year's dads' trip on Wednesday. The first stop will be Nashville to face the Predators on Thursday followed up by a visit to the Pepsi Center to face the Colorado Avalanche on Saturday.
"Two important games for us coming up. We haven't won enough games in our division yet this year and these are two teams that we're going to have to beat if we're going to make the playoffs," Stars center Jason Spezza said after practice on Wednesday, prior to the team departing for the Music City.
Spezza's father, Rino, is one of the dads on the trip.
Dallas last hit the ice on Tuesday night, falling 4-2 to the Columbus Blue Jackets at American Airlines Center, a game sandwiched between road games at Chicago on Sunday and the two games on this trip.
After that loss, Ruff kept things rather light in practice on Wednesday in Frisco, even breaking out the tennis ball drill, an exercise his players had fun with.
And with the dads' trip being this weekend, having their fathers around will definitely help the players forget about what happened against the Jackets and put their collective focus squarely where it should be-on the Preds and then on the Avs.
"I think it (the dads' trip) means a lot. It's a chance to give back to probably the person that helped you the most in most cases, put the most miles on their car. Most of these fathers should have new cars by now, the kids should be able to buy them one," Ruff said. 
"But to travel and to see what the NHL experience is all about, experience the highs and lows of going on the road, winning a game and losing a game, I think it pushes the players to perform at their max. At the same time, it's an opportunity for sons to spend special time with dad."
The following players will have their fathers on the trip: Jamie Benn, Jordie Benn, Erik Cole, Jason Demers, Cody Eakin, Ryan Garbutt, Alex Goligoski, Shawn Horcoff, John Klingberg, Anders Lindback, Jamie Oleksiak, Antoine Roussel, Colton Sceviour and Spezza.
Trevor Daley's uncle will be on the trip as will Kari Lehtonen's brother and Tyler Seguin's mentor.
But it's not just the Stars players who get to bring their dads along, a number of front office personnel are also bringing their fathers on the quick two-game trek, guys who do true Yeoman's work behind-the-scenes for the organization and this is a great way for their dads to see exactly what they do on a typical road trip and also for the organization to show them how much they appreciate their efforts.
Like his teammates, seeing the dads' trip is something Roussel gets excited about. 
"It's awesome. My dad is pumped," Roussel said. "It's kind of cool now because we saw every dad coming in (last year) and we kind of know each other. The ice has been broken and it's nice to get along with everybody."
An interesting aspect of this trip for the gritty No. 21, who has become a huge fan favorite among the Stars faithful, is that this trip will give his father his first opportunity to visit both Nashville and Denver. 
"They get to see good cities. They (Nashville and Denver) are great cities to visit," Roussel said. "It's awesome and it's a great opportunity for them. Hopefully, they are going to bring us good luck just like last year."
That last year which Roussel speaks of is the 2014 dads' trip, one where the Stars went 2-0-1.
The trip starts Thursday night against the Preds at Bridgestone Arena with Nashville currently atop the Central Division standings with 56 points, a big turnaround in the first year under new head coach Peter Laviolette compared to the struggles the team endured last season under now departed head coach Barry Trotz, who is now coaching the Washington Capitals.
Many of Nashville's struggles last season were due to top goaltender Pekka Rinne being injured for a good part of the year. But now that Rinne is healthy and has regained his status as an elite-level netminder in the NHL, other things have started falling into place for the Preds.
"I think him (Rinne) being healthy is, I think that's one (difference). I think two, they've got two defensemen there or a defensive pair (Weber and Josi) that is close to the best in the league and then they got a couple guys with Seth Jones, they got a couple guys underneath now that have matured a little bit.," Ruff said. "And I think they're getting a little bit of offensive flair in their young guys, from (Filip) Forsberg and (Colin) Wilson. They brought a couple new guys in. So, they've got a good mix of some offense in there now, but I think with every team it starts with the guy between the pipes."
Dallas (18-15-5) currently sits fifth in the Central with 42 points and the Stars have only one win against a divisional foe. 
However, Spezza feels that as the halfway point of the regular season approaches on Tuesday, when the Stars will welcome his former team, the Ottawa Senators, to the AAC, that things are definitely going in the right direction after a rough start to the year.
"Well, I think we have an identity now with how we want to play. We're more consistent as a group. I think everybody's kind of finding their roles," Spezza said. "I just think game in, game out we're showing similar effort. Even in games we lose, we're still doing good things. It doesn't seem like there's a lot searching for answers after games. It's more tweaking things and being a little sharper."
---