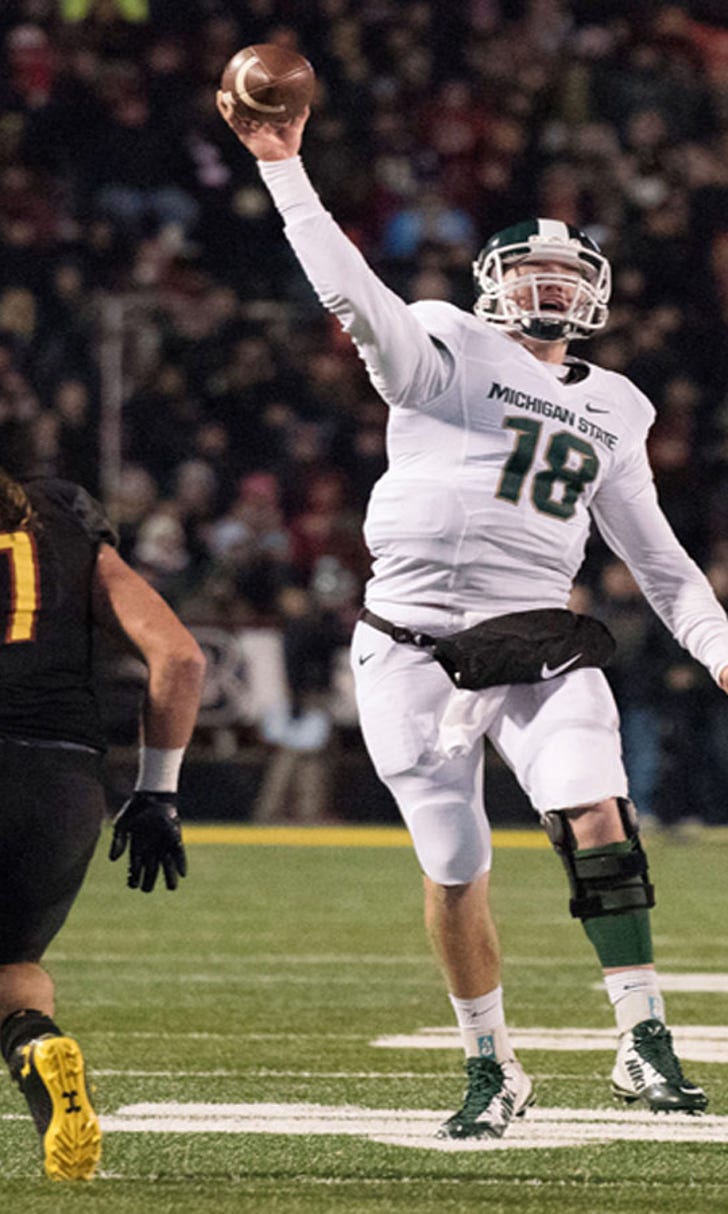 Spartans thrash Terrapins, 37-15
BY foxsports • November 15, 2014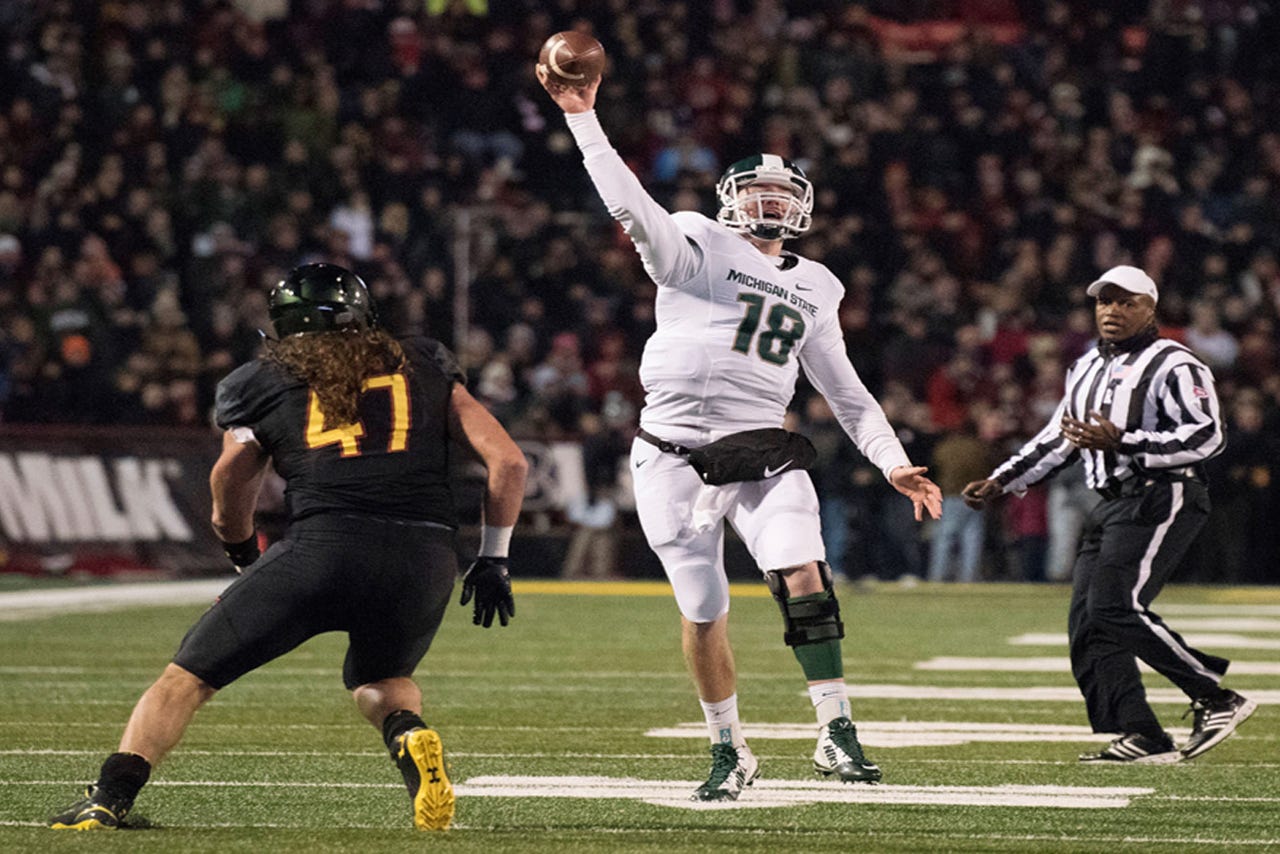 COLLEGE PARK, Md. (AP) -- All week long, Michigan State coach Mark Dantonio expressed confidence his team would bounce back after a disheartening loss to Ohio State.
In truth, Dantonio wasn't really sure how the 12th-ranked Spartans would perform against Maryland. As it turned out, he shouldn't have worried at all.
Jeremy Langford ran for 138 yards and two touchdowns, and Michigan State received a strong performance from its defense in a 37-15 victory Saturday night.
RJ Williamson scored on a 22-yard interception return for the Spartans (8-2, 5-1 Big Ten, No. 12 CFP), whose hopes for a national championship ended with a 49-37 defeat against the Buckeyes.
"Great job by our football team rebounding," Dantonio said. "I felt like the disappointment from last week's game could hang over us a little bit even though we practiced well and all those type of things."
One week after being torn apart by Ohio State, the Spartans picked off three passes, allowed only 6 yards rushing and sacked Maryland quarterback C.J. Brown three times.
"Anytime you have a difficult outing, to come back and play extremely well reaffirms your credibility as a football player and as a football unit," Dantonio said. "That's what we wanted to do, and I think we were able to do that. We sort of returned to who we are this week."
Langford extended his streak of consecutive 100-yard games against Big Ten opponents to 14, although 68 of those yards came in the fourth quarter when the outcome was no longer in doubt.
His second touchdown made it 30-7 with 7:06 left, and a touchdown run by Nick Hill with 3:15 to go enabled Michigan State to set a school record for points in a season (438).
Senior quarterback Connor Cook went 14 for 31 for 240 yards but failed to throw a touchdown pass for the first time this season.
Michigan State set a school record with its ninth consecutive Big Ten road win and remained in contention for the East Division title.
"The mood is good," Dantonio said. "This was a business-as-usual type game."
Playing in its first season in the Big Ten, Maryland (6-4, 3-3) has lost to Ohio State, Wisconsin and Michigan State by a combined 141-46 score.
Three interceptions, a fumbled punt and 6 yards rushing attributed heavily to this defeat.
"I thought that we had some opportunities tonight and put ourselves in position to get a win," coach Randy Edsall said. "But we didn't take advantage of some of the opportunities that we had. Going into the game, the one thing we talked about is we knew we couldn't turn the ball over. We turned it over four times.
"You can't do that against a top-20, top-15 team and expect to win."
Brown completed 20 of 43 passes for 240 yards. The Terrapins were in the game until Williamson caught a pass deflected by teammate Taiwan Jones and took it into the end zone for a 23-7 lead with 1:06 left in the third quarter.
"We got great pressure on the quarterback," Williamson said. "We just wanted to come out here and redefine ourselves. Last week wasn't Spartan football. We wanted to come out here and play with a chip on our shoulder."
The Terrapins played without leading receiver Stefon Diggs, who was suspended for one game by the Big Ten for his part in a pregame scuffle at Penn State on Nov. 1.
Despite dropping several passes, flubbing at least two potential interceptions and committing two turnovers, Maryland trailed 9-7 late in the first half before one more glaring error shifted momentum toward the Spartans.
After Keith Mumphery caught a short pass from Cook on the left sideline, Anthony Nixon botched the tackle and Mumphery sprinted 62 yards to the Maryland 3. Langford ran it in from the 8 for a 16-7 lead.
Playing at Maryland for the first time since 1944, the Spartans drew a sellout crowd of 51,802 -- a good portion of them dressed in Michigan State green and white.
Early on, it became apparent Brown and the Terrapins would have trouble moving the ball.
After Michigan State's opening possession ended in a punt, Kurtis Drummond dropped a potential interception on Maryland's first offensive play. He made amends on third down, picking off an overthrown pass by Brown to set up a field goal by Michael Geiger.
On the Spartans' next possession, Cook connected with Macgarrett Kings on a 50-yard pass play on third-and-8 from the MSU 13. That led to another field goal.
Although the score didn't accurately illustrate Michigan State's dominance in the first quarter, the statistics did: 143-11 in yardage, 6-0 in first downs and 26-9 in plays.
---