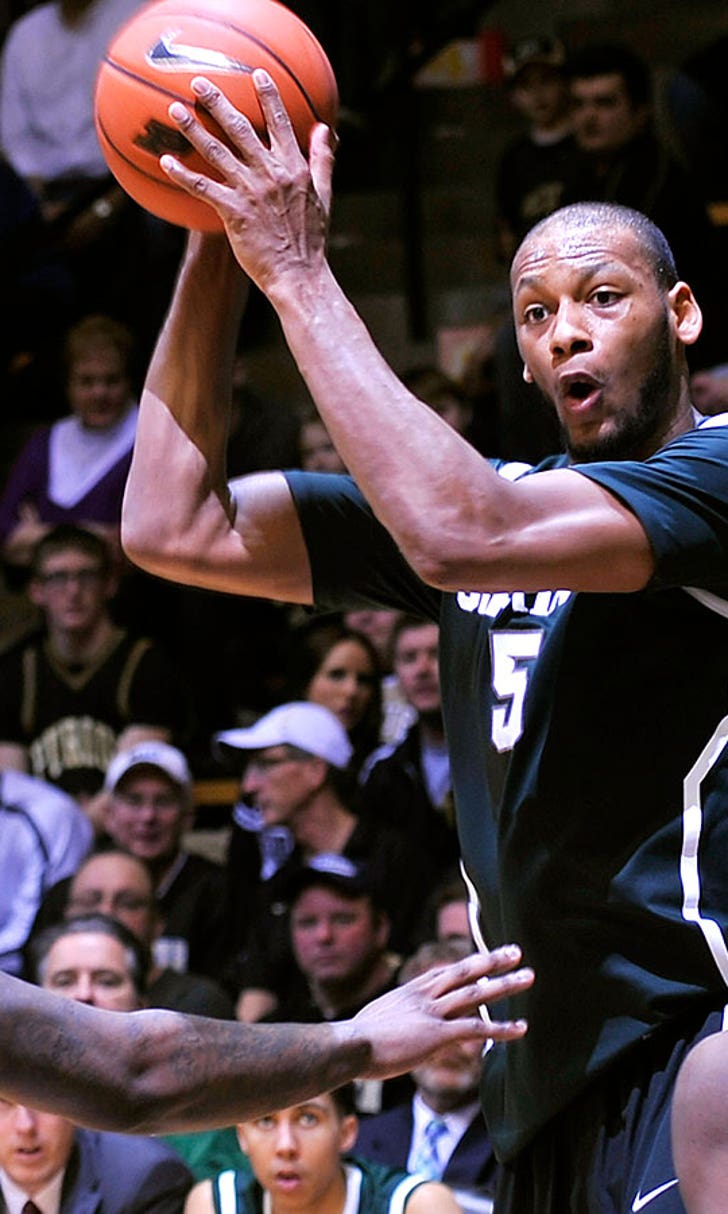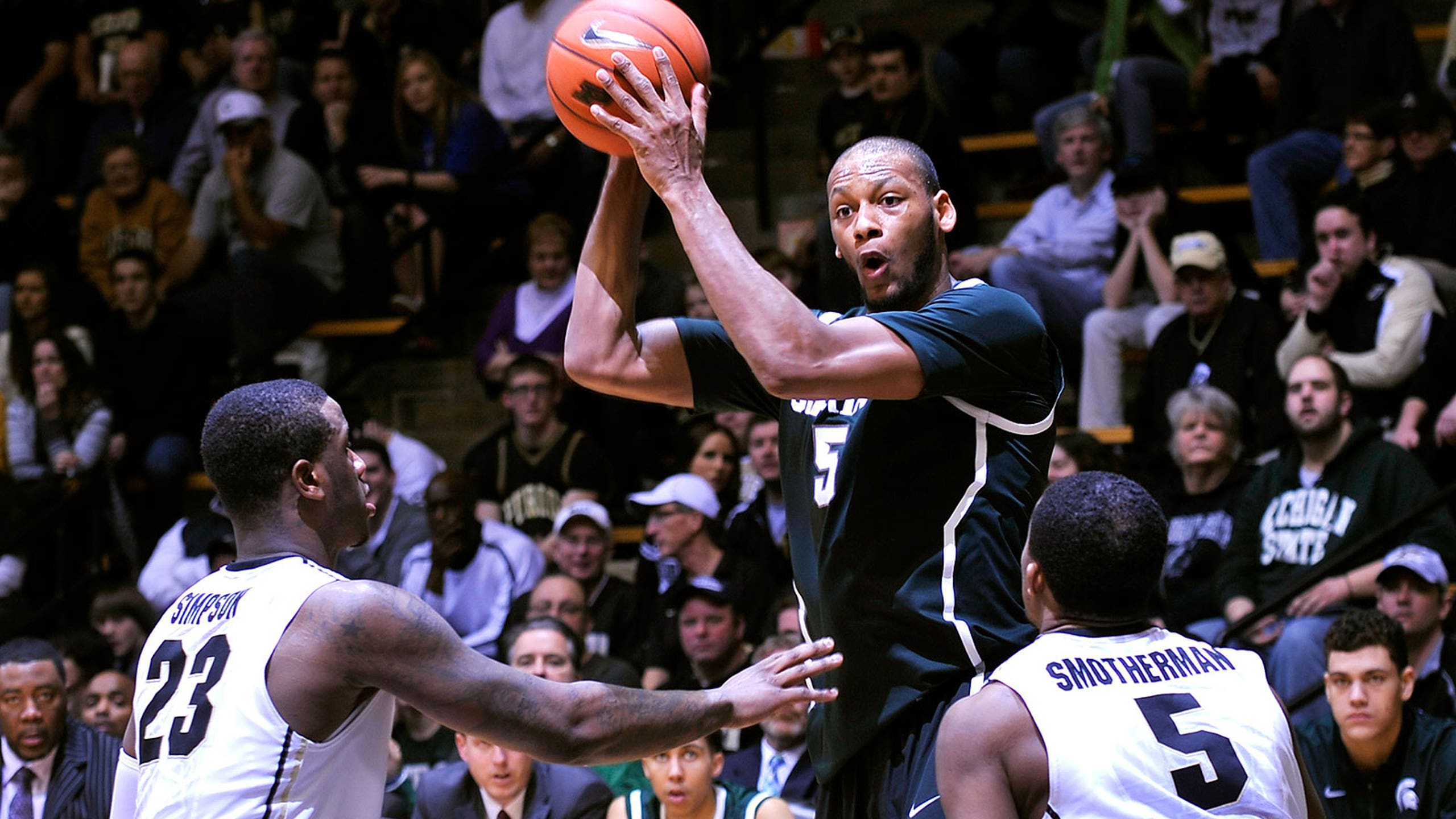 Spartans' Payne could be difference-maker in Ann Arbor on Sunday
BY foxsports • February 21, 2014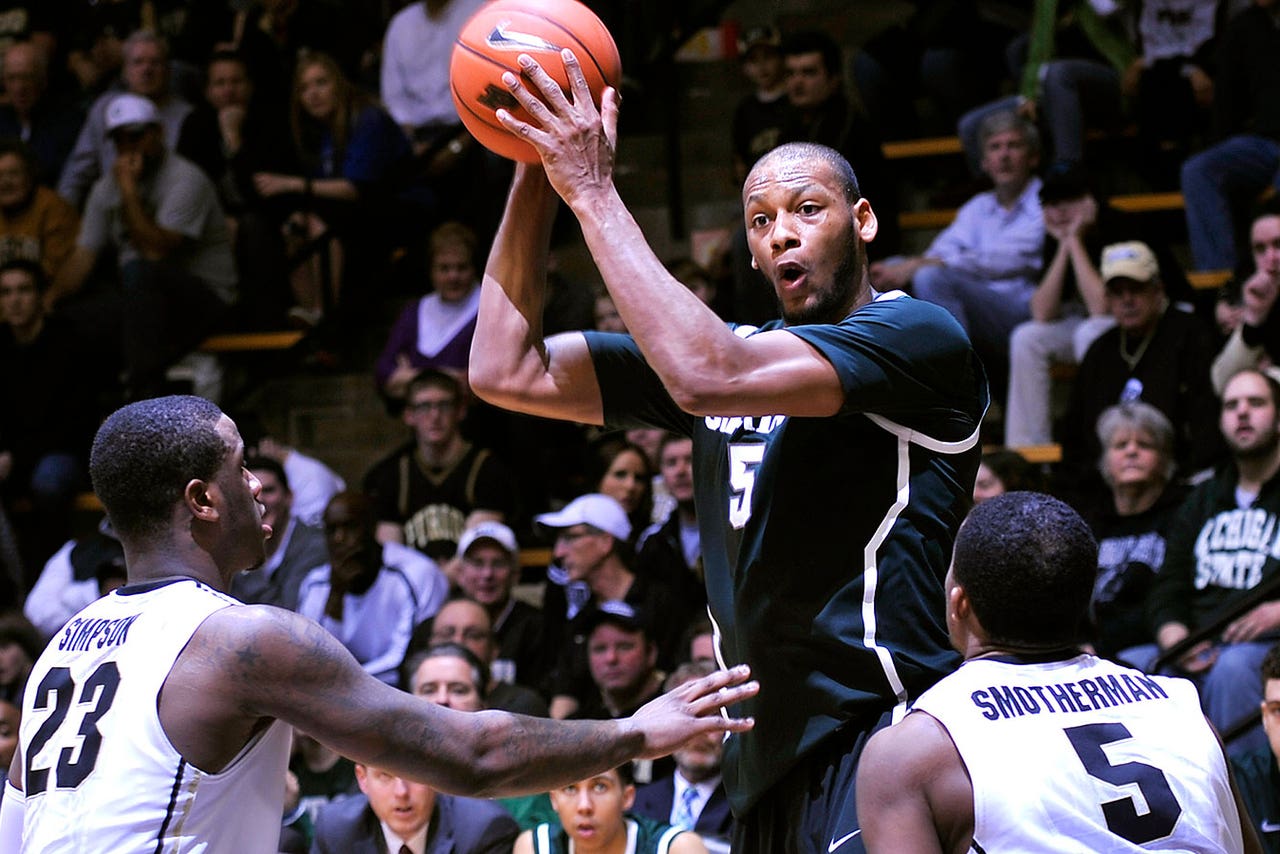 EAST LANSING, Mich. -- The last time Big Ten front-runners Michigan and Michigan State met, four weeks ago, Wolverines guard Nik Stauskas blew kisses to Spartans fans after an 80-75 victory at the Breslin Center.
Also after that game, Spartans power forward Adreian Payne limped off the court wearing a protective boot, having missed the fifth of seven games because of a sprained right foot.
The winner of Sunday's rematch game (noon, CBS-TV) in Ann Arbor will be in first place. With only two weeks left to play, the No. 13 Spartans (21-5, 11-3) and No. 20 Michigan (18-7, 10-3) might also be deciding the conference regular-season championship in this one.
Payne figures to make a big difference in this meeting -- particularly since the Wolverines are still without dynamic center Mitch McGary. A star during last year's Michigan run to the NCAA championship game, McGary had back surgery on Jan. 7 and is out indefinitely.
That leaves Payne, a 6-foot-10 senior, as the premier post player in the Big Ten. He's averaging 16.7 points and 7.5 rebounds.
There isn't a Big Ten forward or center scoring at a higher clip, and only Indiana's Noah Vonleh is averaging more rebounds with 9.5.
Northwestern coach Chris Collins, after first playing MSU without Payne and then facing him last week, said the Spartans were an entirely different team with him in the paint.
"Payne is as good as any front-line player that we've played against all year long," Collins said. "He's a great player."
After dominating Northwestern with 20 points and 14 rebounds, MSU coach Tom Izzo said of Payne, "He sure has been a monster. I'm proud of him. I'm happy for him."
In spite of the sprained foot, Payne played against Ohio State on Jan. 7, scoring 18 points and grabbing six rebounds in an overtime victory. But he missed four weeks and seven games after that, and it was frustrating.
I asked Payne what he recalled about having to sit and watch U-M rule on his home court last month.
"It was tough," Payne said. "It was real tough -- especially not being able to help my team in that game and knowing that I could have helped so much."
Payne scored 23 at Purdue on Thursday night, hitting four three-pointers for the second time this season and pushing his accuracy behind the arc to .441. He's visions of Rasheed Wallace at times -- a big man canning threes.
Payne can beat you inside and outside, and in the five games since returning, he's averaged 18 points and 6.8 rebounds, missing nary a beat.
"It surprised me," said Payne, who uses his physical skills, timing and maturity to take over games "I don't know what to say about that, but I was able to just come back and play like normal."
His 38-inch, no-step vertical jump is the highest recorded by any Spartans player in Izzo's 19 seasons -- and that includes two-time NBA Slam Dunk Contest winner Jason Richardson (2002 and 2003).
The Wolverines had a 34-30 rebounding edge in the last game. U-M guard Caris LeVert was able to slice through the lane for a team-high eight rebounds.
But now Payne will be back in the paint, and the Wolverines will rotate athletic Jon Horford (4.9 points, 4.6 rebounds) and brawny Jordan Morgan (4.9 points, 4.2 rebounds) on Payne.
The Spartans still are without small forward Branden Dawson (10.2 points, 8.7 rebounds), who has been out since breaking his hand in anger while watching game videotape before the last game with U-M.
Michigan State point guard Keith Appling is one of the conference's top players. He averages 13.9 points (12th in the Big Ten) and ranks second with 4.9 assists, but was ineffective in returning on Sunday after missing three games with a sore right wrist. He had two points, two turnovers, one assist and three rebounds in 19 minutes.
On Thursday night at Purdue, Appling missed the only field-goal attempt he took and scored his only point by going 1-for-3 on free throws. He did dish out nine assists.
Can the Wolverines shut off Appling's distribution because he doesn't have to be played honest without a healthy shot? That could be a key to the outcome on Sunday.
Michigan State, when healthy, could be as talented as any team in the NCAA tournament. Only time will tell if the Spartans can get back to full strength.
For now, though, they have Payne back, and he figures to make a two-game sweep of the regular season series quite a challenge for the Wolverines.
BY THE NUMBERS: The Wolverines are 5-2 in the last seven meetings with MSU, which dominated with an 18-3 run prior to U-M taking both games in 2011 ... Gary Harris scored a career-high 27 points for the Spartans in the last game with the Wolverines, who were led by 19 apiece from Stauskas and freshman point guard Derrick Walton Jr. ... U-M leads the conference with a .479 shooting percentage, and MSU is second with a .391 field-goal percentage defense ... The Wolverines lead the conference with .393 accuracy on three-pointers, while the Spartans are next at .387. MSU's 222 three-pointers are the most in the Big Ten, and U-M is next with 209.
---