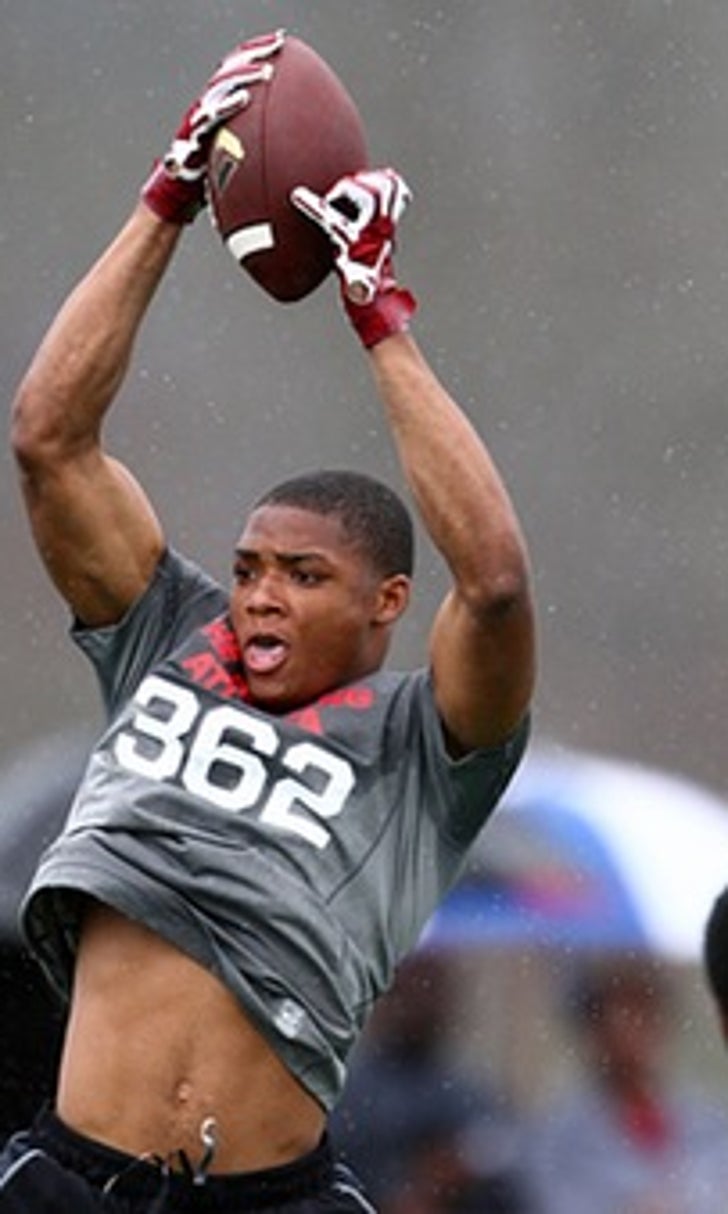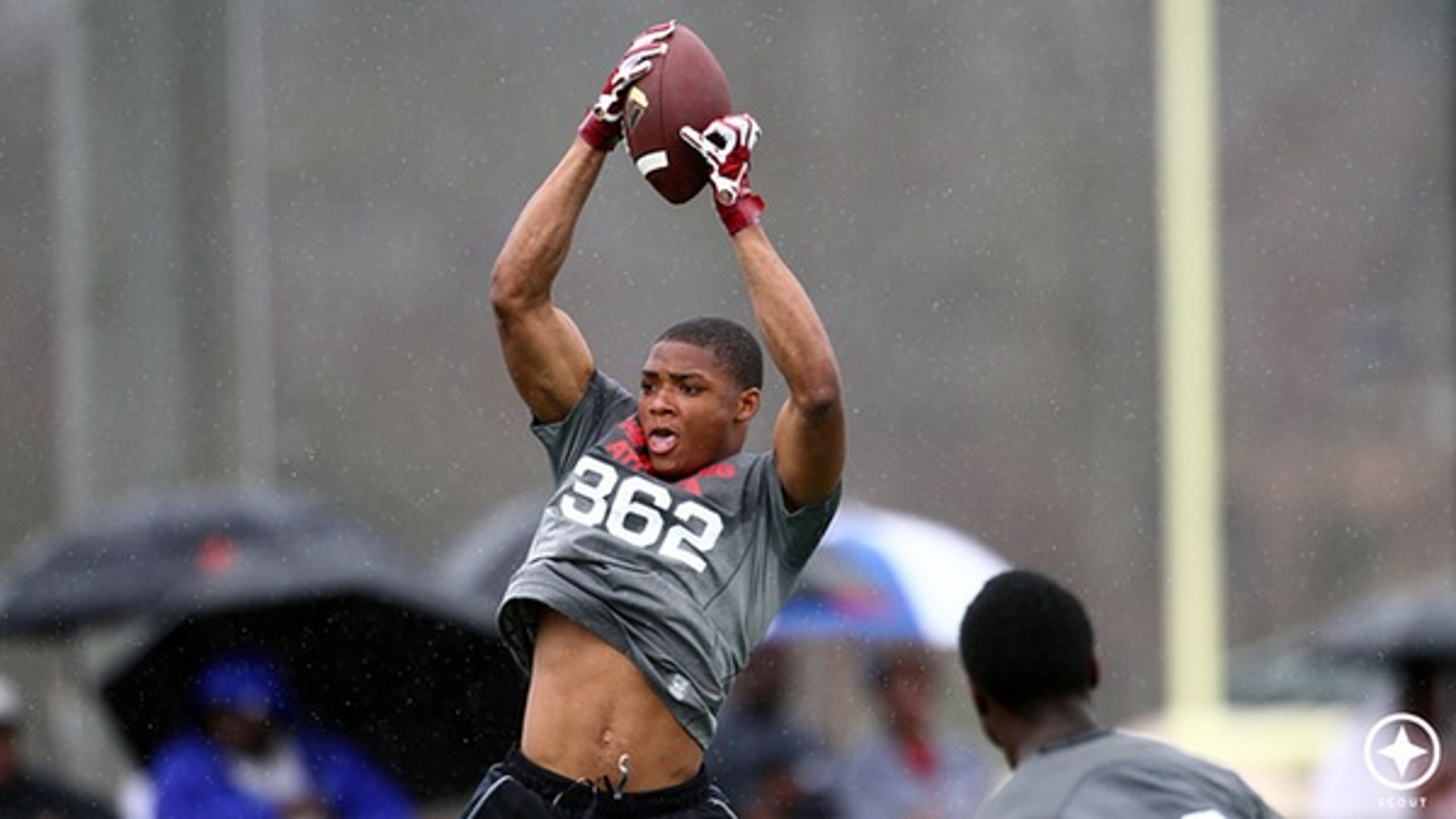 Southeast Recruiting Notebook
BY foxsports • March 23, 2015
Over 500 names were on the pre-registered list and while there were not that many on the three football fields Sunday, The Opening Atlanta was still loaded.
Through the rain, wet conditions, and slippery surface, here are 12 class of 2016 prospects who stood out to Scout.
A.J. Brown ' No. 30 WR ' 6-2/211 ' Starkville (Miss.)

I think Brown surprised some with his speed Sunday. He was consistently getting behind talented defensive backs and he was showing a burst out of his breaks. He has college-like size now and he is very strong, but speed really stood out Sunday. No favorites right now, but Alabama, Auburn, Mississippi State, and Ole Miss among others are all in pursuit.
Tyler Clark ' No. 20 DT ' 6-3.5/292 ' Americus-Sumter (Ga.)

Only three offers for this young man is very surprising. While still very raw, he flashed elite quickness off the ball Sunday and blew by the offensive linemen numerous times during the 1-on-1s. Very strong and showed that as well. Georgia is the current leader over Auburn. This four-star will see new offers in the near future.
Jamal Couch ' No. 22 OLB ' 6-4/214 ' Central (Ala.)

What an explosive athlete Couch is. He is listed as an outside linebacker, but should be called an athlete. He worked out at tight end and wide receiver Sunday. He is committed to FSU, so is he the next Kelvin Benjamin? It is not out of the question. He is long, he is explosive off the ball, and while his hands can improve, he was really impressive high-pointing the ball Sunday. Jimbo Fisher has to be happy with this get -- Couch could play a number of positions.
Ben Davis ' No. 7 OLB ' 6-4/233 ' Gordo (Ala.)

It is not easy for a linebacker to stand out at an event like this, but this Scout 100 linebacker did just that. It was nasty, wet, and slippery, but the way Davis moved in the open field and in coverage was impressive. For a guy his size to stay with receivers and show the agility he did really caught my attention. Likely an Alabama and Auburn battle, but is giving others a look.
Antwuan Jackson ' No. 52 DT ' 6-3/273 ' Cedar Grove (Ga.)

Explosive off the ball is what Jackson is. He showed a very quick first step and reaction to the offensive lineman Sunday. He is going to be a true three-technique that can get penetration consistently on the next level. He used his hands well and showed strength, but is was his quickness that stood out most Sunday.
Kobe Jones ' No 52 DE ' 6-4/252 ' Starkville (Miss.)

There may not have been a more impressive defensive lineman than Jones on Sunday. From start to finish, he was always in the top group, whether it was drills or 1-on-1s. When he fired out low, he was hard to handle. This Mississippi State has offered and the Bulldogs are thought to be the early leader. Jones showed good strength, he worked his hands well, and he won many more battles than he lost.
D.K. Metcalf ' No. 5 WR ' 6-3/210 ' Oxford (Miss.)

If anyone took more reps Sunday at wide receiver, show him to me. This Ole Miss commit seemed to be up at the front of the line all afternoon and he did not disappoint in any way. He showed he could catch the ball underneath or get behind defenders deep Sunday. He uses his body well against coverage and looked like a receiver preparing for a college season, not one more in high school.
E.J. Price ' No. 8 OT ' 6-6/311 ' Archer (Ga.)

Price was hungry Sunday and the Scout 100 offensive tackle competed hard, cheered on his friends, and earned an invite to The Opening. He worked some at guard and tackle and he really separated himself from the group during the 1-on-1s -- Price was the best OL there. He is so light on his feet with long arms and the ability to play left or right tackle. Michigan is his No. 1 school right now with Georgia right behind the Wolverines.
Jordan Smith ' No. 46 DE ' 6-6/215 ' Lithonia (Ga.)

Smith is a different player than he was a year ago. He is still lean and needs to add weight and strength, but he is more confident, he has more moves off the ball, and he is still very long and fast to the quarterback. If there is a prospect that could see a star added to his profile after this event, it is Smith. He is a very flexible defender who could play out of the two or three-point stance. No leaders, but Clemson,Florida State, and Georgia among others are in the race.
Saivion Smith ' No. 1 CB ' 6-2/185 ' IMG Academy (Fla.)

The No. 1 corner in the country did not disappoint. I did not see him take as many reps as some of the other defensive backs there, but when he did compete, he was elite. His length, feet, and recovery speed seem to always have him in position to make a play on the ball. At the end he received an invite to The Opening as expected.
Elijah Stove ' No. 47 WR ' 6-0/170 ' Niceville (Fla.)

If I had to personally pick a top wide receiver Sunday, it would be Stove based on what I saw. He is a very smooth wideout who made it look easy out there. He was gliding across the field always at least one step ahead of the competition. He caught the ball well and he was very quick out of his cuts. When he got the ball, he got up the field in a hurry. He is a four-star now, and No. 47 at his position, but his stock is on the rise. Auburn, Florida, Georgia, LSU, and Tennessee are his top five.
Nigel Warrior ' No. 7 CB ' 6-0/177 ' Westlake (Ga.)

While roaming the three fields Sunday, I did not see another defensive player make more plays on the ball than Warrior. He flashed quickness, ball skills, footwork, and instincts Sunday on his way to earning an invite to The Opening. He is a Scout 100 prospect and he showed why. Warrior is a prospect who could play corner, nickel, or safety on the next level. He is a Tennessee legacy and the Vols are in the thick of the race, but schools like Alabama, Georgia, and Ohio State are right there too.
10 More who Shined
 Kyle Davis ' 4-star ATH ' Archer (Ga.) ' South Carolina


Malik Henry ' 4-star QB ' IMG Academy (Fla.) ' Florida State


Freddie Swain ' 4-star WR ' North Marion (Ga.)

 




Look for a feature on the underclassmen who stood out most to Scout at The Atlanta Openning later this week.



---