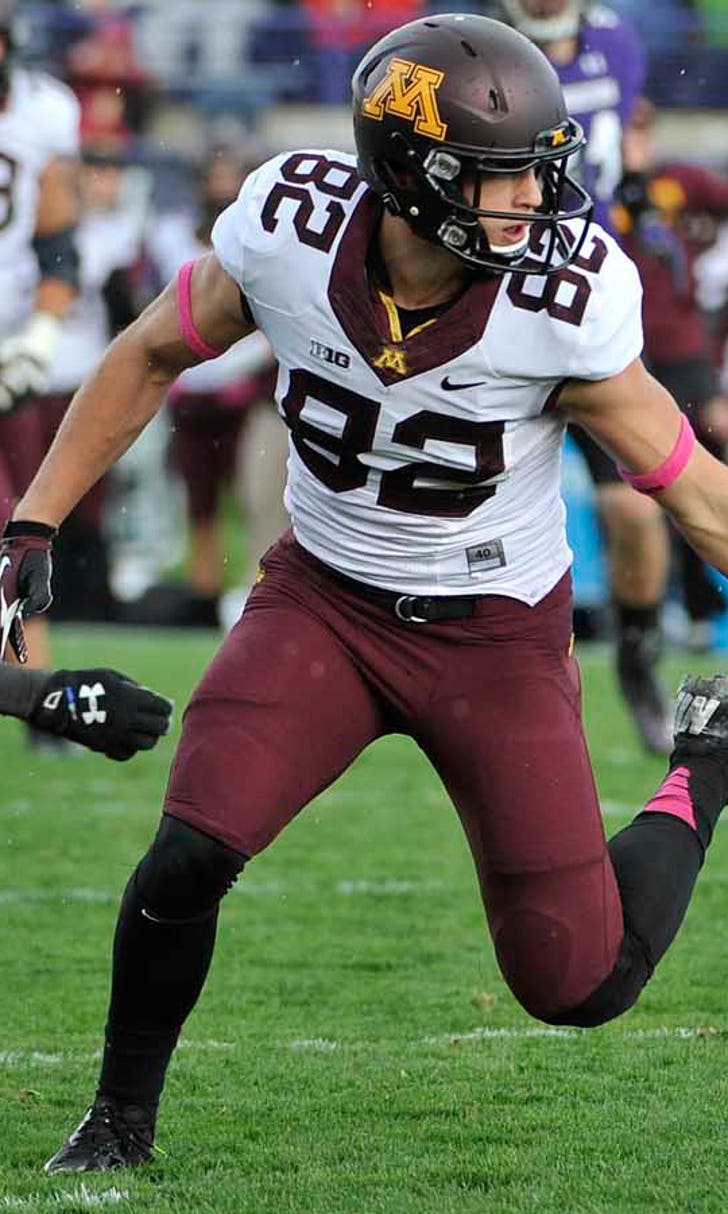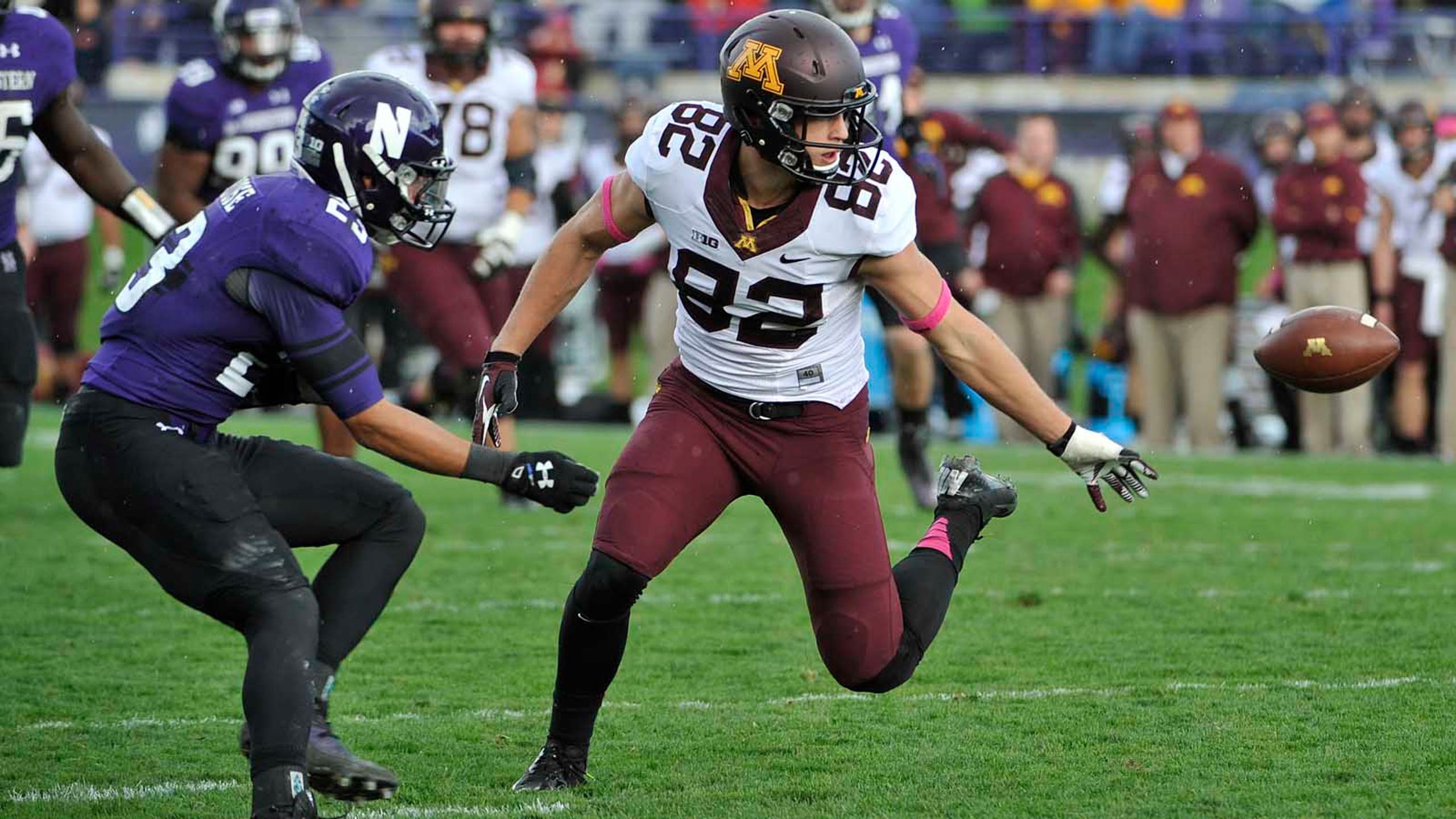 Sophomores take on leadership role in Gophers' young receiver corps
BY foxsports • August 3, 2014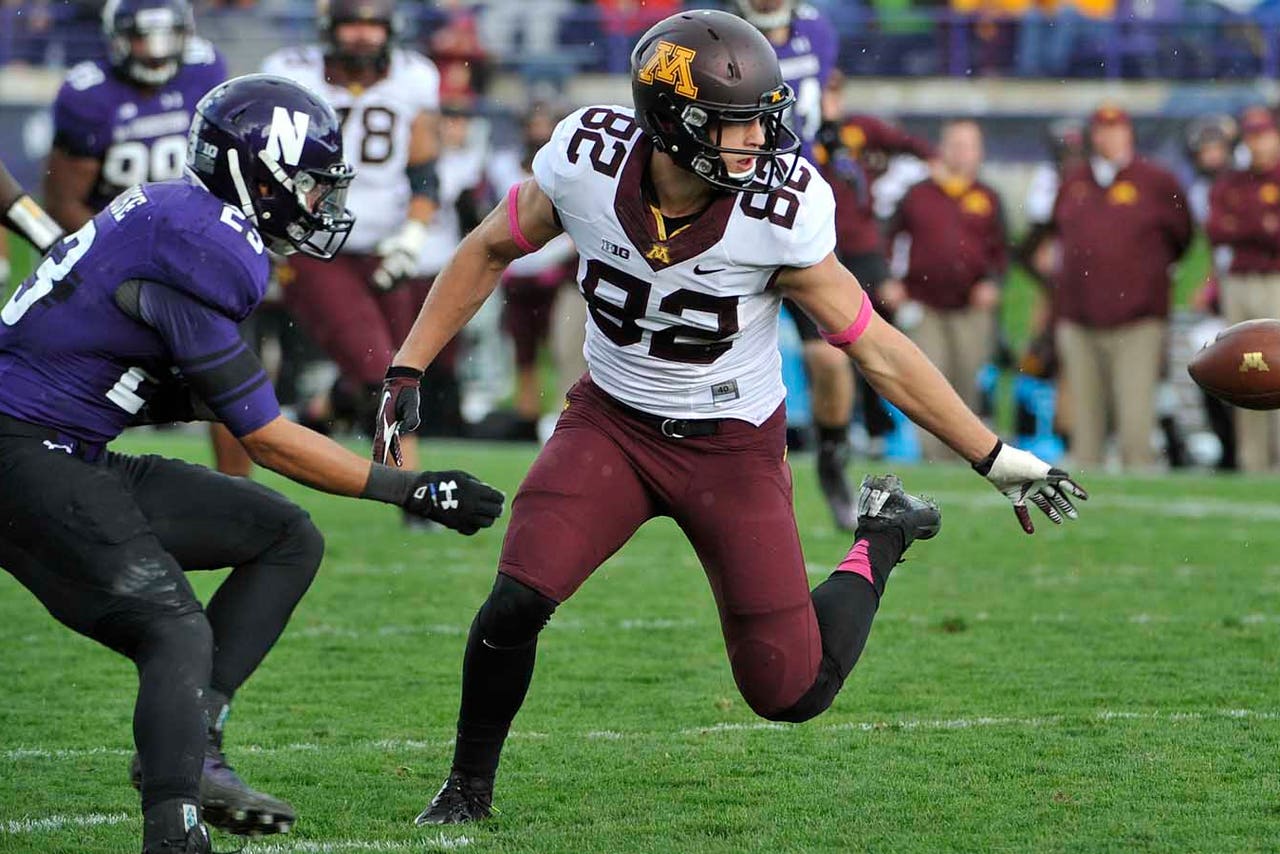 MINNEAPOLIS -- Minnesota wide receiver Drew Wolitarsky is only a sophomore, but he feels like an upperclassman.
With such a young wide receiver corps, Wolitarsky and fellow sophomore Donovahn Jones are already among the elder statesmen, especially when it comes to playing experience. The duo saw plenty of action immediately, as Wolitarsky played in all 13 games and made four starts late in the season.
"I feel like I've been here forever," Wolitarsky joked after Sunday's practice.
Minnesota has 18 wide receivers listed on its roster, and that includes four true freshmen, four redshirt freshmen, and just five upperclassmen. As the Gophers look for an impact player to emerge at receiver, it could be from one of the freshmen. Coaches and teammates have been high on Eric Carter, who redshirted during the 2013 season.
Gophers offensive coordinator Matt Limegrover said Sunday he'd prefer not to play any of the true freshmen receivers this year if he can avoid it, but he likes the talent Minnesota has brought in at the position.
One thing helping that young receiver group adjust quickly to the speed of the game is playing against Minnesota's talented secondary in practice. The Gophers boast some of the better cornerbacks and safeties in the conference, and they're giving the receivers a test in camp.
"We're not going to look good sometimes," Limegrover said. "There's times where we just kind of look at each other on offense and go, 'What are you going to do? That's the throw he needs to make, but the kid made a good play on it.' . . . It's good. It gets you frustrated at times because you feel like you're taking a step back, but then you kind of look at it and go, hey, with what we're trying to accomplish, there's some good things in there against a pretty darn good defense."
Wolitarsky, who came to the Gophers as a decorated prep receiver in California, said he's fully adjusted to living in Minnesota after one year on campus. He finished third on the team with 15 catches for 259 receiving yards, but had just one touchdown in 13 games.
The 6-foot-3, 226-pound Wolitarsky and 6-foot-3, 200-pound Jones fit the mold of a bigger, more athletic receiver than what the Gophers have had in recent years. They'll both be expected to be two of the go-to targets for quarterback Mitch Leidner.
And even though they're just sophomores, they'll serve as mentors to the team's freshmen.
"Like I was telling Isaiah Gentry the other day, what I want to expect from them this year is to be a part of that brotherhood," Wolitarsky. "I told them I didn't really feel it when I first got here. It's really cool, it's all a new experience. But you start playing with these guys and start winning and losing with these guys, you start to build a brotherhood together. I wanted them to start feeling it."
Redshirt senior Isaac Fruechte made six starts at receiver last year and will likely get plenty of reps in 2014. Early in spring, it appears as if Logan Hutton may also factor into the passing game more than he had in his first three seasons when he made just three catches.
Hutton filmed a video on YouTube this summer that showed off his athleticism. He caught two footballs while doing a backflip at the Gophers' practice facility. Given how much he's been targeted in fall camp, he should have a chance to make more than just three catches this season.
"There was a point when we got in here, we had doubts whether Logan was ever going to be able to play for us because he couldn't run, he had a bad knee," Limegrover said. "He was a guy that we said, 'What are we going to do with this kid?' Great kid, we all loved him, but he just couldn't get it done. He could barely even finish practice sometimes. He's just worked so hard. He's a great guy (who) does everything right."
No update on TE Anyanwu: Gophers tight end Duke Anyanwu suffered a knee injury in Saturday's practice, and was on crutches Sunday with his right knee wrapped. The team did not offer any updates on Anyanwu's status Sunday, but head coach Jerry Kill will provide an update following Monday's practice.
Anyanwu didn't make a catch as a freshman in 2013 but figured to make a bigger impact at tight end this year before his injury. A former high school quarterback who converted to tight end with the Gophers, Anyanwu suffered a torn ACL during captain's practice in 2012 and took a redshirt year.
Kickers compete for starting job: While redshirt freshman Ryan Santoso appears to be the favorite to win the starting kicker job, the competition remains open during fall camp. Fellow redshirt freshman Andrew Harte could also compete for that job.
Both kickers saw brief action during the Gophers' two-minute drill Sunday, and Santoso impressed. The 6-foot-6, 245-pound Florida native drilled a 54-yarder with ease. Meanwhile, Harte left his kickoff roughly 50 yards a bit short.
All-Access at camp: Only a handful of people were able to witness the Gophers' first three practices, but a handful of fans patrolled the sidelines this weekend with all-access badges, giving them near free reign of the Gibson-Nagurski Complex.
The 18 fans with the badges were part of the Boys of Fall Elite Camp, the first time the Gophers have done something like this. Along with a front-row seat to otherwise-closed practices, those in the camp were allowed to join the team nearly everywhere. That included meals and team meetings, which allowed them to interact on a personal level with the players. The money spent for the camp went back to help the football program.
The three-day experience ended Sunday, and Monday's practice at 5:15 p.m. CT is the first one open to the general public.
Follow Tyler Mason on Twitter
---