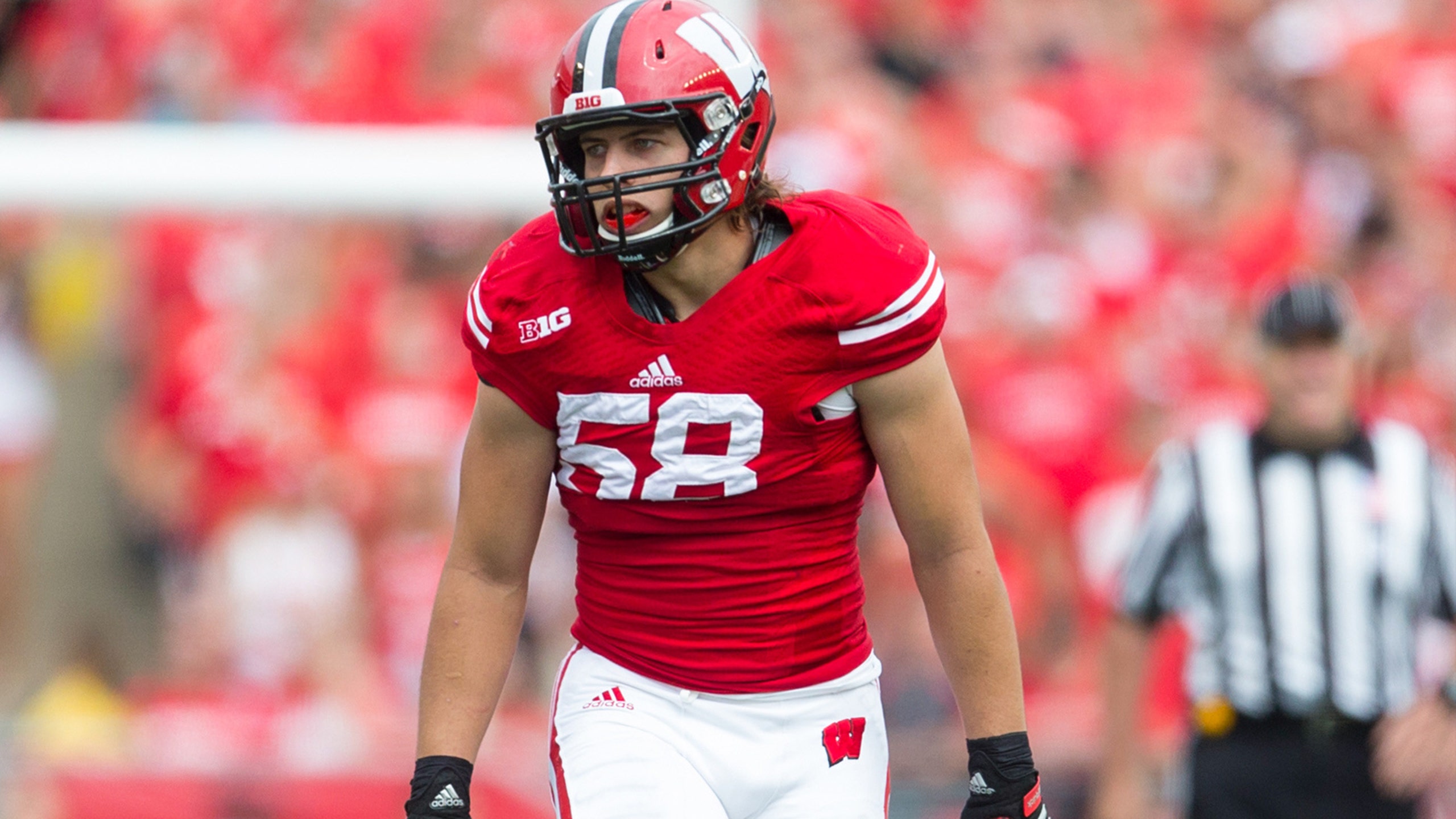 Smooth-playing LB Schobert wreaks havoc on field
BY foxsports • November 20, 2014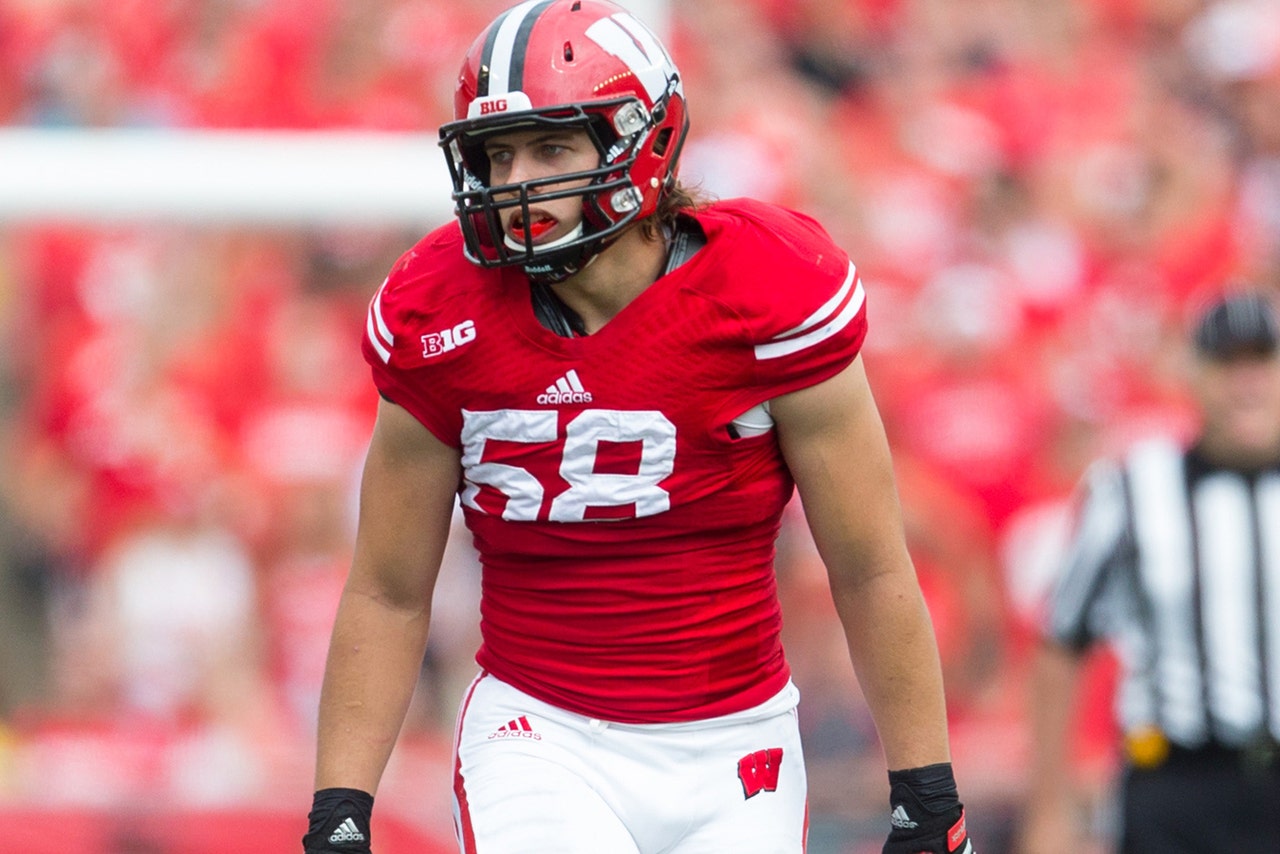 MADISON, Wis. -- There is a certain coolness about Wisconsin linebacker Joe Schobert that people tend to misinterpret for aloofness. He does not possess the manic, in-your-face personality that makes some football players tick, which in turn leads some to assume Schobert simply is not trying all that hard.
His high school football coach used to call him "Sleepy Joe" because of his general lack of emotion at practice. Badgers defensive coordinator Dave Aranda, meanwhile, has taken to calling him "Sinatra" because of the smoothness with which Schobert plays on the field.
But make no mistake about Schobert: On the field, he is as lethal and effective as they come in the Big Ten.
"You put him in tough situations maybe somewhere where there is a conflict, and Joe is able to kind of smoothly move through that and make plays," Aranda said. "He's done that ever since I've known him, so the name kind of stuck. Wow, he's playing well right now. He's gotten better and better."
So much better, in fact, that Monday he was named the Big Ten's defensive player of the week for his performance during Wisconsin's 59-24 blowout victory against Nebraska. He tallied 11 tackles with a team-best 2.5 tackles for loss and recovered a fumble.
Schobert will once again try to wreak havoc in the backfield when No. 14 Wisconsin (8-2, 5-1) travels to play Iowa (7-3, 4-2) at 2:30 p.m. Saturday in Kinnick Stadium, with the winner gaining the inside track on the Big Ten West division championship.
"People just bounce off of him," Badgers linebacker Derek Landisch said. "He's a freak and he makes a lot of plays. He just finds a way to make plays, and he's a great player for us."
Not bad for a guy who didn't have a single Division I scholarship offer out of Waukesha West and was less than 24 hours from heading to play football for North Dakota as a walk-on.
As the story goes, Schobert already had accepted a walk-on offer to the FCS program, when Wisconsin offered an opportunity to walk on and remain in state a day before he was to leave for North Dakota. Schobert said yes to the Badgers even though he had yet to be officially accepted into Wisconsin. A stellar performance during the Wisconsin Football Coaches Association all-star game during the summer of 2012 was the only reason he wound up catching the eye of Badgers coaches.
Not only did Schobert join the team, but he also played in eight games as a true freshman. And he has since earned a scholarship.
"When you take a second to step back and look back, it's kind of amazing how close I came to going up to North Dakota," Schobert said. "They had a great coaching staff up there. I liked them. I thought I would have fit in, but Madison offered at the last second. It was a dream come true for a Wisconsin kid, so I had to jump on it. The rest has been history."
This season, Schobert has taken the next step as a starting outside linebacker for Wisconsin's top-ranked defense. He ranks third on the team in total tackles (54), third in tackles for loss (9.5), fourth in sacks (3.0) and first in quarterback hurries (four). Yet he also is talented enough to play in coverage and leads Wisconsin in pass breakups (six).
Badgers coach Gary Andersen described Schobert as a good pass rusher who was hard to block regardless of which opposing player matched up with him. Schobert also is stout enough in the run game to knock players back and is athletic enough to make opponents miss.
"I think it's more confidence just playing more snaps," Schobert said. "Being able to read and diagnose plays. I think a lot goes on the coaches, getting you prepared. And the whole linebacking core has stepped up in terms of preparation before games. That definitely helps in games reacting to plays and reading formations, pre-snap alignments and all that stuff. That just adds to a growing confidence."
The tandem this season of Schobert, a 6-foot-2, 240-pound junior, and Vince Biegel, a 6-4, 244-pound redshirt sophomore, has proven to be destructive off the edges for opponents. The two outside linebackers have combined for 23.5 tackles for a loss and 9.5 sacks. Schobert described the two good friends' personalities as having a "yin-yang" effect because they are polar opposites and manage to balance the other out.
"Vince is crazy," Badgers linebacker Marcus Trotter said. "He's like a hamster on a wheel, man. He's just always running. Schobert is the exact opposite. He's very calm all the time. It'll be a close game and he's cracking a joke on the field. I'm like, 'Schobert, relax, man. You've got to get the call.' But that's just how he is. Very calm and it's just great to have someone like that when you have guys like Vince."
To further illustrate the differences in Schobert and Biegel, who room together on football road trips this season, Biegel is quick to point out that Schobert is a bit of nerd. When Wisconsin played in the Capital One Bowl last season in Orlando, Biegel said Schobert was the first in line to The Wizarding World of Harry Potter theme park.
"Joe is a little bit different dude, man," Biegel said. "We'll give Joe a hard time here and there about his Harry Potter wands and whatever he has. He's got a whole stack of books of Harry Potter and all kinds of different wizards and dragon books."
Added Aranda: "He's an interesting Wisconsin kid. We're on planes and he's reading Harry Potter. What's the other one with like water dragons and stuff? He's all into it. He can tell you all about fiction."
What is entirely real, however, is the play this season on the field from Schobert, who will continue to blaze a path at Wisconsin as an improving outside linebacker. And, in typical Sinatra form, he'll do it his way.
Follow Jesse Temple on Twitter
---