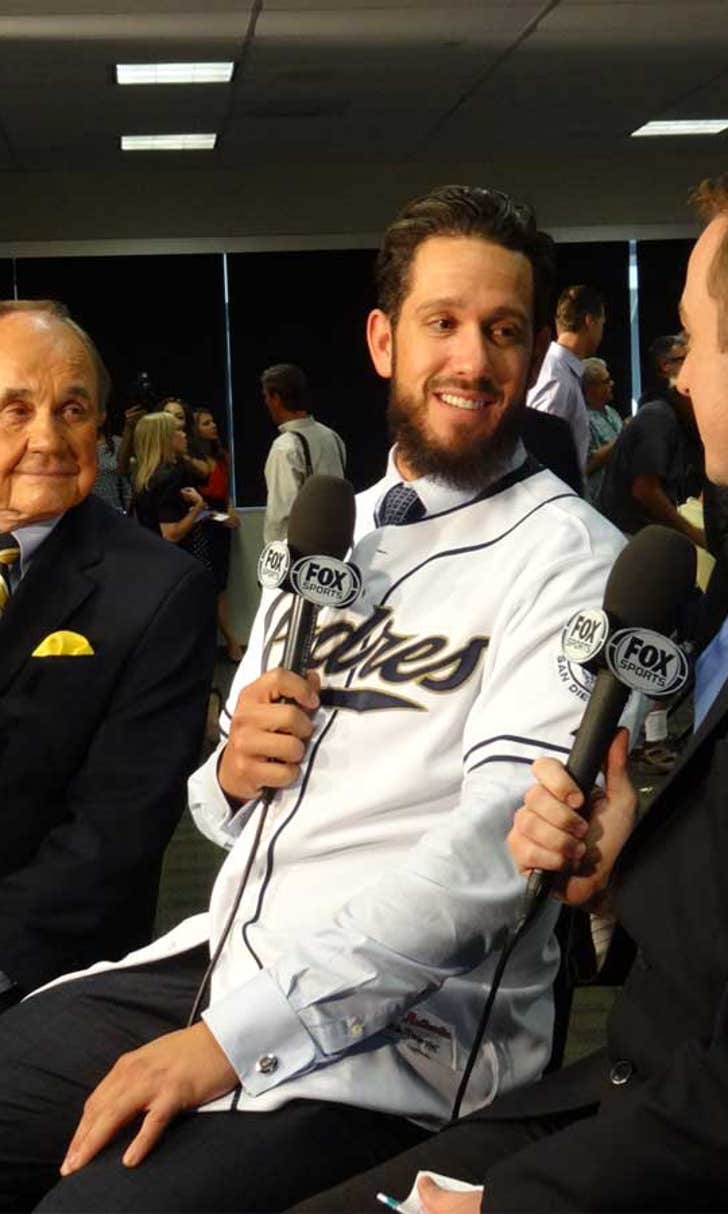 Shields: This is about winning now
BY foxsports • February 11, 2015
It's official: Big Game James is taking his talents to Southern California.
James Shields and first-year GM A.J. Preller recently put pen to paper to make him a member of the San Diego Padres on a four-year contract that's poised to make Shields $75 million richer. It's the loftiest contract—free agent or otherwise—in franchise history.
"(Ownership) made it apparent to me that they want to win," Preller said at the team's press conference Wednesday. "They're willing to give the resources and the support to our baseball operations group and the organization to make it happen. Obviously I think we've had an offseason that's made headlines to try to improve our ball club. We had a chance to go get a finishing piece, or a piece that we felt put us in a very good position going forward."
The right-handed Shields, who turned 33 in December, will be paid $10 million in his first year with the Padres. The remaining $63 million will come over the next three years, with a fifth-year team option in 2019 for $16 million. Absent of a no-trade clause, Shields' contract makes him eligible to be traded throughout his tenure in San Diego.
Considering he was fielding offers from several other teams, the veteran pitcher had to make a choice on where he would spend most of his days on the mound. But after seeing Preller make moves for Matt Kemp, Justin Upton, Wil Myers, Will Middlebrooks and Derek Norris, Shields had a pretty good idea of where he wanted to go.
The Shields signing only reaffirms Preller's pursuit to create a contender out of a team that has only managed to offer suspect talent on the field over the last couple of seasons. It's an acquisition that will only help Bud Black take his team past the regular season for just the third time since he was brought on to manage the team in 2007.
"This is good stuff; this is the making of a good team," Black said. "There's some pieces we have to fit, some things we have to do to work out in spring training but we like this group."
After accumulating a 114-90 record as a starter in the American League, Shields is excited to play in the opposing league—but it has nothing to do with what he's capable of doing on the mound at the pitcher-friendly Petco Park.   
"I'm real excited, I've been telling guys that I can hit my whole career and now I've got a chance to do it every five days," Shields said with a laugh.
Shields comes to San Diego fresh off of a 2014 campaign that saw him and his former Kansas City Royals just one win away from measuring their fingers for World Series rings. It's fair to say he knows how to win, but it won't all be on him, Shields said. It's going to take every man on the roster and then some to get this team over the hump.
"I really feel like it's important to tell the fans here that it does help that you guys are right behind us on an every-night basis," Shields said. "I can't tell you how many times the fans brought us up last year and got us to the Promised Land. The fans are just as important as us players."
---