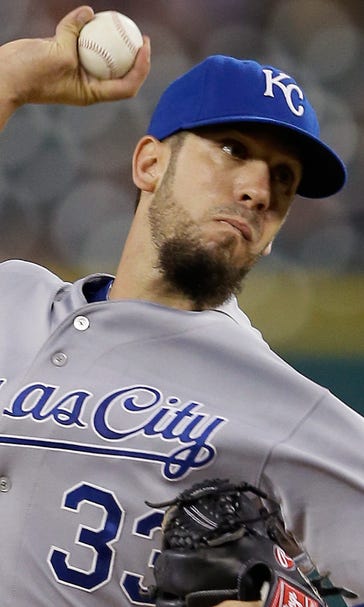 Shields shuts down Tigers, prevents sweep
September 10, 2014

DETROIT -- They don't call him "Big Game James" for nothing.
Kansas City Royals starter James Shields (14-7) did what he seemingly always does, the Royals hitters managed to scratch across a few runs and then their highly touted bullpen finished off the Tigers in a rain-soaked 3-0 shutout, preventing a sweep.
Tigers second baseman Ian Kinsler led off the game with a single before getting picked off and then the Tigers got nothing until Torii Hunter singled in the seventh.
Shields, who appeared bothered by the wet mound, walked Miguel Cabrera but escaped the inning without any damage done.
Shields allowed just the two hits and one walk while striking out eight in seven innings, running his scoreless innings streak to 18 1/3.
"He was effective and threw the ball well," Kinsler said. "It's pretty typical of him. He throws the ball consistently all year, he pitches 200 innings every year. He's one of the most consistent guys in the league."
Shields has also been a very consistent road pitcher, going 20-5 with a 2.48 ERA in his last 36 road starts and reaching 10 road wins in back-to-back seasons.
"This is a big series," Shields said. "We didn't want to come in and get swept. This was a big win for us. Obviously we wanted to win the series, but we came out and did our job and got the win."
Rick Porcello (15-11) bounced back from a poor outing against the San Francisco Giants, allowing just two runs on seven hits while striking out seven, yet he still took the loss.
"I thought the guys played great," Porcello said. "This was like a little mini-playoff series. Everybody was up for it, everybody was excited, a lot of energy, and we played well. (Wednesday night) the rain played havoc with it, and Shields was outstanding -- he didn't make one bad pitch the whole night. You just gotta tip your cap to a guy like that."
After Shields left, Kelvin Herrera and Wade Davis came in and threw a perfect eighth and ninth.
Davis is having one of those magical seasons. He has the longest active scoreless street in the majors with 30 2/3 innings.
The Tigers won two out of three and have 16 games left, including three in Kansas City Sept. 19-21.
"Let's be realistic. It's tough to get a sweep in Major League Baseball," Tigers manager Brad Ausmus said. "They're a pretty good team. James Shields is a pretty good pitcher. Are we disappointed? You're disappointed every time you lose but we didn't give this game away. They beat us. They pitched better and they hit better. That happens. 
"But the big picture is we won two out of three, we gained a game since they arrived. We still got plenty of time."
NOTE: Left-hander Phil Coke started the eighth inning but had to leave after fielding Eric Hosmer's bunt single. The Tigers said Coke had a muscle spasm in his low back and he would be reevaluated Friday.
---