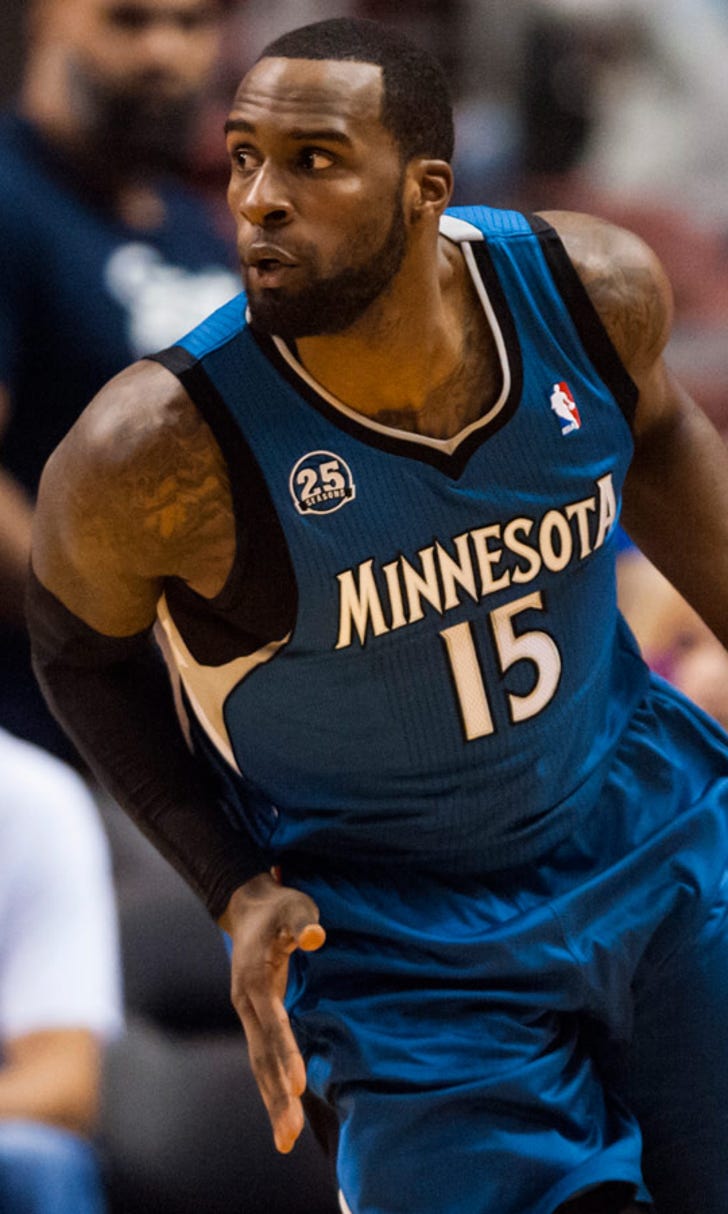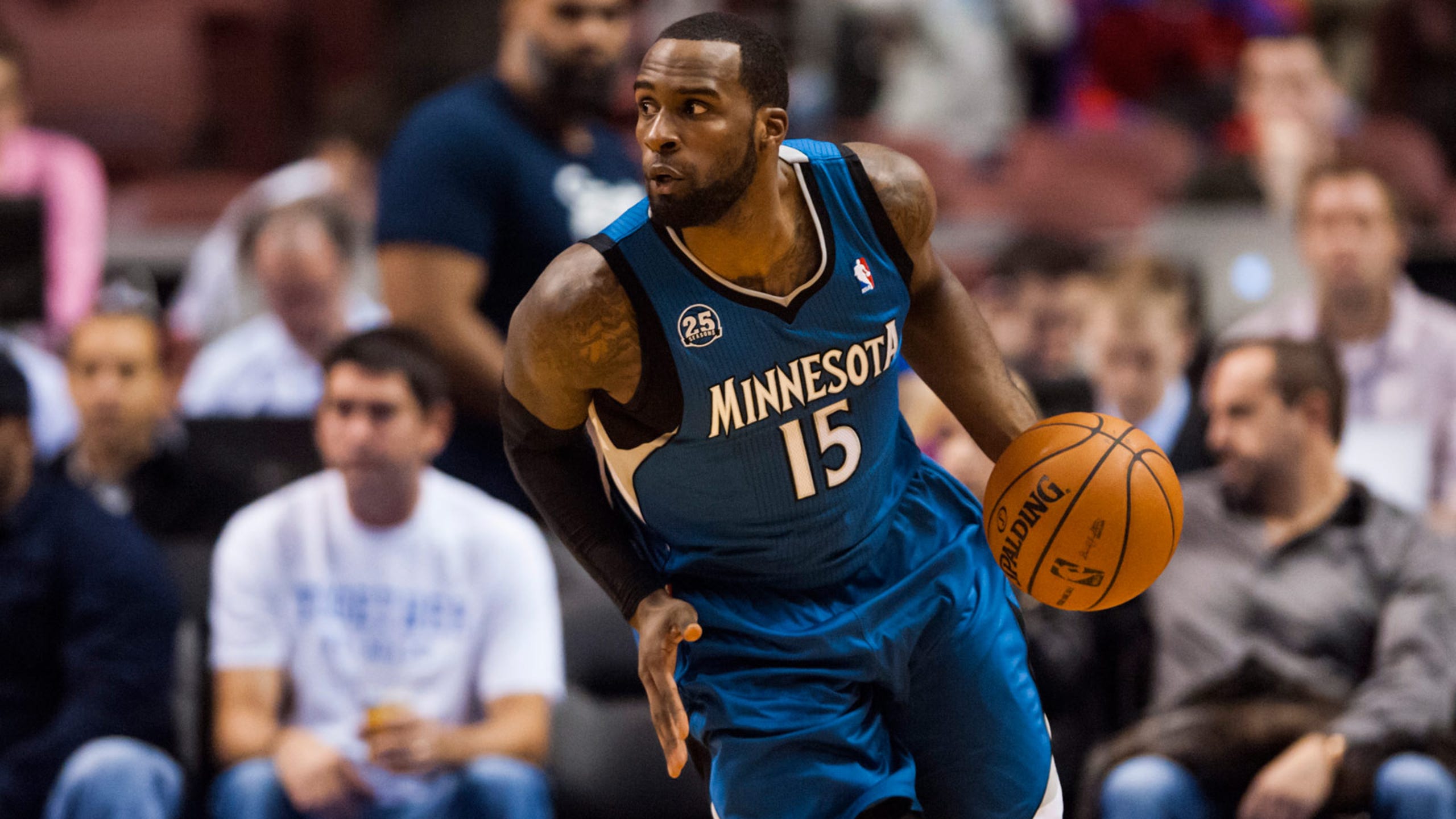 Shabazz finally freed, rewards Wolves with key minutes
BY foxsports • February 26, 2014
Somewhere, the Red Hot Chili Peppers' bassist can once again rest contently.
Before what was supposed to be Shabazz Muhammad's first collegiate basketball game, Peppers string slapper Flea played the national anthem at UCLA's Pauley Pavilion, a powder-blue t-shirt with "Free Shabazz Muhammad" scribbled across the front adorning his semi-tattooed torso (he wore the shirt again during this year's Super Bowl halftime show). Muhammad had been suspended for the Bruins' 2012 opener after the NCAA determined he accepted three impermissible benefits during three recruiting visits.
The consensus No. 1 prep recruit in the nation that previous season, Muhammad was eventually cleared to play and went on to become the No. 2 scoring freshman in Bruins history, though he perpetuated his reputation as a self-centered player along the way.
It was that same Vegas kid with a nose for scoring who came to the Twin Cities this offseason on a mission to squelch that perception, born from his run-in with the NCAA, sulking after a teammate hit a game-winning shot and heinously low assist numbers for such an apparently special talent. He's spent most of his rookie season with the Timberwolves waiting.
But lately, circumstance has freed Shabazz again.
Tuesday night in the desert, it unleashed him.
In what will either go down as the 2013 No. 14 overall draft pick's inaugural breakout or a mere blip on a mostly disappointing radar screen, Muhammad scrapped his way to a season-high 20 points on 8-of-13 shooting and six big rebounds that pushed Minnesota over the top in a much-needed win at Phoenix. Half his points and all but one of those boards came in the fourth quarter, in which Muhammad never left the floor -- by far the most significant minutes of his fledgling professional career.
And it wasn't any of his soft jumpers or deft left-handed turnarounds that had the 21-year-old satisfied afterward. It was a trio of rebounds inside the final two minutes that helped the Timberwolves seal victory and improve to 2-1 on their current five-game road swing.
"I mean, I want to help my team to win, and I think I just tried grab those rebounds, and we kind of secured the game after that," Muhammad said. "So just was satisfied with that, and got some big baskets, too, so I'm just satisfied that we got this big win."
Muhammad's rim-attacking prowess was already somewhat evident, appearing in garbage-time spurts and a dominant NBA Developmental League stint earlier this year. His equal tenacity on the boards has been discussed after many a workout since training camp but rarely seen outside of closed practice settings.
But All-Star power forward Kevin Love isn't surprised.
"We see it all the time from him," Love told the team's official website after Tuesday's win. "And he's a rookie, so he's still learning the game. He's going to get better."
Tuesday wasn't Muhammad's first open door. The combined absence of Nikola Pekovic and Kevin Martin has coach Rick Adelman scrambling to find effective rotations, and Muhammad's played between 11 and 24 minutes in each of the past three contests as a result. Feb. 8 with Love, Martin and Pekovic all sidelined, Muhammad was on the floor for 16 minutes, 45 seconds of action.
But in Minnesota's 53 other contests, the 6-foot-6, 222-pound former Las Vegas Bishop Gorman High School prodigy hasn't played more than 10 minutes. In 36 of them, he hasn't appeared at all.
The lack of a place for Muhammad in the rotation -- a product of Martin, Corey Brewer and, later, Chase Budinger occupying ample time on the wing -- prompted president of basketball operations Flip Saunders to send him to the D-League. In four games with the Iowa Energy from Jan. 7-12, he shot 57.1 percent and averaged 24.5 points, 9.8 rebounds. 1.8 assists and 1.5 steals per game.
Then he returned to Minnesota and resumed helping keep the bench toasty.
"I've really waited," Muhammad said. "I've been patient. I've been working in the gym all day with the coaches, and it's paying off."
It certainly did Tuesday and likely could again. Adelman has little choice but to at least consider giving Muhammad more minutes -- especially with top two-guard Martin out of the mix.
But in return, Muhammad has to stay ready, Adelman said.
"Sometimes, young people don't take that to heart when they're not playing," Adelman, whose team has three days off before facing Sacramento on Saturday, told the team's website. "We told him all along that it's a long season here, and he had an opportunity with all the injuries, and he really produced."
Follow Phil Ervin on Twitter
---