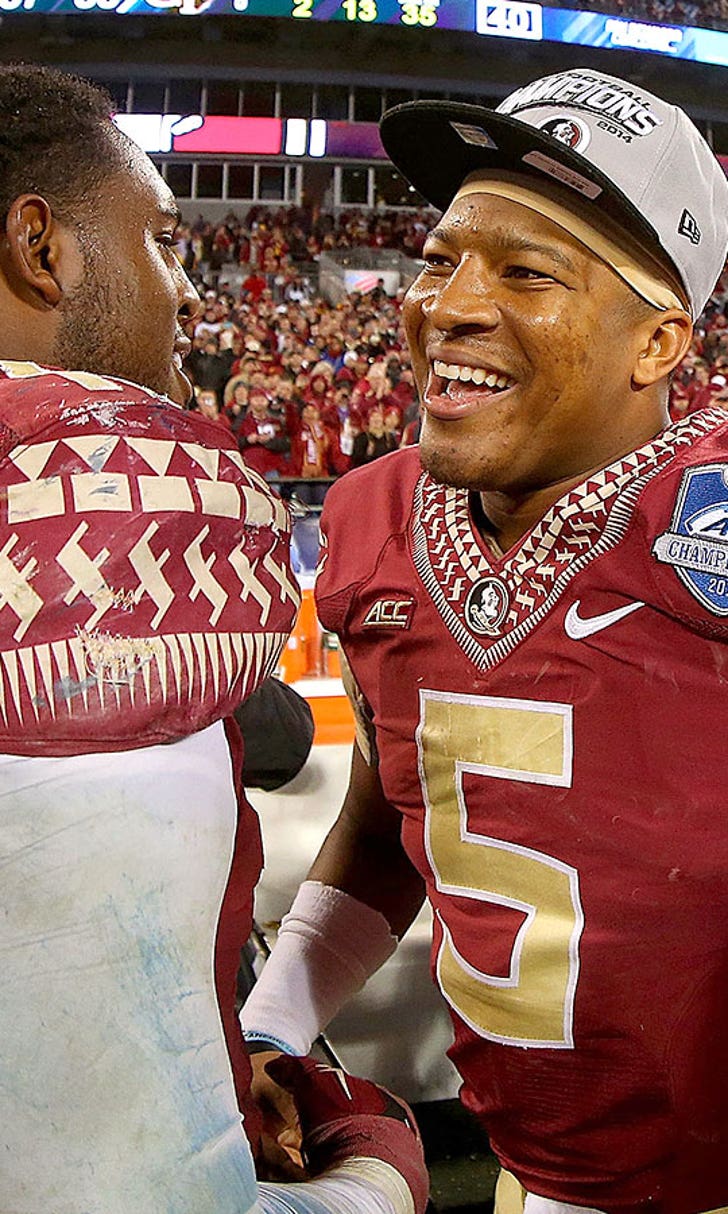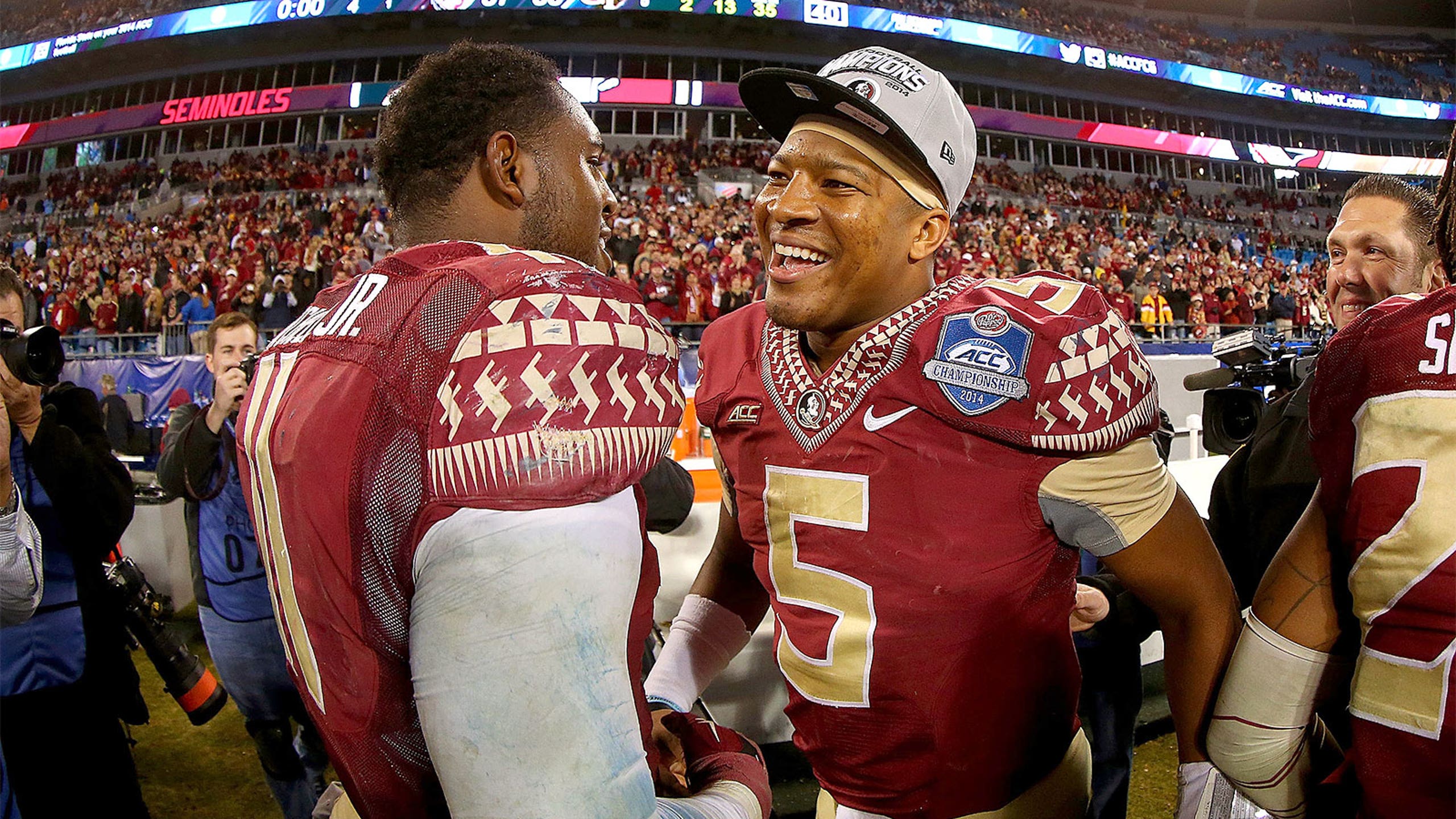 Seminoles take step back statistically in 2014, but find ways to win
BY foxsports • December 10, 2014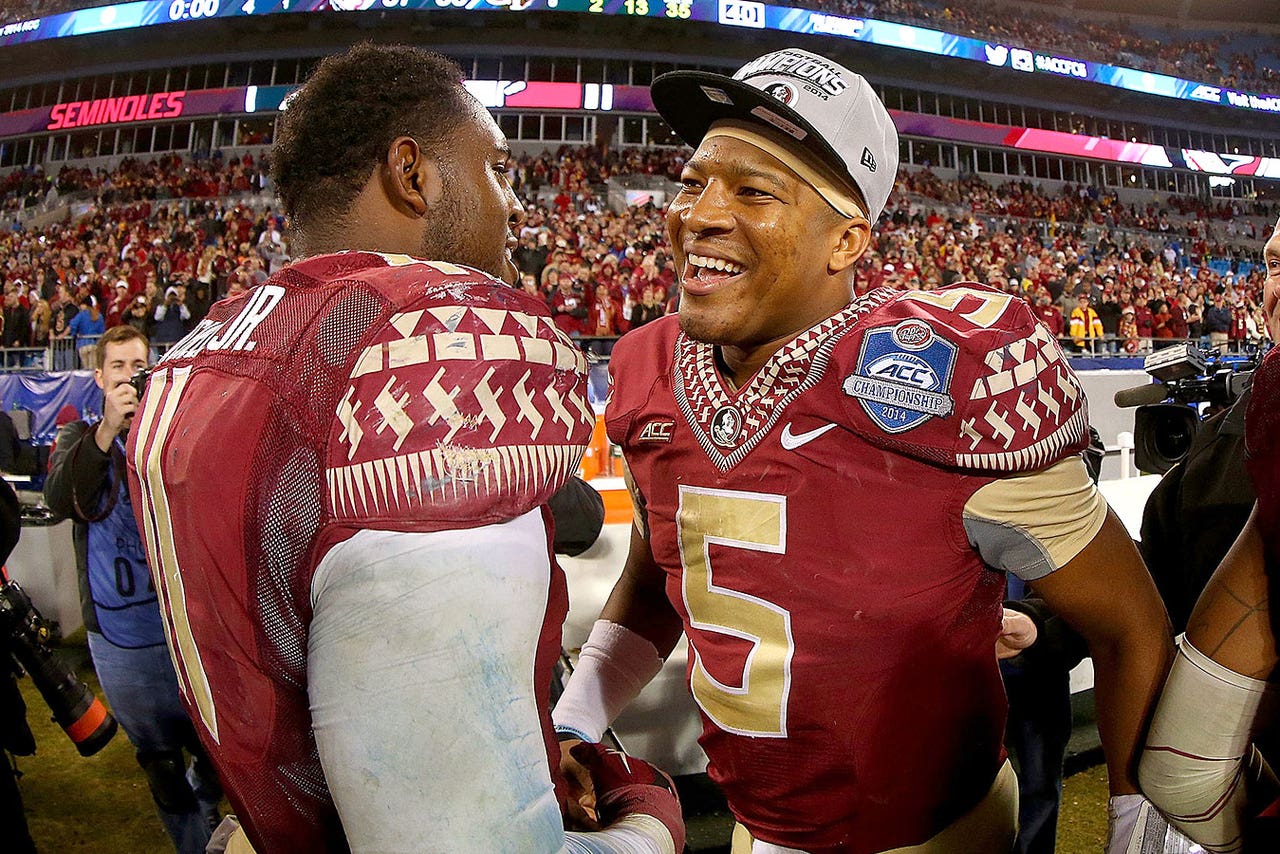 Coming off an undefeated, BCS National Championship season in 2013, the Florida State Seminoles entered 2014 ranked No. 1 in the nation and staring down insanely high expectations.
With their victory over Georgia Tech in Saturday's ACC Championship Game, FSU completed their second straight undefeated regular season. They were certainly not as dominant and lacked the pageantry of last year's record-breaking squad, but the Seminoles still find themselves seeded No. 3 for first College Football Playoff and will take on the Oregon Ducks on New Year's Day in the national semifinal taking place in the Rose Bowl.
Led by reigning Heisman Trophy-winning quarterback Jameis Winston, Florida State found a way week after week to come back from deficits as high as 21 points to extend their school-record win streak to 29 games.
It has truly been a roller coaster 13 games for the Seminoles as they've experienced highs and lows throughout the year. However, they're right where they anticipated to be entering this season with two more wins between them and a second consecutive national championship.
REVIEWING THE OFFENSE
Florida State's passing attack was at times explosive and in other instances very pedestrian.
The Jameis Winston to Rashad Greene connection broke records and scorched opposing secondaries all season. Greene finished with an ACC-leading 93 receptions and 1,306 receiving yards as well as tying for third in receiving touchdowns with seven. With Winston ending the season ranked ninth in the nation with 3,559 passing yards it's not surprising that Greene led the country by totaling at least 100 receiving yards in nine out of his 13 games. The senior wide receiver will leave FSU as the school's all-time leader in total receptions (257) and total receiving yards (3,648).
The dependence on Greene though led to some turnovers as Winston would try to force throws to his most reliable receiver. If he didn't look for Greene, Winston's options were TE Nick O'Leary, who was regularly double covered, or a selection of multiple young and inexperienced wide receivers, including freshmen Ermon Lane and Travis Rudolph.
The freshmen made great strides over the course of the season with Rudolph moving into the starting lineup midway through the year. But they still made mistakes like cutting post and flag routes short as well as flattening out slants over the middle. Winston threw 17 interceptions this season and took a step back from his FSU record 40 touchdown passes from a year ago by only totaling 24 TD tosses.
The Seminoles rushing game took a huge blow with running backs Devante Freeman and James Wilder Jr. both entering the NFL draft following FSU's National Championship victory. Entering this year Florida State's backfield was led by Karlos Williams, a senior that had only played one season at RB, and two tailbacks in Mario Pender and Dalvin Cook, that had never played a snap of college football.
Last year's trio of Freeman, Wilder and Williams combined for 2,844 rushing yards and 42 touchdowns, good enough for second in the ACC behind only Georgia Tech's run heavy triple-option offense. This seasons group of backs produced much lower numbers, finishing the year 10th in the conference with 1,753 yards combined and 26 touchdowns.
Although the statistics weren't as impressive, Williams got the tough yards when the team needed them the most and was able to find the endzone 11 times on the year. The senior back was hampered by an ankle injury most of the year and suffered a concussion in a game versus Florida that kept him out of the ACC Championship Game. Through it all, Williams finished with 609 yards on 138 attempts. Pender would sprinkle in quality carries throughout the year, but it was Cook who came on late in the season rushing for 150 and 177 yards in the last two games. He finished with an FSU freshman record 905 rushing yards, the fifth highest individual total in the ACC.
When the running game struggled it could be directly attributed to inexperience and an offensive line that grossly underperformed the entire year.
Entering this season the offensive line had a combined 113 starts between the five players and were thought to be one of the best groups in the nation. An injury to center Austin Barron and a lack of discipline -- second highest penalized team on first downs in the ACC -- led to a disappointing 2014 campaign. After switching first team All-ACC left tackle Cam Erving to center late in the season, however, the line performed much better, leading to higher rushing totals and fewer sacks allowed.
REVIEWING THE DEFENSE
Florida State's defense was the epitome of bend, but don't break. The Seminoles secondary forced 26 turnovers 2013, but were only able to account for 13 this season. FSU ranked second to last in the ACC with 17 sacks and finished the season 51st in the country in total defense.
The secondary, who self-annointed themselves the "No Fly Zone," was affected harder than anticipated by the loss of safeties Lamarcus Joyner and Terrance Brooks to the NFL. Their inexperience in terms of protecting against the deep ball showed as new safeties Nate Andrews and Terrance Brooks allowed receivers to get open behind them game after game. With teams attacking the deep middle, the Seminoles allowed 218 passing yards per game (49th in the country). They allowed 300-yard passing performances to Notre Dame's Everett Golson, NC State's Jacoby Brissett and Louisville's Will Gardner.
All that said, the defense continually came up with timely plays game after game to secure Florida State victories. Defensive tackle Eddie Goldman forced a fumble in a crucial situation late in a game versus ACC rival Clemson that changed momentum and eventually helped FSU, playing without Winston, win in overtime. A Jalen Ramsey interception thwarted Miami's late-game comeback attempt, and second-half adjustments led to the Seminoles being able to control Georgia Tech's vaunted rushing attack, holding them to 117 yards on the ground in the second half.
SPECIAL TEAMS
The Seminoles are fortunate to have the best kicker in America, Roberto Aguayo. The sophomore is once again a finalist for the Lou Groza Award (given to the nation's best kicker) and is attempting to be the first back-to-back winner of the award since fellow Seminole Sebastian Janikowski accomplished the feat in 1998 and 1999.
Aguayo went 25 of 27 on the year and a perfect 53 out of 53 on extra points to lead the ACC and nation. In a game versus Wake Forest early in the season Aguayo kicked a career-high five goals.
Punter Cason Beatty was one of the weakest links for the undefeated Seminoles team. Beatty struggled in the beginning of the year with many people calling for head coach Jimbo Fisher to make a change. Beatty failed to average better than 40 yards per punt in any of the first five games. The junior punter eventually turned it around and finished with an average of 41.6 yards per punt, still only good enough for ninth out of 14 teams in conference.
The return teams, like many aspects of the 2014 team, were not as explosive as last year's. With Kermit Whitfield as the primary kick returner, the kickoff return unit ranked 90th in the country, averaging just 19.6 yards per return. Sure-handed Rashad Greene allowed the Seminoles to secure punts without fumbling as well as producing dynamic returns to set up Winston and the offense in good field position -- completing the year with an average of 10.5 yards a punt return, second in the ACC.
OVERALL
All season long the Seminoles were told they were going to get upset eventually and that they couldn't continue to win all these close games -- but they did. As they prepare to face the offensive juggernaut that is Oregon in three weeks, they are once again being told that this is the game that ends their winning streak (Vegas has them as 8 1/2-point underdogs). The Ducks may be the better team, at least the rankings say they are, but if Florida State has proven one thing this year, it's that you can never count them out.
"Last year's team was dominating, this year's team is more amazing," Fisher said. "It really is. ... They compete together. They have had some struggles together and I think that's what makes them so tight."
---