Selanne sums up jersey retirement ceremony in one word: 'Unbelievable'
BY foxsports • January 11, 2015
There were a lot of speeches made in a span of 93 minutes, but at the end, the entire crowd was rendered speechless. 
As he stood on the Honda Center ice with his family, watching the No. 8 banner be lifted to the ceiling, Teemu Selanne was forever lifted into history as he became the first Anaheim Duck to ever have his number retired. 
It was the culmination of weeks of planning by the Ducks and his wife, Sirpa. A star-studded ceremony that perfectly captured the essence of Selanne himself: Exciting, exuberant, humorous and of course, classy.
But what the ceremony really celebrated was the reach that Selanne had in hockey. From Finland to Winnipeg, down through San Jose and Colorado and of course, Orange County, Selanne became more than just a franchise icon, but an icon for an entire sport. 
Where Wayne Gretzky left off helping grow the sport of hockey on the West Coast, Teemu Selanne picked up.
"I have no doubt that hockey in Southern California, especially in Orange County, wouldn't be where it's at today without Teemu Selanne," said NHL Commissioner Gary Bettman. 
Selanne was recognized by Luc Robitaille and fellow Finn Jari Kurri for being a hockey ambassador. When he was finally introduced to the Honda Center faithful, Ducks' color analyst Brian Hayward joked that he probably knew all of the fans already. But for many, it wasn't really a joke, as Selanne was one of the most fan friendly athletes that any sport has ever seen.
"The professional athlete that we wish all athletes are more like," Hayward said.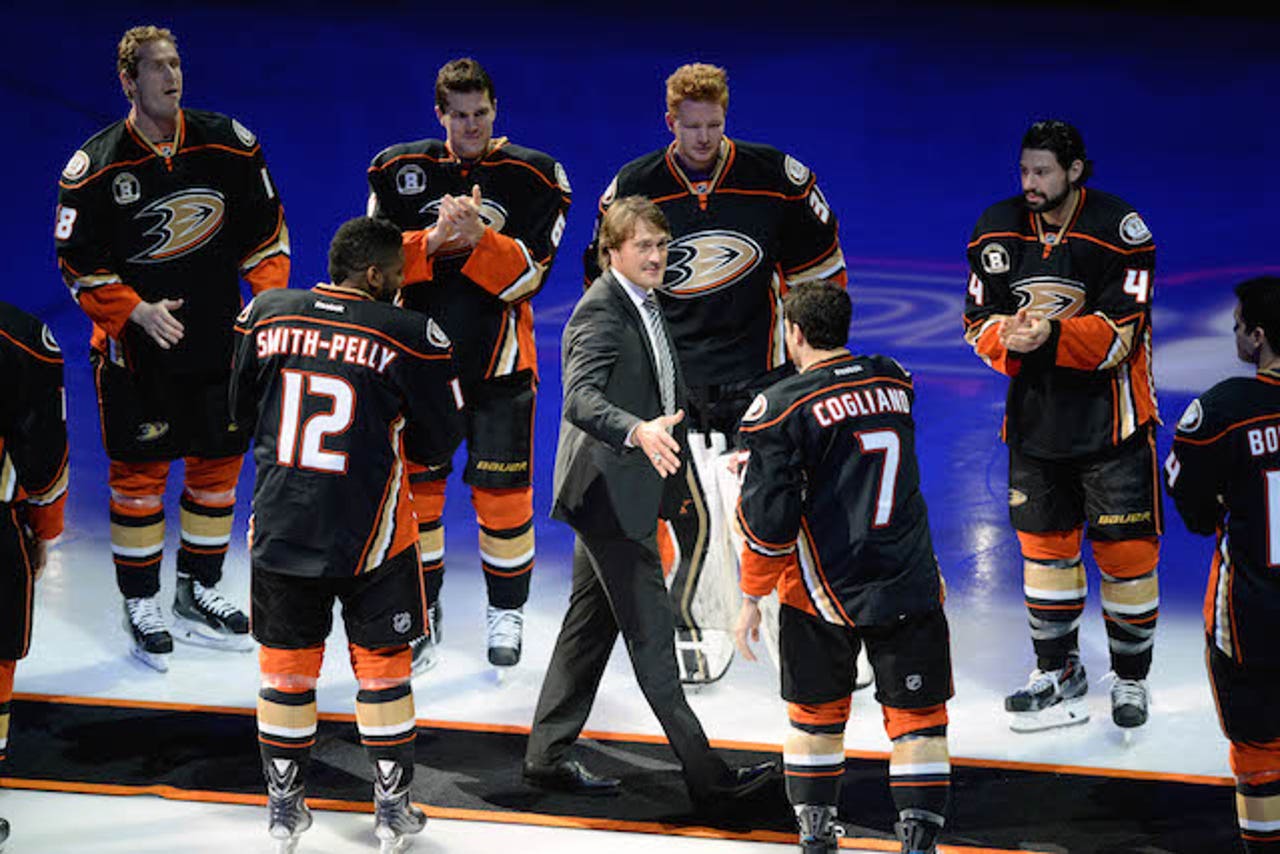 Rakell, Vatanen step up in Ducks' win on For8ver Teemu night
And it couldn't be more true.
Selanne began practicing his autograph when he was in second grade, sitting in class doodling the name Teemu Selanne over and over again, never knowing how many more he would have to sign in the future. There were nights where Selanne estimated signing a thousand autographs. He posed for every picture, he attended every charity event. It was never a chore for him.
And he appreciated every fan that made the trek to Anaheim Sunday night -- even thanking the zamboni drivers and the janitors. 
"People ask me all the time, 'Was the Stanley Cup the biggest win of your career?'" he said. "And I say, 'The biggest thing is that we won it right here.'"
A hero to so many in Orange County and beyond, his own childhood hero, Kurri, beamed with pride when he talked about what Selanne meant to hockey in Finland. Steve Rucchin, who centered the legendary line with Selanne and Paul Kariya, is still in awe of the person and player that Selanne is. 
"I'm just very fortunate that I was in that position and I had that opportunity to play with a guy like that," Rucchin said. "An amazing person."
"You couldn't think of anybody else to be the first," said former teammate Jean-Sebastien Giguere. "He's deserving in everything that he's done for the organization and the career that he had."
A video narrated by former teammate George Parros didn't leave a dry eye in the house. His former teammates came out in droves to celebrate his career and roast him a little as well (Giguere said he had a "muffin of a shot"). 
And in case you're keeping track at home, his 93 minutes topped Mark Messier's now infamous retirement ceremony at Madison Square Garden. 
But even 93 minutes might not be enough time to show all of Selanne's highlight reel plays. The "Finnish Flash" led tied for the league lead with 76 goals in his rookie season with the original Winnipeg Jets, brought the Mighty Ducks of Anaheim to a Stanley Cup Final and finally won that Cup in 2007 with the Anaheim Ducks. 
It's difficult to put into words what Selanne means to hockey and to Orange County, but to steal a phrase from him, watching the celebration of Selanne as a winger, a teammate, and a hockey ambassador, and finally, the banner being raised in to the rafters was, "Unbelievable". 
---