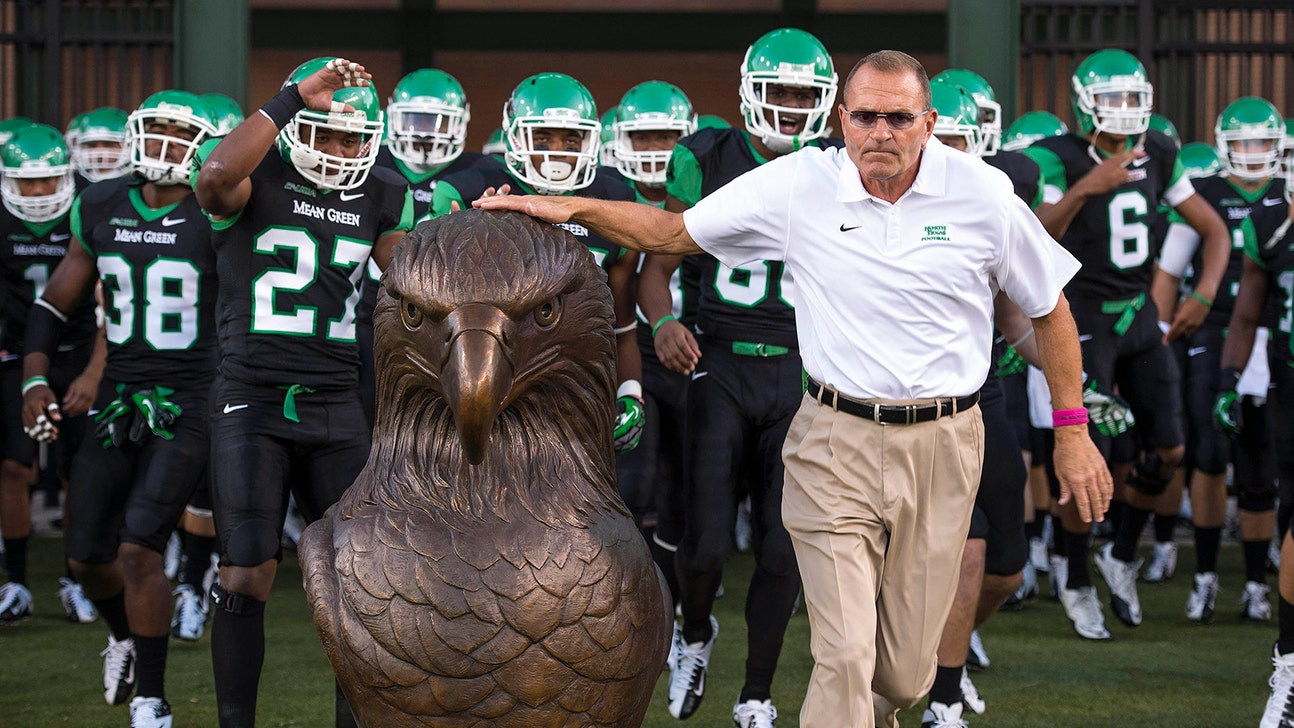 Second chances in college football are rare, but why?
Published
Aug. 5, 2014 8:18 a.m. ET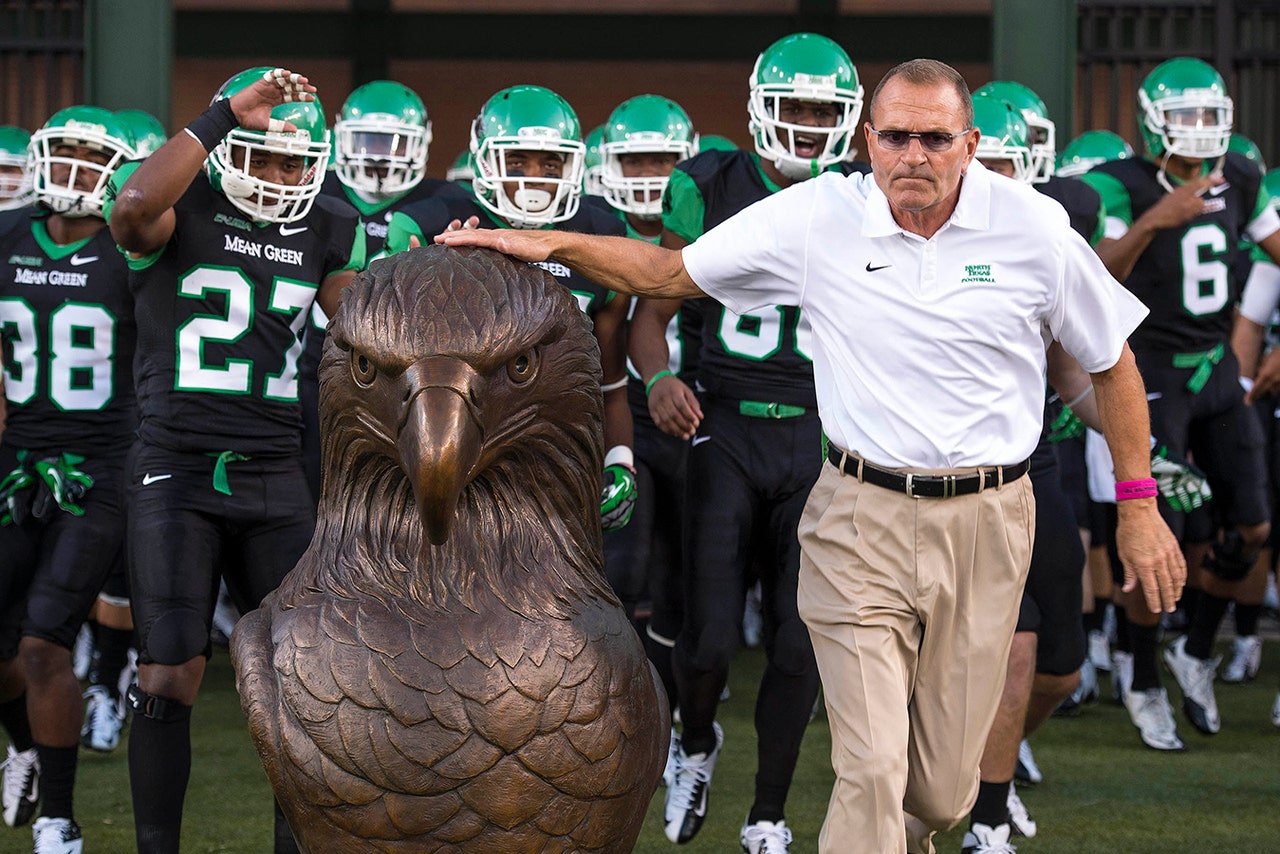 DENTON, Texas - Dan McCarney knows he's a lucky man.
Suffering a stroke in 2012 didn't change that. Neither did going blind in his right eye after four surgeries that left it sensitive to light and requiring sunglasses even while indoors.
When he steps through the doors of the annual AFCA coaches convention and sees 12-14,000 aspiring coaches, he finds it easy to forget all that's gone wrong in his life and remember he's one of just 125 men on the planet trusted to guide an FBS football program.
It's a dream come true, and McCarney's second chance at UNT is something very, very few college coaches ever get. But why?
McCarney took over at Iowa State in 1995, piloting an Iowa State program that had struggled historically in the Big Eight into life as a Big 12 member after the league merged with four members of the Southwest Conference.
The program hadn't won a conference title since 1912 and had played in just four bowl games in school history, lowlighted by a 16-year drought when McCarney took over.
From 2000-05, ISU reached five bowl games, won two and missed the postseason just once. In 2004, the Cyclones shared a Big 12 North title with Colorado. Only a five-point loss to the Buffaloes kept the Cyclones from making their first appearance in the Big 12 Championship Game.  
McCarney had staked a claim as the best coach in ISU history, racking up a 39-35 record in that six-year span, which included a nightmarish 2-10 campaign in 2003, one of his worst of his 12-year run in Ames.
Throughout his tenure, various programs showed interest. McCarney declined to name specific schools, but said he rebuffed "several" schools during the Cyclones' rise.
"When you do things that no one expects you can do and have some shocking success, which we did ... people take notice," McCarney told Fox Sports Southwest in a recent interview. "When you start doing things that capture the nation's attention, people take notice. I tried to show loyalty through the years, and for the most part, Iowa State showed great loyalty to me."
However, a new athletic director in Jamie Pollard and a slide to 4-8 after an impressive six-year run left McCarney looking for a job.
"Jamie Pollard had been there 9 months when I was let go. All I know is the word I got was they wanted to take it to a different level, a championship level, but if there was an off year, we were able to revive that program. It's not an easy place to sustain success," McCarney told Fox Sports Southwest in a recent interview. "I would have loved to have retired at Iowa State."
Pollard hired Gene Chizik, who, in two seasons, failed to surpass the 4-8 record that got McCarney fired and then bolted for Auburn, where he was the defensive coordinator from 2002-04.
Eight years after McCarney's exit, Paul Rhoads is challenging his status as Iowa State's greatest coach ever, but McCarney has been busy building a program where it was once thought impossible.
North Texas went 9-4 in 2013, winning a bowl game for the first time since 2002 and just the second time in school history. The Mean Green had won nine games just one other time since 1978.
McCarney is doing it again.
"There's frustration, but I took the high road. Taking cheap shots and being negative, what good is that going to do?" he said. "I could have sent (Iowa State) a postcard from the bowl game this year and said 'Look what could have happened,' but I'm just proud I was given the opportunity."
What if more programs granted the kind of opportunity McCarney got? And why don't they?
Over the last two years, 51 FBS programs have hired a full-time head coach. Only six of those 51 had been fired or resigned from a previous head coaching job, and two of those six were Bobby Petrino. Petrino was fired at Arkansas for lying to his boss about an infamous motorcycle accident involving his mistress, not for taking the Razorbacks to the first and only BCS bowl game in school history. Twenty schools made full-time hires before the 2014 season, and zero (besides Louisville/Petrino) hired a coach who had resigned or been fired from a previous job.
2013 FBS Coaching Second Chances
• Ron Turner: Fired from Illinois in 2004, hired at Florida International
• Tommy Tuberville: Resigned at Auburn in 2008, hired at Texas Tech in 2010, Cincinnati in 2012
• Doug Martin: Resigned at Kent State in 2010, hired by New Mexico State
• Skip Holtz: Fired by USF after 2012 season, hired by Louisiana Tech the same offseason
Fifteen NFL franchises had hired coaches in the same time span. Four had been previously fired from a head coaching job, and all had been fired after the 2011 season or later.
2013-14 NFL Coaching Second Chances
• Andy Reid: Fired by Philadelphia Eagles after 2012, hired by Kansas City Chiefs in same offseason
• Jim Caldwell: Fired by Indianapolis Colts after 2011, hired by Detroit Lions before 2014 season (won Super Bowl as Ravens OC in 2013)
• Ken Whisenhunt: Fired by Arizona Cardinals after 2012, hired by Tennessee Titans before 2014
• Lovie Smith: Fired by Chicago Bears after 2012, hired by Tampa Bay Buccaneers before 2014
The four college coaches who had been fired or resigned because of poor on-field results found themselves looking for employment after 2004, 2008, 2010 and 2012.
McCarney only had to wait a year before another school offered him their head coaching position. After coaching the defensive line at South Florida in 2007, McCarney says he had more interest and offers than any single year as Iowa State's head coach. He accepted one opportunity and had planned to fly in the next day for a press conference and announcement.
Then Urban Meyer called.
He'd watched him find and develop gems at Iowa State and saw it up close when he recruited against him in the state of Florida with McCarney at USF. He wanted to see what McCarney could do with the best athletes. Meyer had them at Florida and needed somebody to coach his defensive line.
McCarney notified his future employer of his change of heart, signed up with the Gators and went 30-2 in his first 32 games with Meyer, earning a sparkling national championship ring at the end of the 2008 season that he still wears around North Texas' facility.
Three years later, North Texas gave McCarney a chance to re-join the exclusive fraternity of FBS head coaches. The Mean Green hadn't won more than three games since 2005.
McCarney won four in Year 1, five in Year 2 and capped a nine-win season with a win in the Heart of Dallas Bowl in North Texas' first season as a Conference USA member.
Few coaches get the opportunity McCarney did, but North Texas' faith in an old dog to teach a flailing program some new tricks was rewarded.
Why are universities so timid to hire a coach with failure at one destination, despite success elsewhere? Why do pro teams think so differently?
Ask 10 people around college sports and you might get 10 different answers.
"If you get in the league, you'll stay in the league. In the league, you have to please one or two guys: the owner and the general manager," Baylor coach Art Briles told Fox Sports Southwest. "In college, you have fans, boosters, the board of regents, more people that have to buy into that person. You represent that team and the university."
The less ammo for any one of those people to use to shoot down a hire, the better. Often, coaches with a forced resignation or firing on their resume have given detractors a long enough list of negatives that the list of positives can be ignored, no matter how long.
"With social networking and media coverage and publicity in a hire now, there's some people who would be influenced by what would be the marketable hire instead of hiring somebody who's a flat-out good ball coach," Oklahoma State coach Mike Gundy said. "Dan McCarney, in my opinion, if he was at Iowa State, would be having a lot of success right now. ... If you can coach and teach and develop young men, you can do it anywhere."
Kansas coach Charlie Weis is one of a handful of coaches who did get a second chance. He has been a college head coach for nearly a decade now after five seasons at Notre Dame (2005-09) and is now entering his third at KU after almost two decades as an NFL assistant.
"When you're a head coach the first time and it doesn't work out, you're not all fired up about it," Weis said. "You've put strain on your own family and the families of all your assistant coaches and you didn't achieve what you intended to achieve. That being said, when you get another opportunity, you think about all the things you did wrong the first time."
Weis' predecessor at Kansas, Turner Gill, nearly got the Auburn job that was given to Chizik, who made the jump after going just 5-19 in two seasons at Iowa State. Auburn alum Charles Barkley decried the hire, arguing that race played a factor and calling Gill the "perfect choice" for the Tigers.
Gill had rescued a struggling Buffalo program and won the Mid-American Conference in 2008 before going 5-19 at Kansas and just 1-16 in Big 12 play in two seasons before being fired.
That offseason, FCS member and Big South power Liberty hired Gill. He's won a share of the conference title in his first two seasons as a head coach and led the Flames to a 14-9 record since his arrival.
Gill, through a spokesman, did not fulfill multiple interview requests for this story.
His experience for a fired coach isn't typical. Most take steps down as a coordinator like Lane Kiffin at Alabama, make a quick stop on television like Mack Brown or Tuberville or become position coaches like McCarney.
Auburn won the national title in 2010 with Chizik before firing him two seasons later and returned to the BCS National Championship Game under Gus Malzahn last year. Maybe Gill wouldn't have a national title ring if he'd gone to a place without the hurdles of lesser talent he found at Kansas, but could he still be the Tigers' head coach?
What would it take for an FBS or Power 5 conference school to remember that two years of a failed rebuilding job with a high degree of difficulty don't erase Gill's decade-plus at Nebraska and a stop in the NFL before a successful rebuilding job at Buffalo made him one of the hottest names in college coaching?
"Sometimes a 7-5 season has done a phenomenal compared to the coaching job for somebody else's 12-1 or 13-1 or whatever. You have to look at all the factors that go into where that program is, where did the coach start, what kind of success has the program had historically, what conference are you in? That kind of stuff matters," West Virginia AD Oliver Luck said. "It's a little too simplistic to just put win-loss records out. There are other factors in the mix."
Briles agrees.
"Situations determine outcomes. I'd look at the situation the person is in and look at the history of that situation and see how it thrived and survived while they were in that situatuon. Going 6-6 and 5-7 at some places is like going 10-2 at another."
For now, McCarney's not looking to go anywhere. Four years in Florida and three in Texas make it easy to develop a distaste for winters in Iowa or Wisconsin, where McCarney spent the first three decades of his coaching career.
Rehashing that "wish list" and including a few names like his might pay off like it did for North Texas. One firing doesn't change the quality of a coach any more than one losing season changes the quality of a quarterback.
"Everybody's looking for the next young superstar," McCarney said, "but those of us with age and experience can still have success."
College football rewards innovation. Any coach who's made a living running a spread offense knows that much much. When it comes to coaching hires, though, innovation and new thinking is rare. Or, perhaps more accurately, old thinking.
"Bum Phillips used to say there are two kinds of coaches in this world: Coaches who have been fired and those who will be fired," Luck said.
In college football, life is hard for the former.

---