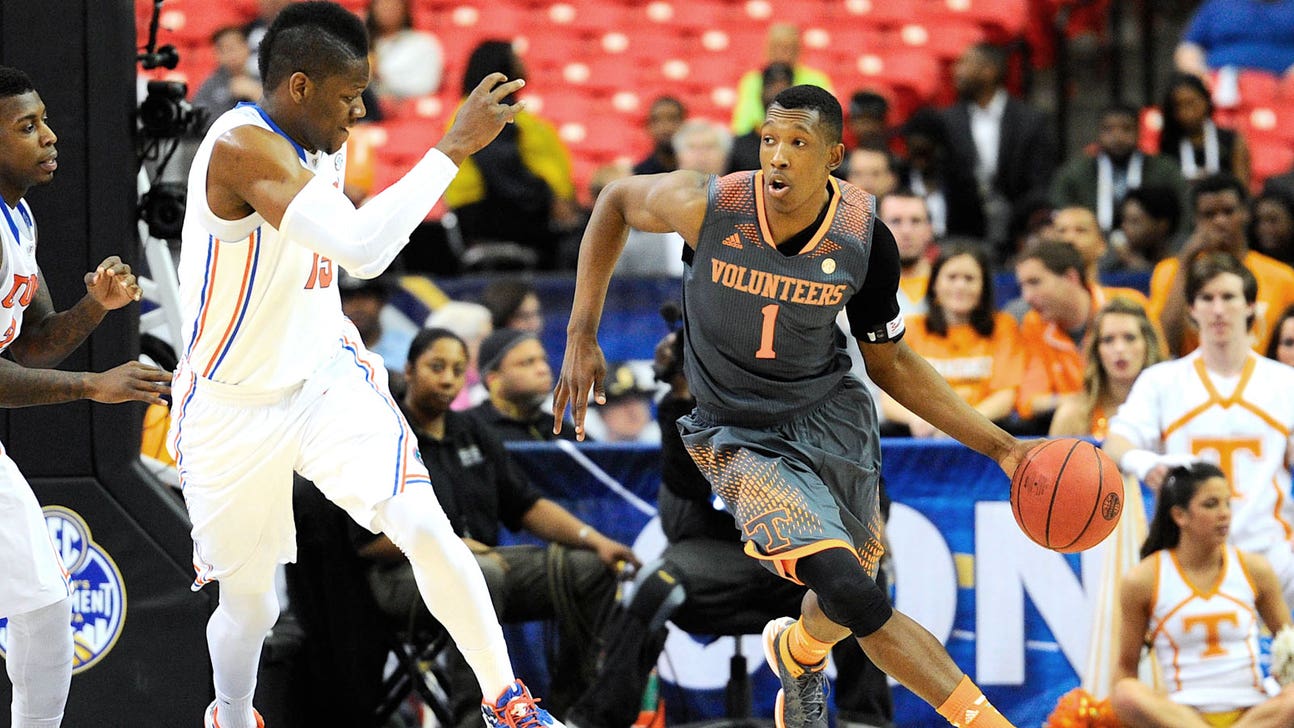 SEC relying on quality over quantity in NCAA bids
Published
Mar. 15, 2014 7:35 p.m. ET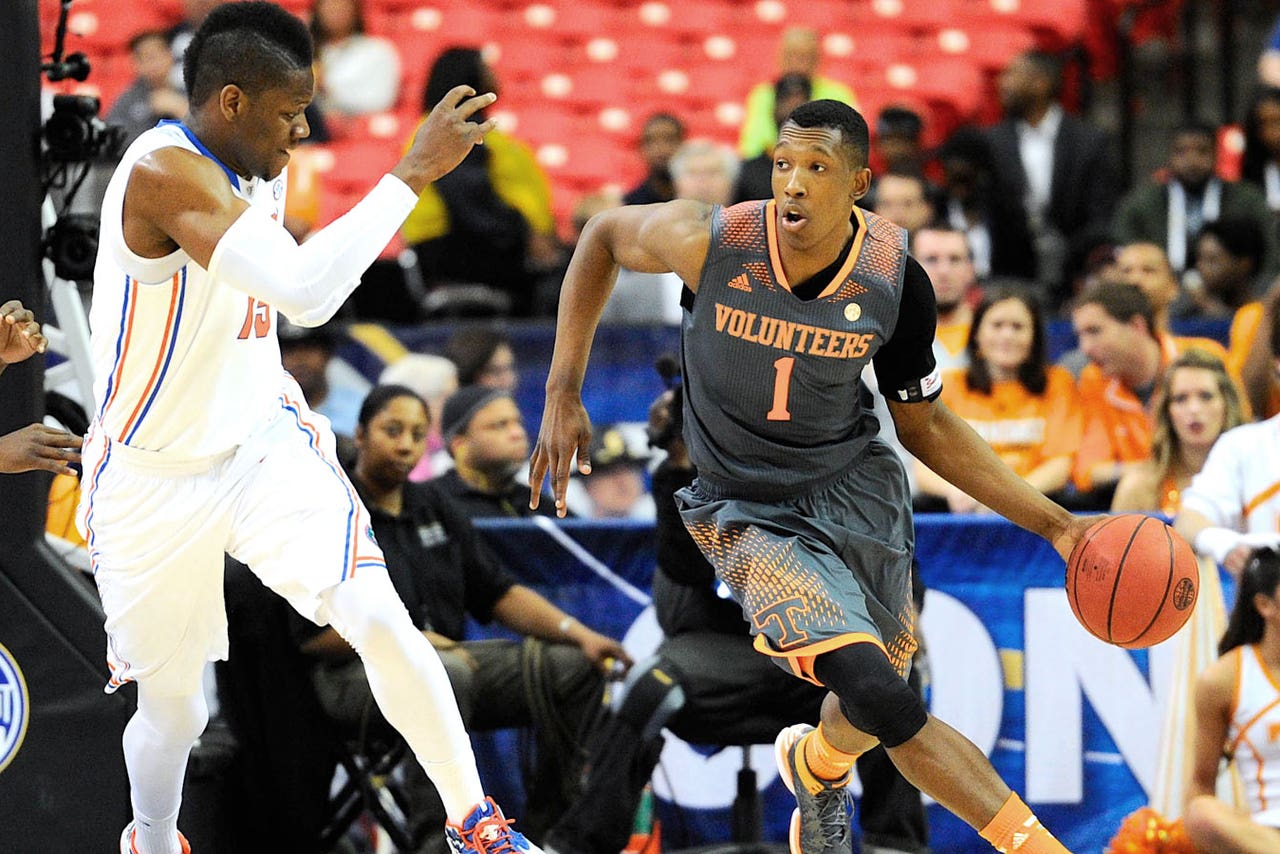 ATLANTA -- When the Southeastern Conference stages an event, it takes over the venue. Posters and wallpaper and carpet. Blue, gold and all the relevant logos blanket the Georgia Dome interior and exterior at the moment. Few brands in collegiate sports are more widely recognizable.
That brand will not project such an overwhelming presence in the NCAA Tournament bracket, though. Moreso than perhaps every other power conference in college basketball, the SEC will lean on quality over quantity starting next week. With Florida and Kentucky advancing to the SEC Tournament final on Saturday, the league is positioned to place just three teams in the Big Dance, and one of those tourney teams is firmly on the bubble with a 21-12 overall record.
Commissioner Mike Slive and the league's coaches may disagree with that notion, but that's the consensus bracket projection right now: three SEC teams; three very good (or great) SEC teams, but three nonetheless.
"I would tell you that (this conference tournament) showed this league how strong it was, and everybody wants to take shots, but Georgia should be in. Tennessee should be in. Arkansas should be on the edge. I mean, they beat us twice," Kentucky coach John Calipari said after taking down Georgia, 70-58, in the SEC Tournament semifinals. "For some reason, it doesn't get the credit it should."
The SEC, as a conference, has done itself few favors this week. If there was a power conference that needed to bolster its NCAA bids by avoiding its top two seeds making the conference tournament's final, it was this one, a league that entered Championship Week with just two definitive locks to make the NCAA Tournament (Florida, Kentucky) and myriad bubble teams in need of two or more wins. Yet here the SEC stands, with the Florida-Kentucky collision course coming to fruition. The list of Dance-related positives for the conference in its own tournament is a short one: (1) Tennessee refused to lose to South Carolina in the quarterfinals, an outcome that would have derailed its tourney hopes, (2) Florida has not suffered any substantial injuries and (3) Kentucky has started tapping into its enormous March potential.
That's just about it.
Generally speaking, Slive's conference set up shop in Atlanta with five teams in the bubble conversation -- Tennessee, Missouri, Arkansas, Georgia and LSU -- and the only team that met its needs was Tennessee, which still looks like a safe (though not guaranteed) bet to make the tournament after taking on a top-50 strength of schedule and sitting at No. 31 in the BPI.
"If there are 15 teams playing better than Tennessee right now, I got to see who they are.," Calipari said. "I mean, Tennessee, they're not only playing, they're smashing people. ... Tennessee is that good."
Added Florida coach Billy Donovan, whose team knocked out the Volunteers in Saturday's semis, 56-49: "Certainly I believe (Tennessee is) an NCAA Tournament team. I don't think there's any question about it. ... They have got everything to really go far, in my opinion."
So the Vols, by virtue of their resume, their recent play and the endorsement of the league's top coaches, are expected to fall on the right side of the bubble.
But there's been plenty of bubble-bursting to go around. Arkansas' loss to 13-seed was a deal-breaker. Missouri entered as a consensus bubble team, typically one of the last 10 teams outside the bracket, and probably needed one more big win; the Tigers could not earn it against Florida. LSU needed to advance to the SEC title game, if not capture the automatic bid outright, for a shot. And Georgia, which earned the conference's No. 3 seed after a lackluster non-conference resume, could have used a win over Kentucky and a championship game appearance as well. None of that happened.
There are capable SEC teams on the bubble; there are not necessarily going to be any glaring NCAA snubs. Again, the league's coaches would disagree with that statement.
"I think if you really look at it, I think Cal is right, in other leagues, they say people beat up on each other. In this league, you lose a game, 'Oh, your league is terrible.' That's a perception issue," Georgia coach Mark Fox said. "We certainly have to do a better job in our non-league play, but I think at the end of the day, teams get better during the year and our team today is a heck of a lot better than it was in November. You have to have people that have knowledge of basketball to make the decision on who should be in the tournament. If it's just a computer picking it, well then, hey, let's save some money and just plug in the numbers."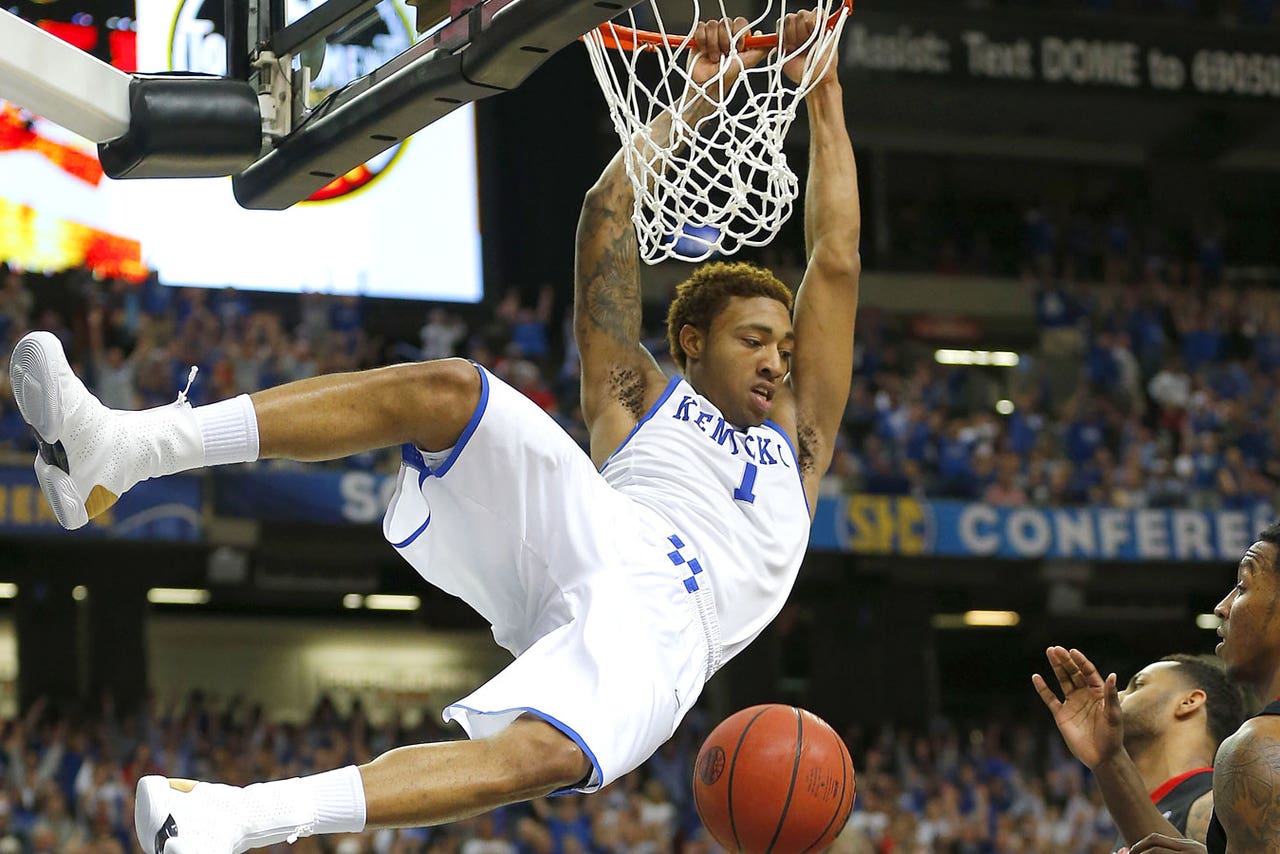 Freshman James Young and the Kentucky Wildcats improved to 38-2 all-time in SEC Tournament's semifinal games with a win over Georgia on Saturday.
Three bids would leave the SEC as the least-represented power basketball conference nationally, likely ranking behind the Big 12, Pac-12, Big Ten, Atlantic 10, American, ACC and Big East.
That'd be an uglier number if the SEC wasn't holding claim to three dangerous tournament teams. Quality over quantity.
First and foremost, Donovan has another buzzsaw on his hands. After the hard-fought win against Tennessee, the Gators have still not dropped a game since Dec. 2 -- and even then, it lost by just one point on the road to a good UConn team. Florida is one of the most sound two-way teams around (5th in defensive efficiency, 13th in offensive efficiency) and they have a go-to guy in senior point guard Scottie Wilbekin, the conference's player of the year and a shutdown perimeter defender to boot. A virtual lock for a 1-seed, there aren't many teams around that can match the Gators' top-to-bottom production.
Then there's the Kentucky Wildcats; heard of them? The collection of McDonald's All-Americans and future pros deleted their nine-loss season from memory before traveling to Atlanta, and it has worked thus far: Kentucky held the upper hand against LSU and Georgia, controlling both games in the second half. If that's your region's 5- or 6-seed -- one of the most daunting 5- or 6-seeds in recent memory, based on pure physical talent -- then buckle up. The Wildcats do not look like an easy tournament out.
"Nobody wants to play Kentucky or Florida," "Kentucky is a terrific team," Fox said.
Back to the Volunteers, who took the consensus No. 1 team in the nation down to the wire on Saturday. Thanks to closing the regular season with four straight wins in impressive fashion -- blowing out Mississippi State, Vanderbilt, Auburn and Missouri by an average margin of victory of 25 points -- Tennessee shot up Ken Pomeroy's efficiency ratings down the back stretch, now ranking 28th offensively and 16th defensively. It is a dangerous group. Coach Cuonzo Martin boasts two standouts in Jordan McRae and Jarnell Stokes, and as long as the bracket does not pair them with a defensive juggernaut (Tennessee struggled to score in the second half against Florida, hitting just one field goal in the last 12 minutes), the Sweet Sixteen is not a ridiculous projected ceiling. Granted, they make it in first.
"It's a no-brainer," Stokes said.
The SEC seems to hold similar thoughts on a few of its other bubble teams, but the odds of more than three do not look good. There are some valid arguments to be made on the subject, but the conference will probably need to rely on its top-end quality from here on out.
---