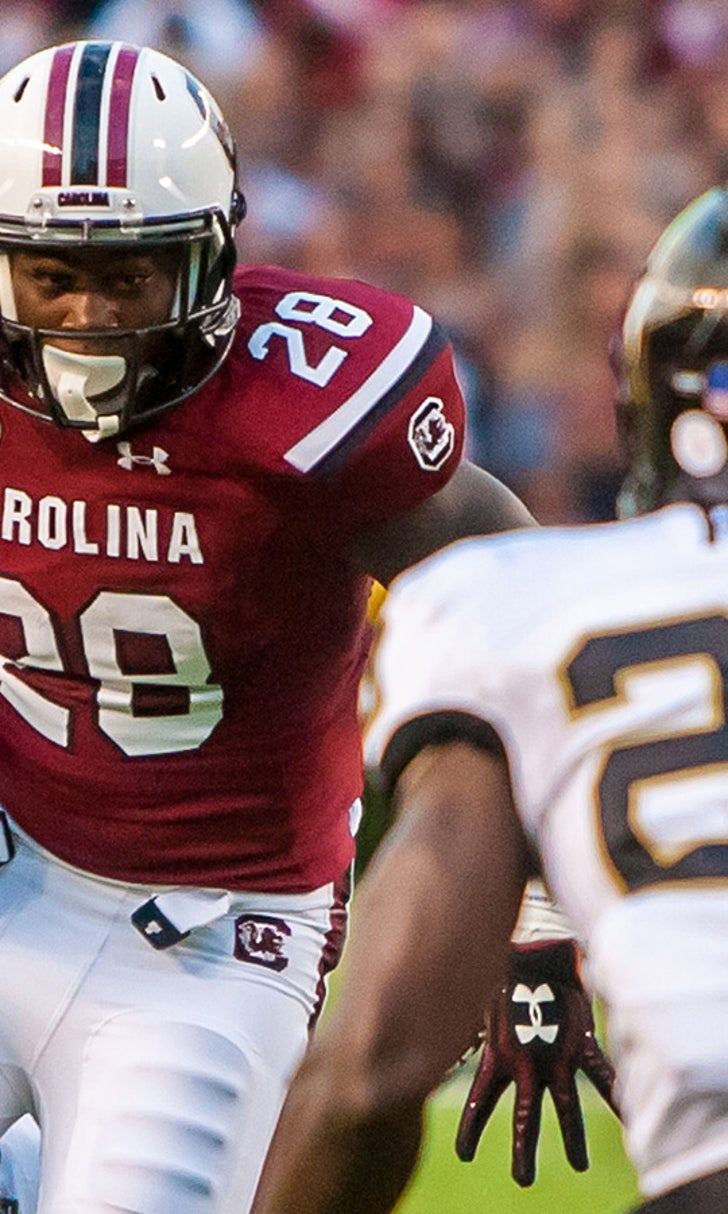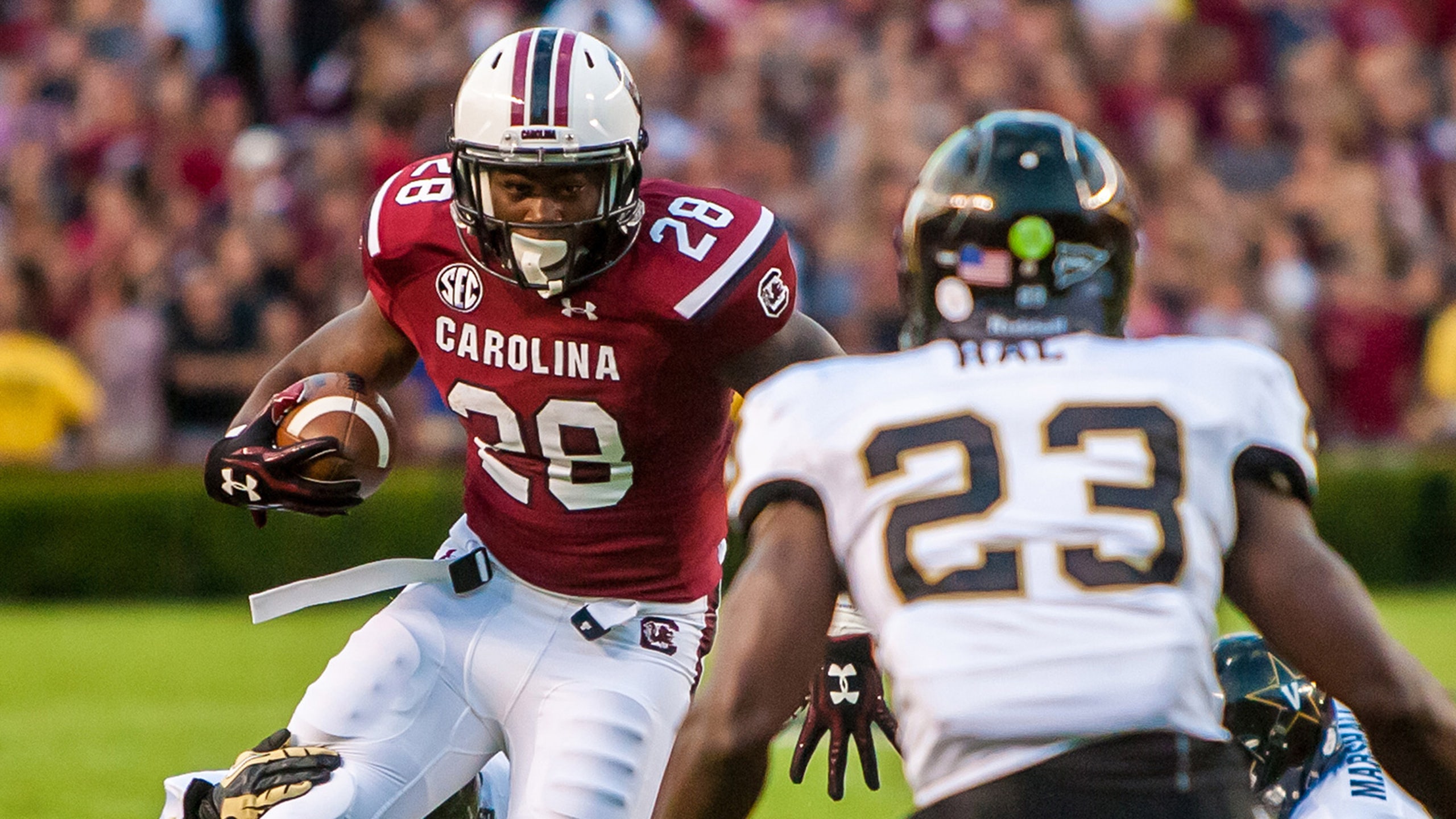 SEC Countdown: No. 4 South Carolina
BY Zach Dillard • August 13, 2014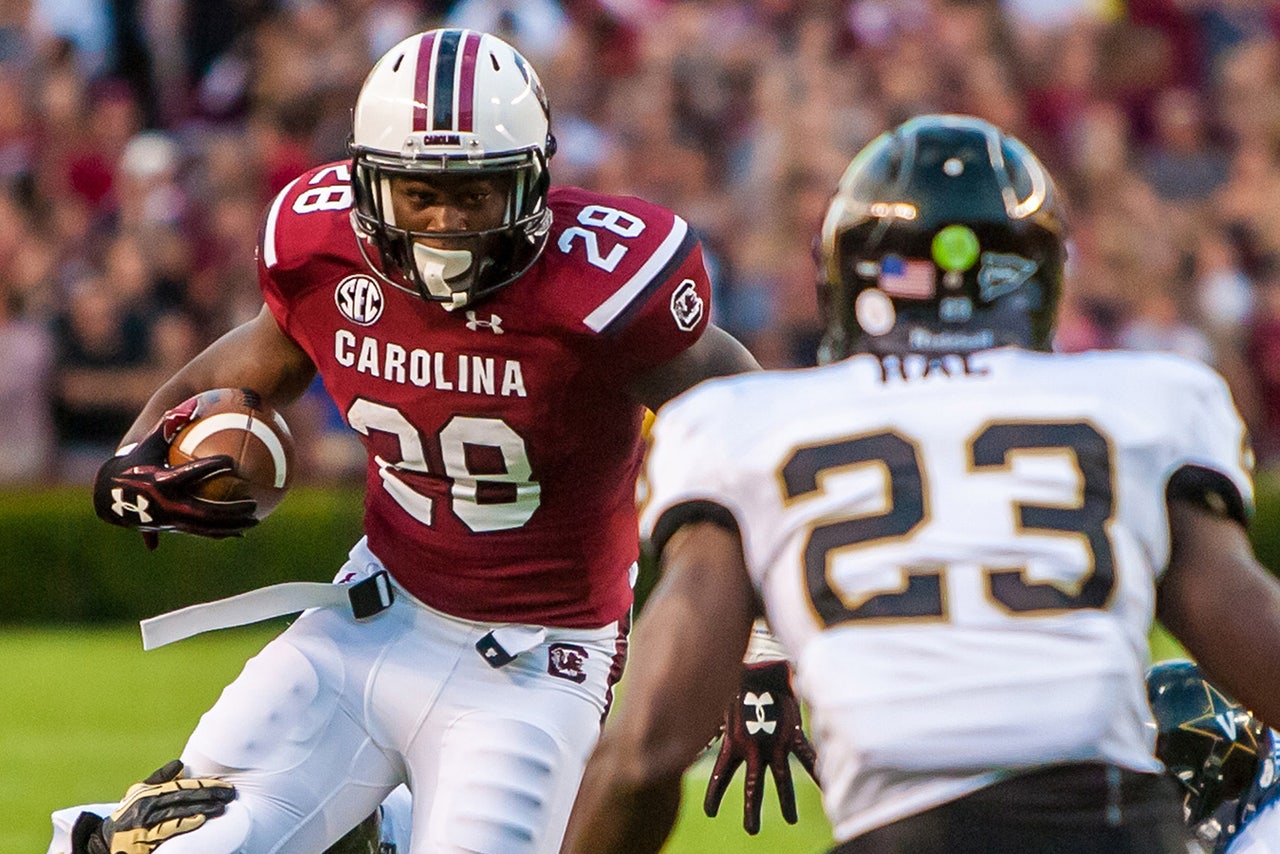 As quietly as he's capable of doing things, Steve Spurrier has molded South Carolina into one of the nation's consistently great football programs.
After taking over the program in 2005, Spurrer slowly turned the Gamecocks from a perennial middle-of-the-pack SEC program into a top-10 mainstay. The Gamecocks have now posted 11 wins in each of the past three seasons -- the most wins in a three-year stretch in school history -- en route to becoming one of only three programs to finish in the AP top-10 in 2011, 2012 and 2013, joining Alabama and Oregon. The Gamecocks own the nation's longest home winning streak (18 games). They own three straight bowl wins.
But there aren't many who lump South Carolina's name with that of Alabama and Oregon, mostly because Spurrier's team has very little to show for its remarkable success. It failed to claim the SEC East crown in each of its three 11-win seasons, and when it did advance to the conference title game in 2010 eventual national champion Auburn dominated in a 56-17 rout.
There isn't even a BCS bowl game to show for it: the Gamecocks have won two Capital One Bowls and one Outback Bowl during their stretch of dominance. It's extremely hard to win that many games year in and year out without advancing to a premier game, and Spurrier's group will be tasked with breaking that trend in 2014. The Gamecocks lost a few of their top players, but overall it's considered a deep roster that should be able to fill voids with talent.
The question remains: can South Carolina finally break through?
Outside of quarterback Connor Shaw, the winningest signal-caller in school history, and wide receiver Bruce Ellington, a fourth-round NFL Draft pick, the offense returns almost completely intact. Of course, those are two big pieces that have played pivotal roles over the past few years, but there is experience and talent everywhere.
All-SEC running back Mike Davis is back and should provide a steady base for Spurrier's offense. Davis rushed for 1,183 yards and 11 touchdowns on 203 carries as a sophomore last season and he'll once again be in the conversation with the likes of Todd Gurley (Georgia) and T.J. Yeldon (Alabama) as the conference's top running back. He'll have some help out the outside, too, as every player other than Ellington who logged a reception in 2013 returns. That group is led by junior Shaq Roland and senior Damiere Byrd, both of whom project to take on bigger roles in the offense.
Four of the five starters along the line return as well, which is good news for new starter under center Dylan Thompson. The redshirt senior has seen plenty of game action in his career -- unlike, say, Tajh Boyd's replacement at rival Clemson -- and should be able to maintain a certain level of production under center. He's played in 23 career games (1,827 yards, 14 touchdowns) and while he doesn't provide the running threat of Shaw, he has the confidence of his coach, at least for now.
"We really believe he's a very good player and has a chance to lead us to a big season," Spurrier said at SEC Media Days. "He's a fifth-year player. He's been to all the games. He's 3-€'0 as a starter and played the entire game last year against Central Florida. He's got to pack his college career into one season. He's the type of young man that really wants to make the most of it."
The defensive side of the ball is a little more bleak, but South Carolina defensive coordinator Lorenzo Ward has shown the propensity to plug and play guys without plenty of success over the past few seasons. The Gamecocks have finished in the nation's top-15 in scoring defense in each of the past three seasons.
The linebacking corps should be a strength with All-SEC senior linebacker Sharrod Golightly and Kaiwan Lewis returning. There is inexperience on the defensive line and in the secondary, but safeties Brison Williams, Chaz Elder and Kadetrix Marcus are back. The special teams duo of kicker Elliot Fry and punter Tyler Hull are back, too.
With that much talent returning, there's no reason South Carolina shouldn't be in conversation for the East division and SEC titles this fall.
The most obvious departure just happens to be the most physically gifted player in college football last season: defensive end Jadeveon Clowney, who became the No. 1 overall pick in the NFL Draft in May. Clowney ran into plenty of (largely unwarranted) criticism last season while dealing with double teams and opposing offenses scheming against him, but it's pretty clear that he'll be missed in Columbia. Adding to the defensive line losses, quality defensive tackle Kelcy Quarles, who signed as an undrafted free agent with the New York Giants, and end Chaz Sutton are gone.
The replacements along the line will likely start with relatives Gerald Dixon and Gerald Dixon Jr. -- not a typo, half-brothers with the same name ... just get used to it and move on because you'll hear about the story plenty this season -- along with returning senior starter J.T. Surrett at tackle. Along with those three, Ward will likely use Darius English, Kelsey Griffin, Phillip Dukes and Mason Harris in the rotation along the line. Ward has also mentioned the Gamecocks will utilize 3-4 schemes more this season, utilizing his depth at linebacker while limiting the problems caused by some of their most notable departures.
Will that help replace the likes of Clowney and Quarles? Maybe not. But if history serves, a good player or two will emerge out of that group.
The Gamecocks also lost their two starting corners in Jimmy Legree and Victor Hampton, meaning there are questions to answer about the pass rush and ability to cover. Sidney Rhodes and Rico McWilliams are expected to step in as starters. Also keep an eye on freshmen Wesley Green and Chris Lammons, two four-star recruits in the '14 class who could see early playing time.
Though Ward may use some 3-4 principles, the Spur position remains vital to his 4-2-5 roots. The Spur, a hybrid safety/linebacker position created with an extra defensive back on the field requires a playmaker, both in the running game and the passing game. And after stepping in for the much bigger and very productive DeVonte Hollomon, now a member of the Dallas Cowboys, Sharrod Golightly performed well for another top-15 defense.
Golightly is technically undersized (5-foot-10, 187 pounds) for the position, but he doesn't play like it. He earned second-team All-SEC honors after starting all 12 regular season games, finishing with 47 tackles and two fumble recoveries. He's a more-than-capable tackler -- check out at how he explodes to the ballcarrier/quarterback in space on this sack against Vanderbilt -- and is versatile enough to drop back in coverage (he'd likely be a full-time safety at most schools).
This is important because, as illustrated above, South Carolina's defense will be on the lookout for playmakers this season after losing arguably its two best players. Sophomore Jordan Diggs also stepped into the position to help out last season, so there's depth and a season's worth of experience to rely upon at the Spur in 2014.
It would be particularly cruel for South Carolina to reach double-digit wins for the fourth straight season without winning a division title and making an SEC Championship appearance. This season's goals should be simple: division and conference titles. Outside of that, the four-team College Football Playoff will take care of itself. And yes, if things come together on defense and Thompson is steady, the Gamecocks are certainly a darkhorse playoff contender.
The East division is up for grabs. Georgia has plenty of talent, but there were significant losses on the defensive side of the ball and record-setting quarterback Aaron Murray is gone. Florida should be better, but serious question marks remain on offense. Missouri, the reigning division champ, lost plenty of talent, particularly on offense.
South Carolina is enjoying the program's best-ever run. It should aim even higher.
(Oh, and beat Clemson. Again. Yeah, that'll do it.)
How's that choice for a fit of creativity?
The early-season Georgia-South Carolina game has been the game to circle on both teams' schedules ever since the Gamecocks entered the conference's upper echelon a few years ago. It's a driver's seat showdown. It's traditionally the first pivotal SEC East game on the docket, and though the winner has not technically gone on to win the division with regularity, it's still carries weight for the two East favorites.
The Bulldogs snapped a three-game losing streak in the series last season in Athens, but they haven't won in Columbia since 2008 and Williams-Brice is one of the most imposing places in the country. That could play a factor here, because on paper the two rivals appear very similar. Both programs are replacing incredibly successful senior quarterbacks with a long-time backups, leaning on a top-tier running games and experienced skill-position players and dealing with question marks on defenses that lost some of their top players.
In the past, this has served as an early litmus test for the Bulldogs and Gamecocks. That hasn't applied lately, though. South Carolina faced North Carolina on the first night of the 2013 season while Georgia faced off against Clemson in a top-10 spectacular, testing themselves against ACC teams before facing one another. This season, Clemson heads to Athens for the opposite end of the home-and-home series against Georgia as South Carolina welcomes a new-look Texas A&M in its season opener.
Still, the SEC East opener looms large.
The two programs will be tested, and the stakes look just about as high as ever,
Much like the Georgia game selection, this should feel familiar. The Gamecocks look poised to hit double-digit wins once again, but with a few key questions plus some unknowns in the division it's unclear just where that will leave them in the SEC race.
The schedule includes its eight-game slate against SEC competition, so of course there are going to be challenges. The two crossover opponents -- Texas A&M and national title runner-up Auburn -- are high-quality teams, but ones that could take steps back in 2014. The Aggies are dealing with the loss of some of the nation's best players (Johnny Manziel, Mike Evans, Jake Matthews) while Auburn lost a few of its top players that led it on a miracle run to the title game last season. The difference? Texas A&M comes in the season opener at home, while Auburn is a road trip in the middle of the campaign.
Along with the games versus Texas A&M and Georgia, South Carolina also gets Missouri at home in the early going, meaning the most difficult games of the first half are being held at the place where the Gamecocks haven't lost since October 2011. And the other games are manageable: East Carolina, Vanderbilt and Kentucky and Furman. Barring a big upset, the Gamecocks should head into its final five games in good position.
That's where things get dicey.
Along with the road game at Jordan-Hare Stadium, the Gamecocks also visit Florida and Clemson and host what should be an improved Tennessee team that it lost to in 2013. All told, I think the Gamecocks' home winning streak ends against Georgia and they lose to either Florida or Auburn on the road. They have absolutely dominated the Clemson series, winning five games in a row, and it seems like the Tigers, who should be pretty good again, are due sometime soon.
Even if Clemson snaps the streak at home (especially now that Clowney is gone), it will not affect South Carolina's place in the SEC East. Two conference losses -- just like the past three seasons -- will not eliminate Spurrier's boys. It will not guarantee a spot in Atlanta, either. They should once again be in the thick of things.
It remains difficult to run away with this division, though.
---