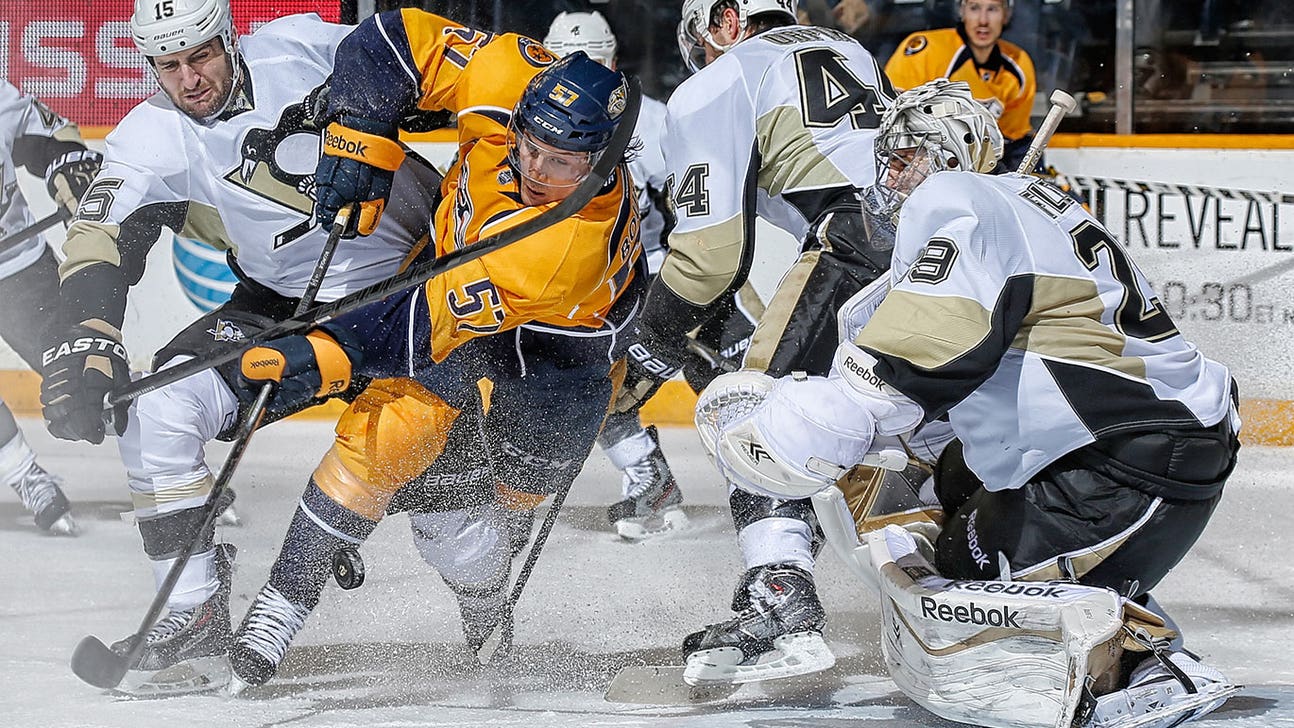 Scoring issues still plaguing Preds forwards
Published
Mar. 17, 2014 5:29 p.m. ET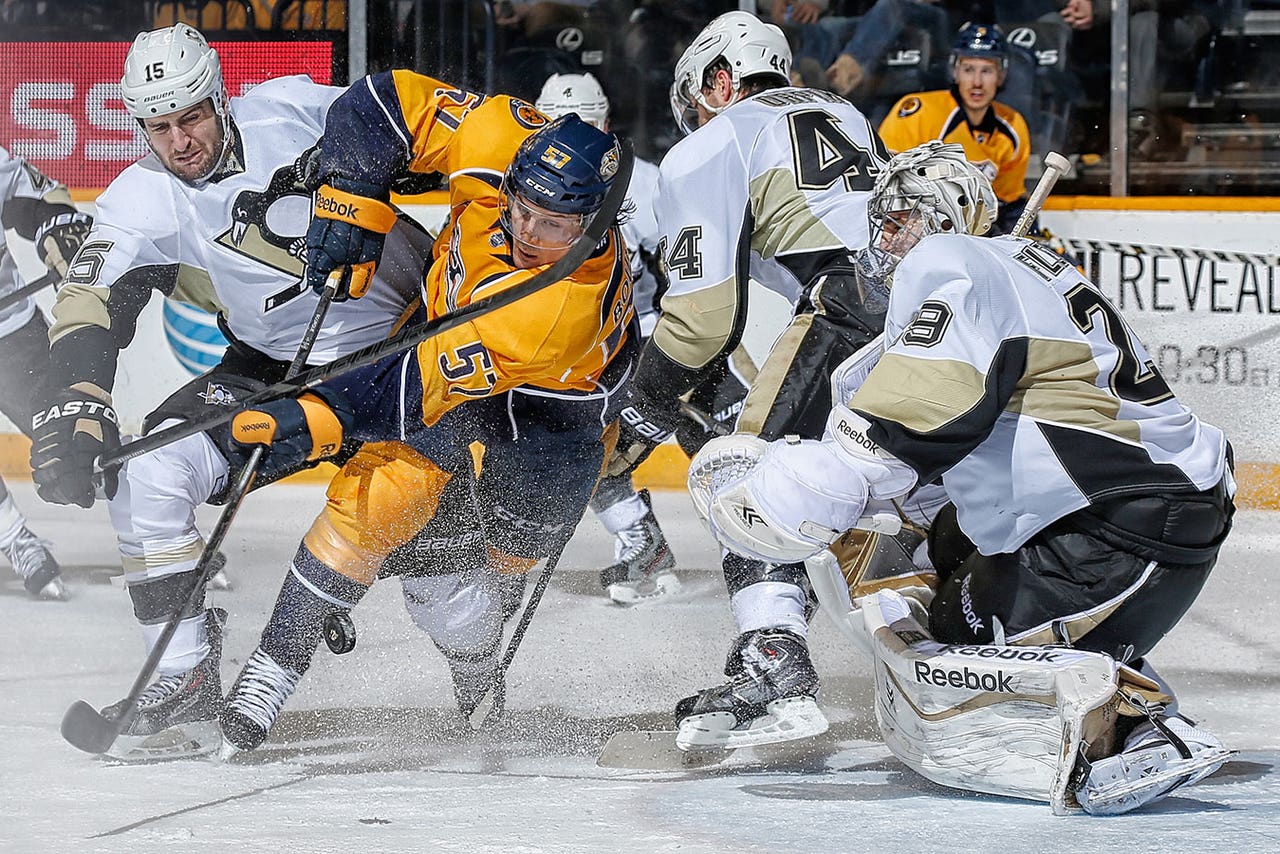 When Predators general manager David Poile traded the organization's longest-tenured player -- and leading scorer among its forwards -- at the NHL trade deadline a few weeks ago, he said he wanted the team's forward corps going forward to have a different look.
What did he mean by that?
"The quick translation is we have to score more goals," said Poile, whose team ranks 24th in the NHL in goals per game at 2.40 but who has one of the higher-scoring defense corps. "It's just been frustrating. The year is probably going to be remembered that (goalie) Pekka Rinne missed three-quarters of season (with a hip infection). If we would have had him, where would we have been? Where would we be in the standings? Where would our goals be?
"There's no question we need to score more goals. I like a lot of our forwards. I like a lot of what they do but right now the finish isn't there. That's something that can we change with this present group or do we need to change at least some of the group? Again, as I said at the Legwand trade -- Legwand was our leading scorer -- I'm not putting it on David Legwand, but it's not working. We have to have some changes."
For too many forwards whom the Predators were counting on, the finish is hardly there at all. Colin Wilson and Gabriel Bourque have not scored since before the calendar turned to 2014. That's 29 games for Bourque and 28 for Wilson. Matt Cullen, who was signed to be one of the team's top two centers, has one goal in his past 38 games and Viktor Stalberg, signed to be a top two-line wing, has three in his past 23 games.
Poile said he plans on giving the team as currently constituted a chance to complete its long-shot quest to make the playoffs. It won't be easy. They must pass four teams and make up seven points in 14 games.
The Predators left on Monday for a four-game road trip with stops in Edmonton on Tuesday, Vancouver on Wednesday, Calgary on Friday and Chicago on Sunday that will make or break their playoff hopes. In a matter of games they could be realistically, if not mathematically, out of contention. (Poile did not make the trip, as he continues to recuperate from the injuries to his right eye that he suffered on Feb. 7 when he was hit by an errant puck during a morning skate.)
If the Predators consider themselves out of contention, then it sounds as if Poile will begin to call up a pool of prospects who will vie for positions on the team next season during training camp. First and foremost would appear to be center Calle Jarnkrok, acquired in the Legwand deal. Since arriving in Milwaukee, home of the Predators' top minor-league affiliate, Jarnkrok has five goals and two assists in five games. Others include Filip Forsberg, acquired last season in exchange for Martin Erat, as well as Miikka Salomaki and Austin Watson.
One of the chief problems the Predators face in making changes is that almost all of their forwards remains under contract for next season. The only pending free agents are Patrick Eaves, who has been a healthy scratch for the past three games after coming over in the Legwand deal, and Nick Spaling. Spaling will be restricted and has ranked among the team's better forwards this season.
In addition to Spaling, the forwards the Predators would appear of a mind to keep going into next season are Craig Smith, Mike Fisher, Patric Hornqvist, Eric Nystrom, Paul Gaustad and Rich Clune. That will make difficult decisions -- or moves -- on the others. Poile was asked if the fact that so many of his forwards remain under contract will tie his hands when it comes to trying to alter the roster.
"I don't know the answer to that," he said. "I don't know what the market would be in the offseason for trading, for acquisitions. It certainly looks like the free-agent market is pretty thin by the fact that there are one or two signings every day of a (pending) free agent."
The next time for player movement will come around the NHL Draft on June 27 and the beginning of the free agency period around July 1. With so few free agents available because teams are re-signing their own players, Poile said the Predators might be able to take advantage of that situation. When a team doesn't get the player it targeted in free agency, he said, it will still need to make a move to fill the void. Perhaps that puts the Predators in advantageous position to trade.
The tricky task there is trading players who have been so unproductive. That means taking someone else's unproductive player and hoping he will snap out of his own funk or having to sweeten a deal with an asset to get rid of an undesirable contract. The Predators did this a few years ago when they moved center Matthew Lombardi, who had concussion problems, to Toronto. However, to do so they had to give up a valuable defenseman in Cody Franson.
There are other bad options. The Predators could cut a player or send him to the minors, but they would still be responsible for his contract if they did that. They also could buy out a player (they have one remaining buy-out left under terms of the collective bargaining agreement after buying out defenseman Hal Gill). Some of these options would be difficult, if not impossible. Stalberg has a modified no-movement clause in his contract but he could be eager for a new setting and agree to go elsewhere. On the other hand, the former 20-goal scorer might seem best-suited for a second chance, as he started the year injured and never seemed to get on solid footing.
Cullen, who will be 38 next November and is owed $3.5 million, is not eligible to be bought out. Wilson is the only player eligible to be bought out but, as he is still 24 and a former first-round draft pick, he would have, perhaps, decent trade value. Bourque, 23, makes a relatively movable $825,000, but the Predators should expect little in return.
Maybe Nashville puts together a hot streak over the next few weeks and surprises the league by qualifying for the playoffs. Either way, the scenarios for next season are challenging. The Predators could have a slew of untested rookie forwards on their roster next season or Poile might have to pull a few rabbits out of his hat on the trade market to make some dramatic changes in the team's scoring woes.
But it does not seem as if the status quo will remain.
---