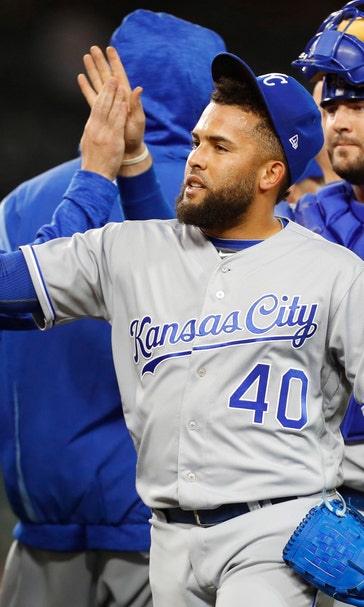 Royals rally in ninth to earn doubleheader split, end nine-game skid
April 20, 2018
DETROIT -- The promise of youth and the price of inexperience. It's all part of the equation this year for the rebuilding Detroit Tigers.

Hours after JaCoby Jones homered in the 10th inning to give the Tigers a 3-2 victory over Kansas City, rookie first baseman Niko Goodrum dropped a grounder and made a wild throw as Detroit squandered a chance at a doubleheader sweep. The Royals scored twice in the ninth to win the second game 3-2 on Friday night, snapping a nine-game losing streak.

"I guarantee that the guys out there in the clubhouse are rallying around him, and that's the way we're going to do it around here -- take the good with the bad," Tigers manager Ron Gardenhire said. "It happens. That's part of the game, too. You make a mistake and it ends up costing you."

The Tigers led 2-1 in the ninth of the nightcap before pinch hitter Abraham Almonte hit a tying bloop single with one out. With runners at first and second, Jon Jay hit a grounder to Goodrum, who didn't handle it cleanly. Goodrum then compounded his problems by flipping the ball over the head of pitcher Shane Greene (1-1), who was covering the bag. The tiebreaking run scored on that error.

"It all kind of evens out," Royals manager Ned Yost said. "We haven't been getting our fair share of the bloopers and the stuff like that. It was good that it finally came around our way a little bit and helped us win a game."




Yost: "The thing that impresses me, as much as we're struggling offensively, these guys don't quit. They just keep battling."
And tonight, in Game 2 of a doubleheader, it paid off. #Royals pic.twitter.com/AhC8YjmlQ3


— FOX Sports Kansas City (@FSKansasCity) April 21, 2018



Kelvin Herrera pitched the ninth for his third save, ending Detroit's four-game winning streak.

Jakob Junis (3-1) allowed two runs and four hits in eight innings for the Royals.

With one out in the 10th inning of the first game, the 25-year-old Jones hit a fastball from Brad Keller (0-1) deep to left and immediately put up his right index finger in celebration.

"I was worried as the ball got toward the wall, because I was going to look stupid if it didn't go out," he said. "That's the best feeling in baseball."

Joe Jimenez (2-0) pitched a scoreless 10th in the opener.

Royals starter Jason Hammel allowed two runs on five hits and two walks in nine innings in the afternoon game, matching the longest outing of his career. Tigers starter Michael Fulmer pitched seven innings, allowing two runs on eight hits and a walk while striking out four.

Alcides Escobar led off the ninth with a flyball to deep left, but Jones made a leaping catch at the wall.

Mike Moustakas homered in the first game for Kansas City, and Whit Merrifield went deep in the nightcap.





STRONG STARTS

The Royals needed to use only four pitchers in the doubleheader because Junis and Hammel pitched so deep into their games.

"That's pretty awesome for two starters to go nine and eight innings in a doubleheader," Junis said. "Definitely saves the bullpen for tomorrow and, hopefully, we get another win."




IMPRESSIVE DAY

In addition to his game-winning homer, Jones hit an RBI double in the first game. In the nightcap, he tripled and scored in the third inning and added a sacrifice fly in the seventh.

DEBUT

Tigers outfielder Mike Gerber was recalled from Triple-A Toledo to be the 26th man in the doubleheader. He made his big-league debut as a pinch runner in the ninth inning of the nightcap.

TRAINER'S ROOM

Royals: OF Alex Gordon was scheduled to begin a rehab assignment with Triple-A Omaha on Friday night. Gordon has been out since April 10 with a left hip tear. ... C Salvador Perez (knee) caught seven innings on Thursday for Double-A Memphis.

UP NEXT

Detroit sends RHP Mike Fiers (1-1) to the mound to face Kansas City LHP Danny Duffy (0-2) on Saturday.
---
---