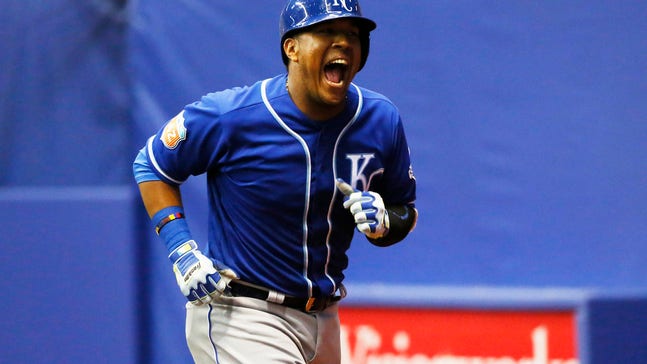 Royals beat Mariners 5-4 but fall 13-6 to Rangers
Published
Mar. 19, 2016 7:19 p.m. EDT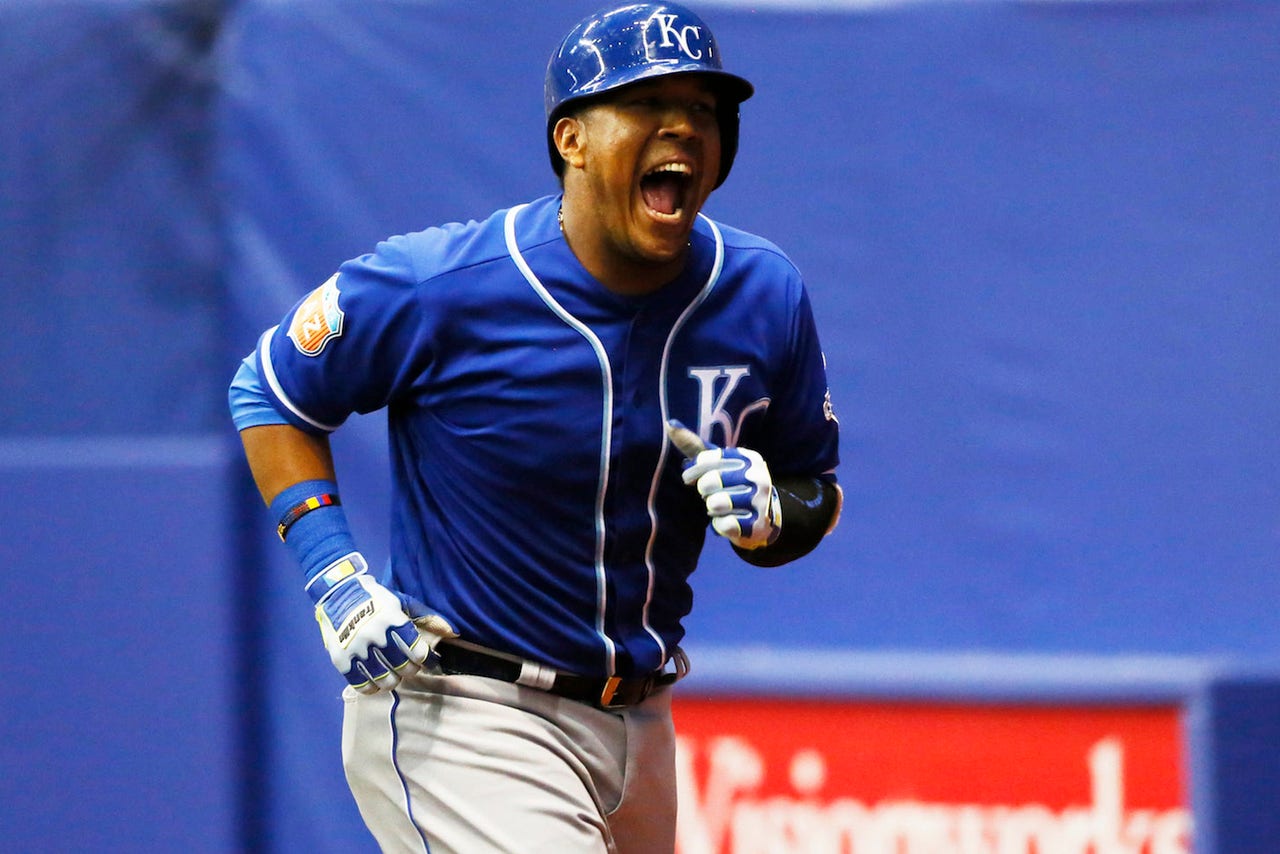 SURPRISE, Ariz. and SAN ANTONIO -- The Kansas City Royals finished 1-1 in split squad action Saturday as they lost to the Texas Rangers in San Antonio but triumphed over the Seattle Mariners in Surprise, Ariz.
RANGERS 13, ROYALS 6
Robinson Chirinos homered over the right-field fence 272 feet away and the Texas Rangers overcame home runs by Kansas City stars Eric Hosmer, Salvador Perez and Lorenzo Cain to beat the Royals 13-6 Saturday in a split-squad matchup at the Alamodome.
Texas swept the two-game series, totaling 20 runs and 22 hits in the reconfigured football stadium. Kansas City committed five errors in giving up its most runs this spring.
Despite being outscored by seven runs and having to travel 1,000 miles from the spring training site they share with the Rangers, the Royals were happy with the weekend getaway.
"When you get in the middle of spring training, you start, for lack of a better word, to get really bored," Kansas City manager Ned Yost said. "To be able to come here and play in this atmosphere, it made it feel like a regular season game and that's a nice change."
Jared Hoying homered for the second straight day for Texas, a two-run drive in the seventh inning. Drew Stubbs added a three-run homer during a five-run eighth. Chirinos hit his first home run of the spring, looping a shot over the short porch in right during a three-run second off Chien-Ming Wang.
Hosmer hit a two-run homer in the fourth inning off Rangers starter A.J. Griffin. Perez followed his homer and added a two-run single in the eighth.
It was Hosmer's second homer and 10th RBI of spring training.
STARTING TIME
Royals: Wang struck out the side in the first inning during his first start in five appearances this spring. The veteran right-hander gave up three runs in three innings, including Chirinos' homer to the short porch in right field.
"I thought he threw the ball great," Yost said. "A little fly ball that would have been an out (in Kauffman Stadium) for a two-run homer, but he threw the ball fine."
Wang is seeking a spot in Kansas City's bullpen.
Rangers: A.J. Griffin had a strong outing in his bid to become Texas' fifth starter. Griffin allowed three runs in 3 2-3 innings as he attempts to earn a roster spot with the Rangers after a couple of injury-plagued seasons.
"I felt really good," he said. "I felt like I was repeating my delivery really well today and executing everything. Just trying to pitch to the big part of the ballpark."
NEXT QUESTION
Rangers left-handed starter Derek Holland wants to forget about his recent injury history, and he wants everyone else to do the same.
Holland missed a majority of the 2014 season following left knee surgery after tripping over his dog. He also missed much of last season after suffering a shoulder injury after pitching just one inning in his home opener.
"I feel amazing," Holland said. "We're not even going to worry about what happened in the past few years. It's 2016, we're going to focus on that. I feel very, very good."
STILL FIGHTING
Perez played most of both games against Texas despite being Kansas City's starting catcher.
Yost said the team wanted to give Perez, Hosmer and Cain extended playing time in preparation for the team's season opener against the New York Mets on April 3.
"We took it easy with (Perez) early," Yost said. "We wanted to extend them out today, give them seven innings of playing time. They'll have a light workout tomorrow, they'll be off on Monday and Tuesday we play a night game. So it's almost like having 2 1/2 days off for those guys."
ROYALS 5, MARINERS 4
Seattle right-hander Taijuan Walker pitched five strong innings Saturday after getting roughed up in his previous start, but the Mariners lost 5-4 to the Royals in a split-squad game.
Walker, who gave up four runs on seven hits in 3 1-3 innings Monday, limited the Royals to one run on four hits, while striking out four and walking none. Jorge Bonifacio homered leading off the third for the only run off Walker.
"I think it's huge to bounce back from my last start," Walker said. "The plan was to pound the zone, me and (catcher Rob) Brantley were doing that really well. They weren't really doing too much with the fastball besides that one pitch."
Right-hander Joakim Soria, a free agent the Royals signed to a three-year contract in December, worked two innings for the first time. He allowed one hit and struck out three, bringing his total to nine strikeouts in six scoreless innings.
"It was a pretty easy outing for him," Royals bench coach and acting manager Don Wakamatsu said. "Dave (Eiland, pitching coach) said let him throw two if he feels good. Soria had 11 pitches (in his first inning) and said, `Yeah, let me go out and get another one.'"
Minor leaguer Logan Moon, who went to Blue Springs South High in the Kansas City suburbs, hit a two-run double off Joe Wieland in the Royals' four-run eighth.
The Mariners' three-run first included a Jesus Montero double to score Dae-Ho Lee. Kyle Seager contributed two hits and drove in a run.
STARTING TIME
Mariners: Walker threw 57 pitches in his five innings. "That's what you want," he said. "That's how you go nine innings." He is adding a curveball to his repertoire. "I'm working on throwing it for strikes, getting them off the fastball and changeup," Walker said. "Eventually, hopefully it will be a put away pitch."
Royals: LHP Matt Strahm, who has never pitched above Single A-ball, threw 28 of his 54 pitches in the first, when he gave up three hits, walked one and hit leadoff batter Nori Aoki. Strahm retired eight of the final batters he faced, giving up four hits and striking out three in three innings. "I thought he came out and was a little bit out of rhythm, but settled down," Wakamatsu said. "I thought his tempo was better the second inning. He kind of loosened up. I thought he made some adjustments."
TRAINER'S ROOM
Mariners: RF Seth Smith (groin tightness) returned to the lineup after missing three games and went 2 for 3 with a run-producing single and reached on an error. . IF Stefen Romero (intercostal muscle strain) has not played since Wednesday but is hopeful to return Sunday. . LHP Charlie Furbush (biceps and shoulder tightness) had another long toss session. He could throw a bullpen session early next week, but it is questionable whether he will be ready for opening day.
Royals: RHP Edinson Volquez (arm fatigue) threw a 50-pitch side session and will throw in a minor league game next.
UP NEXT
Royals: Ian Kennedy, Wade Davis, Luke Hochevar, Ross Ohlendorf, David Huff and Peter Moylan are all scheduled to pitch Sunday against the Cubs. Left-hander John Lester is scheduled to start for the Chicago.
---
---