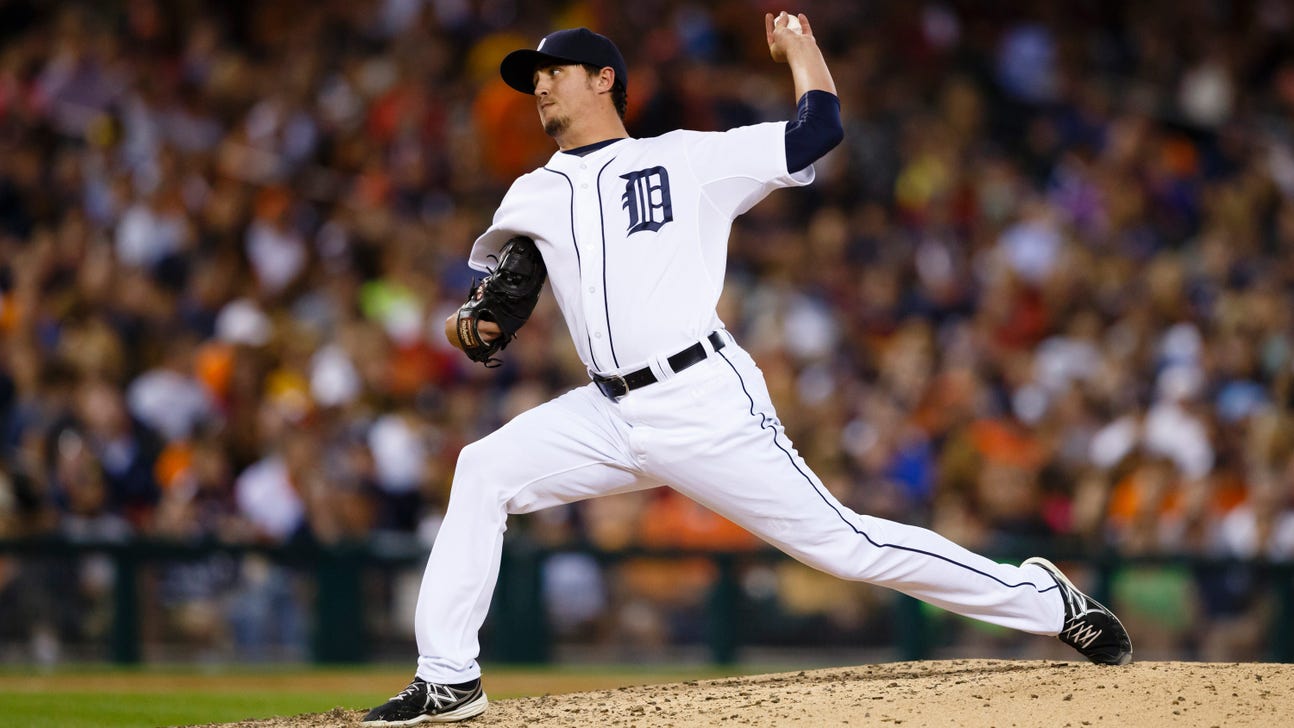 Rookies Farmer and Hardy pitch Tigers to victory that breaks losing streak
Published
Aug. 13, 2014 10:19 p.m. ET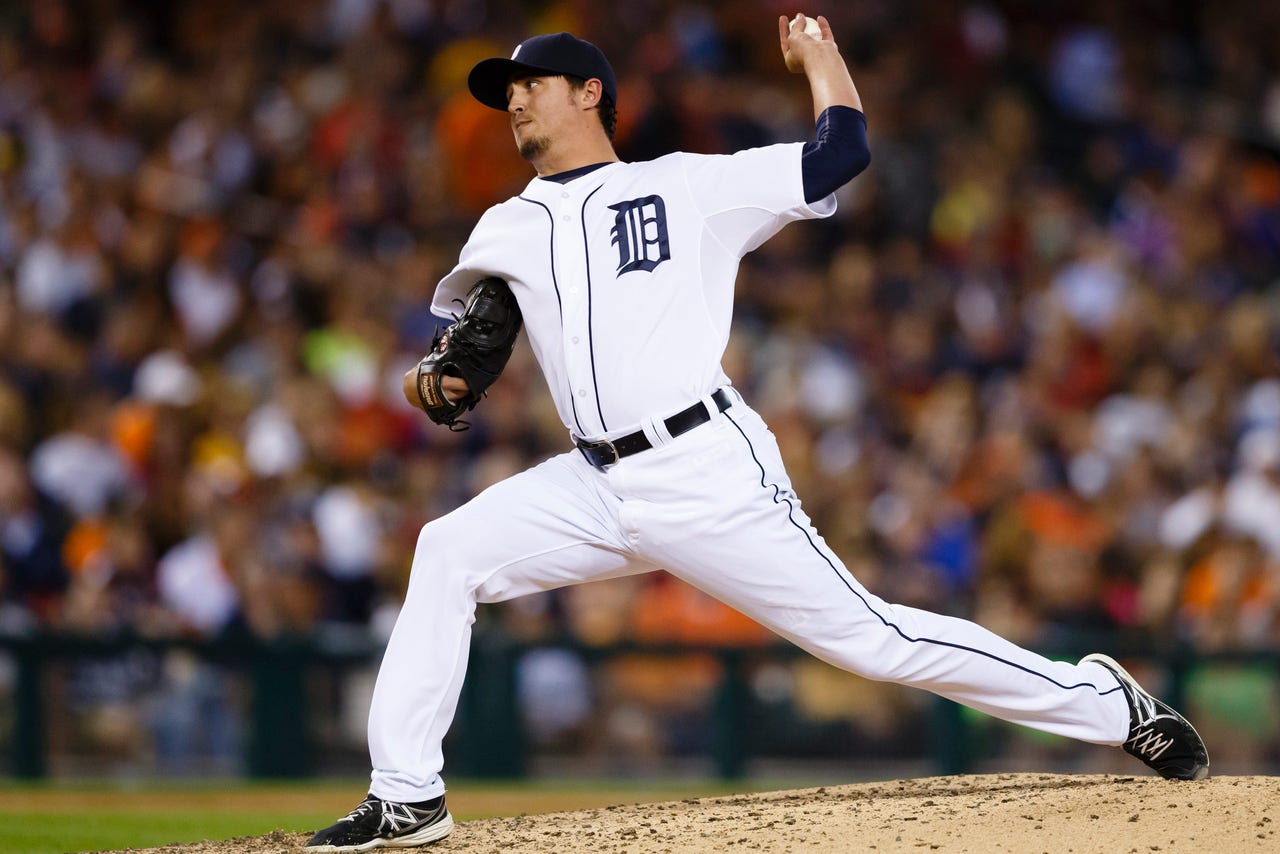 DETROIT -- It appeared that the broken record, with its needle stuck in the loss column, was going to continue frustrating the Detroit Tigers.
They were trailing the hot Pittsburgh Pirates by three runs after four innings on Wednesday night, apparently on course for a fifth consecutive loss.
But then the offense came alive to score in three consecutive innings, and rookie pitchers George "Buck" Farmer and Blaine Hardy started putting zeroes up on the scoreboard against the Pirates in what became an 8-4 Tigers victory.
Farmer -- who earlier this month was pitching against Fort Wayne and Peoria in Class A for the Michigan Whitecaps -- made his major-league debut. Aside from giving up the run-scoring triple to Jordy Mercer followed by a two-run homer from Travis Snider, the kid one year out of Georgia Tech looked pretty good. He kept the Pirates from getting their rout on, limiting them to four runs in five innings.
After the game, Tigers pitching coach Jeff Jones tapped Farmer on the shoulder to inform him that there was some business to take care of. He was going to Triple-A Toledo -- his one-day mission accomplished -- rather than returning to Double-A Erie, where he pitched just two games.
"It's a step up from anything," said Farmer, a fifth-round pick last June, of the transaction. "But it was surreal coming up here...I was here for one day, but the guys made me feel like I'd been here all season."
A young pitcher going back to the minors never looked so happy.
"Wow, this is real," Farmer, 23, said. "I'm living a dream. My childhood dreams came true today."
His family came up from Conyers, Ga. His mother, Rose, was seated between his father, Warren, and his brother, Mitchell, about 20 rows behind home plate.
"I can hear my dad when I start," said Farmer.
That had been the case in high school, college and in the minors. And he could still hear Dad among 41,043 fans in a sellout crowd at Comerica Park.
"Keep the ball down!" shouted the voice he'd known since Little League. And the son heard it, later noting, "I'm fine-tuned to it."
He explained that his first name came from his grandfather, and added that his nickname came from Uncle Buck. You can't make this stuff up.
The nerves got to him in his first inning, but he did well any way -- getting Josh Harrison, Gregory Polanco and Rene Martin in order. The challenge came in the fourth inning, after giving up the three runs. But he said he slowed down the game by taking a deep breath and allowed no further damage.
However, it was Hardy who got the win and deserved it. He gave the Tigers a chance to pull it out with two scoreless innings. He faced the minimum six batters, walking one and getting the red-hot Snider to hit into a double play.
Maybe this 27-year-old lefty is part of the solution rather than just another arm passing through the bullpen.
Hardy has allowed three runs over 18 innings in his last 15 appearances for a 1.50 ERA, and hasn't been scored upon in his last three outings covering 6 2/3 innings.
In 10 games at Comerica Park, Hardy has been dynamic. He has a 0.77 ERA and .171 opponent batting average in home games. He's 2-1 with a 2.05 ERA overall, and has stranded all eight runners he has inherited in games.
Hardy said he uses his cutter against left-handed hitters and his changeup against right-handed batters. Tigers manager Brad Ausmus said that makes Hardy, called up June 16, valuable because he can pitch multiple innings rather than being simply a situational lefty.
Detroit signed the former Kansas City Royals farmhand last April, and he was sharp last year for both Erie and Toledo. He's started 15 games in the minors for those teams, but appears to have found his niche in relief.
"I don't think he has a pulse," said Tigers setup reliever Joba Chamberlain. "Look at his face. He's very nonchalant, but in a very good way...That's a very good trait to have."
Hardy has been around long enough to have a nameplate on his locker cubicle. Farmer never got one of those in his stay measured in hours rather than days.
"I knew they needed an arm," Farmer said. "But I'm hoping I'll get back here."
Maybe this was it for Farmer, his one day in the show. And perhaps he will become an established rotation member in Detroit someday. You never know. But on Wednesday, with a pennant race about to kick into gear, he teamed with Hardy to help the Tigers win for the first time since Friday.
---