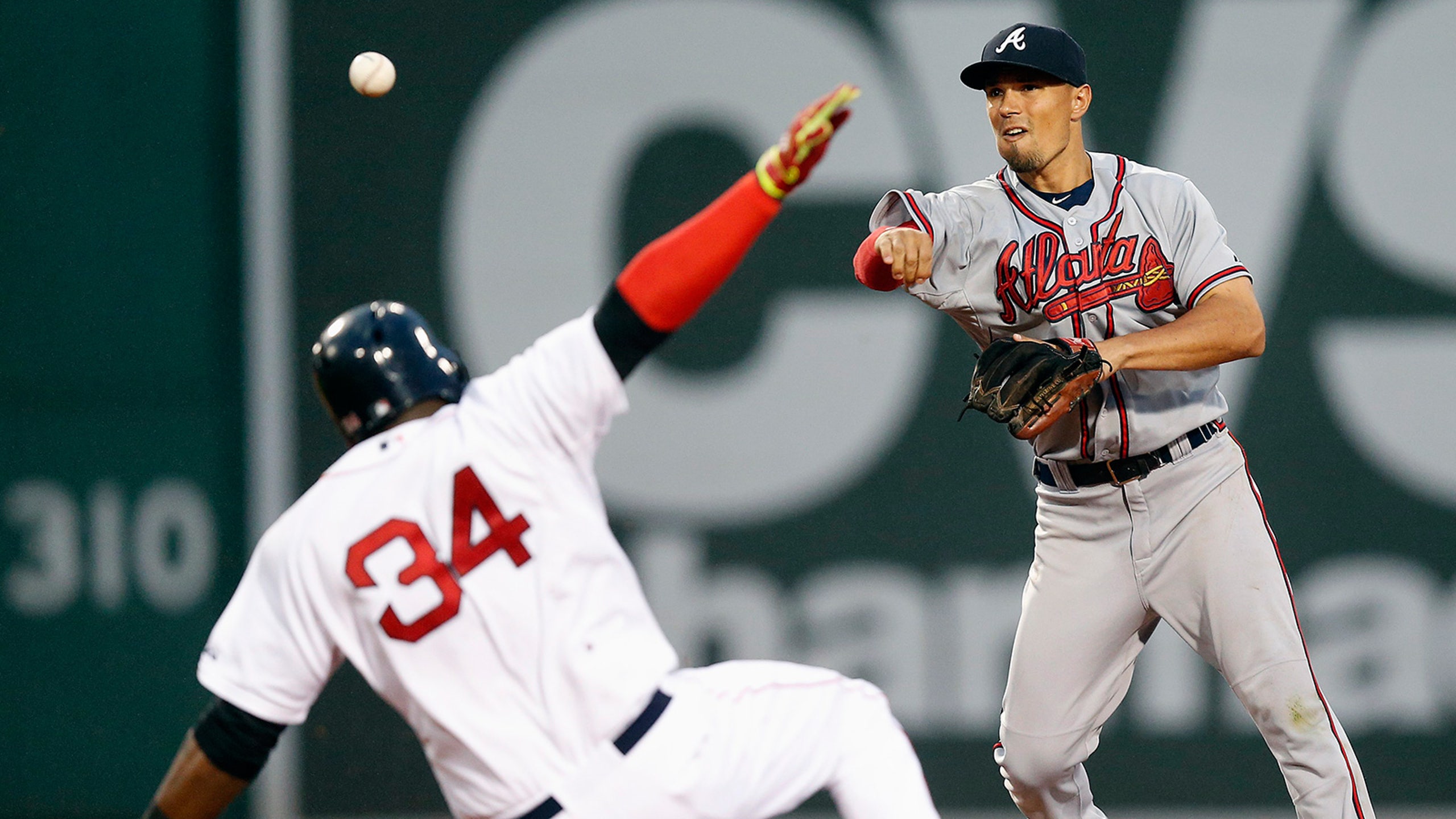 Rookie Peterson's glove completes Braves' formidable middle infield
BY Zach Dillard • June 18, 2015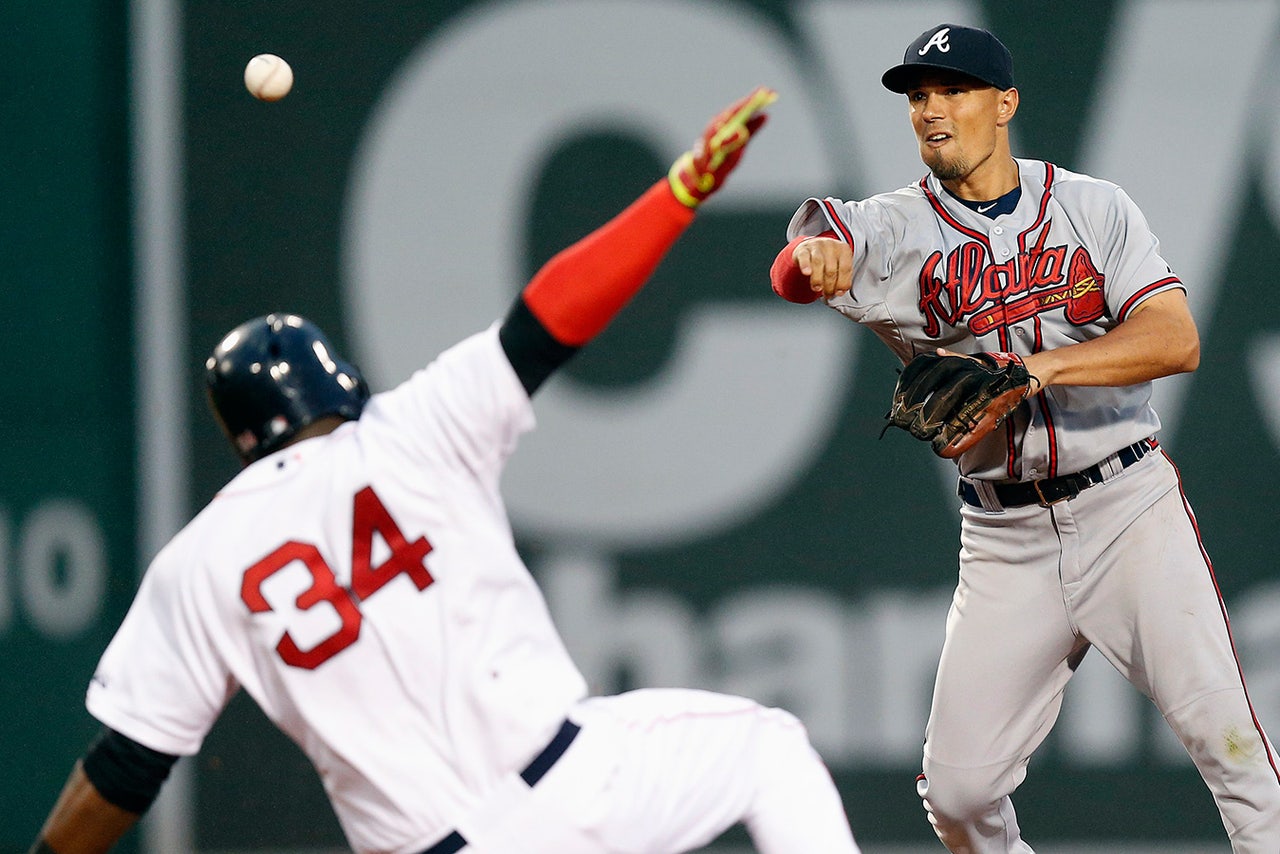 ATLANTA -- Atlanta's front office has found value on the fringes in recent trades, apparent "throw-ins" becoming promising contributors at various levels in the organization.
As part of the Shelby Miller-Jason Heyward blockbuster, the Braves acquired the Cardinals' 14th-rated prospect, injury-plagued pitcher Tyrell Jenkins, who now looks to be one of the farm system's brightest stars. The Craig Kimbrel deal with San Diego was largely viewed as an avenue to bring in another top arm (Matt Wisler), a draft pick and to ditch the Melvin Upton Jr. contract -- but Cameron Maybin has been a reveltion in Atlanta's outfield. 
Still, no other acquisition has come in with less hype and made such an immediate difference on the parent club quite like rookie second baseman Jace Peterson. An overlooked prospect with limited MLB experience, the Braves brought him over in the Justin Upton deal -- one which primarily focused on highly regarded pitching prospect Max Fried -- to challenge for a platoon-type role at second.
The early results? Only three rookies have provided more overall value in 2015: Superstar prospects Joc Pederson and Kris Bryant and similarly overlooked Giants infielder Matt Duffy. That's it. There's been little need for that platoon.
Peterson has filled one of Atlanta's most pressing positional needs admirably this season, developing into a top-of-the-lineup presence while showing high-level production with the glove.
"He's comfortable doing everything. He's real aggressive," two-time Gold Glove shortstop Andrelton Simmons said of Peterson. "He goes after balls, chasing fly balls going back. When there's a pop-up between short, second and center field, I know he's going to go get it."
Peterson grades out as one of the top defensive second basemen in baseball through the first 500-plus innings of his career, ranking fourth in defensive WAR and sixth in defensive runs saved this season. The names ahead of him include past All-Stars Dee Gordon, Ian Kinsler and Jose Altuve and fellow rookie standout Addison Russell (Cubs). That immediate consistency with the glove helped manager Fredi Gonzalez keep him in the everyday lineup as his offensive production improved month to month.
This was an expected part of the equation when Peterson was included in the Upton blockbuster back in December. Defense was the rookie's lone positive contribution during his brief call-up with the Padres in 2014, and reports of his speed and athletic ability preceded him to Atlanta.
Every scouting report prepared on Peterson mentions that athleticism, a product of his two-sport status in college, playing football and baseball at McNeese State. From his perspective, one sport directly influenced the other. The quick feet and fast-twitch muscles required of his cornerback position are similarly beneficial to middle infielders -- "Your ladder drills, your tire drills, your cone drills. That helps with all kinds of first-step quickness for baseball," Peterson said. -- so much so that he still incorporates football-related workouts into his offseason routine. If there was one thing he could fully control entering his first full major-league season, it was his fielding.
"I've gotten better in my minor-league career, all the way up, defensively," Peterson said. "It was one thing that I wanted to get better at coming out of college. I didn't get as many reps as I wanted to get in college, so pro ball has helped me with that. I take it pretty serious."
His coup of the team's leadoff spot with his improving .350 on-base percentage has simply been an added bonus.
It's also forced the organization to reconsider its future plans for the position.
"He's done such a great job at second base that we've asked (top prospect Jose) Peraza, who was supposed to be the guy, to go, 'Hey, you know what? Maybe you provide more value to us at another position,'" Gonzalez said, referencing Peraza playing center field at Triple-A Gwinnett for 11 games this season. "And that's a tribute to Peterson, that we feel like this guy can play second base for us for a long time."
It's also given Simmons a top-tier running mate in the middle infield for the first time in his three-year career.
While Simmons, the former Platinum Glove winner, has been MLB's unrivaled defensive star -- at any position -- since taking over the full-time job before the 2013 season, he's never once been paired with a more-than-competent second baseman. Peterson looks like a potential long-term solution in that regard. The Braves claim the second-most double plays in baseball, largely based on the group's 6-4 positions. In fact, here's a comparison of Peterson and other Braves second baseman over the past few seasons (minimum 150 innings):
This newfound combination is working out quite well. With more than a third of the season in the books, the Braves boast arguably the game's best defensive middle infield. (Defensive metrics are most reliable in multi-season sample sizes, as they tend to fluctuate over time. Still, the 2015 data is all that is available for the Peterson-Simmons combo. And it's nothing but positive.) Only the Tigers' duo of Kinsler and Jose Iglesias comes within three defensive runs saved.
There was a necessary adjustment period for both Simmons and Peterson, though. Playing positions that, more than anywhere else on a baseball field, demand both players to be on the same page when the ball is in play, functioning as a cohesive tandem, it's rarely a case of plug-and-play.
Peterson entered spring training battling for second-base reps alongside Peraza, the since-traded Alberto Callaspo, Phil Gosselin and Kelly Johnson, but while he quickly established himself as the top option in camp he was also busy studying the guy firmly entrenched at short.
"(Simmons is) one of the best in the game, if not the best in the game, at that position, so for me being able to come over in spring training and work out with him and see how he does things and goes about his day taking ground balls and putting in his work, it taught me a lot," Peterson said. "From the standpoint of being on the same field with him, he makes it easy. Any ball hit over there I know he's got. I know that all I need to do is get to the bag and he's gonna put it on the money."
For Simmons to make those on-the-money throws or for Peterson to make seamless transitions on double-play balls, it's demanded communication and on-field study time from both parties. Tendencies have to be dedicated to muscle memory.
"You learn with time. You learn how much range somebody has or how comfortable he is with certain feeds, certain balls, what he likes doing. I'm getting used to him. He likes going behind the bag, so my feeds normally are a little stronger so he has time to move at the bag to protect himself -- little stuff like that helps you understand each other. But you need playing time together.
"It's an adjustment for both persons. You have your strengths, everybody has their strengths. Maybe he likes the ball up or down. You learn that with time, you learn, 'OK, keep the ball down. He'll get rid of it quicker.' You play games and you just ask. And you can see it, too. You can see the trends. Then you also ask to make sure."
For general manager John Hart and his staff., the middle infield is near the bottom of the franchise's concerns. After enduring Simmons' offensive struggles and sub-replacement level play from a garden variety of Braves second-base candidates in 2014, Atlanta ranks top-10 in wins above replacement at both spots this season -- benefitting from its Gold Glove shortstop's renewed efficiency at the plate and its top rookie's all-around contributions.
It's no longer being discussed as a stop-gap alternative to whenever the 21-year-old Peraza is ready for the limelight.
"Athletically, I think it might be the best shortstop-second base combination that I've had in my nine years in the big leagues as a manager," Gonzalez said. "As a coach, I've seen some other ones that are close. I remember Alex Gonzalez-Luis Castillo when I was a coach with the Marlins. But that's pretty darn good. I haven't seen a combination like that since those guys."
---